THE MATRIX ONE
Register to sell the project
INFORMATION ABOUT THE MATRIX ONE
THE MATRIX ONE - Updated news
The elites have increasingly looked to live in lavish apartments with exquisite layouts, luxury finishes, and on-site amenities to make life as enjoyable and carefree as possible. MIK Group, The Matrix One, has created a new development, Me Tri ward in Nam Tu Lien district, to satisfy these needs.
INFORMATION ABOUT THE MATRIX ONE
The Matrix One combines modern charm and the best local lifestyle amenities, making it comfortable to see why homebuyers and investors draw into these apartments.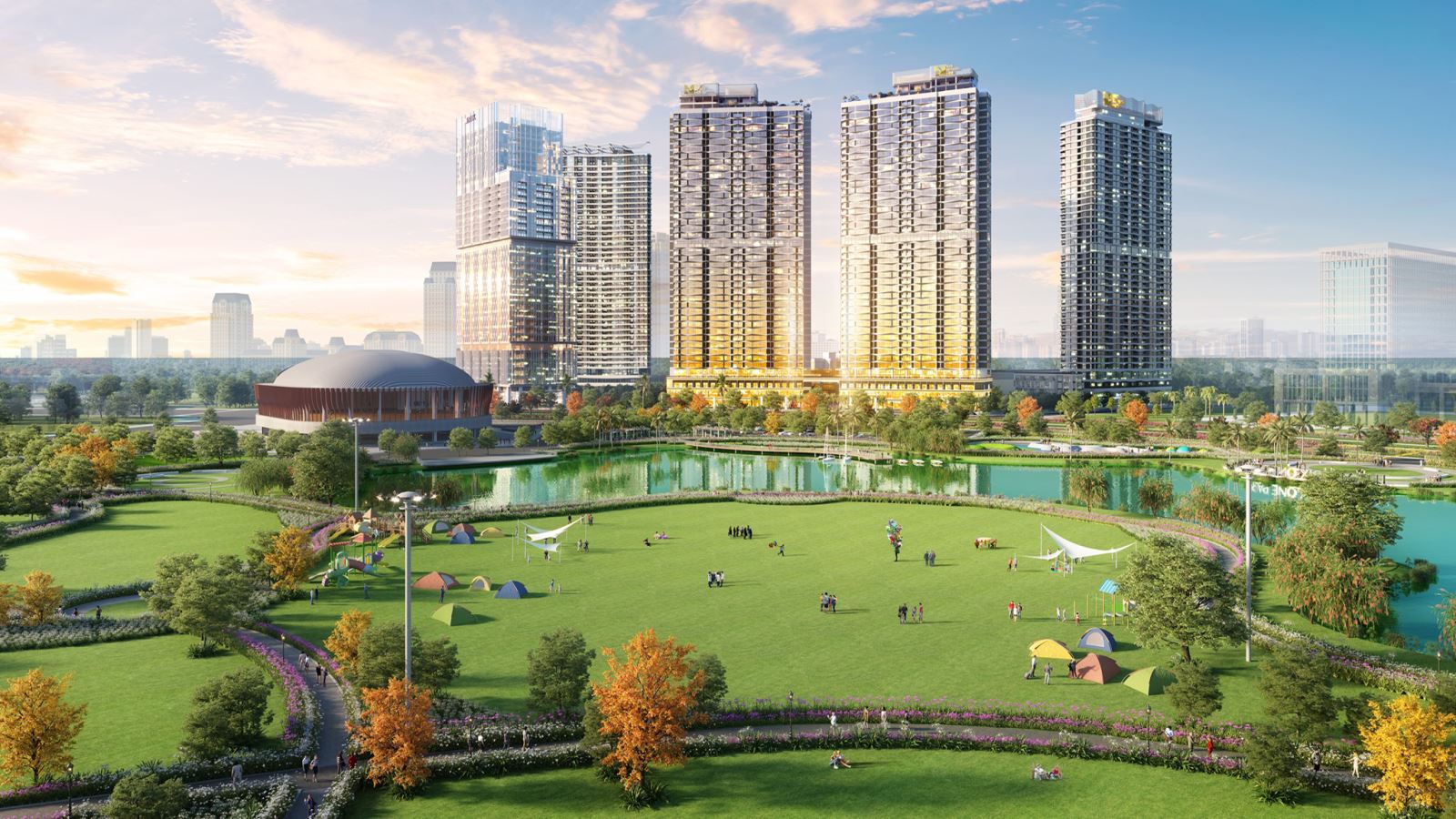 - Project name: The Matrix One - Golden Palace A
- Construction project owner: MIK Group
- Location: Le Quang Dao intersection, Me Tri, My Dinh, Nam Tu Liem District, Hanoi
- Construction unit: Coteccons
- Master plan: 20 ha
A 73-storey building

Two 44-storey buildings A&B: with total apartments up to 700
- The density of buildings: Only 10 apartments per floor
- Elevator/floor: 6 lifts/floor.
- Types of apartments in The Matrix One project:
2 bedrooms, two bathrooms: 86 – 87 m2 4 apartments/floor

3 bedrooms, two bathrooms: 111.82 – 112.74 m2 6 apartments/floor

3-bedroom apartment with Dual key: 112.95 m2

02 Penthouses – Luxury apartments: 783 m2

20 Shop Apartments on the 1st and 2nd floors
- Time of handover: Second quarter of 2021
- Selling price: from 70 million/m2.
- Ownership:
Long-term license for Vietnamese

A 50-year permit for foreigners
PERENNIAL PRECINCT OF THE MATRIX ONE PROJECT
PERENNIAL PRECINCT OF THE MATRIX ONE PROJECT
The Matric One is one of the most outstanding apartment projects in Hanoi's western and offers luxurious living within the enviable proximity of the gorgeous central city.
The Matrix One is at a CBD position - an administrative and commercial center surrounded by major roads, including Metri, Chau Van Liem, Le Quang Dao, and Thang Long highway. The Matrix One is a diamond land located at the capital city's new central administrative and commercial urban area. Diverse education and health facilities, retail centers, and new administration buildings of Hanoi also surround the project.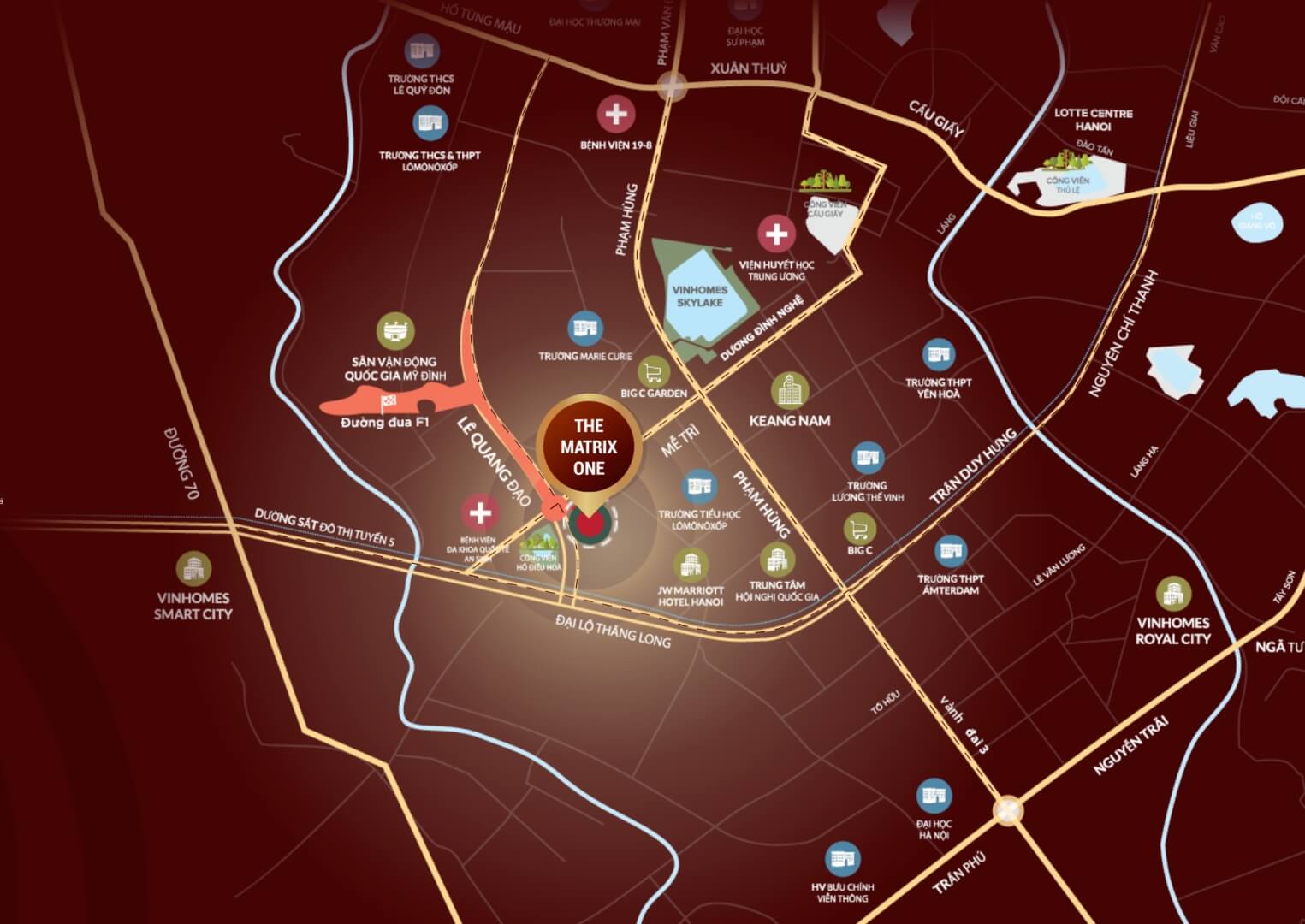 Surrounded by modern road infrastructures with extra vast lands and an in-development metro line, The Matrix One offers access to both road and rail transportation. As planned, The Matrix One is situated near a metro station at Chau Van Liem - Thang Long Highway intersection.
AMAZING LAYOUT APARTMENTS IN THE MATRIX ONE
AMAZING LAYOUT APARTMENTS IN THE MATRIX ONE
The Matrix One covers a total land area of 398,191 m2. The amusement park's construction area is 143,140 m2 (including the lake area of ​​about 25,187 m2).
The area of ​​each apartment ranges from 49sqm to 150sqm.

Duplex: about 219sqm

Penthouses: 324sqm - 537sqm - 783sqm

Shophouses: 156sqm - 160sqm
Each apartment has an ample balcony space and a Low-E glass system with overflowing edges to prevent UV rays, soundproofing, and heat insulation to bring panoramic views to every apartment and luxurious everyday life. Double-glazed windows and doors capture the stunning views, especially the city views from the penthouses.
Minimalism inspires the apartment design lifestyle, making a living space sophisticated from all the edges. The interiors, created by neoclassical style, offer a relaxing, neutral color palette that owners can personalize their favors and a sense of openness. Additionally, the arrangement of windows helps maximize the sunlight, which makes dwellers enjoy the beautiful city views.
ABUNDANT INTERNAL AMENITIES IN THE MATRIX ONE
ABUNDANT INTERNAL AMENITIES IN THE MATRIX ONE
The Matrix One utility system:
For children: International kindergarten, children's playground, children's swimming pool, etc.

For the elderly: Chess corner, exercise areas,...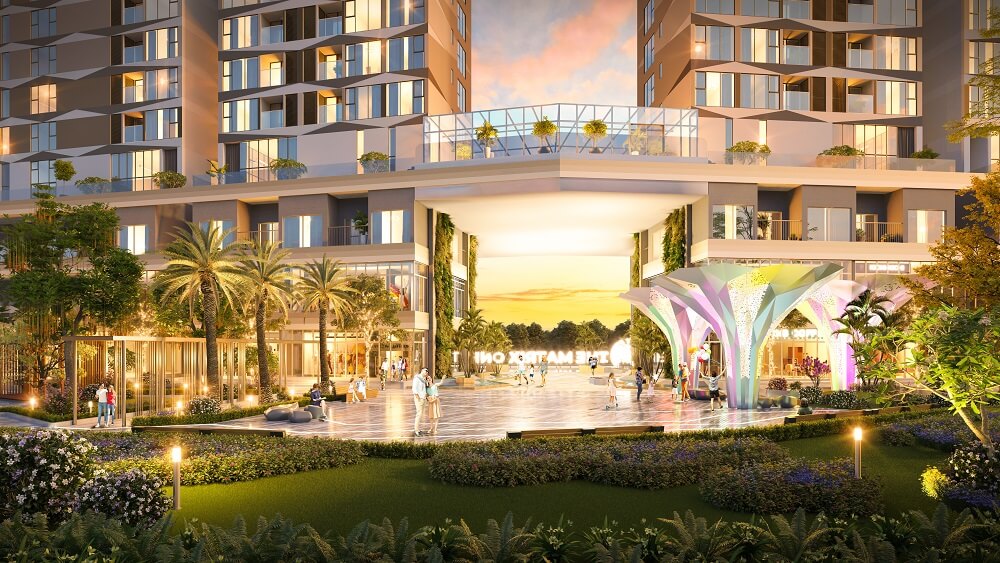 Dwellers will have access to an exclusive lounge, commercial center, seasonal garden, food-fashion store chain, gym-yoga space, and sports field - all perfect for building community. Dwellers benefit from their staircase up to a rooftop, Japan's garden, for their private use with city views.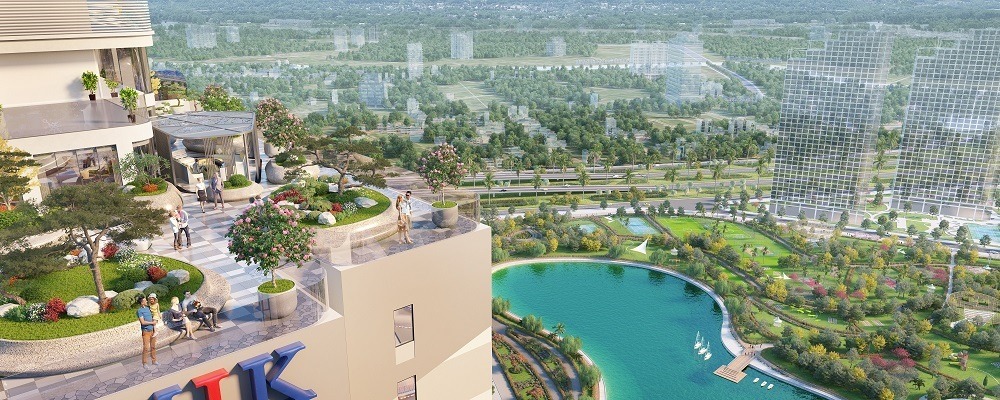 The architecture of The Matrix One is designed to blend beautifully into the area. Rather than having one traditional large apartment block, the two buildings are connected by a central entrance for a more elegant swimming pool.
Other facilities: Reception hall, reception room, smart parking basement, 24/7 security system, etc.
The fundamental factors above look good; The Matrix One apartments would make a sound investment. At this time, buying the last apartments for sale in The Matrix One, customers will receive 0% interest support for up to 24 months or a discount of up to 9.5% of the apartment prices and instantly get a 65 million gold tree. In particular, customers who successfully deposit Dual Key The Matrix One apartment are also given a gold key worth 300 million VND.
Tan Long Homes is a full-service sales agency specializing in the marketing and renting/selling off-the-plan residential developments throughout Hanoi's most sought-after locations. If you are interested apartments for sale in The Matrix One project, please contact Tan Long Land Sales Department to get the in-depth consultations. Hotline: 0986 720 720
Project location
Project support

PROJECT LINK
Project / news project
Real estate for rent in the project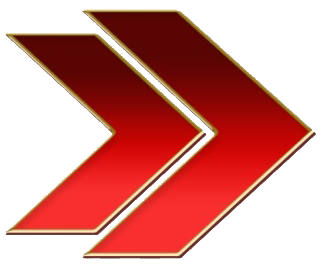 See the full list
Located in the heart of Nam Tu Liem district, Studio apartment for rent in The Matrix One offers high-end architecturally designed space with clever well planned.

Using Area (m2)

Bedroom

Bathroom

Price

This 2-bedroom apartment in The Matrix One building allows the advantage of dual-aspect living spaces, harnessing the natural sunlight.

Using Area (m2)

Bedroom

Bathroom

Price

A 3-bedroom apartment for rent in The Matrix One is designed to perfectly deliver a sense of comfort while allowing natural light to flow throughout the interiors.

Using Area (m2)

Bedroom

Bathroom

Price

A 2-bedroom apartment for rent in The Matrix One has been carefully designed and crafted with exceptional quality and attention to detail to ensure that comfort and style work in harmony

Using Area (m2)

Bedroom

Bathroom

Price

A 2-bedroom apartment for rent in The Matrix One designed for the most discerning owner-occupier, with oversized floorplans and premium features and finishes.

Using Area (m2)

Bedroom

Bathroom

Price

Apartment for rent in 2BRs: 88m2 The Matrix One

Using Area (m2)

Bedroom

Bathroom

Price

Real estate for sale in the project

See the full list

Located in the heart of Nam Tu Liem district, Studio apartment for sale in The Matrix One offers high-end architecturally designed space with clever well planned.

Using Area (m2)

Bedroom

Bathroom

Price

A Spacious north facing 2 bed apartment for sale in The Matrix One offers the spectacular views to park, and city. Also, it maximizes the wind and sunlight throughout the interiors

Using Area (m2)

Bedroom

Bathroom

Price

Oversized 1-bed + multi-purpose room apartment for sale in The Matrix One is eligible for a single person for the first home. A good place to enjoy sufficient lifestyle

Using Area (m2)

Bedroom

Bathroom

Price

67

1 + multiple room

1

Contact

A remarkably large 3-bedroom apartment for sale in The Matrix One, City view offers a sound investment or a good place to occupy,

Using Area (m2)

Bedroom

Bathroom

Price

Projects in the same area

Vinhomes Green Bay

List all apartments 2 Bedrooms, 3 Bedrooms for sale in Vinhomes Sky Park

Vinhomes Metropolis is a complex project, including luxury apartments, offices, a commercial center, and a school located at the intersection between Lieu Giai - Kim Ma.

The Summit 216 is a complex of offices, high-class apartments, and commercial centers located at 216 Tran Duy Hung Street, Cau Giay District, Hanoi. The project is located opposite Hanoi - Amsterdam High School for the Gifted and 4.75 km from the administrative center of Hanoi's capital to the southwest.

Heritage Westlake is a luxury apartment project located on Lac Long Quan street in Tay Ho district with a panoramic view of West Lake. Heritage Westlake apartment project is expected to be open for sale early in the coming December.

As one of the pioneering investors in the application of technology to real estate projects in Vietnam, Sunshine Group recognizes the importance of preserving and promoting the quintessence of cultural heritage. nation. With a remarkable vision, Sunshine Group has created Sunshine Heritage Resort - the smart urban area in the West of Hanoi.

Creating Sunshine Golden River into a "dreaming place" in the heart of bustling urban, Sunshine Group spends 2 floors to develop luxury resort facilities such as rooftop golf course, Cigar Lounge, mineral water swimming pool ... The living space is applied modern technology platforms, bringing the Smart Living ecosystem to the house so that the owners can control all utilities and daily activities through a few manipulations on smart phone.

The first 5-star mineral resort project in the North. Owning a wide view towards Da River, Ba Vi Mountain, embracing the majestic natural scenery