Houses Villas shophouse for sale in Vinhomes Riverside
Vinhomes Riverside is one of the first urban areas in Vietnam to own a luxurious, classy riverside villa, designed and built in the model of the city of Venice (Italy), with a scale comparable to High-end villa projects in the world.
Vinhomes Riverside is a project that owns many high-quality villas for rent, providing a spacious and convenient place for residents. With many different themes and architectural styles, customers have many choices for the design of the villa.
1 / Overview of Vinhomes Riverside villa area
Investor: Vingroup
Scale Of Vinhomes Riverside Project
With a total of more than 1400 luxury villas
The total construction area of ??183.5 hectares.
The investment capital is 10,000 billion dong.
The area of the villas ranges from 115m2 to 2000 m2.
The area of the commercial center is 45,000 m2.
Area of the lake, green trees 60 ha.
Transport infrastructure is 50 hectares.

2 / Prime location - prosperity and fortune of Vinhomes Riverside villa area
Located at the intersection and accretion by 2 large rivers - Red River and Duong River, Vinhomes Riverside possesses a "prosperous - prosperous" terrain according to the concept of the East. With long stretches of green carpet, moving water, luxurious design inspired by the city of Venice, Vinhomes Riverside becomes the ideal living choice for a civilized and classy community of residents.
Vinhomes Riverside Project is located in a strategic position, less than 6.5 km from Hoan Kiem Lake, 5.5 km from Chuong Duong Bridge with convenient and spacious transportation system to go to the center of Hanoi. 10 minutes by car. With the synchronous planning, at Vinhomes Riverside, residents still have a private and isolated life and peaceful green environment in the heart of the city.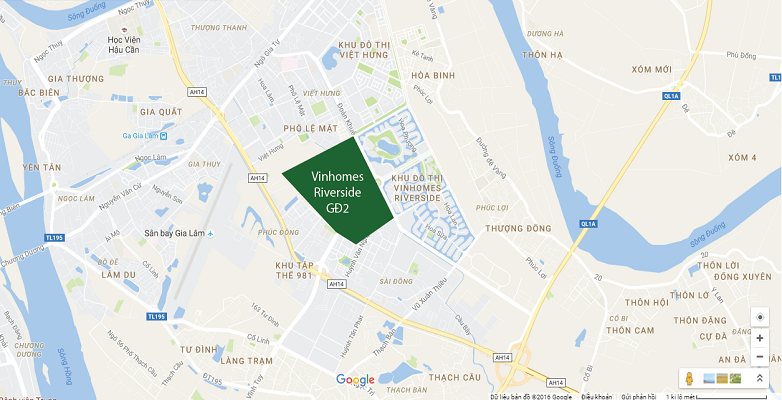 3 / Design ideas
Inspired by the beautiful city of Venice, Italy, most of Vinhomes Riverside villas are built on the "artificial green peninsula" with 5 main subdivisions named 5 flowers: Bang Lang, Hoa Sua, , Hoa Lan Area, Hoa Phuong Zone, Cherry Area.
Each villa here is designed in the "open" trend so that the owner of any apartment can see the river space and enjoy the wind.
The most impressive highlight of the urban area is the winding river surrounding the villas up to 12.8 km long, giving the feeling of charming water right in the heart of the city. This is a place where residents can fish, boat or relax after stressful working hours.
Besides the clear blue river system, there is an ecological garden with more than 100 species, rich in nature and modern architectural complexes of public utilities. Vinhomes Riverside offers residents a perfect, comfortable and romantic life; At the same time, creating different highlights, bringing Vinhomes Riverside to become one of the first urban areas in Vietnam that can be compared to the modern and world-class urban areas in the world.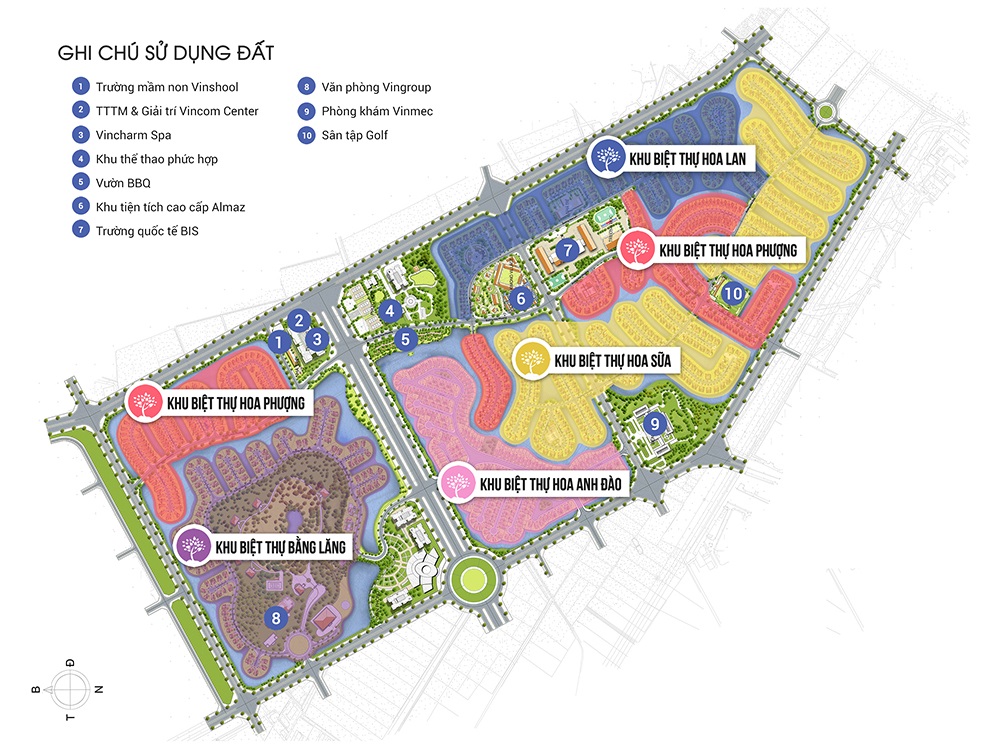 4 / Architecture space of Vinhomes Riverside villa
The Vinhomes Riverside project is organized to build architectural planning on the basis of "introvert" with the nucleus of green garden, green lake and landscape with a total area of ??wide, soft and vivid curves. In the modern architectural space of large projects with high-class constructions, the building construction cluster is arranged in many "open" directions, very harmonious with many beautiful landscape landscapes, creating a unification. The highest altitude is at the same time conveniently connected to the transport infrastructure.
Besides green parks on both sides of the route of Vinhomes Riverside Sai Dong urban area will also be planted with many kinds of trees, alternating with miniatures and flower gardens. It is the idea of ??organizing events on large canals and lakes, on the one hand meaning landscape, trees, ecological lakes, on the other hand has brought to the project face a beautiful architectural landscape. , very new project planning.
The Vinhomes Riverside project is a smart connection by the lake between high-end riverfront villas, designed in the style of romantic modern neoclassical style, high-class and modern functional works, including:
• System of high-class villas and luxury offices
• Central high-class commercial center
• Huge entertainment area
• The food court is diverse and diverse
• 05-star international hospital - general hotel
• Primary school of 1,2 kindergartens meets international standards
• The chain of green parks and lakes is nearly 601,000m2
Vinhomes Riverside Villa has a system of green pecans and rivers; The diverse green garden of nature is the high-class architectural complex of modern public facilities, Vinhomes Riverside gives residents a perfect life, full of amenities and romance. At the same time, it creates different highlights, bringing Riverside villa to become one of the first villa urban areas in Vietnam that can be compared with modern, high-class urban areas around the world.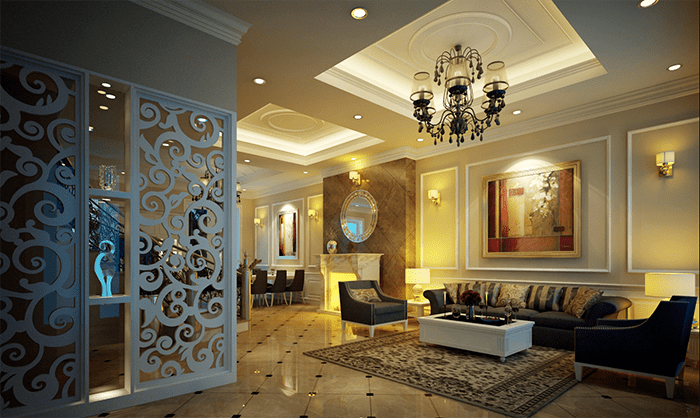 5 / High-class and luxury utilities
With the mission of creating a high-class living environment for Vietnamese people, Vinhomes Riverside focuses on public facilities, bringing the most complete, convenient and complete life to residents.
Health and beauty facilities: Vinhomes Health Club with a system of modern technology equipment and professional health and beauty therapies and procedures, bringing residents great experiences. about massage services, relaxing saunas, therapies, beauty treatments ... with consulting services, support and training programs, healthy and safe health training according to the 5-star standard.
Educational facilities: Vinhomes Riverside has a Vinschool education system (preschool). Refining, skillfully combining the quintessence of domestic and international education, Vinschool and BIS International School provides a superior education model, meeting the domestic curriculum but at the same time helping Students confidently integrate, equipping them with the qualities and qualities necessary to succeed in globalization but still maintain and promote the cultural identity and soul of Vietnam.
Recreational facilities, physical training and sports: Invested with large entertainment complexes, Vinhomes Riverside residents will experience aristocratic sports with international standard facilities such as: yard practice golf, tennis court area, football field, four seasons swimming pool ...
Shopping, entertainment and entertainment facilities: Vincom Center Long Bien Shopping Center is located on "Vincom Boulevard", right in the middle of the center of the peaceful Land, helping customers to freely shop, and at the same time You can enjoy unique and attractive dishes from famous restaurants, and you can also explore the exciting and new game world ...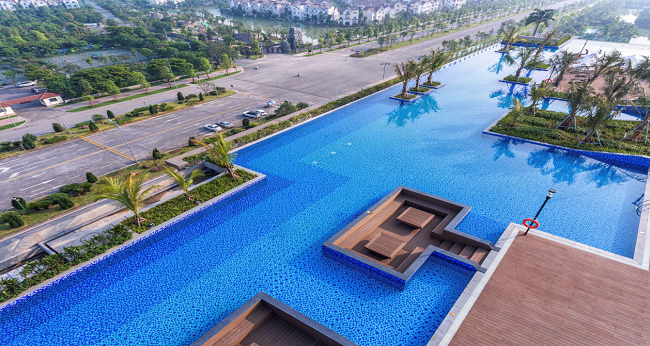 6/ Contact information
Tan Long Land is providing consulting services for buying, selling and renting Vinhomes Riverside villas with beautiful location with reasonable prices. Enthusiastic, enthusiastic consultant team. If you want to find the latest and most detailed information about Vinhomes Riverside apartment, please contact Tan Long Real Estate Floor directly for best advice and support.
Hotline: 0987.745.745 or Email: hotline@bdstanlong.vn