Villas for rent in Vinhomes Ocean Park - Information about price, direction, area of ​​the house
Villas for rent in Vinhomes Ocean Park - Explore spacious and beautifully designed rental villas offering modern amenities, breathtaking views, and a vibrant community atmosphere. Experience the perfect blend of urban convenience and serene natural surroundings in this exclusive Vinhomes Ocean Park community. Villas in Vinhomes Ocean Park will transform your daily routines into extraordinary experiences.
VILLAS FOR RENT IN VINHOMES OCEAN PARK
Vinhomes Ocean Park detached villa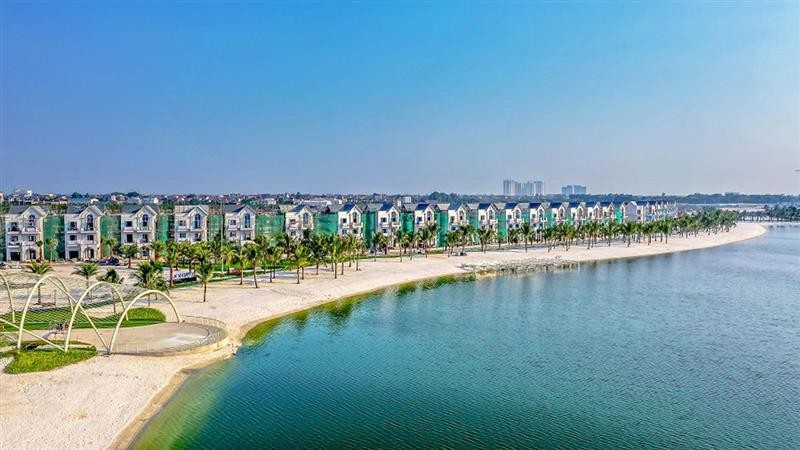 Detached villas for rent in Vinhomes Ocean Park
Vinhomes Ocean Park villas for rent are scattered across all four subdivisions. Architecture: The detached villa has independent architecture, forming a separate whole with four open sides adjacent to the garden. Each open surface serves as the front, back, left, and right sides, resulting in a unified and well-balanced design. Construction: This type of villa is typically built on a fenced-in plot of land. The villa construction area is not adjacent to any plot fences and has enough space to walk around normally. That land is frequently used to plant trees, design miniatures, gardens, and so on, all of which increase the family's outdoor living space and adorn the house.
The following construction criteria must be met by detached villas:
Low building density

Density of trees and the surface of the water Luxury interior and exterior design

Clean and quiet living quarters

Ensured safety

Comprehensive utility
Detached villas for rent in Vinhomes Ocean Park
Vinhomes Ocean Park duplex villa
Duplex villas for rent in Vinhomes Ocean Park
Architecture: Duplex villas rely on a neighboring villa to complete the architectural picture. Because the two villas have a symmetrical design with a left or right edge, the duplex villa only has three open sides. Construction: Duplex villas are built on a smaller plot of land than detached villas, but the open sides are still large enough for walking, planting trees, or designing gardens. Because the structure of a duplex villa will be symmetrical with the neighboring apartment, it is necessary to focus on the harmony of colors, decorations, lines, and so on of two semi-detached villas when building.
The Vinhomes Ocean Park duplex villas are designed as follows:
Scale: 1011 duplex villas
- 196 units
- Hai Au: 247 units
- Sao Bien: 257 units
- Ngoc Trai: 311 villas
Area: 122 - 153sqm
Location: along the internal roads (only more than a dozen riverfront apartments, located in Pearl and Coral areas)
Vinhomes Ocean Park semi-detached villas
Vinhomes Ocean Park semi-detached villas for rent
Vinhomes Ocean Park semi-detached villas are only available in three subdivisions. Semi-detached villas, like detached villas, are designed for each family to live in; however, the frontage area of this type is frequently limited. Construction: As the name implies, the Semi-detached villas will not stand alone in the gardens, but will be joined together on 1-2 sides or back to back to form a single block. Each street block will have at least two houses of the same design. This type is found in three areas in the Vinhomes Ocean Park urban area: Hai Au, Sao Bien, and Ngoc Trai:
Scale: 396 detached villas
- Hai Au: 159 villas
- Sao Bien: 122 villas
- Ngoc Trai: 115 villas
Hight: 3.5 - 4.5 floors
Area: 60 - 140sqm
Location: the great urban area's inner streets
The main advantage of semi-detached villas here is that they are less expensive than other types of Vinhomes Ocean Park Gia Lam villas while still providing customers with a comfortable, trendy, and classy living space. 5-7 person households As a result, semi-detached houses become an excellent choice for many customers.
Vinhomes Ocean Park Villa - San Ho subdivision
Vinhomes Ocean Park Villas for rent in San Ho subdivision
Subdivision of San Ho in Vinhomes Ocean Park is a low-rise mega-city open subdivision with 44 detached villas ranging in size from 204 to 295sqm and 196 large duplex villas; 103 to 150sqm, to meet the needs of households with reasonably divided indoor and garden space. The villas in Hai Au subdivision are designed in the style of Indochinese architecture, a harmonious fusion of Western European and East Asian cultures, as seen through square windows, French arches, sloping tiled roofs, and typical Vietnamese motifs, both simple but no less luxurious.
Residents can easily move within the area and quickly connect to areas outside the project due to its location right at the intersection of two roads 30m and 45m from the Hai Au subdivision. Furthermore, this subdivision overlooks the central lake of 24.5 hectares in the Northeast, VinUni University in the Southwest, Vinmec in the Southeast, and owns sports facilities and approximately 189 apartments and shops, opening a dynamic, fully equipped space.
Vinhomes Ocean Park Villa - Hai Au subdivision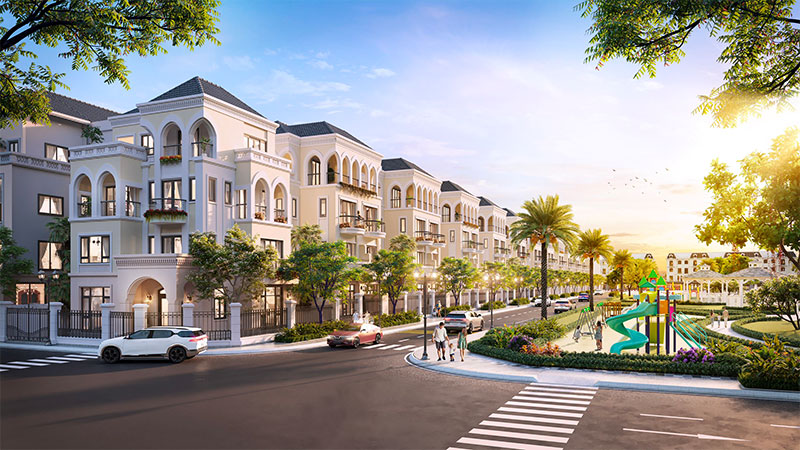 Vinhomes Ocean Park Villas for rent in Hai Au subdivision
Subdivision of Hai Au Vinhomes Ocean Park has 522 villas with Indochinese designs as the Coral area. Vinhomes Ocean Park villa - Hai Au subdivision is built as follows:
106 detached villas (279 - 417sqm)

247 duplex villas (143 -150sqm)

159 semi-detached villas (90 - 140sqm)
Vinhomes Ocean Park Villa - Sao Bien Subdivision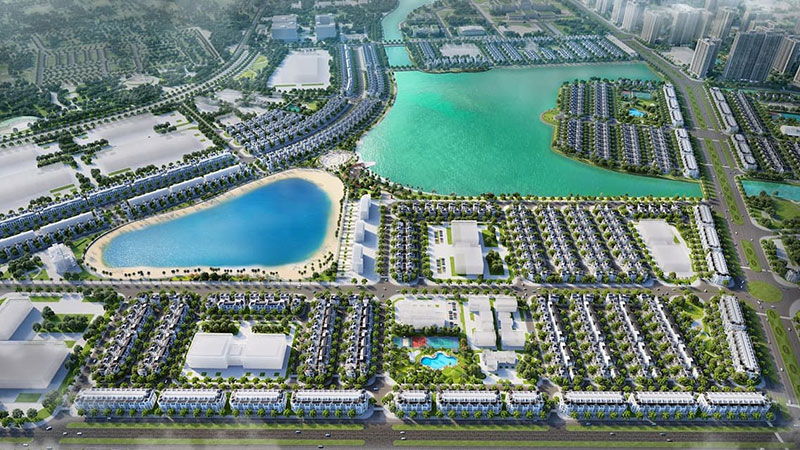 Villas for rent in Vinhomes Ocean Park in Sao Bien Subdivision
Unlike the previous two areas, Sao Bien villas have a liberal Mediterranean architecture modeled after the design of villas in the south of Italy, which has won the hearts of many customers since its launch. Vinhomes, the investor, is developing the subdivision with a variety of real estate:
59 detached villas (168 - 328sqm)

257 duplex villas (122 - 150sqm)

122 semi-detached villas (88 - 114sqm)
Vinhomes Ocean Park Villa - Ngoc Trai Subdivision
Villas for rent in Vinhomes Ocean Park - Ngoc Trai
The most expensive Vinhomes Ocean Park villas are in the Ngoc Trai subdivision. Vinhomes Ocean Park Pearl Subdivision is regarded as the premier low-rise living area in the metropolitan area, and it is compared to a "resort oasis" when it has a distinct location and fully inherits dynamic utilities and landscapes. With these advantages, villas in the Ngoc Trai area attract wealthy and upper-class residents.
The following are the types of development in the Ngoc Trai area:
183 detached villas (141 - 378sqm)

311 villas that are semi-detached (141 - 153sqm)

115 semi-detached (60 - 102sqm)
Ngoc Trai Area is the only closed subdivision (compound) in the city, with a total area of up to 26.6ha. The subdivision owns the central location of Bien Ho City, surrounded by an ecological river system and a 24.5ha white sand lake, which is the highlight of the entire urban area. Vinhomes Ocean Park villas for rent are among the most sought-after items in the luxury real estate market. This type not only has diamond coordinates and high-class living space, but it also has the potential for future price increases.
Where can we find villas and houses for rent in Vinhomes Ocean Park?
At

Tan Long Land

, we are a distributor of real estate projects with many experts with more than 20 years of practical experience in the market and a sales staff of up to 1000 people. With the same desire to bring customers the best quality products with the best products and the best service environment, Tan Long Land has been raised, positioned, and branded in Vietnam. We commit to providing the best consulting service to our customers to help them choose the appropriate

villas for rent in Vinhomes Ocean Park

.