LIST OF HOUSES FOR RENT IN VINHOMES OCEAN PARK
Houses for rent in Vinhomes Ocean Park are the focus of attention of many high-class customers. Please join us in reviewing the price list and fund of villas for rent at Vinhomes Ocean Park.
OVERVIEW OF HOUSES FOR RENT IN VINHOMES OCEAN PARK
Project name: Vinhomes Ocean Park
Investor: Vingroup
Management and operation unit: Vinhomes
Location: Da Ton, Kieu Ky Commune, Gia Lam, Hanoi.
Scale: 420 hectares
Type of development: Apartment, Shophouse, Villa, Townhouse.
Office Building: 1 building with 45 floors
Project construction density: 18.6%
Handover time: First quarter of 2020
HOUSES FOR RENT IN VINHOMES OCEAN PARK'S DESIGN
Vinhomes Ocean stand-up shophouse is a product "sought after" by many investors thanks to its high-profit potential and good liquidity. We want to inform customers about this product type in the following article.
House for rent in Vinhomes Ocean Park is a product that many customers are interested in because of its intelligent structural design: A house for living and doing business, ensuring top comfort and high value.
House for rent in Vinhomes Ocean Park - Sapphire
Developer Vinhomes developed the Sapphire subdivision into two subareas, S1 and S2:
Division S1: includes 11 buildings Division S2: includes 16 buildings
The above subdivisions have dense populations, which are a source of potential customers for stand-up shops, opening up the potential for many stable and sustainable business activities.
House for rent in Vinhomes Ocean Park - Ruby
Ruby subdivision has six modern apartment buildings with upgraded handover standards than the Vinhomes Sapphire line. Shophouse Ruby is located along the arterial road Dong Du - Duong Xa with residents from the booming customer segment, thus opening up many commercial business opportunities for sharp owners. Ruby shops are launched in limited quantities, so investors need to quickly "deposit" to own this product.
House for rent in Vinhomes Ocean Park - Diamond
Since its launch, Shophouse Diamond Vinhomes Ocean Park has quickly scored points in the eyes of real estate investors because of its "diamond" position in the heart of the project's urban area. Diamond shops will inherit the advantage of location, predicting the possibility of price increases in the future.
House for rent in Vinhomes Ocean Park - Ocean View
Shophouse Ocean View is said to be the most beautiful subdivision with the most luxury apartments in the project. The commercial and service shops here are integrated with many top-class utility services to satisfy all dining, shopping, and entertainment needs.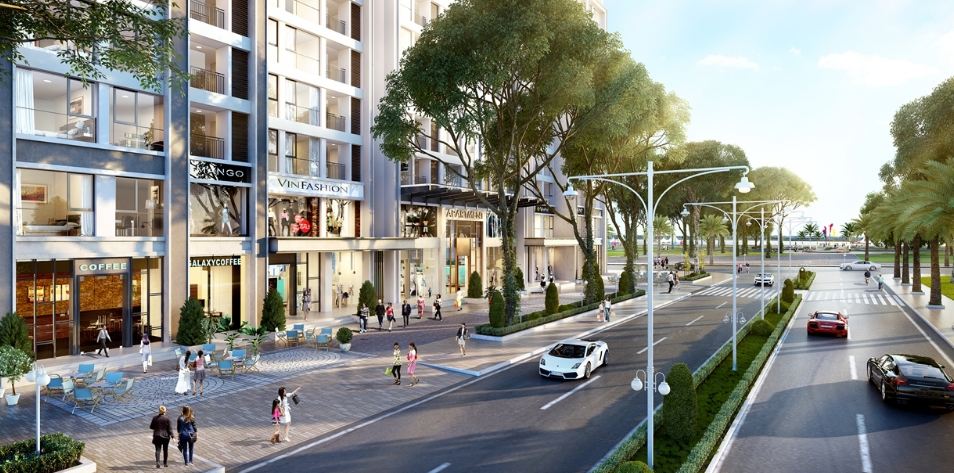 AMENITIES OF HOUSES FOR RENT IN VINHOMES OCEAN PARK
With a prime location between Highways 5A and 5B, Gia Lam District, Hanoi City, houses for rent in Vinhomes Ocean Park are planned according to high-class international standards with convenient services of a modern urban area. Besides, Ocean Park also offers unique amenities to serve the increasing quality of life requirements of civilized people: An artificial saltwater lake, outdoor sports park, BBQ park, outdoor swimming pool, Resort huts, etc…
The first unique saltwater lake in Vietnam
The 6.1-hectare saltwater lake and 24.5-hectare large central lake provide a green, clean, and modern living space, with white sand beaches, green lakes, and cool green coconut groves, giving residents a unique experience—ideal beach life for residents right in the bustling inner city center.
VinUni University and Vinschool inter-level school system
Not only focusing on the quality of daily life service, Ocean Park also cares about the quality of education for the "little owners" of the urban area.
With world-class quality of education physical and technical facilities, VinUni, along with its multi-level education system from preschool to high school, promises to bring the most satisfaction to parents and is the ideal place for each resident to feel secure in sending their children.
Outdoor Gym Park - multi-purpose sports field system
With 700 diverse exercise machines at the outdoor gym park, residents can quickly and conveniently have moments of exercise to improve health for all ages.
Meetings and visits between family and friends are always the most beautiful moments. Instead of wasting time choosing a location with good service quality and stunning views, Ocean Park, with more than 100 picnic grilling spots and six large outdoor BBQ parks, will help residents have beautiful moments with family and friends most conveniently and quickly.
Vinmec International Hospital
To fully serve the lives of trendy citizens, Vinmec International General Hospital, with a team of leading doctors and the most modern facilities and techniques, will be a place of comprehensive health care for all residents and family members.
RENTAL PRICE OF HOUSES FOR RENT IN VINHOMES OCEAN PARK
The price of houses for rent in Vinhomes Ocean Park is estimated to be competitive and suitable for typical budgets. You can negotiate with house owners to have a more reasonable price.
Contact Tan Long Land now:
Hotline: 0989.734.734
Email: hotline@bdstanlong.vn
Website:

bdstanlong.com
=> See more
Data coming soon!