SERVICED APARTMENTS FOR RENT IN TAY HO WESTLAKE, HANOI
If you are looking for a serviced apartment in Hanoi to rent, Tay Ho (aka Westlake) is a perfect choice!
Tay Ho is one of 10 districts of Hanoi and is located in the northwest of Hanoi. Voted as a place that attracts a lot of expat communities to work, travel, reside and live here. There are many serviced apartments for rent in Tay Ho in luxury serviced apartments fully furnished, bedroom, balcony, terrace, nice view. Listing of serviced apartments for rent in Tay Ho, the cheapest rental price from 250$/month to the highest rental price is 5,000$/month.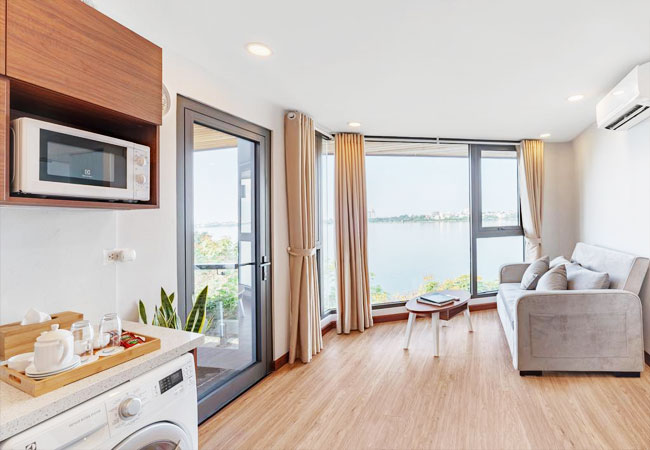 Normally, Tay Ho serviced apartments for rent including water, internet, cable tv, or more than laundry. There are many serviced apartments in face of Westlake Hanoi for rent, these apartments have a nice balcony, lake view, lift, security guard, airy, and a lot of natural light. They are close to shops, supermarkets, gyms, bars, and pubs. Therefore, we can help the renter find a serviced apartment in the best conditions for our customer, exactly your needs.
HOW TO FIND THE BEST SERVICED APARTMENTS IN TAY HO (WESTLAKE)?
To make sure you don't have to worry about that, our Tan Long Land - real estate is developed to meet all of our customers' housing and rental needs. We have a team of highly trained professionals to provide our customers with the best services. Especially diverse in housing information, serviced apartments, ... with extremely sophisticated and modern designs, making customers satisfied when they find the most perfect home, along with that we will helping you get the best deal on your new home.
Please provide us with all your requirements, we will send a short list shortly, or you can visit the most beautiful serviced apartments for rent in West Lake for more options. Please choose from one of our latest listings of Tay Ho serviced apartment for rent below, to find a room that best suits your needs.
See more: