APARTMENTS FOR RENT IN TAY HO (WESTLAKE), HANOI
LINKS TO THE NEARBY AREA - TAY HO APARTMENTS FOR RENT
There are many
apartment rentals in Tay Ho
area. Except for Elegant Suite, Sedona Suite, and Fraser Suite, Hanoi Club,
Golden Westlake
. Most apartments are in small buildings and owned by companies. The apartment buildings are concentrated on Truc Bach lake and Ho Tay area in Xuan Dieu road, To Ngoc Van, Xom Chua, Tay Ho road or Quang An road, Ve Ho road...
SERVICES AND AMENITIES OF APARTMENTS FOR RENT IN TAY HO
You can find many types of apartments in Tay Ho for rent from studios to 4 bedrooms apartments. Many apartments are located by the lake and bring about the great view and fresh air to the apartments.
Westlake is about 7 km from City Centre (Hoan Kiem Lake). The area is between Westlake and Red River and Ciputra residential complex. The area has good facilities, and services for local residents such as shops, coffee, restaurants, supermarkets, kinder gardens, schools...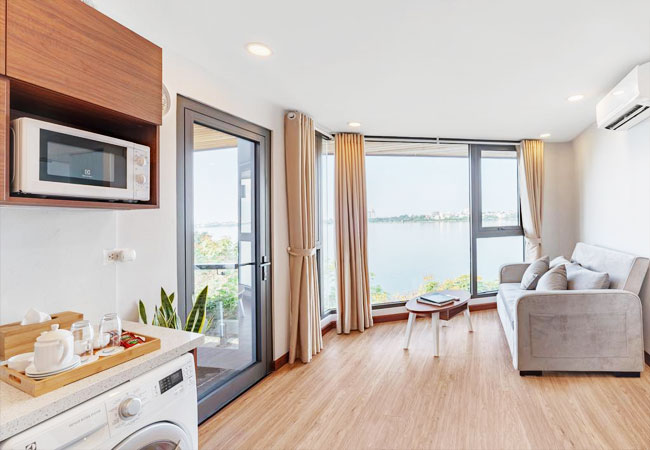 Tay Ho apartments for rent
There are many apartments for rent in Tay Ho (mostly) for the ex-pat community in Hanoi. The apartments in Tay Ho normally have a big living room, 5 to 6 bedrooms, with gardens, and car parks, you can find villas with swimming pools here as it is hot and high humidity in Hanoi summer, and many villas with stunning lake views. The neighborhood is quiet and the environment is good.
As it is a good location, many ex-pats choose Tay Ho for their residence. You can rent furnished or unfurnished apartments as per your requirements. Landlords in Tay Ho normally are helpful and nice. Most of them live in the same neighborhood.
Tan Long Real Estate Head Office is located in the heart of Tay Ho area, so we have more advantages in getting full housing data of the area, good connection with landlords, and more convenience for us to assist when customers need us.
Working with us, you will have a neighbor housing service. We understand the importance of lease-long support than the property showing!