VILLAS FOR SALE IN STARLAKE - UPDATED NEWS IN HANOI
Starlake villa area was built on a total area of ​​11 hectares of housing land, with a density of 36% equivalent to about 400 apartments in phase 1 of construction. Starlake villa has a construction area of ​​185m2 - 400m2, the average height is 3 floors, paying attention to many areas for greenery, and public utilities. Living and working in Starlake's villa is a great idea for elite residents and successful businessmen. The information below is about villas for sale in Starlake which help you to choose the proper villas.
I. DESIGN OF VILLAS FOR SALE IN STARLAKE
1. Location of Tay Ho Tay project
Starlake urban area in Tay Ho district is located in an extremely convenient location: It will only take 25 minutes to Noi Bai International Airport, 20 minutes to the center of Hanoi and other administrative centers. Located in the key area of ​​the city's transport development strategy, easy access to Ring Road 2 (Nhat Tan Bridge), Ring Road 2.5 (West of Hanoi), Ring Road 3 (Thang Long Bridge ) and urban railways 2 and 4 in the future.
The adjacent area of ​​Starlake designed 2 types of single and detached villas with youthful neoclassical style suitable to the trend of the times. The builders pay close attention to the combined garden system and the private space of each villa, creating a pleasant and comfortable feeling.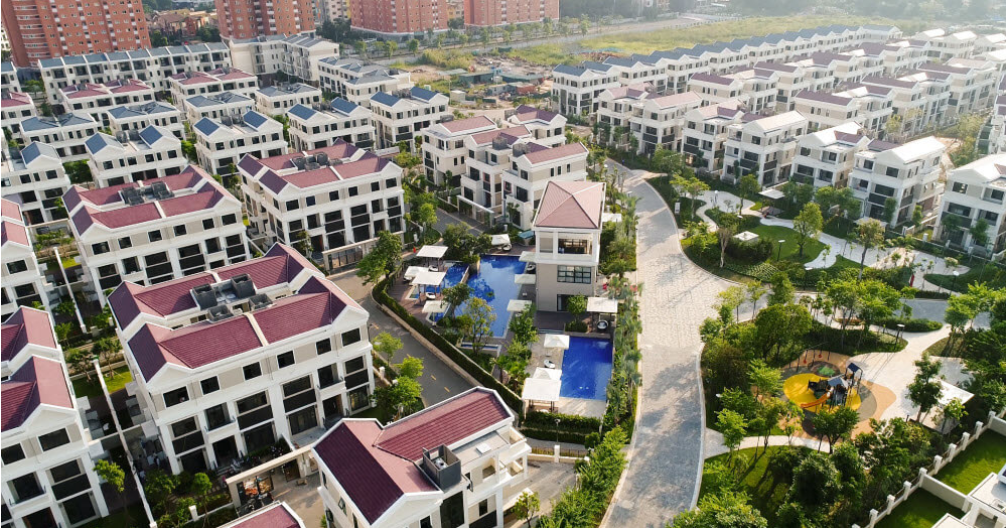 2. Main functions of villas for sale in Starlake
- 1st floor: living room, dining room, kitchen, bedroom, maid room, laundry room, toilet
- 2nd floor: Bedroom, reading room, changing room, entertainment room, toilet
- 3rd floor: bedroom, common room, changing room, laundry room, toilet.
II. HIGH-CLASS UTILITIES OF STARLAKE URBAN AREA
Starlake urban area with the aim of becoming a new symbol of Hanoi, is a miniature space of the global trade center New York and the cultural capital of Paris, villas for sale in Starlake will bring the best quality utilities for the residents here.
1. Shopping heaven
A shopping complex with all the world's most advanced commercial facilities, typical of a civilized and classy lifestyle. The idea place for domestic and foreign businessmen to work, shop, connect and entertain. The international standard infrastructure is invested to build, including high-class hotels, shopping centers to meet the maximum living needs of Starlake residents.
2. Eco space
The operation of gas and water in the West Lake space is connected to the green space axis and the beautiful lake system creates a harmonious living environment with nature. In close proximity to Hoa Binh Park, Huu Nghi Park, Ho Tay Water Park, Starlake is modern but still blends with the green ecosystem and regional water space, creating an ideal living environment for residents here.
3. School
With a total land area of ​​8 hectares, Starlake values ​​comprehensive education at all levels. Located close to the most prestigious universities in Vietnam, residents of Starlake have easy access to high educational institutions.
III. WHY SHOULD WE OWN VILLAS FOR SALE IN STARLAKE?
Rated as one of the "golden" positions of Hanoi capital. Starlake urban area is designed specifically compared to all other large urban areas in Hanoi.
The ideal distance for modern life: Starlake is 5km from the city center and 14km from Noi Bai International Airport, easily accessible to the administrative areas of Hanoi.
Villas for sale in Starlake - Located in a key area of ​​the city's transport development strategy:
- Easy access to Ring Road 2 (Nhat Tan Bridge), Ring Road 2.5 (West of Hanoi), Ring Road 3 (Thang Long Bridge), and Urban Railway No. 2 and 4 in the future.
- Tay Ho Tay urban area has been very important to the Government - the headquarters of ministries and agencies, for national cultural works, the project has turned this place into a central area around the city.
- Surrounded by residential areas with the highest living standards in Hanoi (500 lots of luxury villas and more than 1,000 luxury apartments). The business potential of Starlake urban area is undeniable.
- Surrounding Starlake urban area are 8 ministries, 25 Grade A office buildings and two 5* hotel areas in the project. In front of the shophouse, there are wide roads: 30.40 and 55m streets, ensuring an open facade and open design.
- Residents in urban areas can enjoy both internal facilities as well as project facilities: International school, CCV utility area, entertainment center, square, air conditioner, sports area ...
- Starlake Urban Area is one of the very few projects in Vietnam that are interested in developing facilities for Koreans: Korean Inter-school, Entertainment Center, Utility Supermarket, Training Center.
- Potential to increase prices in the future
- The area around West Lake has always hidden heat in the Ha Thanh real estate market. Tay Ho Tay urban area in general and Starlake Ho Tay apartment in particular are located in the center of the surrounding area with 8 delegations of economic and political agencies, Ciputra urban area and community. intellectual population. Moreover, with the convergence of the foreign community here, the potential for renting apartments at Starlake is extremely easy. All of these factors provide a solid opportunity for future price increases for the project.
With a convenient location, high-class facilities and modern design, Starlake urban area have outstanding profit potential attracting a large number of investors.
Currently, Tan Long Land is providing consulting services, selling, renting villas in Starlake urban area with a beautiful location with reasonable prices. If you need to find the latest and most detailed information about selling and renting villas in Starlake urban area, please contact Tan Long Real Estate directly for advice and good support. Best.
See more:
Hotline: 0987.745.745 or Email: hotline@bdstanlong.vn
Data coming soon!