INFORMATION ABOUT HOUSES FOR RENT IN BA DINH DISTRICT
Houses for rent in Ba Dinh - Ba Dinh District is an inner city district of Hanoi city. This is the place where many important agencies of Hanoi in particular and the Vietnamese state, in general, are gathered.
OVERVIEW OF HOUSES FOR RENT IN BA DINH DISTRICT
+ Location: In the Centre of Hanoi; Next to Hoan Kiem, Cau Giay, Tay Ho, Dong Da
+ Area: 9,3 km2
+ Population: 250.000 people
+ Signature Real Estate Projects: Vinhomes Metropolis; Lancaster Nui Truc,…
+ Price of houses for rent in Ba Dinh: About 700$-2000$ per month
ADVANTAGES OF RENTING A HOUSE IN BA DINH DISTRICT
Houses for rent in Ba Dinh - One of the most central districts of Hanoi is Ba Dinh district, named after a major battle in Vietnamese history that is now a core part of the capital. The national administrative-political center is the bridge connecting with adjacent satellite districts such as Tay Ho, Long Bien, Dong Da, and Hoan Kiem.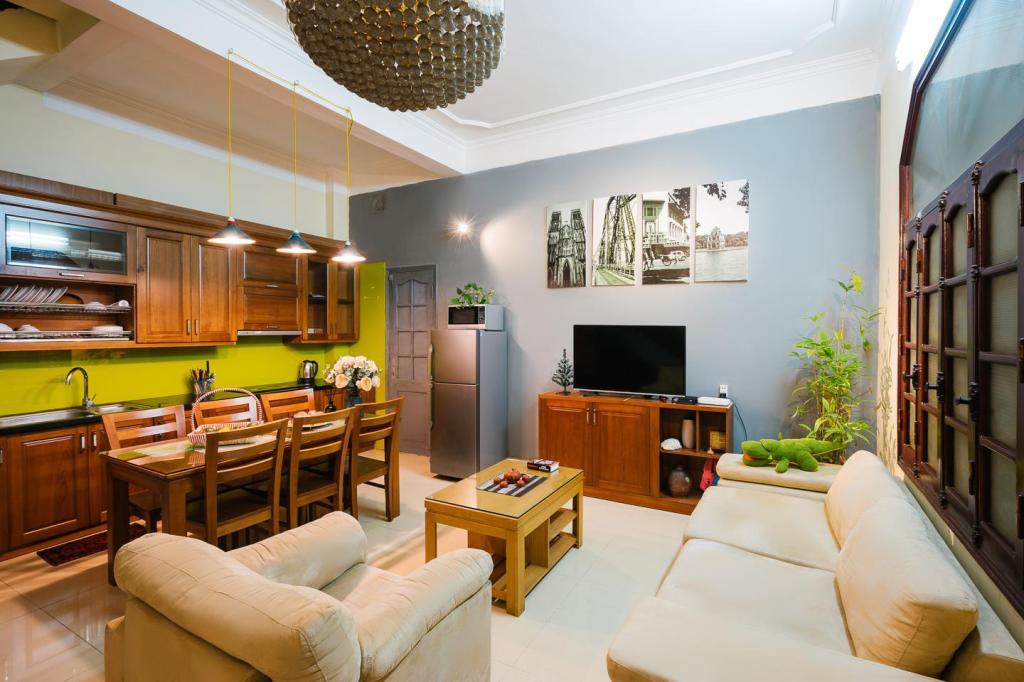 The calculated planning layout is even more prominent. The section of Kim Ma street from Ngoc Khanh street to the intersection of Nui Truc street with two rows of mausoleum trees is always a favorite place for paparazzi next to beautiful models. The sidewalk in this area is quite high and airy, and the road platform is wide and separated. Photographers are free to style without disturbing the number of people in traffic. The section of Nguyen Chi Thanh Street 2009, which is considered the most beautiful street in Vietnam, runs to the beginning of Tran Duy Hung. Leasing fees of Ba Dinh 3-bedroom apartments for rent are usually cost between 700$ and 2000$ depending on the agreement between the landlord and the property tenant.
SIGNATURE OF BA DINH DISTRICT
- Ho Chi Minh Mausoleum
Ho Chi Minh Mausoleum is one of the most attractive tourist attractions in the capital. This is where the body of Ho Chi Minh is located - who is respected by the whole country of Vietnam as well as by international friends.
- Bach Thao Park
A lung not only of Ba Dinh but also of Hanoi, the park built in the French period is currently preserved in many rare tree varieties. Currently, this place is a favorite place for those who love bonsai, and want to learn, and research and it is also an opportunity to gather friends to sing and dance in this forest space.
Along with a large and large-scale green tree system, a green lake creates a relaxing community. The park was created with the core location of a high hill with natural grass named Nung Mountain. All trees, ponds, and mounds make the landscape diverse and balanced.
Tan Long Land - The trusted Agent

Real Estate in Hanoi

is committed to becoming a solid bridge between customers and investors. We provide you a wide range of Hanoi housings list, Vietnam properties for sale and for rent, and regional housing services including apartments, serviced apartments, houses, shophouses, villas, and commercial real estate, with a team of professional and enthusiastic consultants who can speak English, Korean, Chinese,... For real tours and inspections of the property or

houses for rent in Ba Dinh

or any real estate properties across the country - Don't hesitate to contact us!
Hotline: 0989.734.734

Email: hotline@bdstanlong.vn

Website:

bdstanlong.com