Listings of villas for rent in Cau Giay
VILLAS FOR RENT IN CAU GIAY DISTRICT
Cau Giay district is located in the west of Hanoi city center, geographical location: 1. The East borders Ba Dinh district and Dong Da district with the boundary of To Lich 2 river. The West borders Nam Tu Liem district 3. The South borders Thanh Xuan 4 district. The North borders Tay Ho district and Bac Tu Liem district. The district has an area of 12.44 km², population in 2020 is 292,536 people, population density reaches 23,516 people/km².
OVERVIEW OF VILLAS FOR RENT IN CAU GIAY DISTRICT
+Location : Next to Ba Dinh district and Dong Da district , Nam Tu Liem district , Thanh Xuan district

+ Area : 12.44 km2

+Denisy : 23,516 people/km2

+Signature Real Estate Projects : Vinhomes D-capital , Discovery Cau Giay

+Land avarage price :~ 180 million/m2
Leasing fees of villas for rent in Cau Giay are ranging around from 1000$ to 4000$ per month.
ADVANTAGES OF RENTING VILLAS IN CAU GIAY DISTRICT
As one of the most vibrant residential areas in the capital, the rapid economic development makes villas for rent in Cau Giay district become increasingly crowded and attract a large population. In recent years, due to high demand, apartment projects, especially high-end ones, have also sprung up rapidly. Thanks to the investment of the city government, Cau Giay district is developing more and more, attracting people to live and work.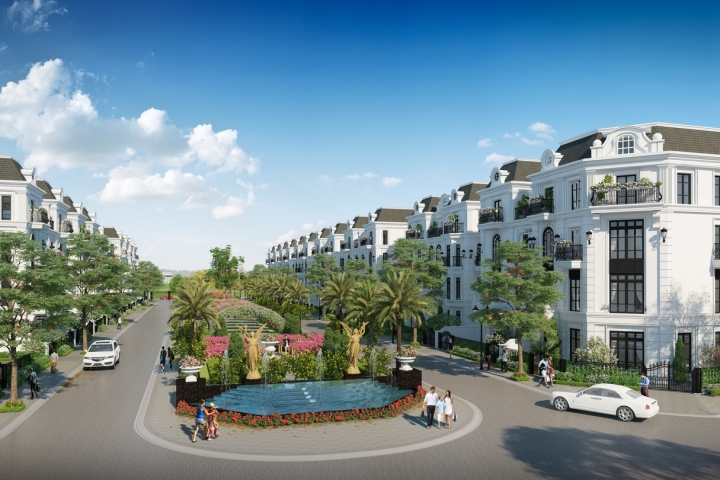 Rental villas in Cau Giay
In addition, Cau Giay also has many entertainment and dining areas to make your daily life more interesting. Villas for rent in Cau Giay are good choice for ex-pats living in Hanoi because this district has lots of universities, entertainment areas to relax and learn.
SIGNATURE OF CAU GIAY DISTRICT
Cau Giay Grandpark: Cau Giay is positioned at Thanh Thai Street, Cau Giay District; that is the reason why it is called Cau Giay. The park is voted the most attractive green public park for the young because it not only features beautiful artificial landscapes, but also is encompassed by famous universities of the city. The amusement zone attached to this place makes it more outstanding and appealing with no doubt; children can find it enjoyable while playing outdoor games, and adults will take chance to chill out and relax.
Nha Xanh Market: Nha Xanh Market (Phan Van Truong Street, Dich Vong Hau Ward, Cau Giay District) is considered one of the best shopping destinations for students in Hanoi over the years due to its cheap prices. However, nowaday, most clerks at this market are not well-trained and this lead to their rude attitude towards customers.
Viet Nam national University : Vietnam National University, Hanoi (VNU; Vietnamese: Đại học Quốc gia Hà Nội, ĐHQGHN) is a public research university in Vietnam. The university has 10 member colleges (called "universities") and faculties. VNU is Vietnam's national university, and it is the most prestigious university in Vietnam, ranked 201-250th in Asia by the QS ASIA University Rankings 2020. In 2020, it was one of the first two Vietnamese universities (the other one being Vietnam National University, Ho Chi Minh City) to be included in the QS Global Ranking of Top 150 universities under 50 years old by 2021.[1]
Tan Long Land is a proudly Hanoian, boutique property developer, driven to deliver remarkable spaces for discerning clients. Tan Long's headquarter is recently located at 39B Xuan Dieu. This location offers a chance for clients to view new projects and connect with the Tan Long team. As a young enterprise in the property market, we are constantly striving to become a reputable project developer, a pioneer in anticipating investment trends, focusing on improving service quality with the goal of: "ASSESSMENT OF EXCELLENT VALUE".
Contact information:
Hotline: 0989.734.734

Email: hotline@bdstanlong.vn

Website:

bdstanlong.com
See more: