APARTMENTS FOR RENT IN VINHOMES GARDENIA
Apartments for rent in Vinhomes Gardenia - Vinhomes Gardenia - "City of the morning - The place where happiness originates" is a high-class apartment project of Vingroup, located on Ham Nghi Street, Nam Tu Liem District, Hanoi. This is also the location of the western gateway of Hanoi Capital where new administrative and economic activities take place. And that's why, Vinhomes Gardenia apartments are rented a lot by foreigners, especially the Korean community.
APARTMENTS FOR RNET IN VINHOMES GARDENIA - OVERVIEW OF VINHOMES GARDENIA PROJECT
Project name: Vinhomes Gardenia

Investor: Sai Dong Urban Development and Investment Joint Stock Company

Location: Ham Nghi Street, Cau Dien Ward, Nam Tu Liem District, Hanoi

Project scale: 3 buildings A1 - A2 - A3 with 37 - 39 floors high

Type of apartment for rent in Vinhomes Gardenia: 1 - 4 bedrooms (56 - 145m2) & duplex (102 - 110m2)

Starting date: 2015

Handover date: November 2017
LOCATION OF VINHOMES GARDENIA MY DINH APARTMENT
Vinhomes Gardenia My Dinh apartment has an expensive location located at Ham Nghi Street, Cau Dien Ward, Nam Tu Liem District, Hanoi. This is considered as the extremely vibrant western gateway location of Thu Do - The place where the new economic, political and entertainment activities of Hanoi city take place.
Besides, from Vinhomes Gardenia project, you can easily move to:
Universities: University of Commerce, University of Theater & Cinema, Vietnam National University, Hanoi, University of Education...

Trade centers: Metro, Vincom Pham Hung, IPH Xuan Thuy, Vincom Tran Duy Hung...

Cinemas: CGV, Beta, Lotte...

Apartments: Goldmark City, Vinhomes Skylake, Vinhomes D' Capitale, Vinhomes West Point, Vinhomes Green Bay...

Key areas: Noi Bai Airport, National Convention Center...
APARTMENT FOR RENT IN VINHOMES GARDENIA HAM NGHI
Vinhomes Gardenia Ham Nghi project includes 3 apartment buildings A1 - A2 - A3 with 37 - 39 floors high. Apartments for rent in Vinhomes Gardenia are divided into 1 - 4 bedrooms (area from 56 - 145m2) and duplex (area from 102 - 110m2).
With a very modern and luxurious design and imported European electronics and furniture, Vinhomes Gardenia offers an upscale life for high-class residents. Not only Vietnamese people live here, but also a community of foreigners, especially Koreans, rent houses here for convenient transportation near work.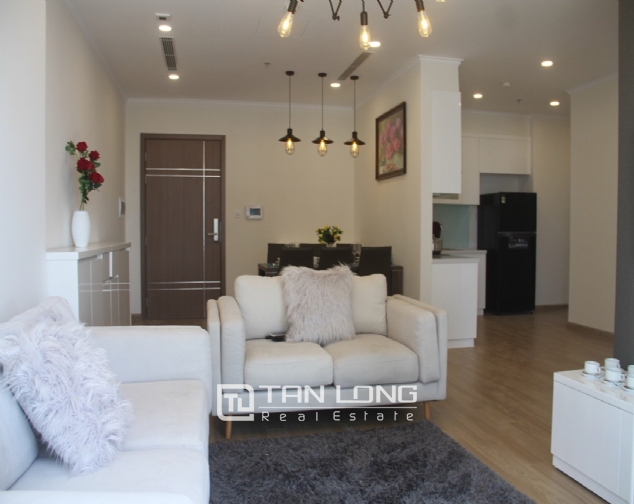 Therefore, if you are looking for an apartment for rent in Vinhomes Gardenia, do not hesitate to contact Tan Long Land Real Estate Company for detailed and professional advice.
UTILITIES AND SERVICES AT VINHOMES GARDENIA
What utilities and services are available at the Vinhomes Gardenia project?
To ensure the establishment of a convenient, modern and luxurious life for the residents of the whole project, the investor Vinhomes has built at Vinhomes Gardenia My Dinh a system of 66 world-class 5-star facilities. . Among these utilities, the top must be mentioned are: 10 unique gardens, amusement park, children's playground, shopping center, Vinmart supermarket, Vinschool school, Vinmec clinic, Outdoor central swimming pool, indoor swimming pool, Sports and entertainment area…
Tan Long Land - The trusted Agent Real Estate in Hanoi is committed to becoming a solid bridge between customers and investors. We provide you a wide range of Hanoi housings list, Vietnam properties for sale and for rent, and regional housing services including apartments, serviced apartments, houses, shophouses, villas, and commercial real estate, with a team of professional and enthusiastic consultants who can speak English, Korean, Chinese,... For real tours and inspections of the property or apartments for rent in VInhomes Gardenia or any real estate properties across the country - don't hesitate to contact us!
See more: Apartments for rent in Vinhomes Ocean Park