VINHOMES GREEN BAY VILLAS FOR SALE
Located at the western gateway of Hanoi City, Vinhomes Green Bay is a green bay in the city, where all residents enjoy a healthy, fresh life, away from the noise and dust.
1. THE OVERVIEW GREEN BAY VILLAS FOR SALE
- Project name: Vinhomes Green Bay
- Project location: Nam Tu Liem District, Hanoi
- Construction density: 19.3%
- Total area: 318,335 m2
- Area of ​​parks and lakes regulating internal areas: 106,968m2
- Parking area: 1900m2;
Types of products of the project: Single villas, semi-detached villas, shophouses, apartments and adjacent villas for sale in Vinhomes Green Bay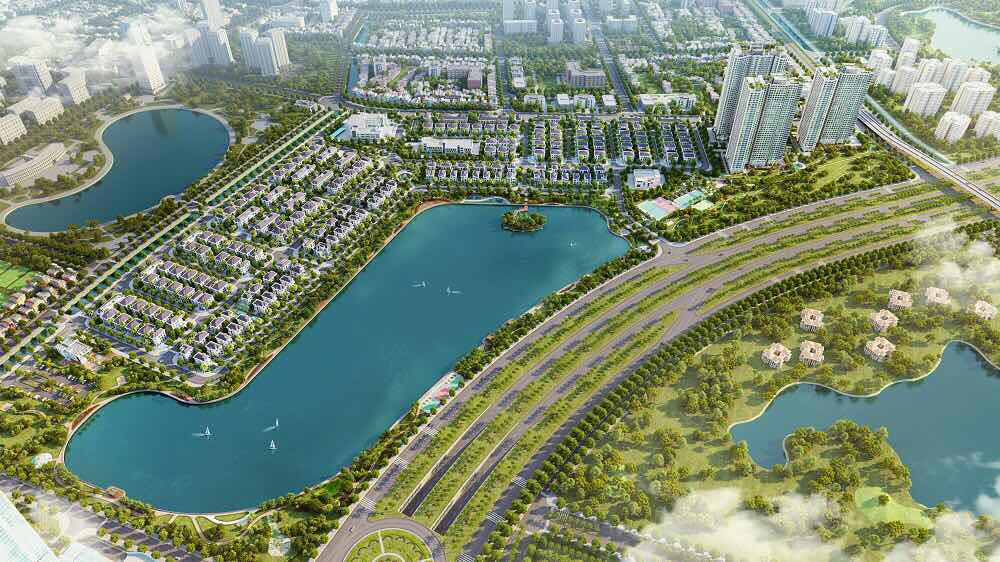 2.

LOCATION OF VINHOMES GREENBAY VILLAS FOR SALE
Vinhomes Green Bay is located in Nam Tu Liem district, Hanoi, right at the west gate of the capital, close to Thang Long Boulevard - opposite to the center of My Dinh National Convention. From Vinhomes Green Bay, it only takes 10 minutes to move into the city center, 15 minutes to move to My Dinh bus station, paper-paper area. It is also convenient for moving to Son Tay, Hoa Binh and the western provinces.
In addition, Vinhomes Green Bay urban area inherits the whole airy landscape, fresh climate from gardens, lakes, bringing an energetic life to trendy future owners.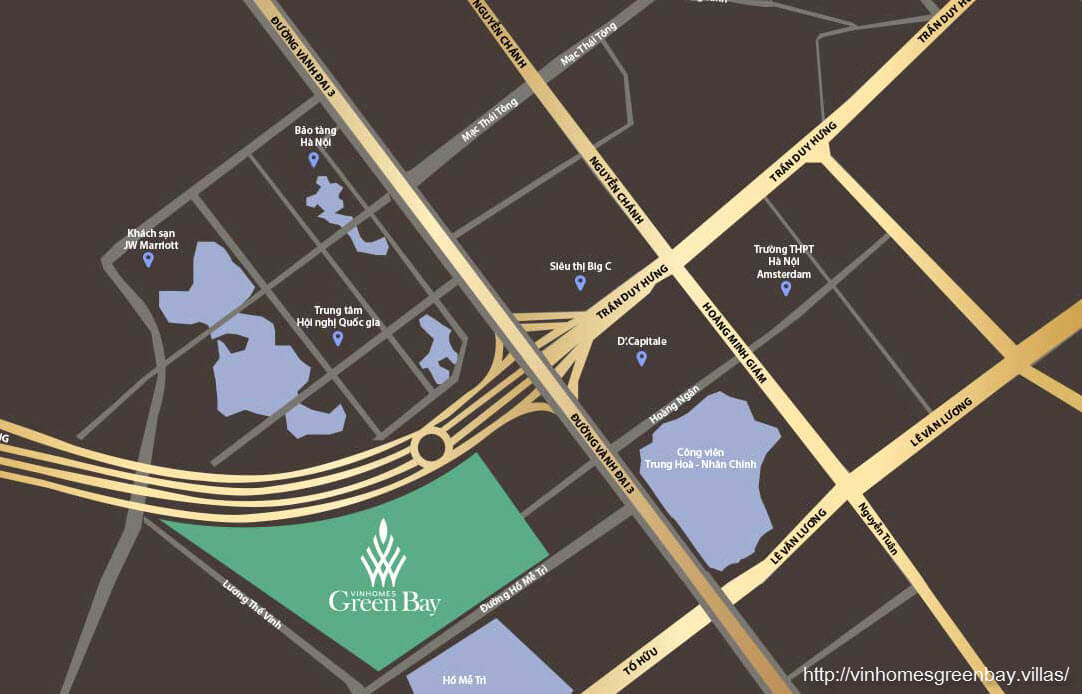 3. VINHOMES GREEN BAY VILLAS FOR SALE PROJECT PLANNING
Vinhomes Green Bay is built with types of products: villas, shophouse and apartments. With villas are divided into semi-detached villas, detached villas, adjacent villas with different sizes, design styles and uses. Products are divided into 02 main sub-zones, high-rise and low-rise.
The low-rise subdivision at Vinhomes Green Bay is divided into three sub-areas: Hoang Lan, Moc Lan, and Thach Thao.
Hoang Lan (Ylang Ylang) Sub-area: Located right next to the lake, helping to enjoy the cool, refreshing atmosphere with a variety of gadgets, playing on the water. The villas in Hoang Lan sub-area all have a swimming pool and a private garden. This is the most private and quiet sub-zone of 03 sub-areas. Hoang Lan sub-area has 43 single villas and 30 semi-detached villas.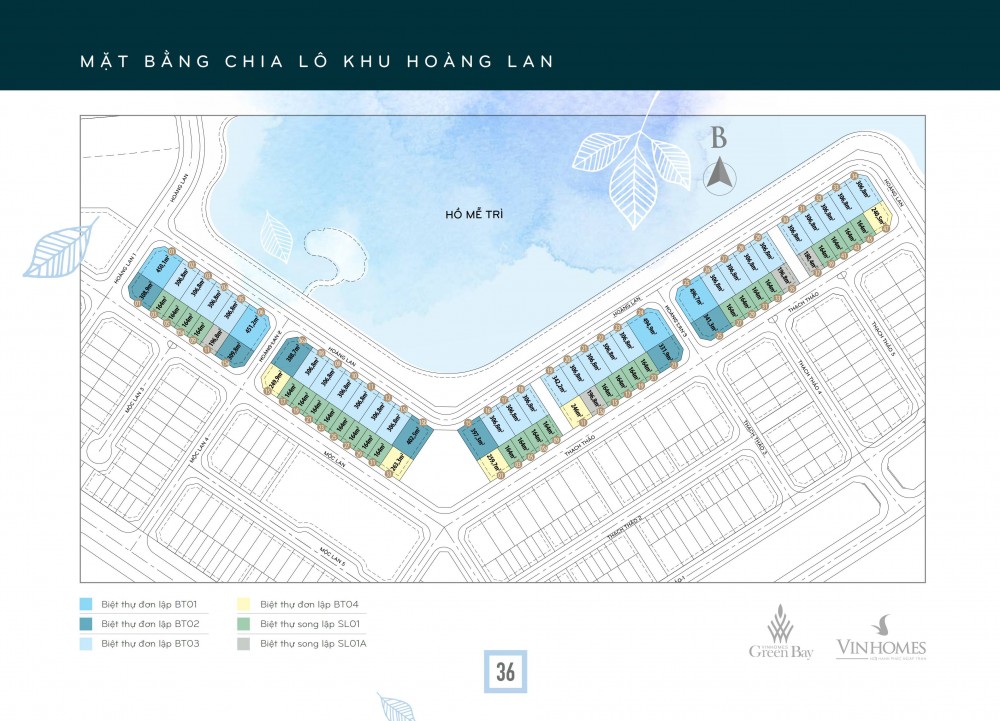 Moc Lan (Magnolia) Sub-area: Located next to the Hoang Lan Sub-area. Although not fully enjoying the space of the lake, however, there is a bustle, bustle, bustle of the shophouse here. This is the only subdivision in 03 sub-warehouses with the presence of shophouse units. Although not as quiet as the other two sub-areas, it has the advantage of moving, trading, shopping, trading and high profitability. Moc Lan sub-area has 10 single villas, 88 semi-detached villas, 12 adjacent houses and 44 Shophouse units.
Thach Thao (Heather) sub-area: Located right behind the Hoang Lan sub-area. It is a gathering place of villas and adjacent houses. The unique feature of this subregion is that there are flowers blooming all year round. Here also away from the hustle and bustle of the shophouse neighborhood. Thach Thao sub-area has 12 single villas, 81 semi-detached villas and 68 adjacent houses.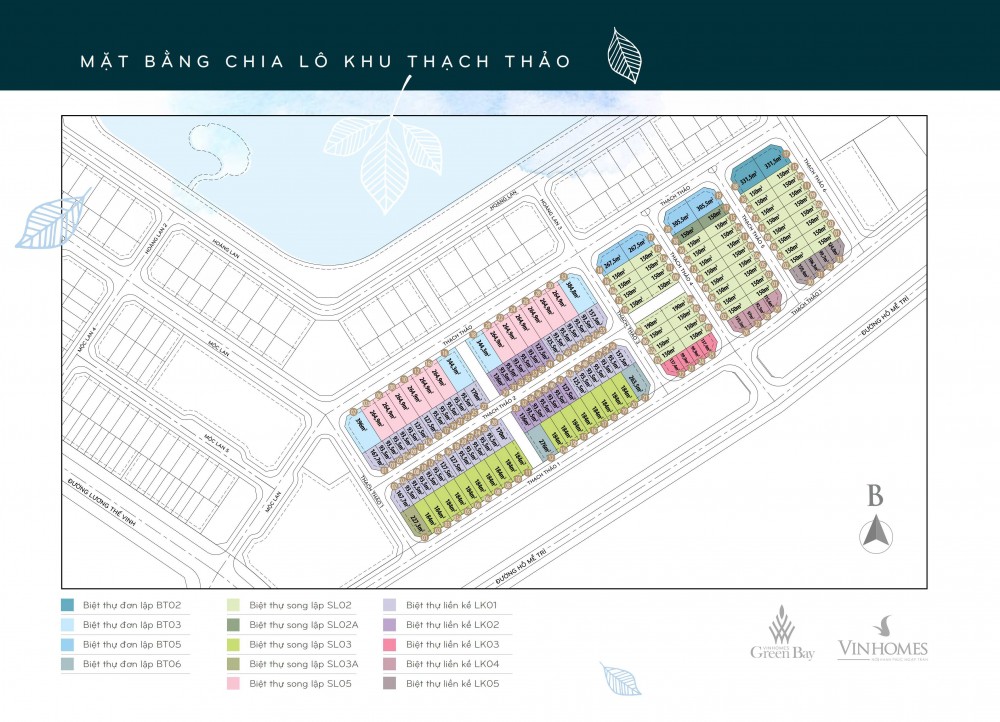 Vinhomes Green Bay high-rise subdivision is a subdivision for apartments, including 03 apartment buildings:
G3 apartment building: This is the most unique apartment building in 03 apartment buildings. G3 has 02 hall A and hall B. Of the 03 buildings, only G3 is used a part of office space. G3 building has a height of 40 floors. The largest number of apartments is 1272 units. G3 has an area of ​​27.4m2 to 58.3m2, each floor has 36 apartments and has up to 15 elevators / floor. At Hall A of G3 building, there is a clear view of the lake used as a dwelling. And lobby B is preferred to use as an office area.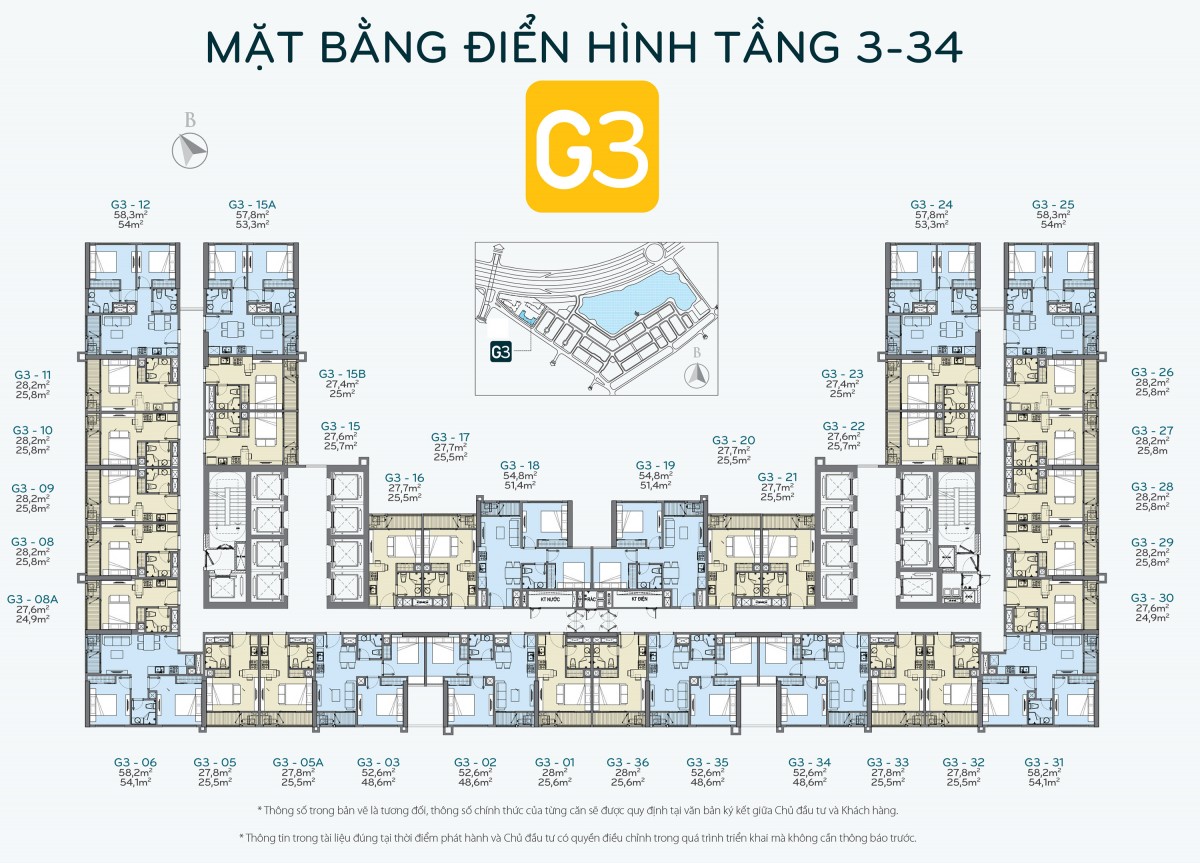 G2 apartment building: With a height of 38 floors, the number of apartments is 720 units. Each floor has 20 apartments, with an area of ​​61.2 - 115.3m2. G2 Tower is adjacent to Thang Long Boulevard and the regulating lake helps to enjoy fresh and fresh space.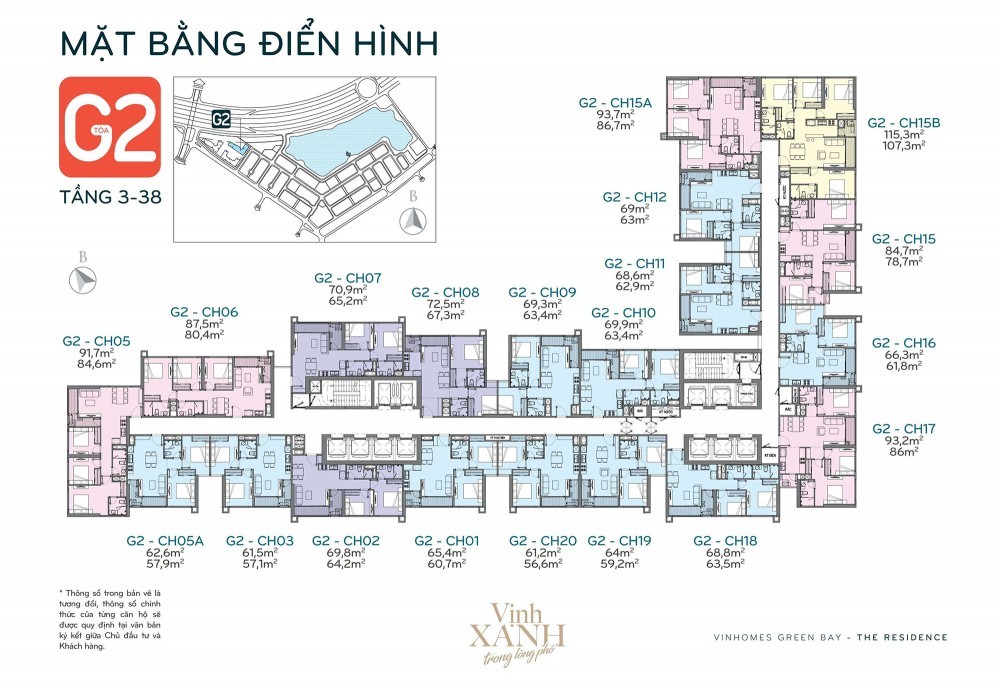 G1 apartment building: This is an apartment building with the least number of apartments in 03 buildings with only 704 apartments and is also the only building with 360-degree view. G1 Tower is 34 floors high, each floor has 20 apartments with area from 42.4m2 - 92.2m2. Building G1 has 02 fronts overlooking Thang Long Boulevard and Luong The Vinh Street.
4. FACILITIES INSIDE VINHOMES GREEN BAY VILLAS FOR SALE
Vinhomes Green Bay villas for sale with the motto towards the green pearl in the heart of the city, so the utilities and services at the project are optimized to bring a lot of green space, fresh air, open space, clear, providing the best quality of life for future residents.
- The first to mention is the park with a lake larger than 8ha. Including a variety of internal utilities such as 3.6km long jogging track, chess area, nursing area, gym, sports ... helping residents to both enjoy a healthy life, relaxed and taking everyday with freshment.
- Next is the Vinschool with multilevel education. Education is indispensable in life and with the Vinschool system, customers will definitely sure about their children is being well-educated and taken are of.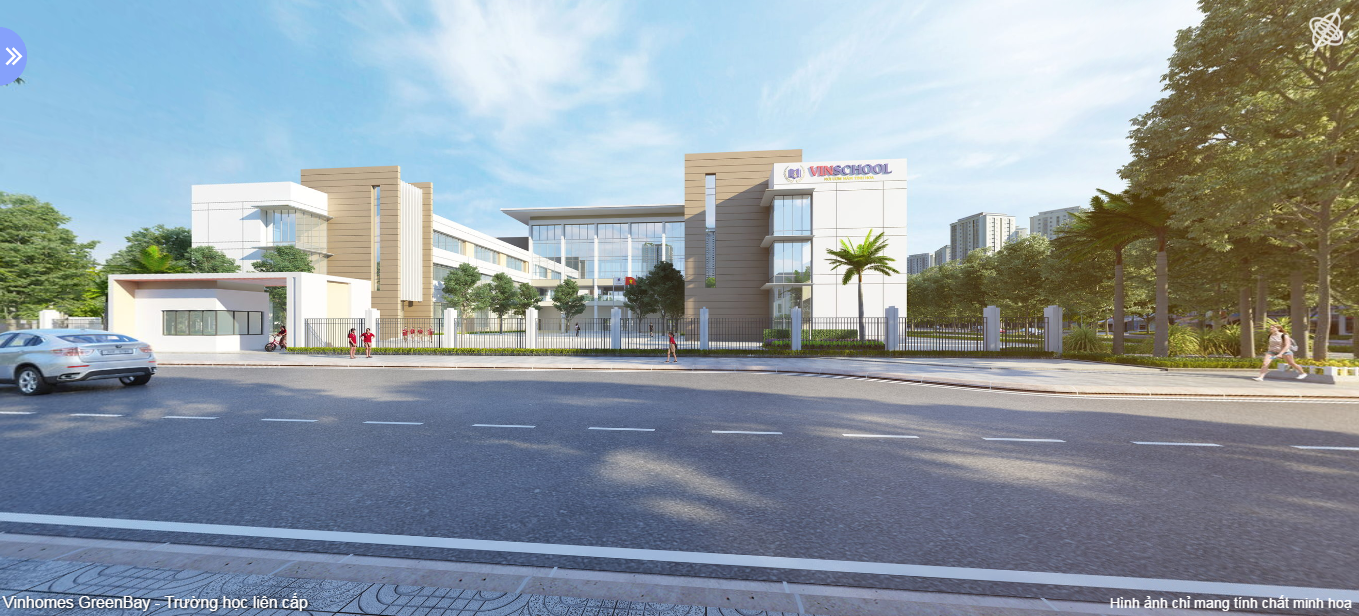 Also indispensable is the system of commercial centers, restaurants, cafes, indoor swimming pools, children's play areas and bustling shophouse chain. Enjoy shopping, entertainment in full of brands from popular to high-end to have the most comfortable and relaxing moments.
5. CONTACT INFORMATION
With a team of professional, enthusiastic consultants, Tan Long Land is committed to becoming a solid and professional bridge between customers and homeowners and investors. If you want to find the latest and most detailed information, please contact us directly:
Hotline: 0987.745.745 or Email: hotline@bdstanlong.vn
See more: