HOUSES FOR RENT IN HOAI DUC DISTRICT
Hoai Duc district belongs to Hanoi city, located in the service development area, economic and financial transactions of Hanoi. On the route to the district according to the policy of the city. Hanoi and Hoai Duc are increasingly synchronously and modernly invested, creating a foundation to promote economic and social development.
OVERVIEW OF HOUSES FOR RENT IN HOAI DUC DISTRICT
+ Location: Next to Dan Phuong, Phuc Tho, Quoc oai, Ha Dong, Bac Tu Liem, Nam Tu Liem
+ Area: 85 km2
+ Population: 260.000 people
+ Signature Real Estate Projects: Vinhomes Thanh Long
+ Price of houses for rent in Hoai Duc: ~ 800$-2500$ per month
ADVANTAGES OF RENTING HOUSE IN HOAI DUC DISTRICT
In fact, in Hoai Duc, residential land is still the choice of many people when wishing to live in Hoai Duc and is the segment most affected by information on the district. In the period 2011-2014, Hoai Duc's land used to have a fever before the information was sent to the district. When the fever passed, the market slowed down and the land price plummeted to only 10-15 million VND/m2, causing many people to struggle.
By the end of 2018, Hoai Duc's housing market was stirred up by the news that Hoai Duc was going to the district in 2020. "Hoai Duc's land" became the most searched keyword phrase in the last two quarters of 2018, many investors investors joined the Hoai Duc market, pushing the land price here to rise again. Partly because this area is invested with synchronous infrastructure, there are many urban areas springing up. However, it is worth noting that the actual transaction is not much, but trading is mainly between speculators. Since the fever in early 2021, residential land in the population, even though it has a small area, has also established a new price level.
HOAI DUC DISTRICT DEVELOPMENT
Hoai Duc was previously oriented to the district from 2020 but due to not meeting the criteria, it had to be delayed until the end of 2021 or 2022. Up to now, implementing the development project to the district, Hoai Duc has focused on doing well. planning and planning management to implement a number of basic infrastructure projects such as: building 8 frame traffic routes with a length of 40.52km, building 9 main roads, surrounding residential areas. 16km long residential area, build 18 schools up to national standards, build 15 waste transfer yards, upgrade 16 medical stations. 100% of communes/towns have clean water supply systems, the percentage of households using clean water reaches 90%. Thus, Hoai Duc has achieved 22/27 criteria to be upgraded to a district, in which 5/6 criteria on socio-economic development, 17/21 criteria on infrastructure development. There are still 5 difficult criteria that have not been achieved such as: density of roads, public green land, urban-level medical facilities, balance of budget revenue and expenditure, rate of urban wastewater being treated. Officials, businesses and local people have been focusing on completing these 5 criteria. In which, leaders of the District People's Committee have directed businesses to construct projects to build roads, build industrial clusters, review budget revenues and expenditures, and attract businesses and small traders to do business in the commercial center. . Hoai Duc has also attracted a number of large commercial and tourism projects such as: Duc Thuong ICD dry port, a commercial center in Tram Troi town.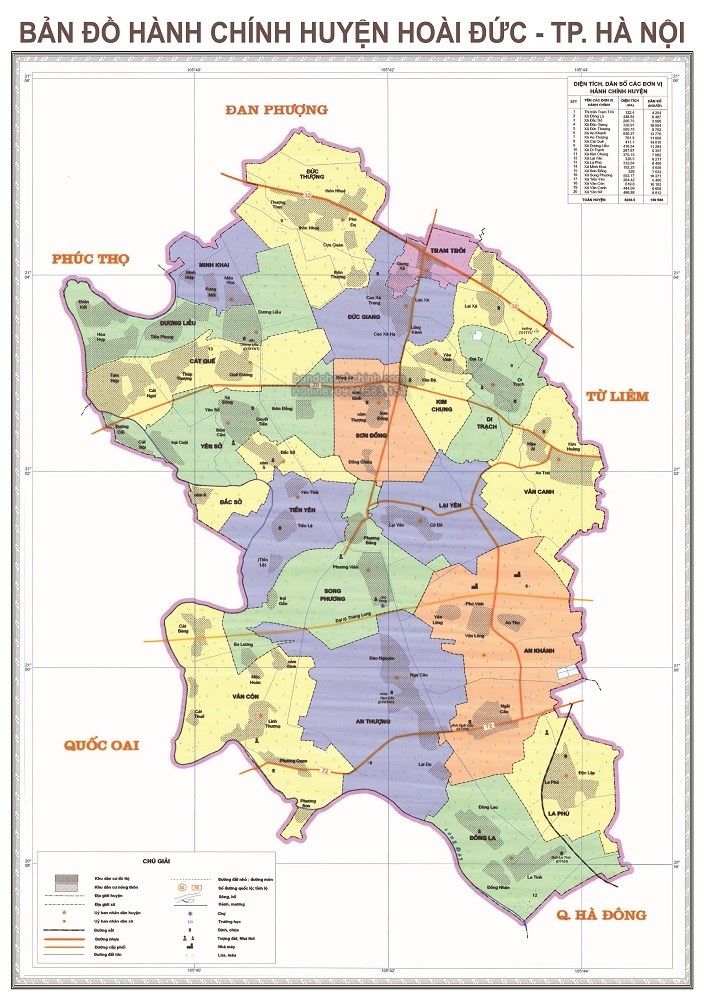 Along with that, many urban areas in Hoai Duc are being asked to adjust the planning to prepare for a new campaign, such as the Kim Chung - Di Trach urban area after a decade of "clinical death" is currently underway, extensively built. The Hanoi People's Committee has also made a decision on the planning of Duc Giang Petroleum Urban Area, scale 1/500, scale of 67.68 ha in Duc Giang commune and Tram Troi town.
In the area of ​​Hoai Duc district, a number of high-class urban areas have been formed such as: Vinhomes Thang Long urban area, Bac An Khanh urban area, Nam An Khanh urban area, North Highway 32 urban area, urban area. Van Canh urban area, South National Highway 32 project, An Khanh - An Thuong urban area, An Thanh urban area, Mai Linh - Dong Do urban area, Hinode Royal Park urban area, Son Dong urban area, Tay Do urban area, Dau Khi An Thuong urban area, Duc Giang Petroleum urban area. Bao Son Paradise Park is located on Le Trong Tan Street in Hoai Duc District.
Tan Long Land - The trusted Agent Real Estate in Hanoi is committed to becoming a solid bridge between customers and investors. We provide you a wide range of Hanoi housings list, Vietnam properties for sale and for rent, and regional housing services including apartments, serviced apartments, houses, shophouses, villas, and commercial real estate, with a team of professional and enthusiastic consultants who can speak English, Korean, Chinese,... For real tours and inspections of the property or houses for rent in Hoai Duc or any real estate properties across the country - don't hesitate to contact us!
See more: