APARTMENTS FOR SALE
VINHOMES GRAND PARK
With a total area of ​​nearly 271ha, positioning in Long Binh ward, Long Thanh My, District 9 where is known as the eastern gateway of Ho Chi Minh City. At its same level, in the near future, Grand Park will be considered as one of the centers of the Creative urban network according to the city's most developed planning. Developed according to a modern model of international class, "Grand Park" owns all 3 product lines: Sapphire, Ruby and Diamond, providing extremely diverse choices for buyers. Not only that, the project also maintains a low construction density and gives priority to the area of ​​green space, cool water surface and utilities for the community.
1. OVERVIEW VINHOMES GRAND PARK APARTMENTS
• Project name: Vinhomes Grand Park Apartments
• Investor: Vingroup
• Location: Nguyen Xien and Phuoc Thien Street, District 9, HCMC.
• Project land area: 271ha
• Construction density: 22.5%

2. LOCATION AND INFRUSTRUCTURE OF VINHOMES GRAND PARK APARTMENT FOR SALE
Adjacent to metro line No. 1 Ben Thanh, Suoi Tien, combined with many arterial roads, making the Grand Park project easy to connect to many neighboring districts. The ability to move to Tan Son Nhat airport and Long Thanh airport is also easy for transportation, and it is predicted that in the future, Grand Park will become one of the most unique green marks on the map of Ho Chi Minh City.
From having a large vacant land fund in Army 9, together with the terrain next to the Dong Nai River and also the gateway to the East of Ho Chi Minh City. Grand Park received 3 natural terrain endowed that no other urban building has, creating a smart, dynamic and creative urban area. The two fronts of Phuoc Thien and Nguyen Xien streets together with the surrounding Dong Nai River will create a fresh, airy and not stuffy atmosphere. Also because the project is built in the suburbs, the prices here will be extremely suitable but still maintain a standard of living that is comparable to the elite's.
• Combined with the main road Hanoi Highway, after being widened and expanded, is the belt road 3 that makes District 9 connect Binh Duong and Dong Nai provinces easily and quickly.
• The Long Thanh and Dau Giay expressways will help residents easily connect to Vung Tau City, it only takes about 1 hour to drive.
• There is also a Metro Suoi Tien line to help relieve traffic congestion in the rush hour.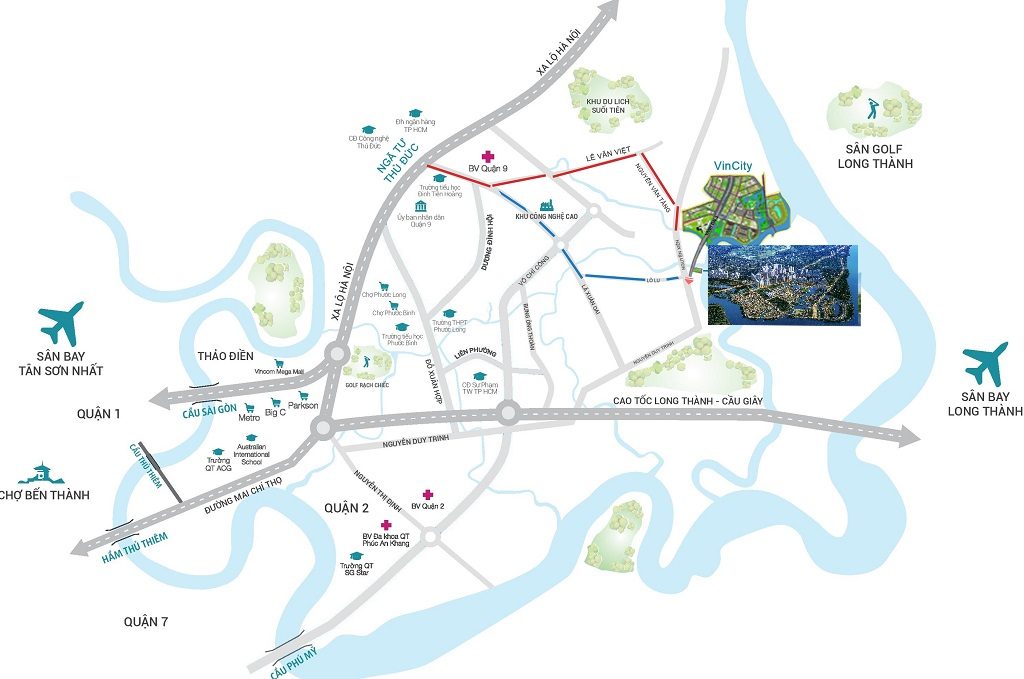 3. TYPICAL DESIGN AND LAYOUT OF VINHOMES GRAND PARK APARTMENT FOR SALE
Possesses many designs with modern, airy and classy style to suit all needs of customers, apartments of Vinhomes Grand Park has a range of apartment area from 30m2 to 80m2, owning the number of bedrooms from 1 to 3.
• Sapphire: for young dynamic, technology-loving young people, who tend to choose smart and flexible solutions in life, is one of the most modern types of apartments.
• Ruby: for a group of civilized and modern family customers, moving to a classy life, full of convenient services, is the line of high-end apartments.
• Diamond: is the most luxury apartment line in the Vinhomes system with luxurious and high-class apartments for luxury and noble customers.
Using youthful and dynamic colors, Grand Park continues to bring residents back to time with ancient and fanciful places based on many famous Japanese architects. Using the Origami style as a reminder to protect the value as well as the great influence of the family for each individual, Vingroup is like a reminder and creates a more cozy living space for the residents.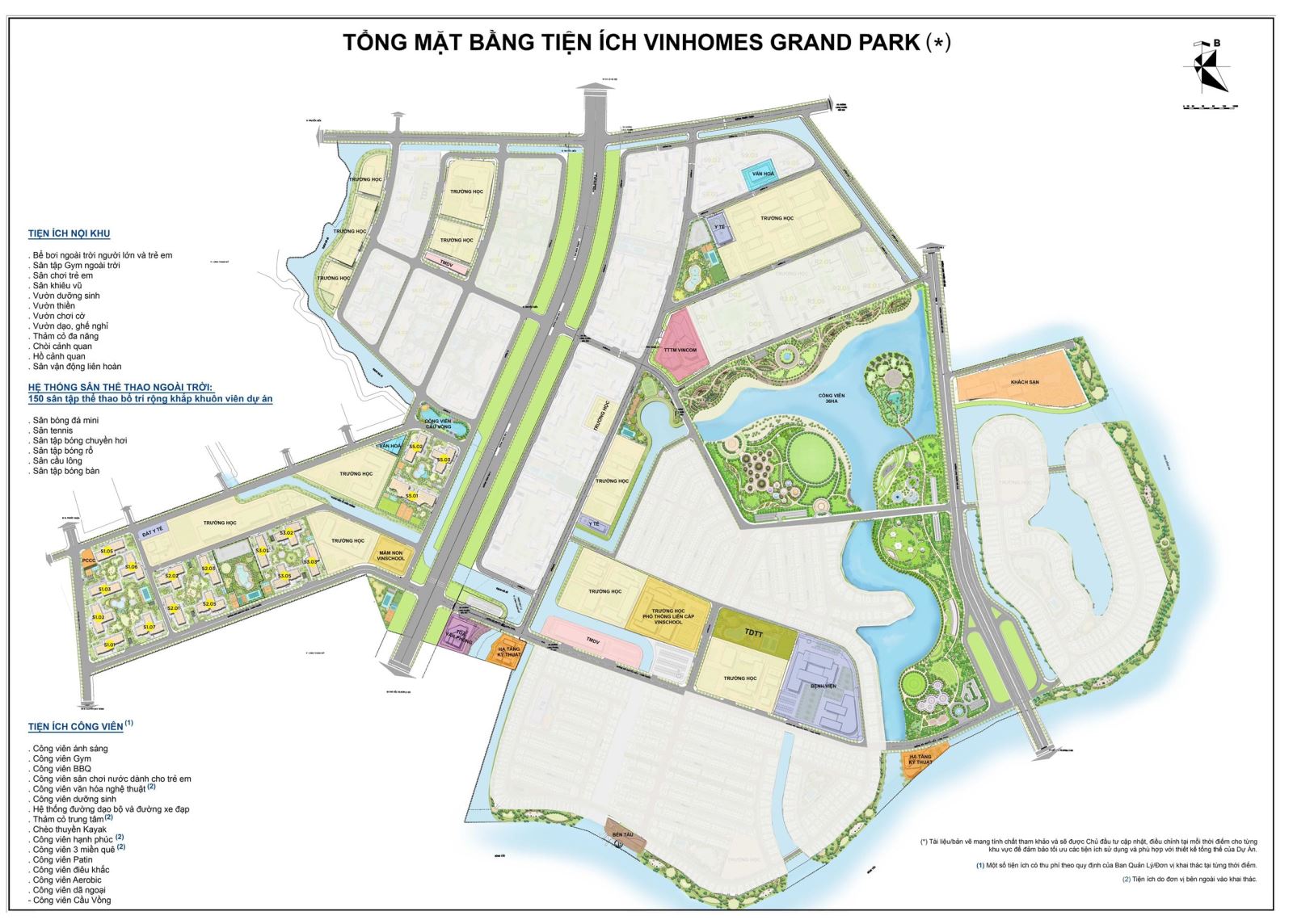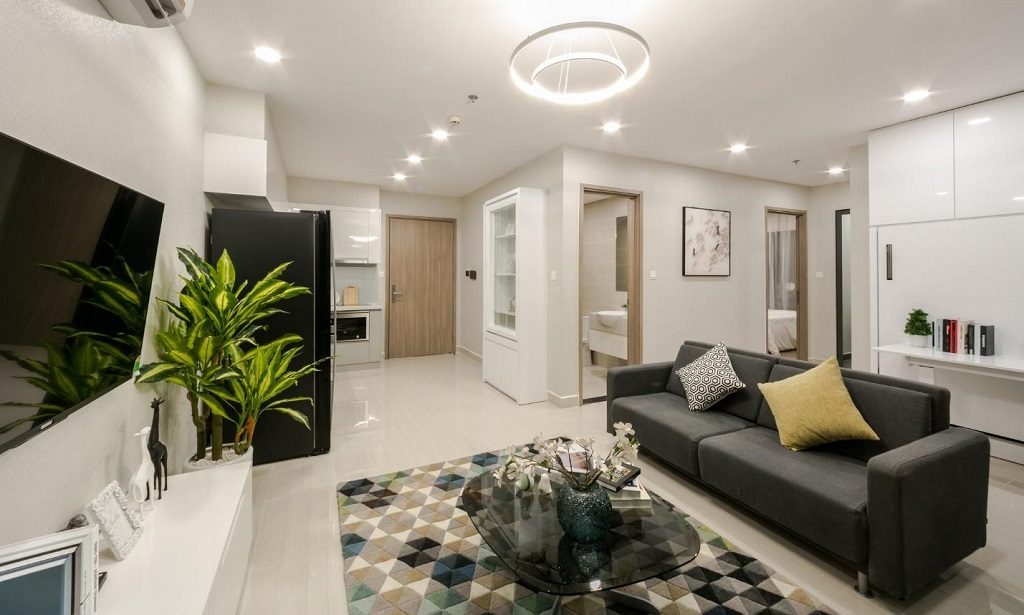 4. FACILITIES OF THE VINHOMES GRAND PARK APARTMENTS FOR SALE
Inside Grand Park, there are many utilities of a large scale, from great outdoor gym parks, indoor swimming pools or gym clusters to schools, hospitals and even commercial centers, all are intelligently planned by leading consulting firms in the world, promises to bring an inspiring new life experience to civilized residents in Grand Park.
Riverside Park: In particular, the Greater Vinhomes District 9 owns the Park with an area of ​​up to 36ha, the largest in Southeast Asia, designed with 15 theme parks such as: the world famous light park GARDEN BY THE FLIGHT Singapore Bay; BBQ park; Gym Park ...

The Great Gym Park: Owning a great Outdoor Gym Park appeared for the first time in the same system with about 1000 exercise machines of all kinds, arranged along the area of ​​the internal park.
The Great BBQ Park: The Investor has planned a barbecue park with up to 100 barbecue spots for the whole family as a dream relaxing weekend space for residents.
Artificial Lake: Specially river system is designed artificially, with white sand taken from Nha Trang and carefully-treated water, residents can sunbath and enjoy the beach joyfully and fresh.
5. OTHER REAL ESTATE PROJECTS OF VINGROUP
• Vinhomes Central Park - Binh Thanh District, HCMC (37,712 billion VND)
The project has a total land area of ​​more than 40 hectares, is a multifunctional urban area with synchronous technical and social infrastructure. The project has 18 high-rise buildings, 100 villas, 1 general hospital, 1 inter-level school.
• Vinhomes The Harmony - Long Bien District, Hanoi (4,887 billion VND)
This is a project located next to the Vinhomes Riverside ecological urban area, where Vingroup is headquartered. The project has a total land area of ​​about 97ha, has villas, garden houses, schools and 100% interest rate is owned by Vingroup.
• Vinhomes Green Bay - Nam Tu Liem District, Hanoi (4,992 billion VND)
The project includes high-rise buildings, villas, townhouses, schools, located on an area of ​​about 30 hectares, 98.86% owned by Vingroup.
• Vinhomes Skylake - Nam Tu Liem District, Hanoi (3,786 billion VND)
This is a high-rise apartment project, with a total land area of ​​about 2.3 hectares, due to Vingroup's 94% interest rate.
• Vinhomes Gia Lam - Gia Lam district, Hanoi (estimated VND 100,000 billion)
According to the plan, the project scale is about more than 420ha, including many items such as high-rise apartment buildings, low-rise houses, schools of all levels, universities, hospitals and urban facilities. The Vinhomes Ocean Park project aims to attract a large number of residents to live, reduce the load for the inner city of Hanoi and surrounding areas.
• Vinhomes Metropolis - Ba Dinh District, Hanoi (VND 4,876 billion)
This is an office project, a high-rise apartment building, and a school with a size of about 3.5 hectares, because Vingroup holds 49.41% of the rate of interest.
• Vinhomes Imperia Hai Phong - Hong Bang District, Hai Phong (4,950 billion VND)
This is an urban area with a total area of ​​about 78ha, located at the western gateway of Hai Phong city. The project includes low-rise houses, schools, offices, hotels, shopping centers and 100% owned by Vingroup.
• Vinhomes Star City Thanh Hoa - Dong Hai Ward, Thanh Hoa (11,623 billion VND)
The project has a size of about 118ha, is a new urban area complete with complete technical infrastructure, social infrastructure (housing, commercial services, health, leveling, traffic, power supply system. , water supply and drainage, green trees) ... to meet the needs of housing, commercial services for the people and create jobs for laborers.
6. INTRODUCTION ABOUT VINHOMES PROJECTS INVESTOR
Referring to Vingroup, customers can imagine a large corporation with brands affirmed by quality and prestige, Vingroup has done miracles to honor Vietnamese brands and is proud to be one among the leading private economic groups in Vietnam. With the desire to bring to the market products and services of international standards and completely new experiences of modern living styles. In any field, Vingroup also proves its pioneering role, leading a change in consumer trends.
The Vinhome Grand Park promises to bring a wonderful, peaceful experience as well as a comfortable space for each member of your family.
7. CONTACT INFORMATION
Tan Long - The trusted Real Estate Agent in Hanoi is committed to becoming a solid bridge between customers and investors. We are provide you a wide range of Hanoi housings list, Vietnam properties for sale and for rent, and regional housing service including : apartments, serviced apartments, houses, shophouses, villas and commercial real estate products for sale and for rent, with a team of professional and enthusiastic consultants who can speak English, Korean, Chinese, ...
For real tours and inspection of the property of apartments for sale in Vinhomes Grand Park, Ho Chi Minh City or any real estate properties across the country - don't hesitate to contact us !
Find us for fastest service, reasonable price and no worry at all.
See more: