APARTMENTS FOR RENT IN LOTTE CENTER
OVERALL INFORMATION OF LOTTE CENTER
Lotte Center Hanoi is a skyscraper under investment of Lotte Group (Korea) which is completed in 2014. The building is centrally located in Ba Dinh, Hanoi which is the most important area of politic, economic and culture in Hanoi, nearby Ho Chi Minh Mausoleum, Ba Dinh Square and many pretty temples and pagodas such as: One Pillar pagoda, Tran Quoc temple. It is easily accessible to the shopping center, only few kilometers from the Old Quarter of Hanoi and convenient drive to Noi Bai International airport. The building is surrounded by West lake – the biggest one in Hanoi and Thu Le zoo creating air and comfortable space for its residents.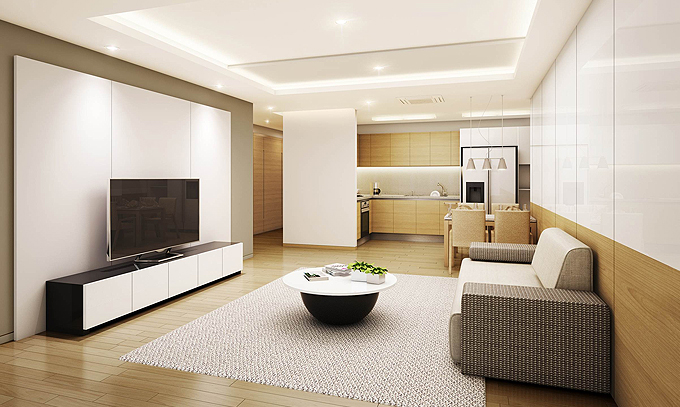 HIGH-END APARTMENT IN LOTTE LIEU GIAI
Lotte Center Hanoi has 65 floors with a height of 267 m and gross floor area of 247,078 m2 and 5 basements. It is the second tallest building in Vietnam after Keangnam Hanoi Landmark Tower with 72 floors. Inspired by the idea of Vietnam traditional custom, Lotte Centre Hanoi has the look of a uniform whole "ao dai" which actually is two separate towers on the inside. The 65-floor building accommodates shopping malls, 31 offices, 258 serviced apartments and a 5-star hotel above grade with 300 rooms and suites, an observation deck and skywalk on the top floor offering a panoramic view of the city. Residents can also enjoy leisurely moments at the 'Top of Hanoi Sky Garden' – Vietnam's tallest open restaurant on the 65th level of the building which the first in Asia and only the third in the world (after one in UK and one in US). The tower also has dedicated entertainment spaces, including a gym, a netted golf course, an outdoor swimming pool and a first Evian Spa in the South East Asia, among others.
Lotte Center Hanoi applied many world class advanced building technologies with using high tensile technology and low temperature, low CO2 emission concrete technology which make it become an eco-friendly building. In the main tower, every 4-6 levels are fitted with a multi-level garden to provide improved microclimate conditions, and double glazing facades to reduce power consumption in the building. Steel core and cantilever system help the building to withstand up to earthquakes of 7 richter and wind speed up to 32m/sec.
Lotte Centre Hanoi's apartments include 5 types:1 Bed (64 – 96m2), 2 Bed (86 – 112m2), 3 Bed normal (126 – 136m2), 3 Bed Premium (139 – 144m2), and 4 Bed (Penthouse) (170m2), inclusive of 5% Service Charges and 10% VAT, and exclusive of Parking fee (US$100/car/month – exclude VAT).
At present, there are a lot of apartments for lease in Lotte Centre Hanoi with full furniture and amenities.
Tan Long Real Estate is developed to cater for all housing requirements, residential leasing, commercial leasing and Industrial leasing. We have English speaking customer Division , Korean custommer Division and Japanese custommer Division with well-trained staffs to provide best services for customers. At Tan Long, we have updating database of apartment rentals in Lotte Centre Hanoi to serve for any requirement you may have. Our staffs will help you to quickly find your ideal home with or without furniture, with high or low rate or with any requirement raised and will negotiate on your behalf to get the best deal on your new home. Especially, we have our own maintenance team who can show up anytime at your urgent need as We understand the lease-long services is more important than showing the properties.
If you want to stay in Lotte Centre Hanoi, just send us your requirements and we will select and arrange the visit to your right home in the shortest time with reasonable price.
See more: