INFORMATION OF APARTMENTS FOR SALE IN VINHOMES OCEAN PARK - A LEADING METROPOLIS IN VIETNAM
Owning a prime location, located at the golden intersection of Gia Lam along with high-class facilities, Apartment for Sale in Vinhomes Ocean Park promises to be an ideal place for residents to become a New center with outstanding development in the heart of the Capital.
1. LOCATION OF APARTMENTS FOR SALE IN VINHOMES OCEAN PARK
Located at the golden intersection of Gia Lam (Hanoi), the coastal city of Vinhomes Ocean Park is easily accessible by many major roads, the main bridges such as Vinh Tuy Bridge, Thanh Tri Bridge, Chuong Duong Bridge.
The main road Dong Du - Duong Xa, directly connected to the big city to National Highway 5A has recently been upgraded to a modern, 40m wide road. There are trees and street lights on both sides of the road.
At the gateway of the project's main transport links, adjacent to the 5B highway, the two parallel highways are expanded to 11m, extending from the project to the end of Hanoi, adjacent to Hung Yen. From these two roads, residents can connect directly into different areas of the project through 04 connecting tunnel locations up to 40m wide.
With its current location and new traffic points, apartments for sales in Vinhomes Ocean Park is closing the gap with all future residents, becoming a new center of the capital.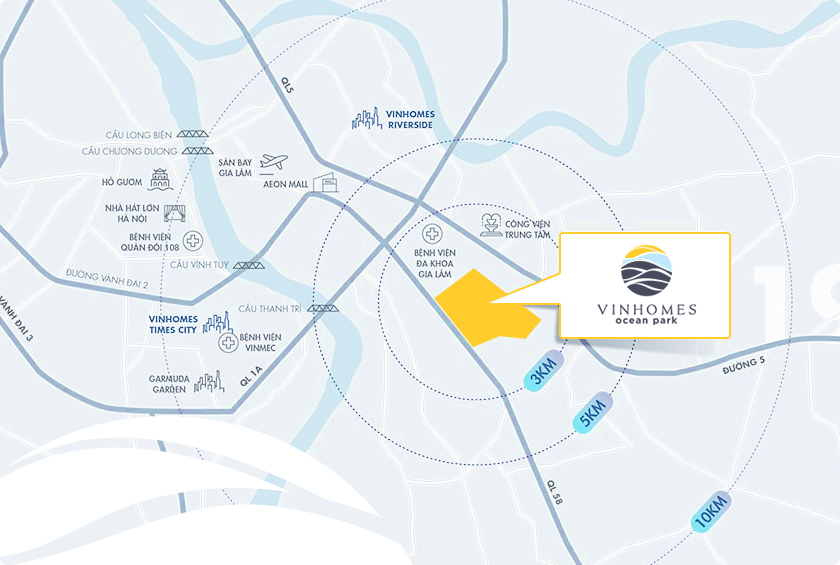 2. APARTMENTS FOR SALE IN VINHOMES OCEAN PARK DESIGN
Vinhomes Ocean Park with a larger area of ​​420ha in Gia Lam, Hanoi. The project is inspired by the modern, world-class Singapore city, bringing an ideal living space with a system of utility services, green landscapes, parks and especially the wide sea and salt water lake. 6.1ha, 24.5ha conditioning lake nowhere.
Vinhomes Gia Lam is planned with 2 subdivisions of Vinhomes Ocean Park & ​​Vinhomes Ocean Park.
High-rise subdivision
Vincity Ocean Park high-rise subdivision will be divided into 4 sub-areas: The Sapphire1, The Sapphire 2, Ruby, Diamond.
* Vinhomes Sapphire: is a modern apartment line for young people who are dynamic, prefer technology and tend to choose smart and flexible solutions in life.
* Vinhomes Ruby is a more advanced apartment line, for groups of civilized and modern family customers, towards a high-class life, full of utility services. Vinhomes Ruby is the current Vinhomes product.
* Vinhomes Diamond is the most advanced apartment line in the Vinhomes system with high-class apartments, full of high-class utilities for elite customers.
Especially, Vinhomes Gia Lam apartment is designed with a diverse area, suitable for many Vietnamese households, receiving a lot of attention from people in Gia Lam, Hung Yen, ... Design of the apartment is modern and luxurious style.
These apartments are designed optimally in terms of use area, with apartment space is reasonably designed, minimalist details such as bearing columns instead of bearing walls will make the space in the apartment large and more open.
Low-rise subdivision
Low-rise subdivision of Vinhomes Ocean Park project includes 2300 villas with all types:
• Adjacent villas 90-130m2
• Garden villas: 168m2
• Duplex villas: 180-250m2
• Single villas: 250-450m2
• Shophouse (townhouse): 170-300m2
3. VINHOMES OCEAN PARK APARTMENTS FOR SALE - FACILITIES
Investor Vinhomes has just announced the addition of residents with 2 roof glass swimming pools on the 6th floor of high-rise garage buildings. The unique feature is that these 2 swimming pools have an open sliding module, becoming a unique architectural feature. Each swimming pool area of ​​2000m2, including an Olympic pool for adults 1000m2, 1 children's pool 120m2. Auxiliary area of ​​about 700m2. Around the swimming pool are landscaped green garden landscapes. The investor also makes a panorama ladder to create an enjoyable experience for residents.
In addition to the resort style swimming pools evenly distributed in the subdivisions, the swimming pool system at apartments for sale in Vinhomes Ocean Park becomes a great summer cooling place for residents. Whenever they want, they can enjoy swimming, exercising and relaxing. In summer, in the capital may rarely be less crowded pool, but in the future, in the City of the lake, residents of all ages always enjoy the best conditions for physical training.

4. INVESTOR OF VINHOMES OCEAN PARK APARTMENTS FOR SALE
Vingroup is the largest market capitalization enterprise in Vietnam stock market. By pioneering aspirations and the sustainable development investment strategy of Vingroup, strives to become a leading economic corporation in Vietnam, reputable and a position on the world economic map to build a successful product chain and High-class services contribute to improving the quality of life of Vietnamese people and empowering Vietnamese in the international arena.
As a brand of Vingroup, Vinhomes is considered the number one real estate company in Vietnam operating in the field of development and transfer of residential real estate complexes in the middle and high-end segments.
Vinhomes has 2 brands namely Vinhomes with product lines of high-end townhouses and villas and Vinhomes branded apartments in mid-end and affordable segments in Hanoi with 2 projects: Vinhomes Ocean Park and Vinhomes Sportia
5. CONTACT INFORMATION
Tan Long - The trusted Real Estate Agent in Hanoi is committed to becoming a solid bridge between customers and investors. We are provide you a wide range of Hanoi housings list, Vietnam properties for sale and for rent, and regional housing service including : apartments, serviced apartments, houses, shophouses, villas and commercial real estate products for sale and for rent, with a team of professional and enthusiastic consultants who can speak English, Korean, Chinese, ...
For real tours and inspection of the property of apartments for sale in Vinhomes Ocean Park in Gia Lam, Hanoi (Former name: Sunshine Wonder Villas Luxury Boutique) or any real estate properties across the country - don't hesitate to contact us !
Website: bdstanlong.com.
Hotline: 0987.745.745 or email: hotline@bdstanlong.vn
Address: 39B Xuan Dieu, Tay Ho, Hanoi.
Find us for fastest service, reasonable price and no worry at all.
See more: