APARTMENTS FOR RENT IN INDOCHINA PLAZA HANOI (IPH)
Indochina Plaza Hanoi (abbreviated as IPH) is a complex of Grade A offices, commercial service centers and apartments for rent at No. 241 Xuan Thuy, Cau Giay, Hanoi. This is a project located at the western gateway of Hanoi Capital - Apartments for rent in Indochina Plaza Hanoi, where traffic planning is synchronous with modern design, full infrastructure facilities and professional management services, giving residents a affluent and classy life.
OVERVIEW INDOCHINA PLAZA HANOI PROJECT
Project name: Indochina Plaza Hanoi

Investor: Indochina Land Co., Ltd

Location: No. 241 Xuan Thuy, Cau Giay, Hanoi

Project scale: 2 apartment towers West (W) and East (E), 1 office tower

Design: Benwood Studio Shanghai, Gravity Partnership (Hong Kong)

Type of

apartments for rent Indochina Plaza Hano

i

: 2 - 3 bedrooms (93 - 147m2), duplex (200 - 217m2), penthouse (270 - 292m2)

Starting date: May 2018

Completion date: May 2011
LOCATION OF INDOCHINA PLAZA HANOI APARTMENT FOR RENT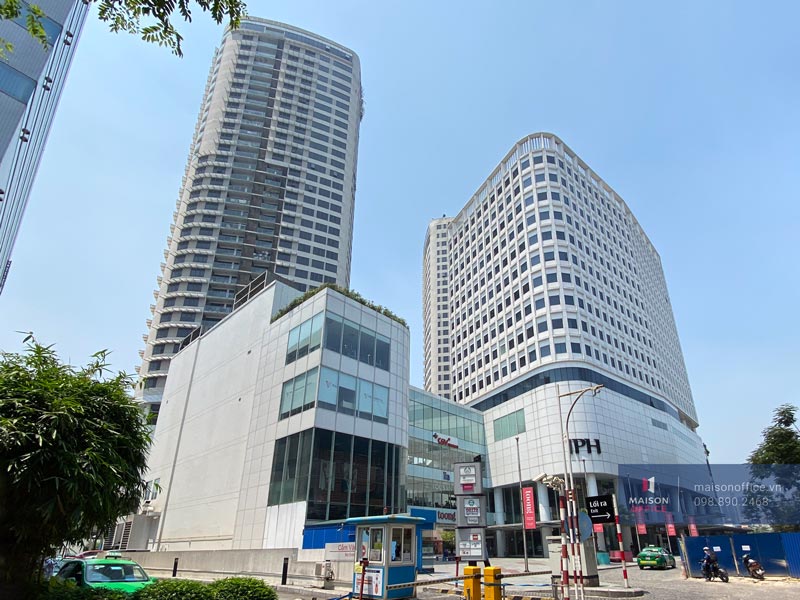 Indochina Plaza Hanoi apartment building is located at No. 241 Xuan Thuy, Cau Giay, Hanoi. This is a golden position located on the intersection of two streets Pham Hung and Xuan Thuy, with station S7 of the elevated railway in front of the project for convenient traffic.
From the project, you can also easily move to the center of the city such as Cau Giay district, Bac Tu Liem district, Nam Tu Liem district or key areas such as:
Universities: University of Commerce, University of Theater and Film, Academy of Journalism and Communication, Hanoi National University, University of Education...

Trade centers: IPH, Metro, Lotte Mall, Vincom...

Key areas: National Convention Center, Noi Bai Airport...
APARTMENT FOR RENT IN INDOCHINA CAU GIAY PROJECT
Indochina Cau Giay apartment building consists of 2 towers, West (W) and East (E) with many apartments for rent with an area of ​​93 - 147m2 (2 - 3 bedrooms), 200 - 217m2 (duplex) and 270 - 292m2. (penthouse). Not only the area is very diverse, the apartments at IPH are designed very square with the rooms are arranged very reasonably to receive as much natural light and wind as possible. Besides, electronic equipment and furniture are handed over extremely modern and complete to bring a comfortable life when renting an apartment at IPH.
LUXURY UTILITIES AND SERVICES AT IPHU APARTMENT
What amenities and services will you enjoy at Indochina Plaza Hanoi (IPH) apartment?
The office is fully furnished with modern furniture, wide internet coverage.

An inspiring workspace of more than 2,000 square meters with a unique design inspired by the northern mountainous region of Vietnam. Unique facilities: spacious living room, bar, accommodation (nap pods), yoga wall,…

Complimentary Coffee, Tea, Soft drinks & especially BIA.

The naked Hub APP social network integration application: open room doors, book meeting rooms & meet other Hubbers around the world.
Tan Long Land - The trusted Agent Real Estate in Hanoi is committed to becoming a solid bridge between customers and investors. We provide you a wide range of Hanoi housings list, Vietnam properties for sale and for rent, and regional housing services including apartments, serviced apartments, houses, shophouses, villas, and commercial real estate, with a team of professional and enthusiastic consultants who can speak English, Korean, Chinese,... For real tours and inspections of the property or apartments for rent in Indochiana Plaza Hanoi or any real estate properties across the country - don't hesitate to contact us!