APARTMENTS FOR RENT IN GOLDMARK CITY
Apartments in Goldmark City is a high-class real estate project located in the west of Hanoi city - A complex of luxury apartments, commercial centers, schools and office areas. For that reason, the foreign community renting here is very crowded, especially Koreans.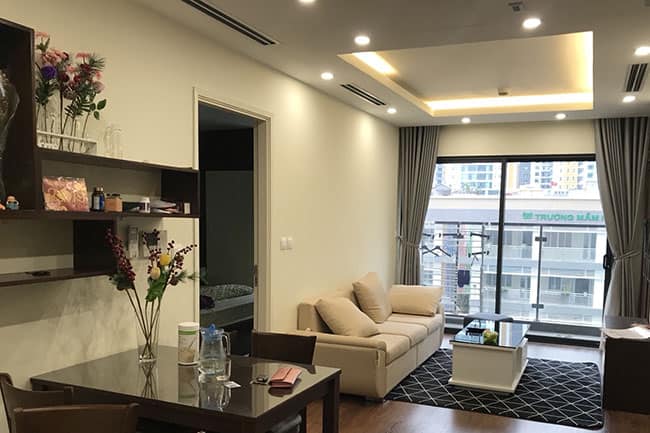 OVERVIEW OF GOLDMARK CITY PROJECT
Project name: TNR Goldmark City

Investor: Viet Han Trading - Advertising - Construction - Real Estate Joint Stock Company

Location: No. 136 Ho Tung Mau, Phu Dien Ward, Bac Tu Liem District, Hanoi

Management and Development: TNR Holdings Vietnam

Project scale: 9 buildings divided into two zones (Sapphire & Ruby)

Type of apartment: 1 - 4 bedrooms (68 - 172m2)

Starting time: Quarter IV/2014

Completed time: Quarter III/2017
UNIQUE LOCATION OF GOLDMARK CITY HO TUNG MAU
TNR Goldmark City Apartment has a unique location, located at the western gateway of the capital at No. 136 Ho Tung Mau, Phu Dien Ward, Bac Tu Liem District, Hanoi. This is also the new economic - administrative center of the capital.
The Goldmark City project is only a 3-minute walk from the Metro Line 3 elevated railway, only 800m from the 3rd ring, and extremely convenient to move to the administrative, economic, commercial or entertainment centers of Hanoi city.
APARTMENT IN GOLDMARK CITY HANOI
TNR Goldmark City Hanoi apartment building is divided into two subdivisions Sapphire and Ruby, in which:
Sapphire subdivision includes Sapphire 1 (S1), Sapphire 2 (S2), Sapphire 3 (S3), Sapphire 4 (S4)

Ruby subdivision includes Ruby 1 (R1), Ruby 2 (R2), Ruby 3 (R3), Ruby 4 (R4)
The apartments for rent Goldmark City Hanoi are designed into 2 - 4 bedroom types (78 - 160m2) and are equipped with modern and basic furniture depending on the tenant's requirements. With a team of professional consultants of Tan Long Land, we will bring you the right apartment for rent at the best price.
UTILITIES AND SERVICES AT TNR GOLDMARK CITY
What types of outstanding utilities and services are available at TNR Goldmark City?
| | |
| --- | --- |
| Water Square | Sport area |
| Ruby Square | Common area |
| Sapphire Square | Diamond Area |
| Rainbow flower garden | Festival Road |
| Kindergarten area | |
Tan Long Land - The trusted Agent

Real Estate in Hanoi

is committed to becoming a solid bridge between customers and investors. We provide you a wide range of Hanoi housings list, Vietnam properties for sale and for rent, and regional housing services including apartments, serviced apartments, houses, shophouses, villas, and commercial real estate, with a team of professional and enthusiastic consultants who can speak English, Korean, Chinese,... For real tours and inspections of the property or apartments for rent in Goldmark City or any real estate properties across the country - don't hesitate to contact us!