OVERVIEW OF VILLAS FOR SALE IN SUNSHINE WONDER VILLAS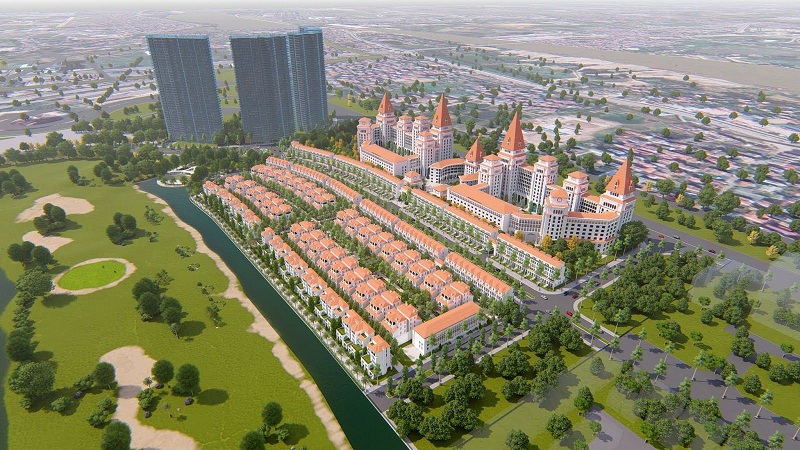 Villas for sale in Sunshine Wonder Villas located in Ciputra urban area, within the project complex of Sunshine Group. It owns a very unique European-style beauty with 5 * standard amenities.
It also enjoys fresh living space with a series of flower gardens, green parks, central air-conditioning lakes and fountains located everywhere around the urban area. Sunshine Wonder Villas is sure to satisfy all customers with inherent elements.
PROJECT OVERVIEW SUNSHINE WONDER VILLAS
• Project name: Sunshine Wonder Villas
• Investor: Sunshine Group
• Land area: 10 ha
• Construction density: 25%
• Bank guarantee: Vietinbank
• Project location: Ciputra urban area, North Tu Liem, Hanoi
Product type: includes townhouses, commercial shophouses, villas for sale in Sunshine Wonder Villas
PROJECT LOCATION
Sunshine Wonder Villas project is located in Ciputra urban area Nam Thang Long - Hanoi. This place is a prime location, filled with air. At the project, customers can look out to the Red River with heavy alluvium or the colorful Nhat Tan bridge at night.
From the project you only take 20 minutes to move to Noi Bai airport. 10 minutes to move to be able to see the poetic West Lake and the colorful flower garden of West Lake. Or it only takes 15 minutes through open roads like Vo Chi Cong to move into the city center. You also only take 20 minutes to move to the peaceful, bustling and crowded Sword Lake.
The roads inside and around the project are being completed with extremely good quality, promising not to waste your traveling time.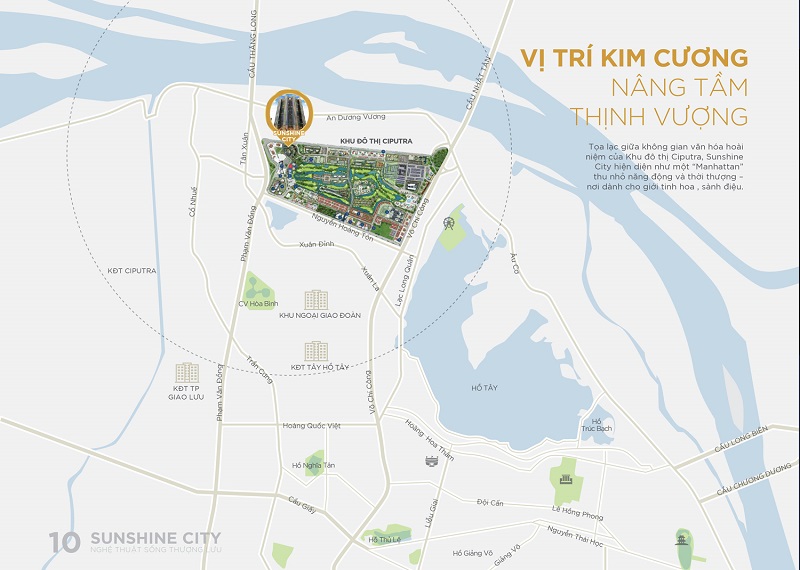 FLOOR DESIGN
The product categories at Sunshine Wonder Villas include villas, townhouses and commercial townhouses. Be inspired by big cities: New York, Paris or Melbourne. Sunshine Wonder Villas will bring to customers a masterpiece of design.
The villas at Sunshine Wonder Villas are built with diverse areas, suitable to the different wishes of different owners. Designed with 05 floors. Help provide space for large families. Especially with low construction density, the villas are designed with gardens and small landscape. Bring a fresh and private space. Moreover, there is also a private swimming pool, with a private parking garage combined with a wine cellar. This is a design that is not available everywhere and it confirms the aristocratic level of the owner.
The adjacent apartments at Sunshine Wonder Villas are designed with a modern style. But still very much attention to green spaces indoors. Although not as wide as the villas, the adjacent apartments are still equipped with private parking spaces and 02 front and back yards. After each hour you can relax in a small chair in the yard or relax by taking care of the plants in your yard.
The shophouses at Sunshine Wonder Villas are inspired by many iconic cities in the world. Designed with 02 separate paths to help minimize the impact on everyone in the house. The shophouse houses are also designed to optimize the area, maximize the space, and this is also a versatile and highly profitable house type. You can buy in or to sublease business.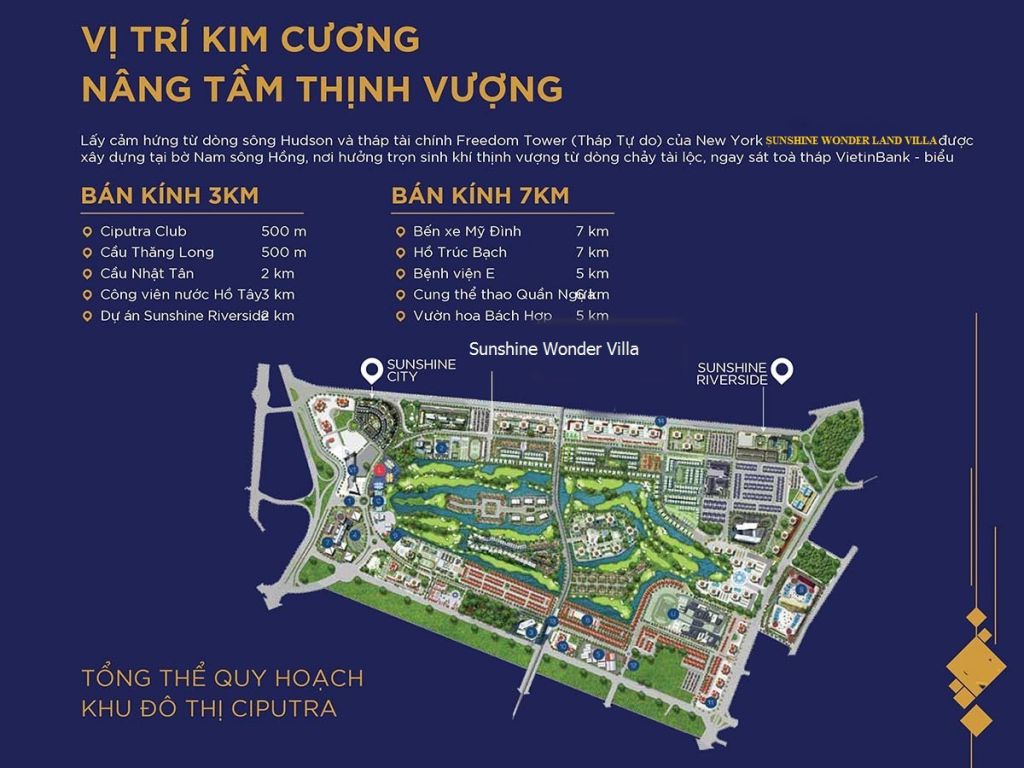 PROJECT FACILITIES
As a project of Sunshine Group, so Sunshine Wonder Villas also inherits the best of Sunshine Group.
The first is the smart 4.0 technology that Sunshine Group is applying to its products. With this system, customers can completely own their house in both dark and glossy thoughts. You can now enjoy technology to a higher level. With the push of a button, everything you need is ready before you go home. From curtain adjustments, alarm timers, to multi-dollar adjustments ... Everything is in your western range.
Next is luxury and high-end facilities such as 5 to 7-star luxury services from electricity and water bills, private car booking to take children to school, to the standard 7-star butler service. . In addition, the system of golf courses, tennis courts, infinity swimming pools ... helps to satisfy the needs of high-end residents to enjoy relaxation.
Next is services, busy commercial center system, restaurant system, coffee shop, diversified shophouse system, spa system, gym ... to serve the essential needs of life. Now, every resident just doesn't need to step out of the house to satisfy all his needs.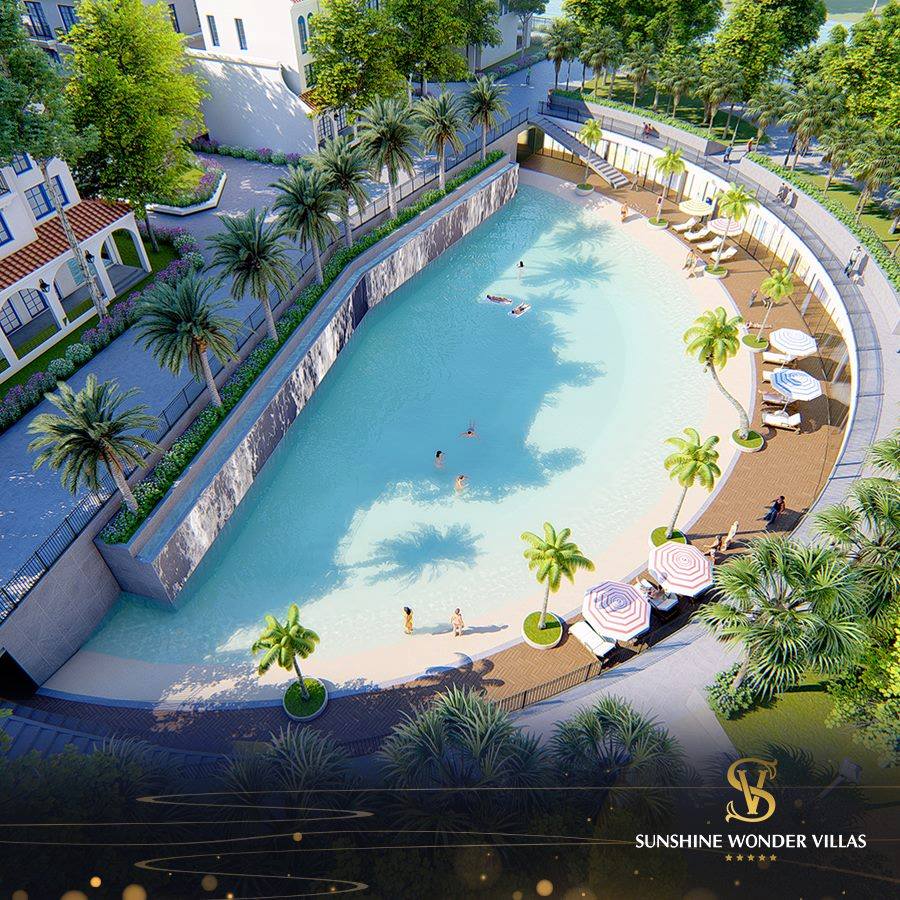 CONTACT INFORMATION
With a team of professional and enthusiastic consultants, Tan Long Land is committed to becoming a solid and professional bridge between customers and homeowners, investors. If you have a need to find the latest information, please contact us directly:
Hotline: 0987.745.745 or Email: hotline@bdstanlong.vn
See more:
Data coming soon!