Houses Villas for sales in Vinhomes Thang Long
In recent years, local projects, or especially convalescence and ecology projects, have been invested in by many customers and investors alike—one of the main reason being that the land fund in the city is drained. While people are starting to feel concerned about their health issues, they want to choose projects which are near the centre to have a convenience to travel because the current transport infrastructure system is excellent, thus leads to a clean life, dust and smoke-free. Vinhomes Thang Long is definitely one of the projects that fit in the category. Combining traditional and modern features, the project will surely bring customers many new things as well as familiar feelings.
PROJECT OVERVIEW
Project name: Vinhomes Thang Long

Project Location: Thang Long - An Khanh - Hoai Duc - Hanoi Boulevard

Investor: TCO Vietnam Investment Joint Stock Company

Operation management: Vinhomes Real Estate Business and Management Joint Stock Company

Construction density: 27.3%

Area of ​​the regulation lake: 10ha

Types of products at the project: Vinhomes Thang Long includes garden villas, townhouses & commercial townhouses.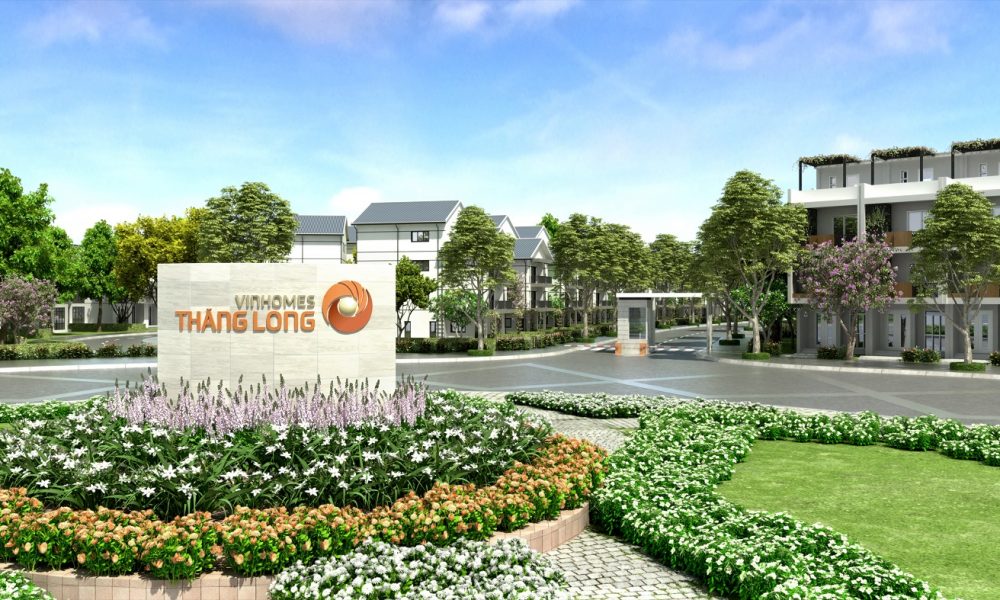 The adjacent apartments were built with an area of ​​82 - 163m2. The total number of units is 187, established on 04 floors each. Single villas are designed with 02 levels, on an area of ​​250 - 436m2, including 50 units. Duplex villas with a height of 04 floors, an area of ​​120 - 256m2, a total of 488 units are designed with 04 levels, an area of ​​90 - 158m2, a total of 90 units.
PROJECT LOCATION
Vinhomes Thang Long Project, located in Hoai Duc District, Hanoi City, on the main road - Thang Long - Tran Duy Hung Boulevard, it only takes about 10 minutes to move into the city centre. The project is also adjacent to Nam An Khanh urban area and Sudico residential area, adjacent to A8 roads and ring-road 4. This will definitely be a favourable condition to move to anywhere customers desire.
Besides, the Vinhomes Thang Long project is built with a green space by a system of lush, dense green trees and a 10ha vast conditioning lake, creating a fresh and airy atmosphere. Help customers have moments of relaxation, comfort, or as the weekend picnic for leisure guests nearby the project.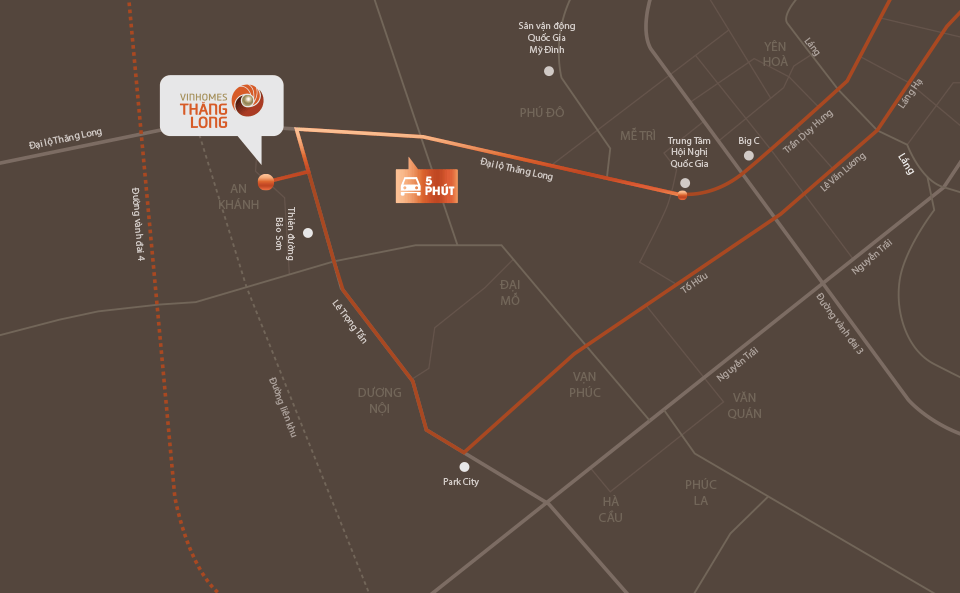 PROJECT DESIGN
Vinhomes Thang Long has 03 main products: villas, adjacent houses, and shops. It is divided into four subdivisions: Long Hung, Long Khanh, Long Phu, and Long Canh.
Long Canh is the subdivision with the location, the most beautiful view of the project. It is located close to the 3.6km long riverside road and adjacent to the central project lake. The subdivision stretches from West to East, helping customers thoroughly enjoy the fresh, fresh atmosphere. This is also a subdivision built with many villas, surrounded by gardens to increase privacy and ensure maximum comfort, refreshment, and relaxation.
Long Khanh subdivision is the most versatile subdivision at Vinhomes Thang Long. In the neighbourhood is an arranged area for detached villas, adjacent and shophouses. This is the crowded and bustling subdivision. Although not enjoying the fresh air like Long Canh, it is more convenient here with trade, trade, and transportation. Moreover, this is also an opportunity for investors to be extremely profitable.
HOUSES VILLAS VINHOMES THANG LONG - OPPORTUNITY FOR YOUNG BUSINESSES
Next is the Long Hung subdivision. Next to Long Khanh subdivision and behind Long Canh Area. Long Hung is arranged to include villas and a shophouse. This is an extremely convenient location for moving as well as connecting to the surrounding areas because it is near the main entrance and also adjacent to the big road. Here you can both enjoy the serene atmosphere of the project and can increase the potential for profitable investment.
Finally, the Long Phu subdivision, Long Phu is located behind Long Canh and is on the right of Long Khanh. Similar to Long Hung, this place is also located near the main gate of the project and designed including villas and shophouses. Surely this place will also bring development potential and profit no less than Long Hung. Moreover, Long Phu is contiguous to the green park so that it will bring an ecological atmosphere for homeowners.

UTILITIES OF PROJECT
The utilities at the project are designed, and the tree is hugely synchronized and convenient.
With a view towards a green urban area, the density of construction at the project is very low to make room for green park space and regulating lakes. Around the lake is a 4m full lake walk and 3.6km long. This is an ideal place for homeowners to watch the sunset or enjoy the dawn of a new day. Besides, this is also the place for outdoor sports machines, helping customers improve health and enhance the quality of life.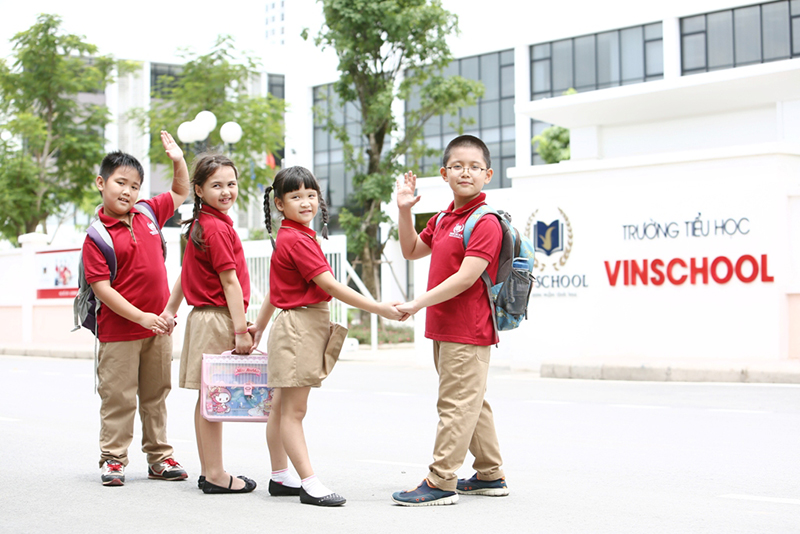 The education system is also highly promoted and focused on investment with the Vinschool inter-school system. This will be a safe place for customers to come and live at the project. Moreover, it helps reduce the anxiety about education for parents.
Contact Information
Tan Long Land is providing consulting services to buy Shophouse Sunshine City townhouses in beautiful locations with reasonable prices. A team of professional, enthusiastic consultants is committed to becoming a solid and professional connection between customers and homeowners and investors. If you want to find the latest and most detailed information about buying a Houses Villas Vinhomes Thang Long, please contact Tan Long Real Estate directly for the best advice and support.
Hotline: 0987.745.745 or Email: hotline@bdstanlong.vn