Shophouse for sale In Sunshine Golden River
Inspired by the hanging garden of Babylon, Sunshine Group has taken on its mantle to become a 200 high-rise apartment of the Sunshine Golden River project, Nam Thang Long urban area - Ciputra (Hanoi). Each apartment of Sunshine Golden River has a large area of 120-200m2 and holds a spacious private garden - where family members can enjoy playing with ornamental plants or a colorful flower garden… With the project being a combination of aerial villa apartments and Shophouse, it'll satisfy the vision of a dream living space villas. Being painted in the colors of sunshine, surrounded by lush gardens, Golden River guarantees to bring to life a paradise of relaxation.
Project Overview
Project Name: Sunshine Golden River

Investor: Sunshine Group

Project address: Ciputra Urban Area, Nam Thang Long, Hanoi

Total construction area: 9000m2

Construction density: 45%

Variety of products: 217 air villas, 27 shophouses

Project Structure: 35-story overhead villa with an area of ​​3,982m2, 5-story shophouse with an area of ​​5,022m2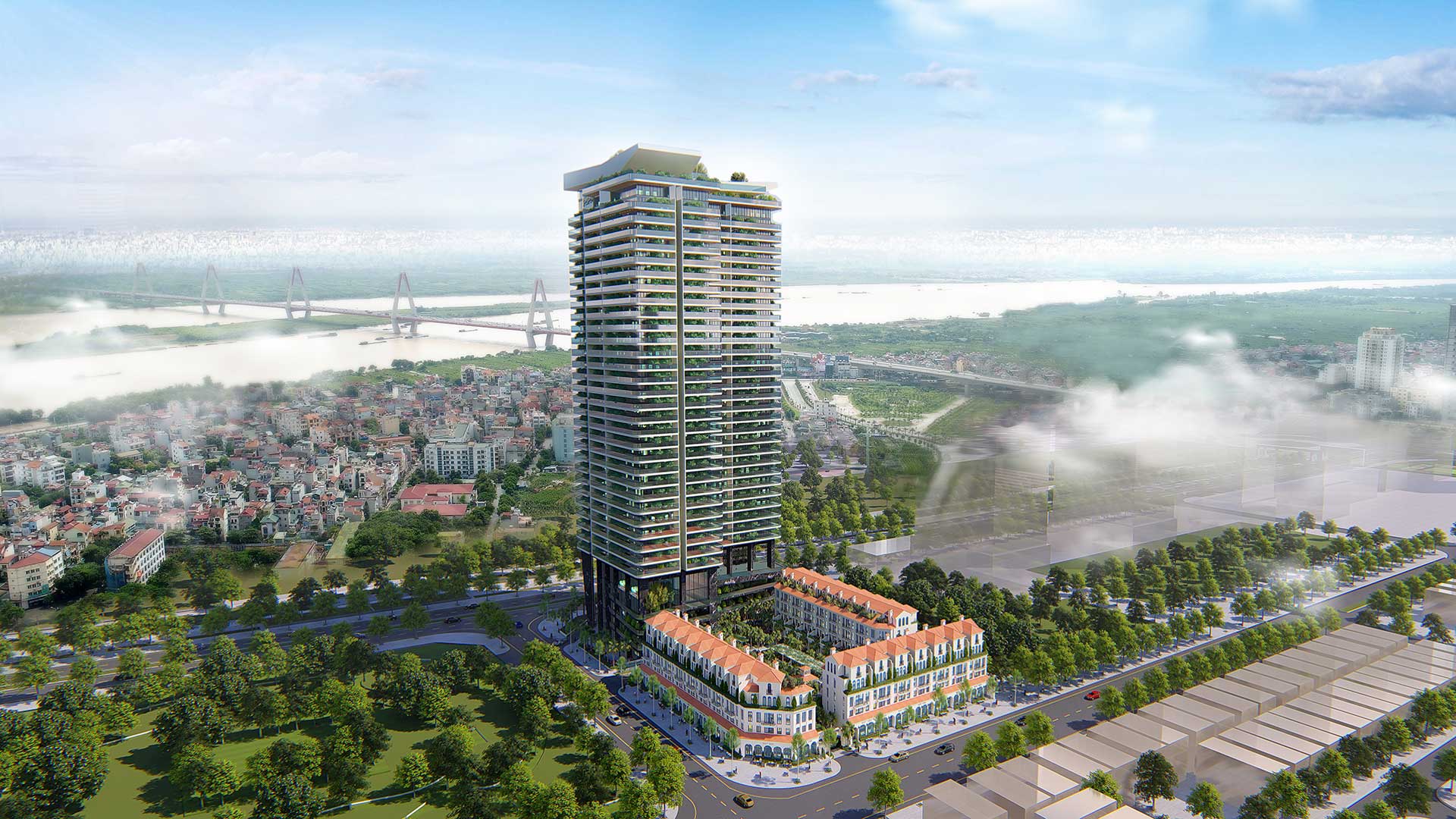 Project Location:
Located at the prime location of Ciputra Hanoi Urban Area, Sunshine Golden River has always been known as an ideal place to live due to its green atmosphere and asynchronous with a modernized infrastructure system.
Established on the Red River where the dragon head converges with the feng shui create a sense of a prosperous, welcoming life.
The project also adjacents to the city's arterial roads, from its location, residents can easily travel to West Lake, Hoan Kiem Lake, and even Noi Bai Airport in only minutes through Nhat Tan Bridge, Ring Road Belts,...
West Lark Water Park arriving estimated time: 7 minutes

United Nations International School arriving estimated time: 10 minutes

West Lake flower valley arriving estimated time: 15 minutes

Hoa Binh Park arriving estimated time: 16 minutes
Many nearby major healthcare facilities such as E hospital, Hanoi heart hospital ...
Sunshine Golden River Standard Layout
With 35 floors including 217 high-rise units, 3 basements, 6-8 apartments on each floor.
Apartment Standard Design:
Different varieties of apartments ranging from 2 to 4 bedrooms

Variety of 2-bedroom apartment: 124.8m2-142.5m2- 143.4m2

The layout of the apartment 2 bedrooms

3-bedroom apartment type: 163.3m2-162.5m2-163.0m2-161.2m2

The layout of the apartment 3 bedrooms

4-bedroom apartments: 212.9m2

4 bedroom apartment premises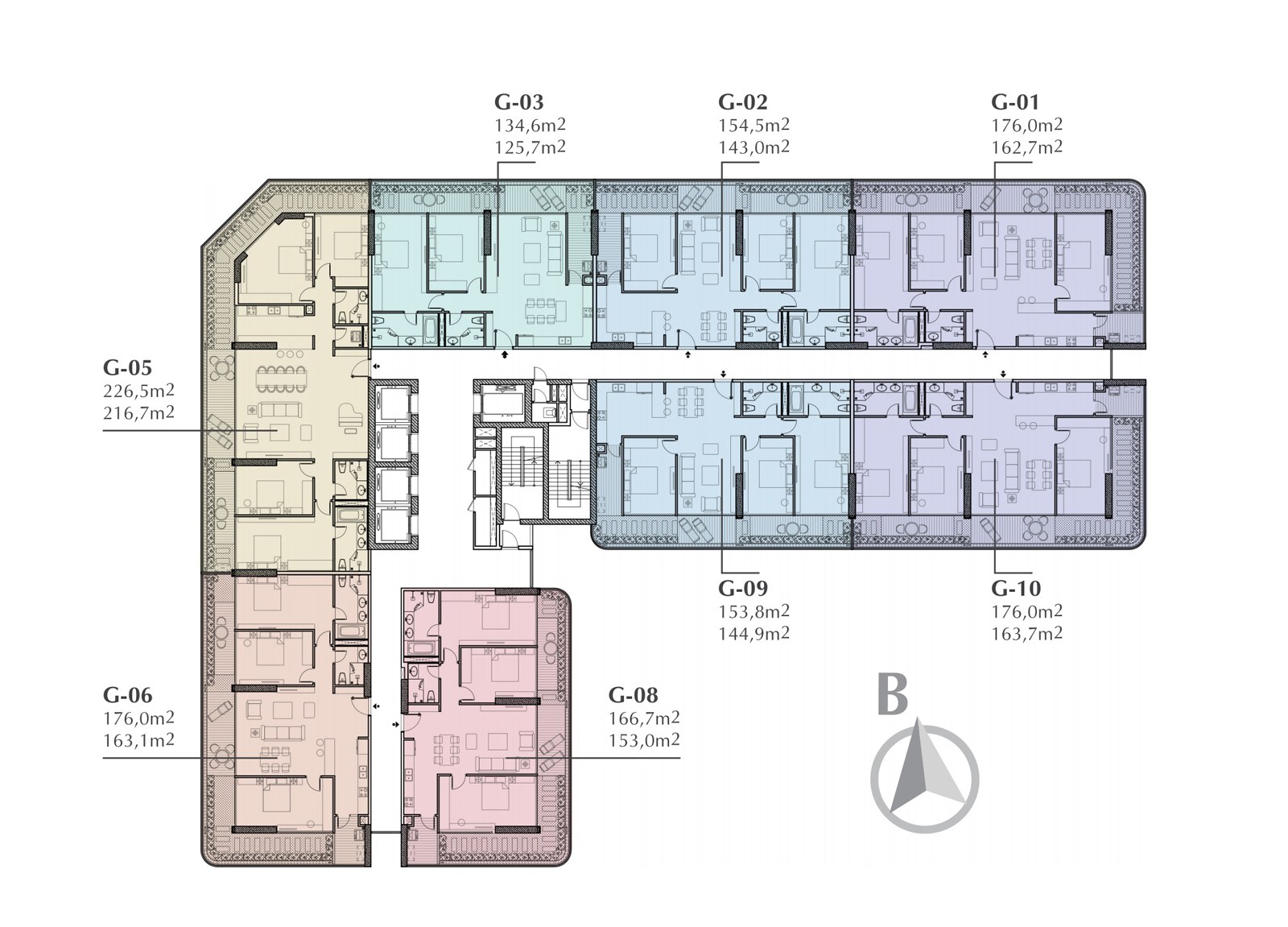 The adjacent Shophouse has a total area of ​​5022m2, designed with 5 floors with a fully equipped exterior, homeowners will be able to commercialize their assets right away.
Sunshine Golden River Investor
Sunshine Group has been established since 2016 and has achieved several achievements in 4 main areas: construction, trade, real estate, and services.
Construction: participating in many big projects, Sunshine Group has made a special impact on customers regarding their quality and ability to reach international standards.
Trade and service: enthusiastic, responsible, and professional staff is the leading factor in what Sunshine Group aiming toward.
Real estate: immediately impressed with a series of real estate projects across the country. The speedy advancement of their project directions has made a name for Sunshine Group: Sunshine Riverside, Sunshine Crystal river, ... in Hanoi. Sunshine city Saigon and Sunshine Diamond River also made their mark in Ho Chi Minh.
Services: Understanding the importance of the service industry to support the lives of customers who deserved the best. Sunshine has built a world-class service system to serve as a representative of each residential area: a 5 * utility system, infinity pool, spa, beauty salon, overhead bar, golf course, playground, hiking path,...
Contact Information
Currently Tan Long Land is providing advice on Shophouse Sunshine Golden River townhouses in beautiful locations with reasonable prices. A team of professional, enthusiastic consultants is committed to becoming a solid and professional connection between customers and homeowners and investors. If you want to find the latest and most detailed information about buying a Shophouse Sunshine Golden River, please contact Tan Long Real Estate directly for the best advice and support.
Hotline: 0987.745.745 or Email: hotline@bdstanlong.vn