HOUSES, VILLAS, SHOPHOUSES FOR SALES IN SUNSHINE CRYSTAL
1. GENERAL INTRODUCTION OF SUNSHINE CRYSTAL
For the first time in Hanoi appears a trendy, lavish city like houses, villas, shophouses for sales in Sunshine Crystal as the top-notch product from the prestigious Sunshine Group, a modern and civilized standard city will surely satisfy the most demanding customers.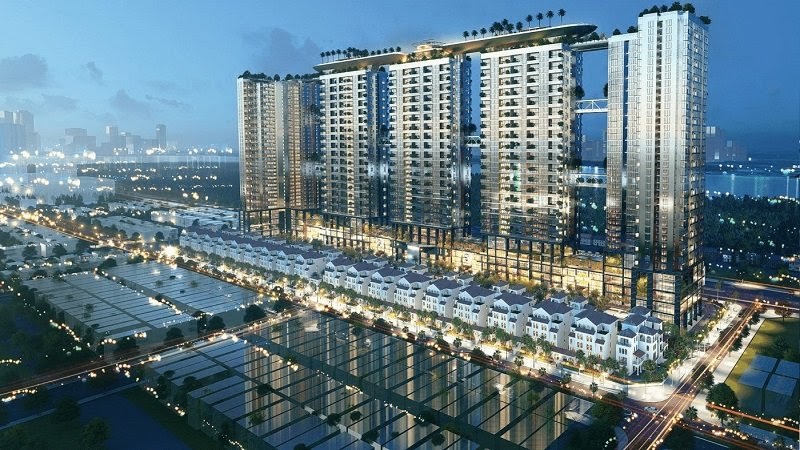 Name of project: Sunshine Crystal River
Owner: Sunshine group
Location: Ciputra urban area - South Thang Long - Hanoi
Floor area: 152.644m2
Total area: 50,850m2
Area of trees and lake surface: 13,025m2
Construction density: 31.7%
Product type: 5 towers, 54 shophouses, 60 villas
Design: Sky villas, duplex apartments, detached villas, duplex villas, commercial shops
2. LOCATION OF THE HOUSES, VILLAS, SHOPHOUSES FOR SALE IN SUNSHINE CRYSTAL CIPUTRA
The project is located along the Red River and in the Ciputra urban area, with easy access to major places of the city:
Pham Van Dong Street connects Belt Road 2, belt road 3, to Phap Vantakes only 30 minutes, to North Thang Long Industrial Park only15 minutes .

Vo Chi Cong Street connects Nhat Tan Bridge only 15 minutes to the airport and 25 minutes to Sword Lake.

Metro line 02.

Nguyen Van Huyen Extended Route has been completed

Inter-level schools: UNIS, SIS, ACADEMY

Domestic hospital system: 1.5-7km

West Lake Water Park, Hoa Binh Park: 0.5 - 5km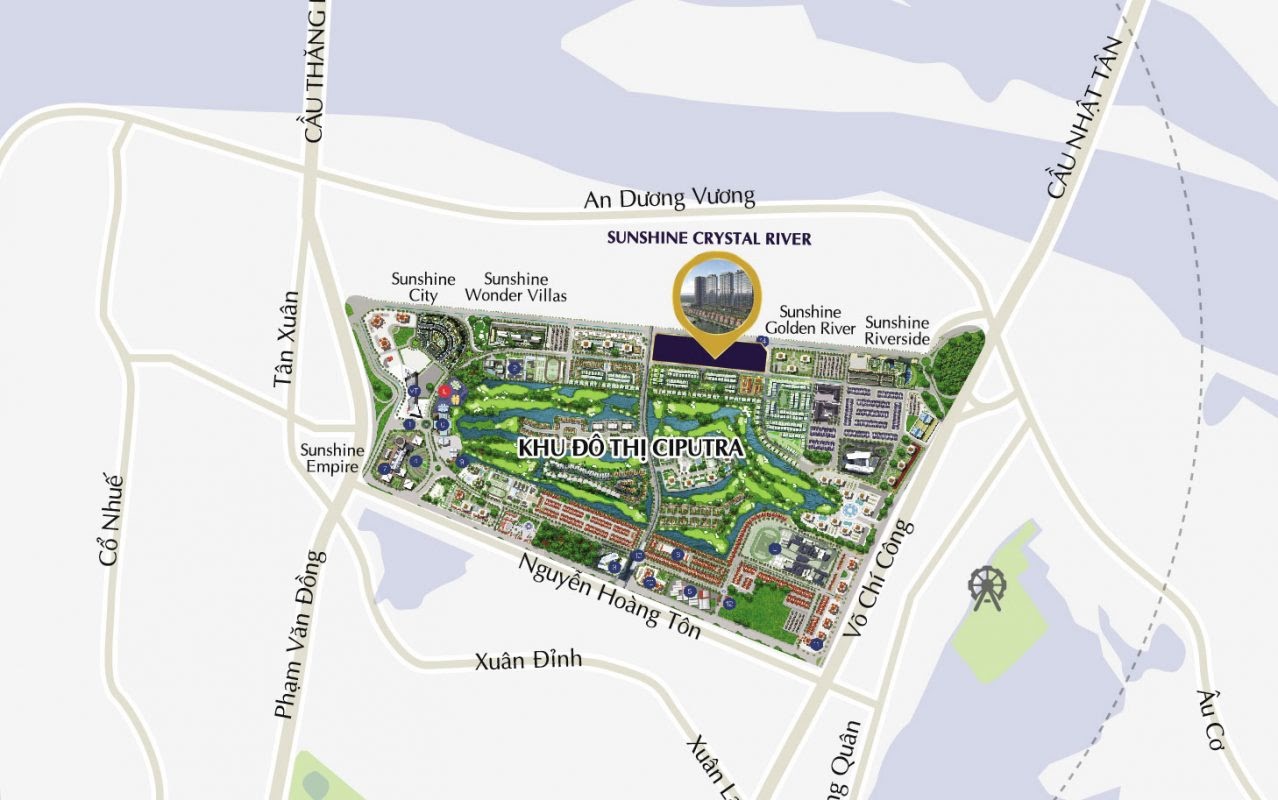 3. ULTIMATE FACILITIES - WORTH OF THE FIRST CLASS OWNER
As the living center of the upscale residential community, Shophouse Sunshine City inherits a chain of high-class facilities in the complex.
As a main product of Sunshine Group, the project has been fully equipped with high-class service like healthcare, entertainment and shopping with 5 * standards, the green trees are carefully cared for, the lake is filtered regularly to reach the clean water standard.
Modern 4.0 technology
With just a touch, you can easily control all the devices in the house or pay all bills like electricity, salary or service. The application has high security through many steps of moderation to help users feel secure to use. Also Sunshine Crystal has:
The largest infinity pool in Hanoi, the salt mineral pool

Sunshine Square

Hawaii Green Garden

Maple Bear International Kindergarten

BBQ - water area
Quantity: 54 shophouses
Type: SKY1, SKY2, SKY3, SKY4, SKY5
Design model of shophouse building SKY1
Quantity: 12 commercial shophouses lots
Design: 3 connected floors
Acreage of various types: 75m, 81m, 98m, 123m
Front: 7m, 9m, 11m, 12.5m
Handover furniture: tempered glass door system, elevator, staircase, electric light, ...
Shophouse design of SKY2 building
Quantity: 10 commercial shophouses lots
Design: 3 connected floors
Area: 65m2, 72m2, 85m2, ...
Front: 6.5m, 6.7m, 7.8m, 8.7m ...
Handover furniture: soundproof glass doors, tempered glass, elevator, stairs, toilets, ...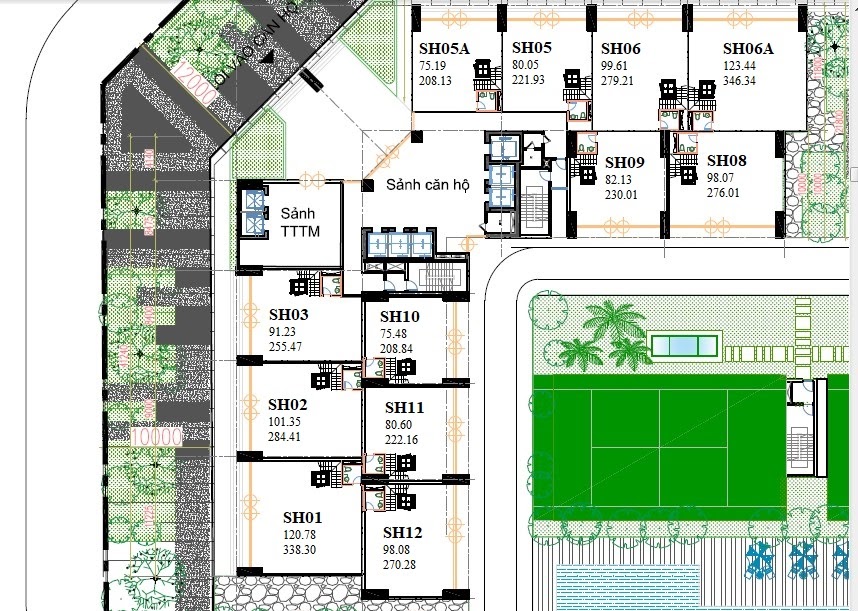 4. THE REASON FOR THE INVESTOR TO CHOOSE VILLAS, HOUSES AND SHOPHOUSE FOR SALE IN SUNSHINE CRYSTAL RIVER
Thanks to its beautiful location and geomancy, the number of customers hire the apartments makes Shophouse Sunshine Crystal a profitable investment potential and of cousrce, a beauty heaven to live. Especially in Ciputra, the number of customers renting apartments and villas always the highest, so investing in a shophouse at Sunshine Crystal River shophouses is not to be missed.
Right after the launch of the shophouse project, the number was not much until now
On the investor's side, Sunshine Group is no longer a stranger to real estate investors. Because Sunshine group has shown a high quality reality that honors the value of life. Therefore, investing in real estate projects of Sunshine Group is a wise trust of customers.
And this is a project that has brought design, green space, living facilities and 5 * services.
This is not only a residential and commercial solution but a resting place for you and your family without having to go far.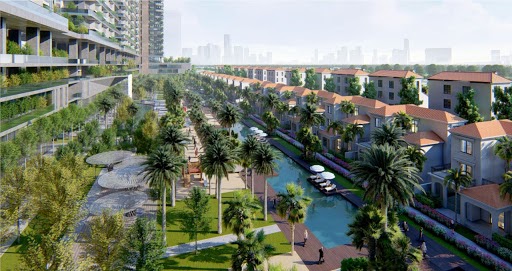 5. CONTACT INFORMATION
Tan Long - The trusted Real Estate Agent in Hanoi is committed to becoming a solid bridge between customers and investors. We are provide you a wide range of Hanoi housings list, Vietnam properties for sales and for rent, and regional housing service including : apartment, serviced apartment, houses, shophouses, villas and commercial real estate, with a team of professional and enthusiastic consultants who can speak English, Korean, Chinese, ...
For real tours and inspection of the property of house and shophouse for sales in houses, shophouses and villas for sale in Ciputra Sunshine Crystal or any real estate properties across the country - don't hesitate to contact us !
Find us for fastest service and no worry at all.
See more:
Website: bdstanlong.com.
Hotline: 0987.745.745 or email: hotline@bdstanlong.vn
Address: 39B Xuan Dieu, Tay Ho, Hanoi.