Shophouse for rent in Sunshine Golden River
Shophouses for rent in Sunshine Golden River - Located in what can only be described as "the golden location" of West Ho Tay, owning an isolated green reservation modern synchronized infrastructure system, Sunshine Golden River will be an ideal living area for the international resident community as well as the elites. Sunshine Golden River sufficiently inherits the benefits of many international urban areas by realizing the aspirations of a high-class and comfortable life.
Shophouses for rent in Sunshine Golden River - Information
Project name:

Sunshine Golden River

Location: Ciputra Hanoi Urban Area - Tay Ho District - Hanoi City

Investor: Sunshine Group

Overall construction area: 10,000m2

Construction density: 43%

Real Estate Products: Apartment, Shophouse, Townhouse

Apartment Layout: 35 floors, three basements

The layout of the low-rise subdivision: 5 feet high with a basement.
Location of Sunshine Golden River project
Shophouses for rent in Sunshine Golden River - Sunshine Golden River is located in Ciputra, beside Vo Chi Cong arterial road, on one of the city's key routes. The project inherits the utilities, synchronous infrastructure, and further outlining of the town. Residents can quickly move to downtown areas, conveniently connected with ministries, government agencies, the educational system, and healthcare and cultural services.
With such a favorable location and exceptional benefits, Sunshine Golden River is rated as a high-class project which provides the most prosperous life for the capital's residents.
Shophouse Sunshine Golden River Layout
Having a similar design to Sunshine Group's shophouse real estate. The brilliant and breezy Mediterranean style will bring a classy reservation suitable for the interests of many residents and businesses. On top of that, diverse areas ranging from 104m2 to 223m2, including two open sides with 5m-7m frontage integrated with intelligent technology, thus help the management and remote control more accessible for the homeowners.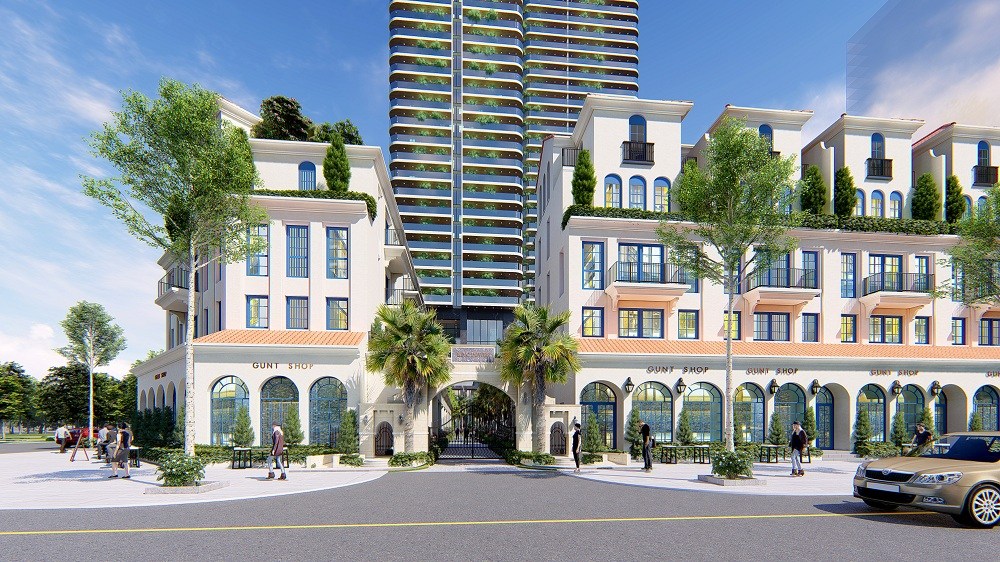 In addition to 27 lots of shophouse townhouses, Sunshine Golden River customers can opt for additional Brothel shophouses with various designs and values ​​to suit your needs.
Besides the unique design, owners of the Sunshine Golden River shophouse also acquire a functional utility system of the urban area such as:
Golf Courses

International standard school

Hiking path with a fresh, natural landscape

Small garden landscape
In addition, Sunshine Golden River project also integrates the project's high-end utility system, including:
Multi-season swimming pool

BBQ garden

Royal Garden

Children's playground

Restaurant, shopping center

Notably, on the rooftop of the building, the investor constructs a high-end Club House with a Skybar to create a meeting spot for trendy homeowners to make friends while enjoying the atmosphere.

Including a technology-based company in the project, every apartment at Sunshine is designed to meet the 4.0 technology standards. All utilities are fully activated with just one touch to ease customers off their exhausting days.

Outdoor swimming pool
Hotline: 0987.745.745 or Email: hotline@bdstanlong.vn
Website: bdstanlong.com