HOUSES VILLAS FOR RENT IN VINHOMES GRAND PARK
With a total area of ​​nearly 271ha, holding its topography on Long Binh Ward, Long Thanh My, District 9, which is known as the Eastern gateway of Ho Chi Minh City. At the same level, shortly, Grand Park will be evaluated as one of the centers of the Creative Urban Network according to the city's most developed planning. Developed on an international-class modern model, "Grand Park" owns all 3 product lines, Sapphire, Ruby and Diamond, offering extremely diverse options for buyers. Not only that, the project maintains a low construction density and gives priority to most of the green space, open water surface and community facilities.
1. OVERVIEW OF VINHOMES GRAND PARK PROJECT
Project name: Vinhomes Grand Park

Investor: Vingroup

Location: Nguyen Xien and Phuoc Thien Street, District 9, Ho Chi Minh City.

Project land area: 271ha

Construction density: 22.5%
2. LOCATION AND INFRASTRUCTURE OF VINHOMES GRAND PARK
Lies in a location adjacent to the metro line No. 1 of Ben Thanh, Suoi Tien, combined with many arterial roads thus help connect the Grand Park project to many neighboring districts. It's predicted that Grand Park will become one of the most unique green imprints on the map of Ho Chi Minh City because of its ability to travel to Tan Son Nhat airport and Long Thanh airport is evaluated as easy,
Thanks to holding a substantial amount of vacant land in District 9, along with the terrain next to the Dong Nai river as well as the eastern gateway to Ho Chi Minh City. Grand Park received three natural terrains bestowed which no other urban building has, creating a smart, dynamic urban area that is equally artistic. The two sides of Phuoc Thien and Nguyen Xien streets, along with the surrounding Dong Nai River also produce a fresh, airy, and old-fashioned atmosphere. Because of its nature of being built in the suburbs, the price for Grand Park will be extremely suitable but still maintain a standard of living for the upper class.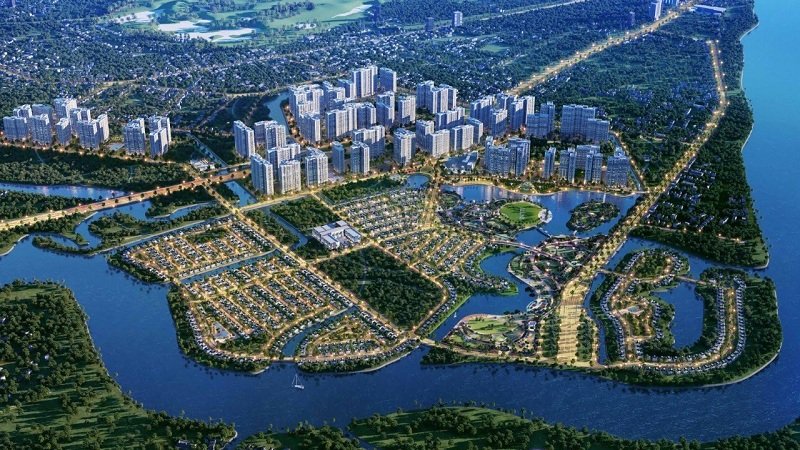 Combined with the main highway of Hanoi Highway after being widened and expanded, the Ring Road 3 helps District 9's connection to the two provinces of Binh Duong and Dong Nai much easier.
Long Thanh and Dau Giay highways will assist residents in traveling to Vung Tau City with an estimated 1-hour-drive.
There is also a Metro Suoi Tien route to help relieve traffic congestion in
3. STANDARD DESIGN AND LAYOUT OF VINHOMES GRAND PARK
Having a variety of designs with modern characteristics, while maintaining ventilation as well as many classes to suit all the different needs of customers. Grand Park standard room goes from any number of bedrooms from 1 to 3 with an area of ​​30m2 to 80m2.
Sapphire: dedicated to progressive young people who prefer technology, tend to choose the smart and flexible solution in life, is one of the most modern apartments.
Ruby: for a group of civilized and modern family clients, leading to a high-class life, full of utility services, this is one a more luxury apartment line.
Diamond: is the most advanced apartment line in the Vinhomes system with luxurious and classy apartments for successful and noble clients.
Using fresh and dynamic colors, Grand Park continues to bring residents back in time with ancient, enchanting features based on many famous Japanese architects. Using the Origami definition as a reminder of the value and influence of the family to each individual, Vingroup reminds and creates a cozier living space for its residents.
4. UTILITIES OF VINHOMES GRAND PARK
With life always moving constantly, along with needs for many utilities of stature scale. From the large outdoor gym, indoor swimming pool, or sports ground to schools, hospitals, and even commercial centers are smartly planned by the world's leading consulting companies, they promise to bring inspiring new life experience to civilized citizens living in Grand Park.
Riverside Park: In particular, Vinhomes Grand City District 9 owns a Park with an area of ​​up to 36 hectares which is considered to be one of the largest in Southeast Asia, designed with 15 theme parks such as the world-famous Light Garden, Singapore Bay; BBQ park; Gym park ...
Dai Cong Gym: Controlling a large outdoor Gym park developed with a system with about 1000 exercise machines of all kinds, established along the surrounding area of ​​the park.
Great BBQ Park: The Owner plans a BBQ park with up to 100 picnic spots for the whole family, this place seems like a dreamy weekend resident...
Artificial Lake: Specially designed with an artificial river system, with white sand from Nha Trang and clean water installed, residents can always bathe comfortably.
5. OTHER REAL ESTATE PROJECTS OF VINGROUP
Vinhomes Central Park - Binh Thanh District, Ho Chi Minh City (VND 37,712 billion)
The project has a total land area of ​​over 40ha, is a multifunctional urban area with synchronous technical and social infrastructure systems. The project has 18 high-rise buildings, 100 villas, 1 general hospital, 1 inter-school school.
Vinhomes The Harmony - Long Bien District, Hanoi (4,877 billion VND)
This project is located close to Vinhomes Riverside's ecological urban area, where Vingroup is headquartered. The project has a total land area of ​​about 97ha, with villas, garden houses, schools, and a 100% interest rate owned by Vingroup.
Vinhomes Green Bay - Nam Tu Liem District, Hanoi (VND 4,992 billion)
The project includes high-rise buildings, villas, adjacent houses, and schools, located on an area of ​​about 30ha, owned by Vingroup 98.86%.
Vinhomes Skylake - Nam Tu Liem District, Hanoi (VND 3,786 billion)
This is a high-rise apartment project, the total land area is about 2.3 ha because Vingroup owns 94% of the interest.
Vinhomes Gia Lam - Gia Lam District, Hanoi (estimated VND 100,000 billion)
According to the planning study, the project scale is more than 420ha, including many real estates such as high-rise apartments, low-rise houses, schools at all levels, universities, hospitals, and urban facilities. Vinhomes Ocean Park project aims to attract a large number of residents to live and reduce the load for Hanoi inner city and surrounding areas.
Vinhomes Metropolis - Ba Dinh District, Hanoi (4,876 billion VND)
This is an official project, a high-rise apartment building, a school with a size of about 3.5ha, Vingroup owns 49.41% of the interest rate.
Vinhomes Imperia Hai Phong - Hong Bang District, Hai Phong (4,950 billion VND)
This is an urban area with a total area of ​​about 78ha, located at the western gateway of Hai Phong city. The project consists of low-rise houses, schools, offices, hotels, shopping centers, and 100% owned by Vingroup.
Vinhomes Star City Thanh Hoa - Dong Hai Ward, Thanh Hoa (11,623 billion VND)
The project has a size of about 118ha, a completely new urban area with complete technical and social infrastructure (residential areas, commercial services, healthcare, ground leveling, traffic, power supply system. , water supply and drainage, green trees) ... to meet the needs of housing, commercial services for the people and create jobs for workers.
6. INTRODUCTION ABOUT THE INVESTOR OF VINHOMES GRAND PARK
Referring to Vingroup, customers can imagine a strong corporation with brands affirmed by quality and reputation, Vingroup has done miracles to honor the Vietnamese brand and is proud to be one of the leading private economic groups in Vietnam. With the desire to bring to the market products and services of international standards and completely new experiences in modern living style. In any field, Vingroup has also demonstrated a pioneering role, leading to changes in consumption trends.
Vinhome Gardenia Project promises to bring a wonderful, peaceful experience as well as a comfortable space for each member of your family.
7. CONTACT INFORMATION
Currently,

Tan Long Land

is providing consultancy services to buy apartments of Vinhomes Grand Park in beautiful locations with reasonable prices. A team of professional, enthusiastic consultants is committed to becoming a solid and professional connection between customers and homeowners and investors. If you want to find the latest and most detailed information about renting

villas for rent in Vinhomes Grand Park

, please contact the Tan Long Real Estate Floor directly for the best advice and support.