VILLAS FOR RENT IN TAY HO RESIDENCE
For renters looking for a slice of the urban oasis, the new Handico development (The construction project owner) is offering state-of-the-art villas for rent in Tay Ho Residence with an inner-city lifestyle. Tay Ho Residence has welcomed the trend for a green life, in harmony with the natural landscape. The project was conceived with a focus on green gardens, utilities and services to provide an ideal living space for residents to enjoy and entertain for a comfortable life. With a contemporary architectural design, Villas for rent in Tay Ho Residence are reasonably planned in an ecological space with many modern facilities.
The project owns a view of the entire West Lake, provides products with timeless neoclassical design, and is equipped with high-class European standard furniture. That's why the project has created a living space like a high-class resort, a new standard for a modern, peaceful and friendly life, with modern amenities right in the noisy and bustling city.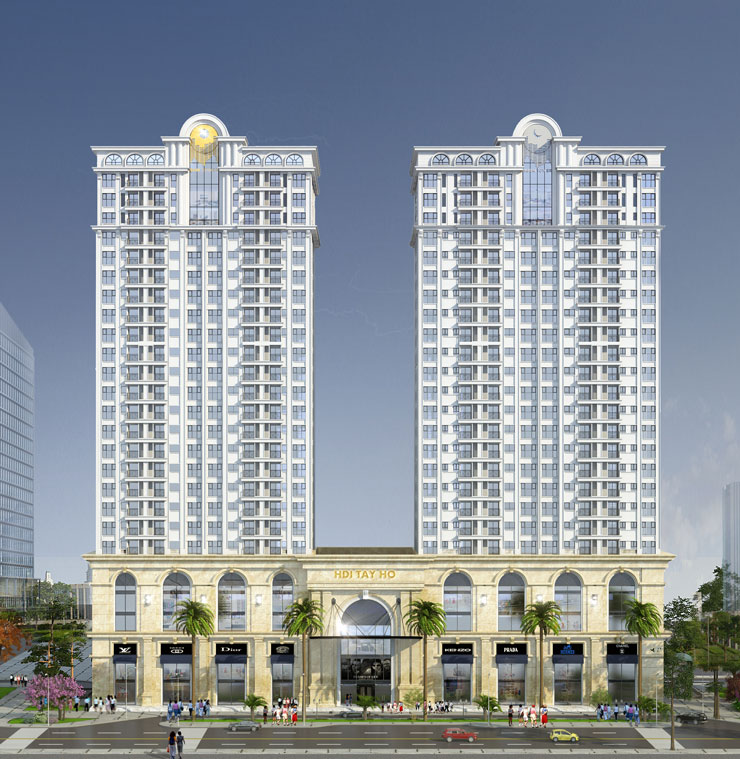 Overview of Villas for rent in Tay Ho Residence project
- Project: Tay Ho Residence
- Location: No. 68A Vo Chi Cong Street - Xuan La Ward - Tay Ho District - Hanoi City
- Investor: Construction and Development Joint Stock Company No. 7 Hanoi (Handico 7)
- Total area: 24,000 m2
- Building density: 34%
- Total construction floor area: 350,600 m2
- Apartment area: 7,483m2
- Villa area: 4.117m2
- Area of land for traffic, flower garden: 12,400 m2
- Scale:
+ 4 apartment towers 15 - 27 floors high
+ 28 adjacent villas
- Number of products: 340 units
- Area: 70 - 107m2
- Handover: Quarter 4/2020
Location of villas for rent in Tay Ho Residence
Villas for rent in Tay Ho Residence possess a prime location. From the project, residents can connect easily to the neighborhoods.
Located at Lane 445 Lac Long Quan, Xuan La Ward, Tay Ho District, Hanoi, Tay Ho Residence has an important strategic position, near Thang Long Theater, headquarters of many agencies, ministries and Tay Ho Tay New Urban Area is being deployed. Convenient traffic connections: the West borders on Ring Road 2, the East and Southeast borders Lac Long Quan and Au Co roads, adjacent to the North Thang Long highway towards Noi Bai international airport.
The distance from Tay Ho Residence to other project locations and the city center is very close:
- 300m from West Lake
- 2km from Ciputra new urban area
- Distance from Thang Long Bridge: 5km
- Distance from Metro: 5.1km
- Distance from Sofitel Plaza Hotel: 5.5km
- Distance from Hoan Kiem Lake: 7.4 km
- Distance from Big C Thang Long: 7.7km
- Located near West Lake water park…
Villas for rent in Tay Ho Residence with 5-stars utilities and service
Tay Ho Residence Project has converged a series of full-service utilities, meeting all the needs of residents in terms of shopping - entertainment - cuisine - education to ensure a good living and relaxing experience for all residents. Residents in villas for rent in Tay Ho Residence will have access to a modern swimming pool, spa, entertainment area, green living park, schools at all levels according to international standards as well as a gym and yoga space — all perfect for building a sense of community with the neighbors.
The project facilities that converge in the area include:
+ Modern, busy shopping mall
+ Food court
+ Community room
+…
Houses villas for rent in Tay Ho Residence are the good choice for those who need to live in a large accommodation with high-class services. Besides, to make it perfect, these places are the perfect combination of natural beauty, classic living style and modern accommodations. With a bustling and vibreant life, it also allows people living in this area to inherit all services and amenities.
How can we find Tay Ho Residence villas for rent?
At Tan Long Land, we are a distributor of real estate projects with many experts with more than 20 years of practical experience in the market and a sales staff of up to 1000 people. With the same desire to bring customers the best quality products with the best products and the best service environment, Tan Long Land has been raised, positioned, and branded in Vietnam. We commit to providing the best consulting service to our customers to help them choose the appropriate apartment for rent in Vinhomes Ocean Park.
See more: Villas for rent in Ciputra