UPDATED LISTINGS OF HOUSES FOR RENT IN HOAN KIEM DISTRICT
Hoan Kiem District is one of the central districts of Hanoi city, bordered by three other inner city districts, namely Ba Dinh, Dong Da, Hai Ba Trung and a part of the district bordering the Red River, the north boundary is Gia Lam district. The streets are open, and the district is also the focus of road, rail and waterway traffic. The houses for rent in Hoan Kiem are hitting the market recently.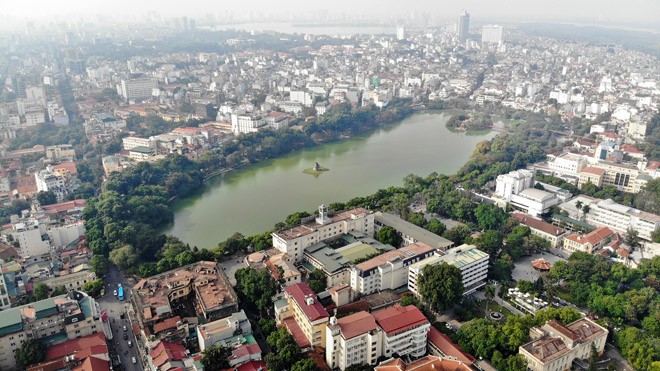 OVERVIEW OF HOUSES FOR RENT IN HOAN KIEM DISTRICT
+ Location: Centre of Hanoi; Next to Ba Dinh, Dong Da, Hai Ba Trung, Long Bien
+ Area: 5,2 km2
+ Population: 150.000 people
+ Signature Real Estate Projects: The Grand Hanoi, Vincom Centre, Pacific Place
+ Price of houses for rent in Hoan Kiem: ~ 800$ - 2000$ per month
ADVANTAGES OF RENTING HOUSES IN HOAN KIEM DISTRICT
Hoan Kiem is a district with a very planned green tree plan, a high density of trees on many roads such as Tran Hung Dao, Hai Ba Trung, Ly Thuong Kiet, Trang Thi, Quang Trung... The trees are mainly used as Bang tree. , Bang Lang, Crocodile tree with many rows of large old trees with wide foliage supporting shade and air conditioning on Hanoi streets, especially in the summer.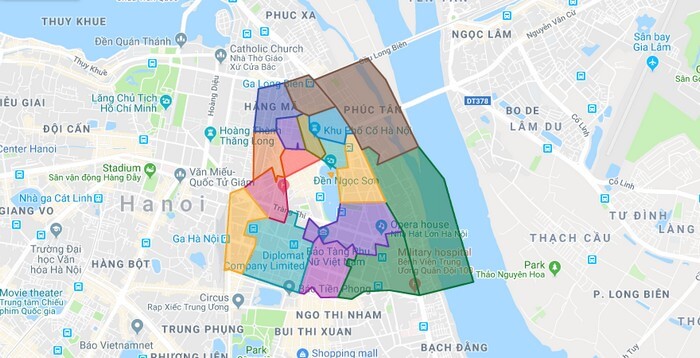 House for rent in Hoan Kiem is a good option for those expats who want to live in a large accommodation with family members or housemates. With a bustling and vibrant life, it also allows people living in this area to inherit all services and facilities. In addition to the full accommodation, tenants of Hoan Kiem houses for rent have the opportunity to join in many entertainment and art activities. The walking street on weekend is a place where you can relax and unwind after work.
The system of parks and lakes is quite famous, which are considered indispensable destinations when coming to Hanoi. The most special ones are Hoan Kiem Lake. A lake right in the district cleans up the street smoke. With a length of about 700m, a width of about 200m. Around the lake is a flower garden that changes color all year round. This area is also a place for exercise, a walking street on weekends with many attractive entertainment activities from folk games, modern dance, singing and performing, doing magic to attract tourists.
CULINARY CAPITAL OF HANOI - HOAN KIEM DISTRICT
Hanoi has a saying "Live in Tay Ho, work in Ba Dinh and eat in Hoan Kiem", which means that you should choose a position in an open area such as Tay Ho district, work in the state administrative area in Ba Dinh and dining in Hoan Kiem district. The district area has many famous delicious dishes that have long been known, making diners come to Hanoi to find these places to enjoy "full taste". When living in a Hoan Kiem house rental, tenants can easily come to enjoy delicious specialties only available in Hoan Kiem district.
Hang Than Street is known for delicious sticky rice cakes.

Enjoying Cha Ca La Vong, people need to visit

14 Cha Ca or 19-21 Duong Thanh street.

A great idea to enjoy delicious Pho is

49 Bat Dan, Pho 10 Ly Quoc Su, Pho Bung number 1 Hang Trong.

And customers who like to eat fried eel in delicious crispy pieces can find eel vermicelli Nguyen Che Nghia at 9 Nguyen Che Nghia, Hang Bai. In addition, there are eel vermicelli at 9 Phu Doan, Hang Trong; No. 27 Nguyen Thiep, No. 29 Hang Non.

Some strange dishes such as Cho Do cake at 64 Quan Su, Xoi Tim at 57 Tho Nhuom, sticky rice seeds with a rich aroma and a bit of flavor of crispy fried pork heart. Or like vermicelli with bamboo sticks, banana snail noodles at Dong Xuan market. Spicy fried snail dish at 19 Gia Ngu, tight vermicelli at 65 Phung Hung, boneless chicken leg salad at 29 Hang Giay. Savory donuts at Luong Ngoc Quyen and 54 Ly Quoc Su. Fried sticky rice 25 Hang Dieu, Van Than noodle 54 Hang Chieu, fruit pickles on To Tich street, Hang Bong hot drink.
WHERE CAN YOU FIND THE HOUSES FOR RENT IN HOAN KIEM?
Tan Long Land - The trusted Agent of Real Estate in Hanoi is committed to becoming a solid bridge between customers and investors. We provide you a wide range of Hanoi housings list, Vietnam properties for sale and for rent, and regional housing services including apartments, serviced apartments, houses, shophouses, villas, and commercial real estate, with a team of professional and enthusiastic consultants who can speak English, Korean, Chinese,... For real tours and inspections of the property or houses for rent in Hoan Kiem or any real estate properties across the country - don't hesitate to contact us!
Hotline: 0989.734.734

Email: hotline@bdstanlong.vn

Website:

bdstanlong.com
See more: