VINHOMES GARDENIA APARTMENTS FOR SALES
With endless inspiration taken from the image of jasmine and pure white, the Vinhomes Gardenia project opened up a new lifestyle that is modern but filled with nature. Thanks to the balanced design, residents here will experience a fresh and bracing atmosphere. This place is nothing more than a peaceful land waiting for the lucky future owners of them. Possessing a terrain like the heart of the capital, Vinhomes Gardenia is now full of convergence of energy and prosperity. This place is the center of green, a completely new landscape in the western gateway of Hanoi.
1. OVERVIEW OF THE VINHOMES GARDENIA
• Project name: Vinhomes Gardenia.
• Investor: Vingroup Group.
• Location: Ham Nghi Street, South Tu Liem District, Hanoi City.
• Project land area: 17.6ha.
• Construction density: 31%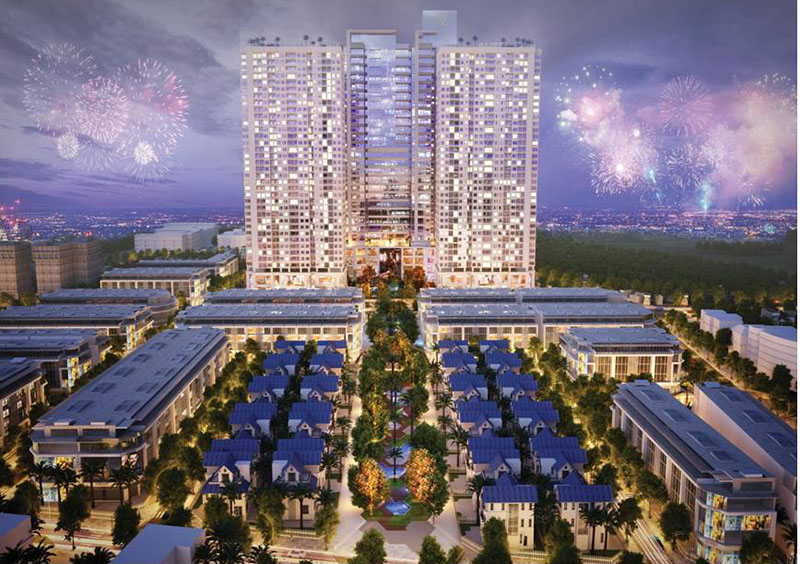 2. LOCATION AND FRUSTRUCTURE OF THE VINHOMES GARDENIA APARTMENT FOR SALES PROJECT
Located on Ham Nghi street, South Tu Liem army, Hanoi, one of the western gateway areas with rapid development in terms of social security as well as urban technology. Vinhomes Gardenia promises to meet the target for the project to become a suitable house for a new administrative, political and educational center with modern infrastructure. While connecting to many important projects in the city area through the main roads running through the capital city connected to Belt Road 3, Le Duc Tho and Ham Nghi.
From the Vinhomes Gardenia project, residents can easily connect to:
Northwest: Adjacent to K2 View street overlooking to Nhue River.

Southeast: Adjacent to N4 View street overlooking to Cau Dien residential area.

Northeast: Adjacent to Ham Nghi Street overlook to National Route 32, low-rise residential area.

The South West: Adjacent to N9 View Street overlooking to Thang Long Avenue, My Dinh Stadium.
A series of modern and busy new urban areas such as Marnor, My Dinh 1 urban area or The Zei My Dinh, Goldmark all surround the Gardenia project, giving residents the best view of a city in the modern social innovation period.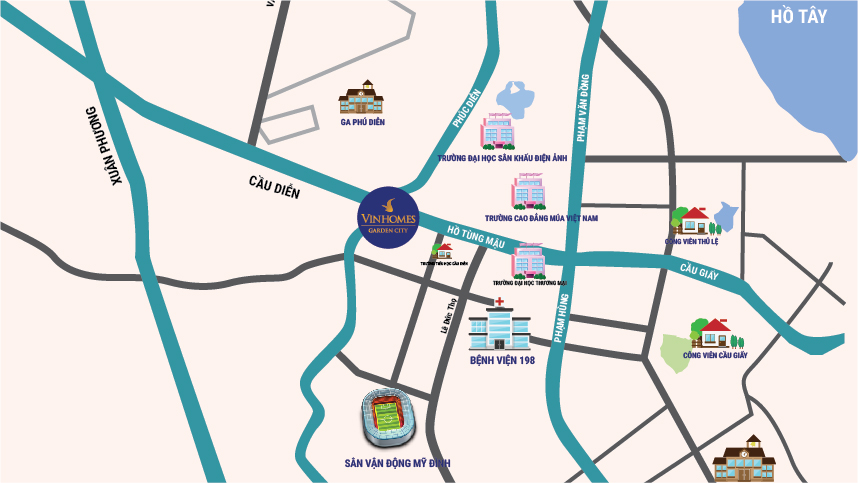 3. DESIGN AND TYPICAL PREMISES OF THE VINHOMES GARDENIA APARTMENT PROJECT
Owning a premise including 3 high-rise buildings with different advantages:
A1 Vinhomes Gardenia - The Arcadia Building is located on Ham Nghi Street overlooking the villa, adjoining, shophouse and Nhue River and adjacent to important amenities such as Japanese garden, children's play area, yoga area ...

Tower A2 Vinhomes Gardenia - The Arcadia is located symmetrically with the A1 building through the main swimming pool of the adjacent urban area such as fast parking, chess garden, food garden, children's play area ...

A3 Vinhomes Gardenia - The Arcadia is the last apartment building to launch at the project, with beautiful views, adjacent to tennis court, central swimming pool, children's playground, spring garden, and jogging track ...
The buildings all own a variety of apartments with areas from 54m2 to 146.8m2. Moreover, Gardenia has dedicated a separate area to design 58 villas for families who want to enjoy the most modern and high-class life of the project. With its own designs and planted with golden Osaka trees to create a separate, completely new style for this place.
Designed in a neoclassical style, combined with spacious facades and large pavement area, the households here will be met from both commercial and business to demand a comfortable and noble life. Most of the villas and shophouses of the project will be completed on the outside and kept inside, from here residents can feel free to create conditions interior freely and creatively.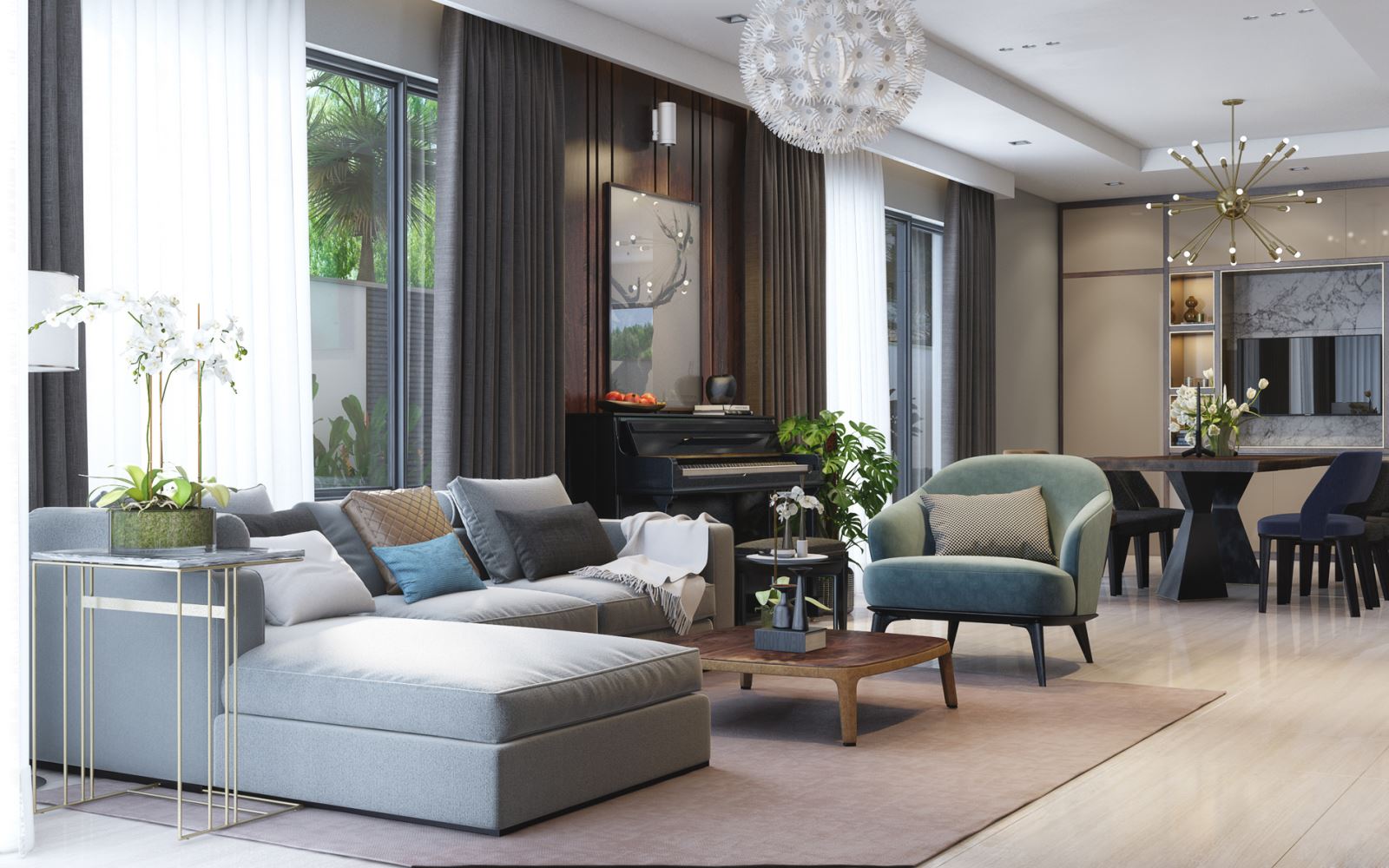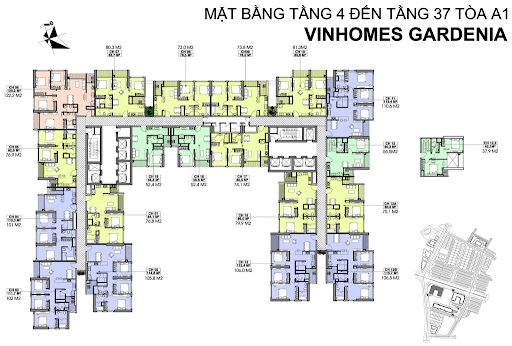 4. FACILITIES OF THE VINHOMES GARDENIA PROJECT
The investor ensures the establishment of a convenient, modern and luxurious life for the residents of the whole project. Possessing many world-class 5-star utility systems, Vinhomes will not disappoint when interwoven with unique gardens, amusement parks, children's playgrounds, shopping centers, Vinschool, Vinmec, swimming pools outdoor swimming center, indoor swimming pool, sports and entertainment area.
In addition to the basic facilities of the entire project area, A3 Gardenia also has a 4-season hot water swimming pool and an indoor gym. Residents of this court will easily be able to participate in their favorite sports such as swimming. The U-shaped design also creates the widest and most airy residential lounge area for A3 Gardenia residents. In addition, the A3 is also adjacent to the Shophouse area, very convenient for shopping to meet the individual needs of residents.
5. OTHER REAL ESTATE PROJECT OF VINGROUP
• Vinhomes Central Park - Binh Thanh District, HCMC (37,712 billion VND)
The project has a total land area of ​​more than 40 hectares, is a multifunctional urban area with synchronous technical and social infrastructure. The project has 18 high-rise buildings, 100 villas, 1 general hospital, 1 inter-level school.
• Vinhomes The Harmony - Long Bien District, Hanoi (4,887 billion VND)
This is a project located next to the Vinhomes Riverside ecological urban area, where Vingroup is headquartered. The project has a total land area of ​​about 97ha, has villas, garden houses, schools and 100% interest rate is owned by Vingroup.
• Vinhomes Green Bay - Nam Tu Liem District, Hanoi (4,992 billion VND)
The project includes high-rise buildings, villas, townhouses, schools, located on an area of ​​about 30 hectares, 98.86% owned by Vingroup.
• Vinhomes Skylake - Nam Tu Liem District, Hanoi (3,786 billion VND)
This is a high-rise apartment project, with a total land area of ​​about 2.3 hectares, due to Vingroup's 94% interest rate.
• Vinhomes Gia Lam - Gia Lam district, Hanoi (estimated VND 100,000 billion)
According to the planning study, the project scale is about more than 420ha, including many items such as high-rise apartment buildings, low-rise houses, schools of all levels, universities, hospitals and urban facilities. The Vinhomes Ocean Park project aims to attract a large number of residents to live, reduce the load for the inner city of Hanoi and surrounding areas.
• Vinhomes Metropolis - Ba Dinh District, Hanoi (VND 4,876 billion)
This is an office project, a high-rise apartment building, and a school with a size of about 3.5 hectares, because Vingroup holds 49.41% of the rate of interest.
• Vinhomes Imperia Hai Phong - Hong Bang District, Hai Phong (4,950 billion VND).
This is an urban area with a total area of ​​about 78ha, located at the western gateway of Hai Phong city. The project includes low-rise houses, schools, offices, hotels, shopping centers and 100% owned by Vingroup.
• Vinhomes Star City Thanh Hoa - Dong Hai Ward, Thanh Hoa (11,623 billion VND)
The project has a size of about 118ha, is a new urban area complete with complete technical infrastructure, social infrastructure (housing, commercial services, health, leveling, traffic, power supply system. , water supply and drainage, green trees) ... to meet the needs of housing, commercial services for the people and at the same time create jobs for laborers.
6. INTRODUCTION TO THE INVESTOR OF THE VINHOMES GARDENIA
Referring to Vingroup as customers can imagine a large corporation with brands affirmed by quality and prestige, Vingroup has done miracles to honor Vietnamese brands and is proud to be among the leading private economic groups in Vietnam. With the desire to bring to the market products and services of international standards and completely new experiences of modern living styles. In any field, Vingroup also proves its pioneering role, leading a change in consumer trends.
The Vinhome Gardenia project is promising to bring a wonderful, peaceful experience as well as a comfortable-like space for each member of your family.
7. CONTACT INFORMATION
Tan Long - The trusted Real Estate Agent in Hanoi is committed to becoming a solid bridge between customers and investors. We are provide you a wide range of Hanoi housings list, Vietnam properties for sale and for rent, and regional housing service including : apartments, serviced apartments, houses, shophouses, villas and commercial real estate products for sale and for rent, with a team of professional and enthusiastic consultants who can speak English, Korean, Chinese, ...
For real tours and inspection of the property of apartments for sale in Vinhomes Gardenia, Hanoi or any real estate properties across the country - don't hesitate to contact us !
Find us for fastest service, reasonable price and no worry at all.
Website: bdstanlong.com.
Hotline: 0987.745.745 or email: hotline@bdstanlong.vn
Address: 39B Xuan Dieu, Tay Ho, Hanoi.