APARTMENT FOR SALE SUN GRAND CITY ANCORA
Previously, the apartments for sale in Sun Grand City Ancora has been planned and transformed into the most luxury apartment project here, Sun Grand City Ancora will be an architectural highlight in the southern land of the Hanoi capital.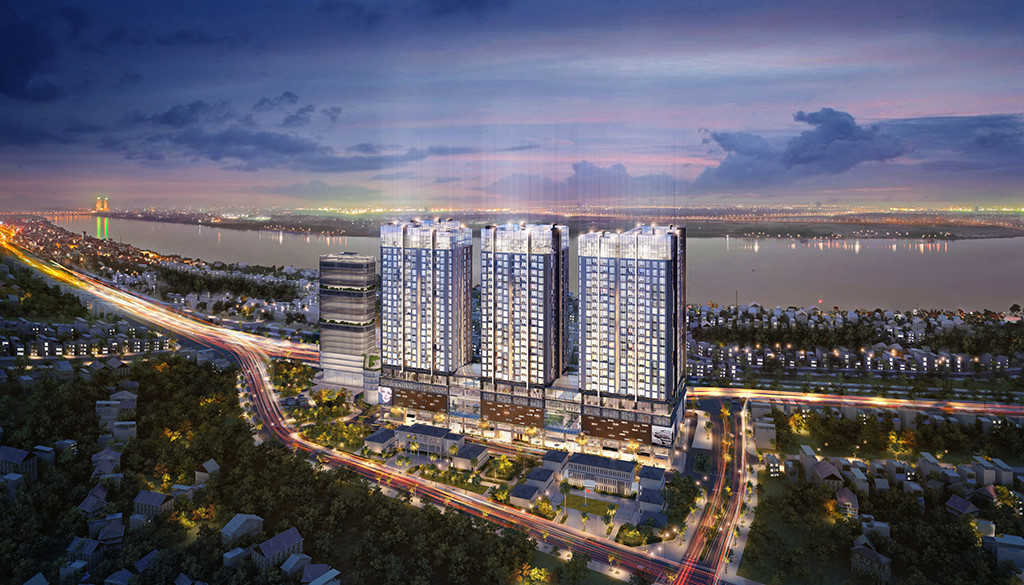 OVERVIEW OF THE APARTMENTS FOR SALE SUN GRAND CITY ANCORA
Project name: Sun Grand City Ancora Residence
Location: No. 3 Luong Yen - Hai Ba Trung - Hanoi
Total land area: 124,335m2
Land area for construction of the project: 22,304 m2
Total number of apartments: 670 units (31 penthouses)
Construction density: 38%
Scale: 3 25-storey towers, 3 basements for parking, 5 floors of commercial center connecting 3 buildings, from floors 6-24 are residential apartments.
LOCATION OF THE APARTMENT FOR SALE SUN GRAND CITY ANCORA
Apartments for sale in Sun Grand City Ancora are l
ocated at Nguyen Khoai, 3 Luong Yen, Hai Ba Trung, Hanoi with prime location, full view of Red River, convenient traffic. This is the location adjacent to the street and the river, which is significant for the harmonious feng-shui flow, convergence of the three most near-sighted factors - near-sighted-two-near-road.
From the project moving to downtown areas is extremely easy:
Big streets such as Tran Hung Dao, Dai co Viet, Hue street, Nguyen Thich dike bank, ..
Red River takes only 3 minutes, Opera House, Vincom Ba million 7 minutes, Polytechnic University of Hanoi, University of Technology, Irrigation University, ... 8 minutes, Sword Lake 10 minutes, Unified park 2km, cv Vo Thi six 1km, Thanh Nhan hospital 1.3km, ...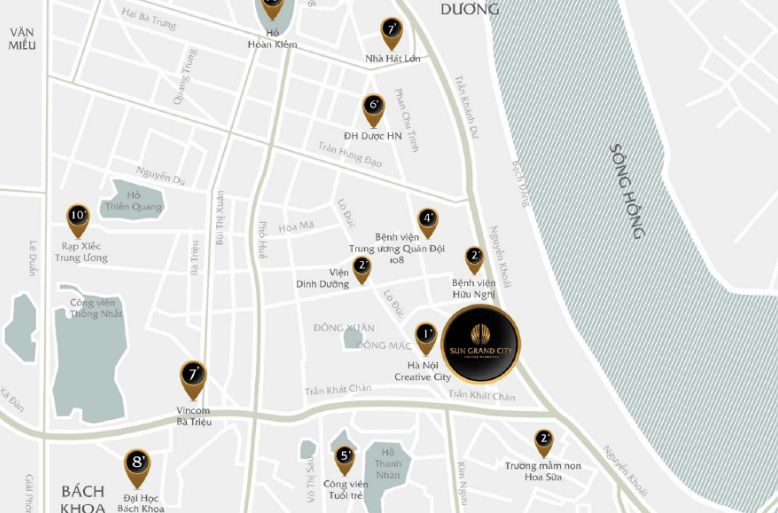 Number of apartments: 679 units
Tower T1: 13 apartments / floor
T2 tower: 10 apartments / floor
Tower T3: 13 apartments / floor
The space is in harmony with the nature shown in each design of the Sun grand city Ancora apartment, every living room has a balcony, all bedrooms are designed with tempered glass windows, good soundproofing, foresight, Minimize UV ​​rays, ensuring health for residents as well as friendly with the environment.
Tower T1: 11 apartments / 1 floor
T2 tower: 10 apartments / 1 floor
Tower T3: 10 apartments / 1 floor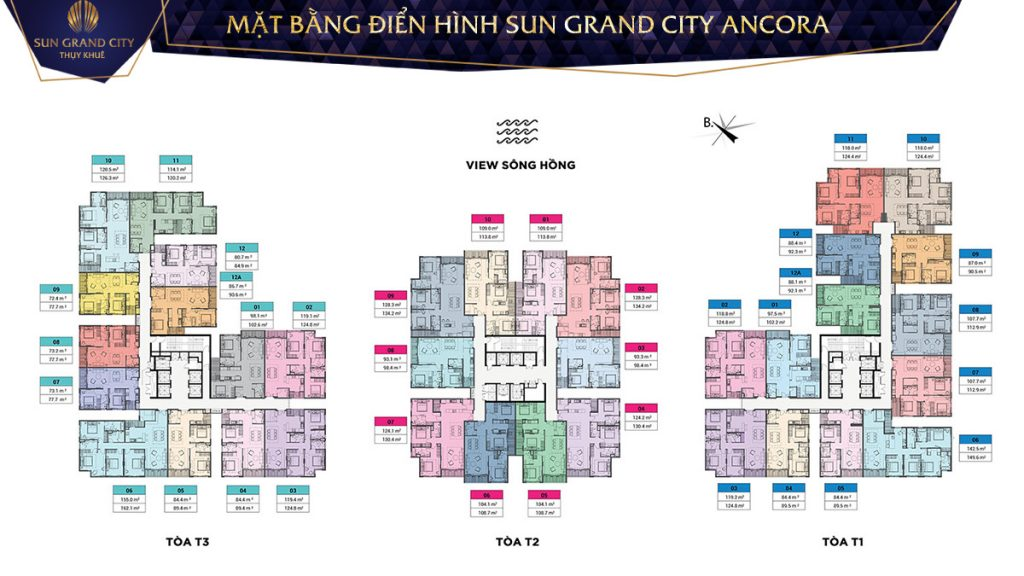 Located on the top floor of the building, the penthouse owns the most beautiful space and view of the project, the panoramic view of the Red River and the panorama of Hanoi city.
All
apartments for sale in Sun Grand City Ancora
are designed to split 7 light slots for an apartment building, all apartments are exposed to maximum light, the kitchen directly outside to ventilate the apartment each time cooking. Design consultancy by DarkHorse Architecture, interior construction by AA deco Vietnam, handover standard of apartment full of wall-mounted equipment from the world's leading brands: BOSCH, KOHLER, Legrand, Hafele ,. ..
international standard domestic water treatment system can be used as drinking water, electronic fireproof lock.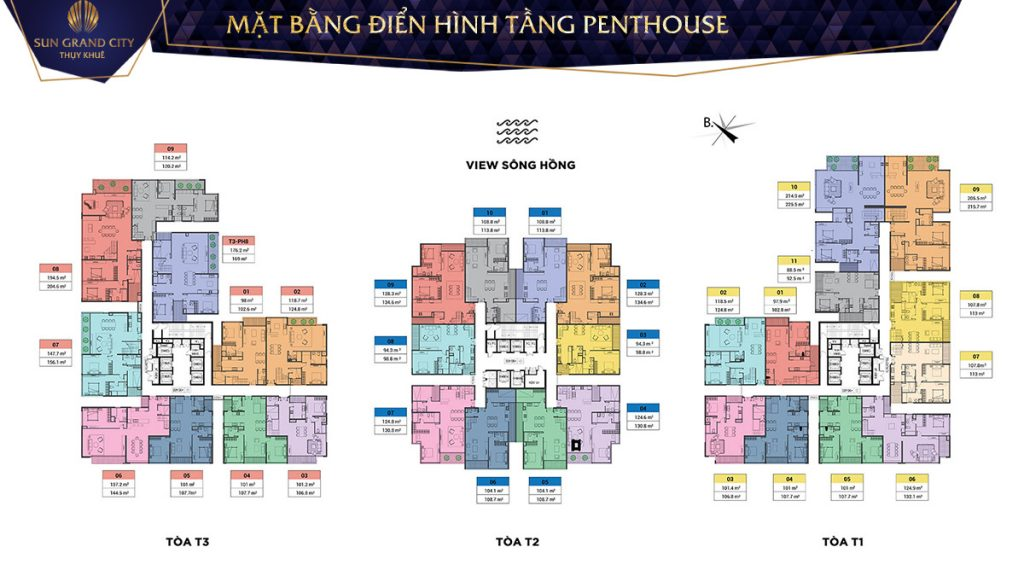 FACILITIES OF THE APARTMENT FOR SALE SUN GRAND CITY ANCORA
60% of the area is for utilities, where residents can freely choose for themselves the convenient and classy spaces. Large commercial center connecting all 3 blocks with many stalls serving fashion shopping, culinary restaurants, cafe chains with many brands of Starbucks located along the route behind the building, Gogi, Sumo BBQ, CGV cinema ... gymnasium, yoga, spa, sauna, 4-season swimming pool for adults and children located on the 5th floor all meet international standards.
Apartments for sale in Sun Grand City Ancora have
24/7 multi-layer security, international standard pure water filtration system, scientifically arranged green spaces, aquatic vegetation, waterfalls, walking trails, community libraries, lakes, molds Green tree park provides a relaxing, peaceful entertainment area for future residents, luxurious modern design, Lounge will bring satisfaction to all residents.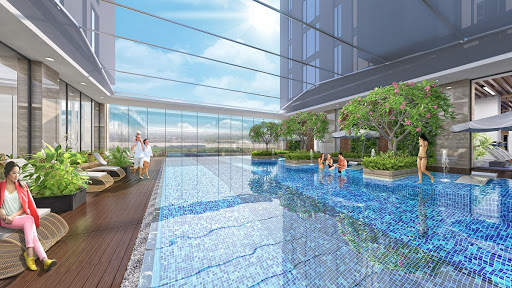 Tan Long - The trusted Real Estate Agent in Hanoi is committed to becoming a solid bridge between customers and investors. We are provide you a wide range of Hanoi housings list, Vietnam properties for sale and for rent, and regional housing service including: apartments, serviced apartments, houses, shophouses, villas and commercial real estate products for sale and for rent, with a team of professional and enthusiastic consultants who can speak English, Korean, Chinese, ...
For real tours and inspection of the property of apartments for sale in Sun City Ancora, Hanoi or any real estate properties across the country - don't hesitate to contact us!
Find us for fastest service, reasonable price and most accurate information.
For more information, please contact us:
See more:
Thank you !