WESTLAKE STARLAKE APARTMENT FOR SALE
Located in Xuan La-Tay Ho Ward, Apartments for sale in Starlake Hanoi urban area project is considered a future city by ideal living space, perfect facilities, and the project also owns the first opportunity to own the investment with the potential to price rise-up outperform over time.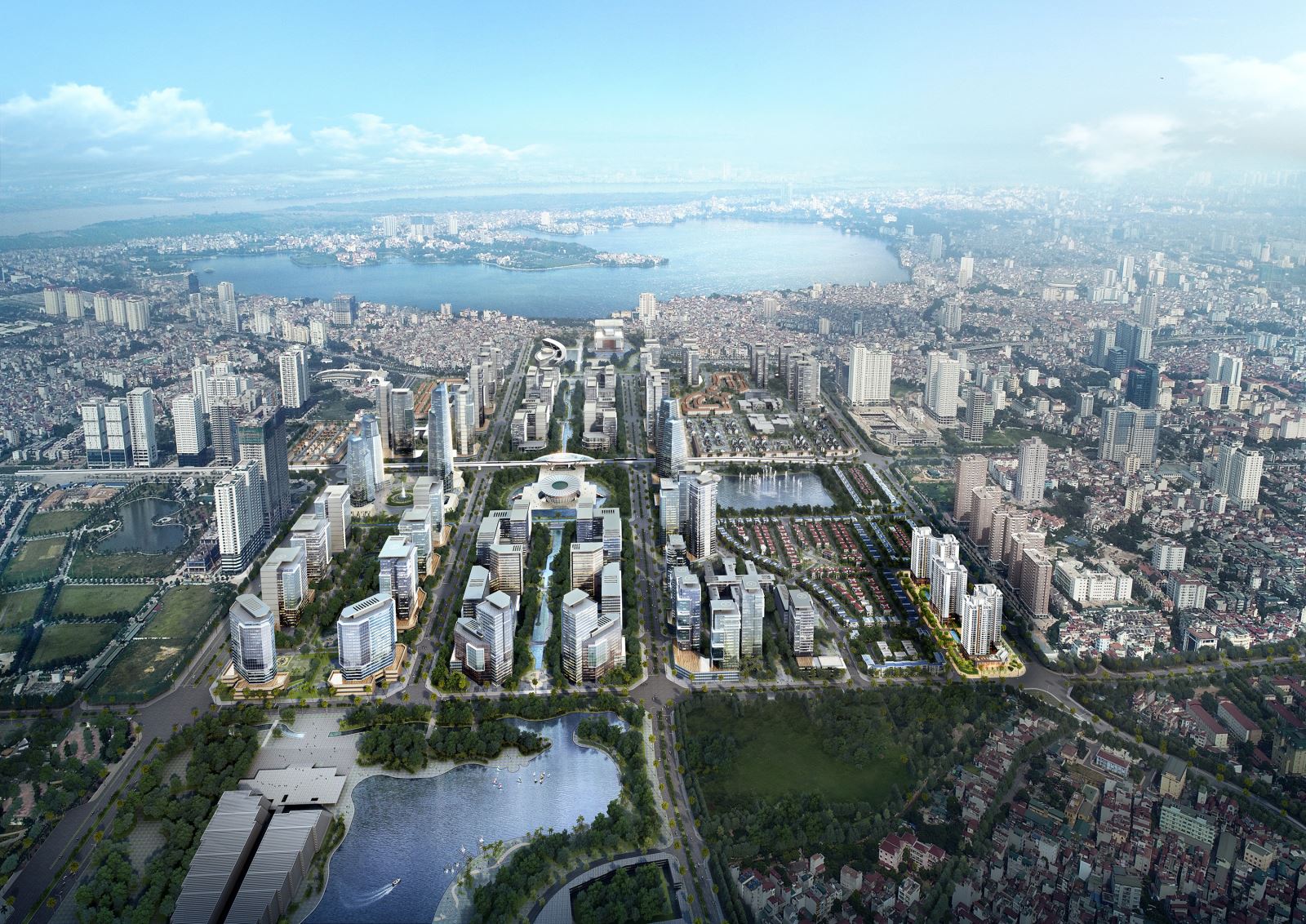 1. OVERVIEW OF APARTMENTS FOR SALE IN STARLAKE URBAN AREA
Starlake is the most luxurious urban area in Vietnam located in Westlake near Noi Bai airport with full diverse functions: administration, hotel, finance, education, trade and entertainment ... Expressing class, the Starlake project is a symbol of the expectation of the most classy model star urban area in Southeast Asia.
• Project name: Starlake
• Location: Located in the intersection center between the districts of Bac Tu Liem, Tay Ho and Cau Giay
• Purpose: Developing a modern, world-class urban area
• Total area: 186.3ha
• Population: 24,300 people
• Total investment: 548 million USD
• Investor: T.H.T Development Limited Liability Company (Investor: Daewoo E&C)
• Partner: KDB Korea (-200 million USD Confirmed)
2. LOCATION AND INFRASTRUCTURE OF STARLAKE HO TAY APARTMENTS FOR SALE PROJECT
The apartments for sale in Starlake Ho Tay owns a prime location with flexible satellites, and at the same time inherits the classy infrastructure to ensure a modern life. In particular, the project also has a geomantic feng-shui location that promises to bring a peaceful and prosperous life.
The West Lake area where Starlake Hanoi is located is considered the essence of the flying dragon of Thang Long, the feng-shui point of the capital. Here the spirit of convergence, feng-shui, promises to bring a prosperous life to the homeowner.
Regional link:
• Only 5km from the city center
• 14km from Noi Bai International Airport
• Easy connection to Belt Road 2, Belt 2.5, Belt 3 and Urban Railway No. 2 and 4
• Only 7 minutes walk to West Lake and 3 minutes to Hoang Quoc Viet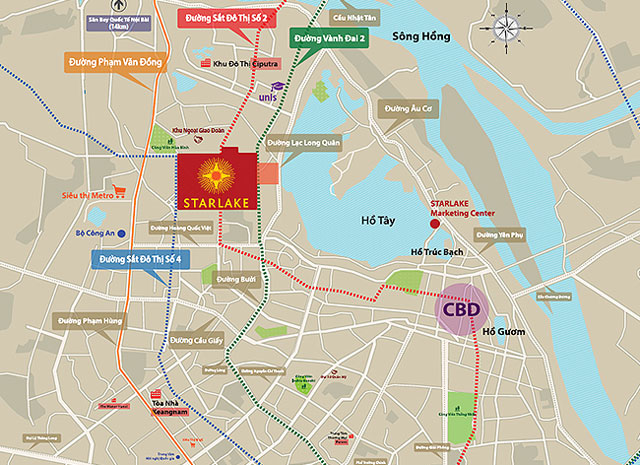 3. REAL ESTATE PRODUCTS IN URBAN AREA
Tay Ho Tay urban area is a high-end urban area with two main product lines, luxury apartments and villas, meeting the needs of an ideal and modern residence.
Starlake Apartment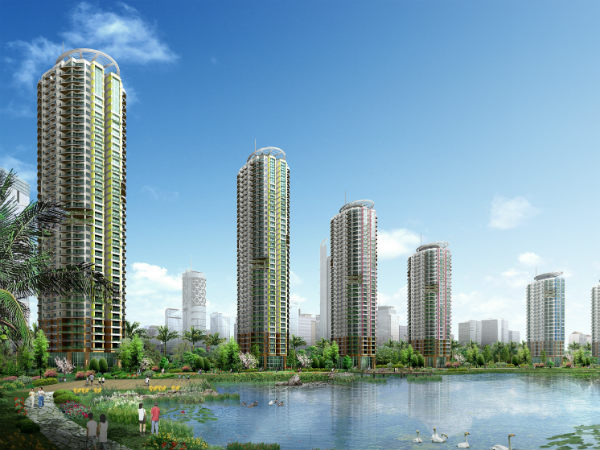 Total land area for apartment building: 24,775m2 (Phase 1)
Scale: 3 towers of 24 floors, including 2 basements, 3 commercial floors
Total number of apartments: 603 apartments
Starlake apartments are modernly designed, arranged diagonally to create wide, airy views, optimal light and wind convection to provide an ideal living space. The apartment buildings are centrally located with excellent internal links that allow residents to easily move to areas within the metropolitan area.
Detach Villas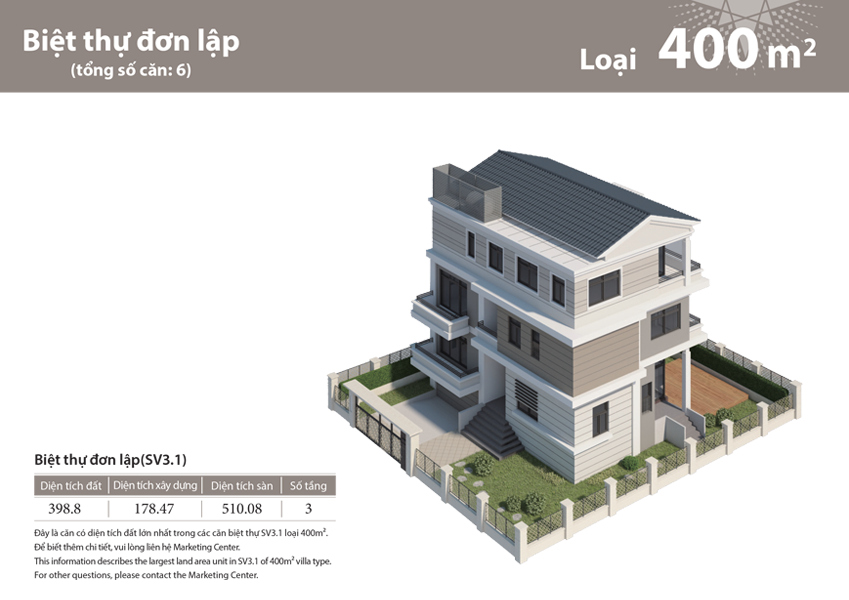 Duplex Villas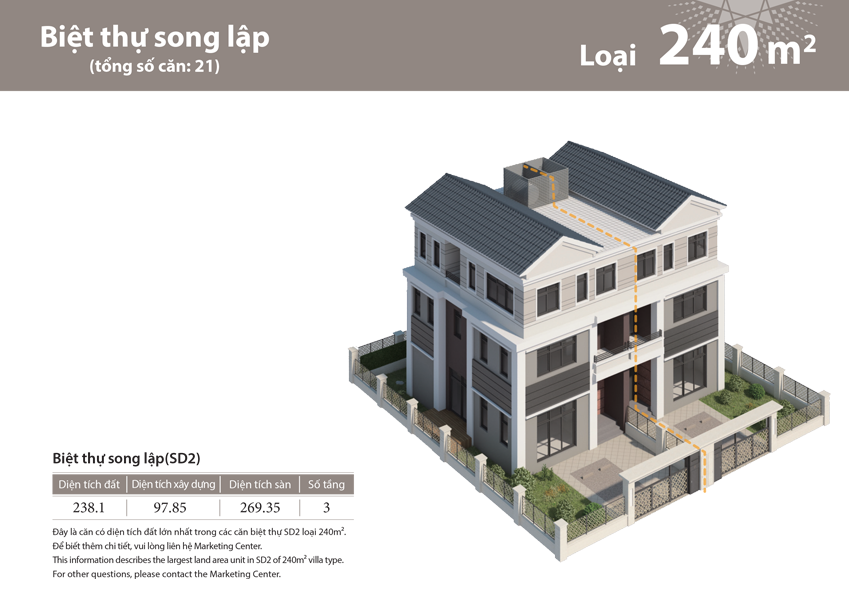 Starlake Villa possesses sophisticated design and high-end services that create a nature-friendly open space, bringing a regal lifestyle, perfect living space with outstanding values for homeowners.
Total villa area: 11ha (Phase 1)

Construction density: 36%

Height: 3 - 4 floors
Adjacent houses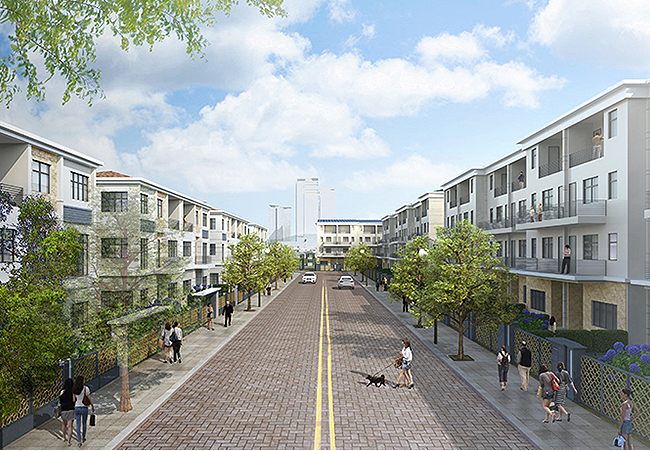 The design of the adjacent house is a neoclassical, elegant design but still youthful and updated with future design trends.
A 3-storey house includes:
• 1st floor has living room, dining room, kitchen, laundry room and WC
• 2nd floor has bedroom, reading room and WC
• The 3rd floor is designed similarly to the 2nd floor
4. DESIGN AND TYPICAL LAYOUT OF STARLAKE APARTMENT
Starlake Ho Tay apartment complex is designed with 3 apartment blocks with a height of 24 floors, built on a total land area of 24,775m2. In which, the average construction density is 31%, the rest is the area for trees and community facilities, including: badminton court, golf course, yoga room, fitness, playground, swimming pool, area services and retail, children's play area, coffee area, aerial garden ... to satisfy all the needs and utilities of residents.
Overall ground of Starlake urban area project: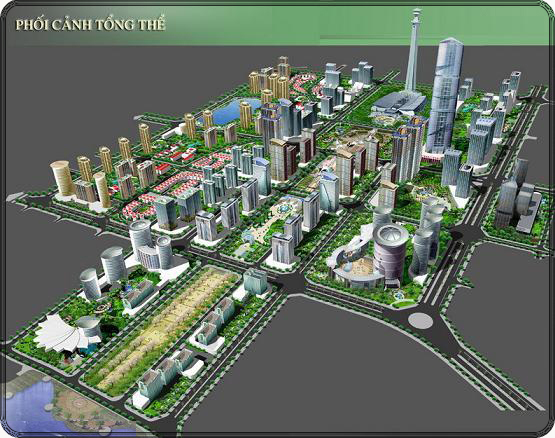 Plan ground of Apartment base
5. DESIGN OF STARLAKE APARTMENT
Inspired by Korean-style apartments, the investor creates blocks of houses that are placed diagonally together to provide open space for every apartment. The apartments in the urban area are designed with a variety of areas, architecture, ... to bring softness and sophistication while optimizing light and wind to bring the most perfect living space for trendy homeowners.
• Scale: Consists of 3 buildings
• 24 floors height
• 2 basements
• 3 commercial floors
• Total number of apartments: 603 apartments
• Construction density: From 6 - 8 apartments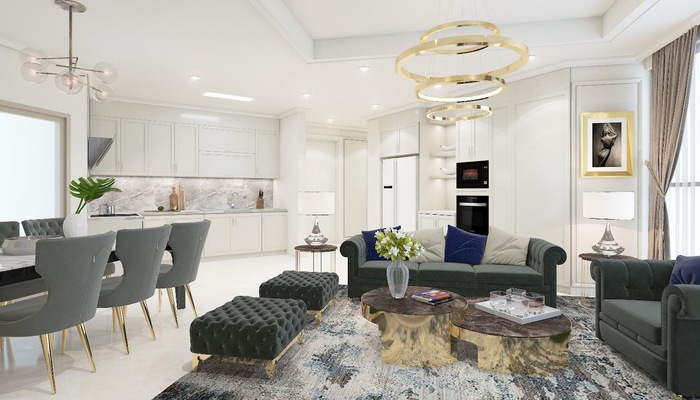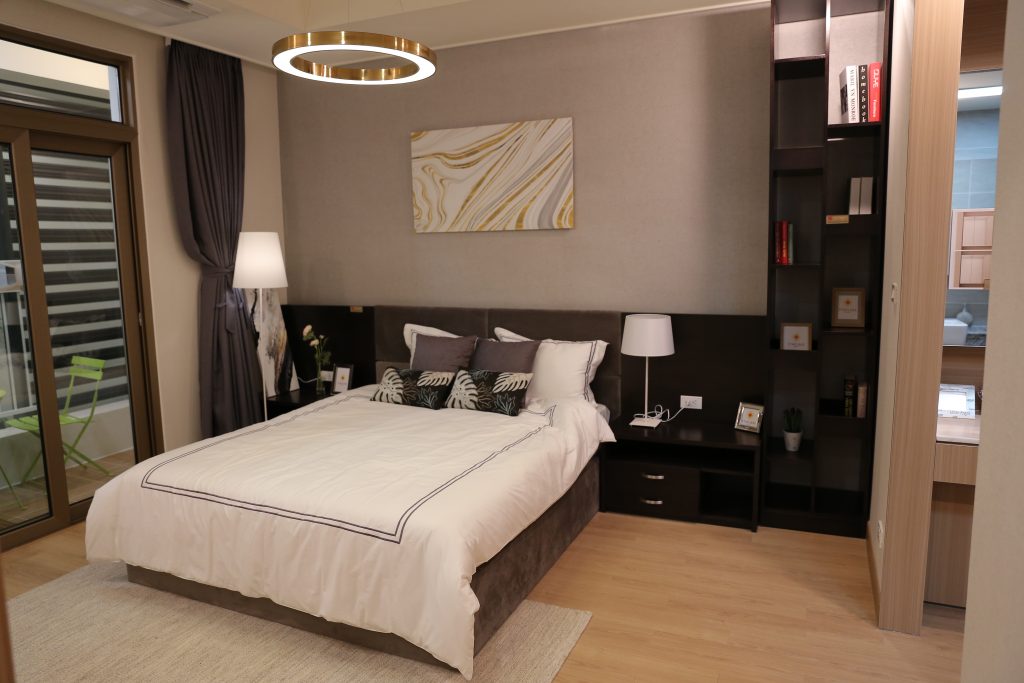 5. INTRODUCTION TO THE INVESTOR OF THE STARLAKE URBAN PROJECT
Daewoo Engineering & Construction Corporation (Daewoo E&C) was established in 1973, Daewoo E&C is now one of the largest construction corporations in Korea and present in nearly 50 countries around the world. In Vietnam, before investing in the Star Lake Hanoi villa project, Daewoo E&C was the investor of Daeha Business Center (Kim Ma), and the general contractor of Daewoo - Cleve project (Van Phu, Ha Dong). .
Daewoo E&C is one of the companies operating in the fields of civil construction, contracting, housing projects and power plants. After completing projects in nearly 50 different countries, including the Americas, the Middle East, Africa and Southeast Asia, Daewoo E&C has earned a strong reputation for the Korean construction industry. Based on its technical expertise, the company is now pioneering new markets and expanding its overseas business.
The company has participated in many projects in Vietnam since 1996. To expand our business, we established Daewoo E&C Vietnam, at 14th floor, East Tower - Lotte Center Hanoi, 54 Lieu Giai, Cong Vi Ward, Ba Dinh District, Hanoi.
6. SERVICES & UTILITIES OF THE PROJECT
Located right in the golden location in the heart of Hanoi, in which 84% of the area is for greenery campus, water surface and public works, apartments for sale in Starlake offers residents the opportunity to experience a life of dignity. Here, residents promise to fully enjoy modern and world-class social infrastructure: Thang Long theater, 03 international schools, 02 big hotels, high-class commercial center ... satisfy all the living needs of residents. Especially, the project investor also designed a standard parking system with a capacity of up to 1000 seats to ensure the parking needs of residents.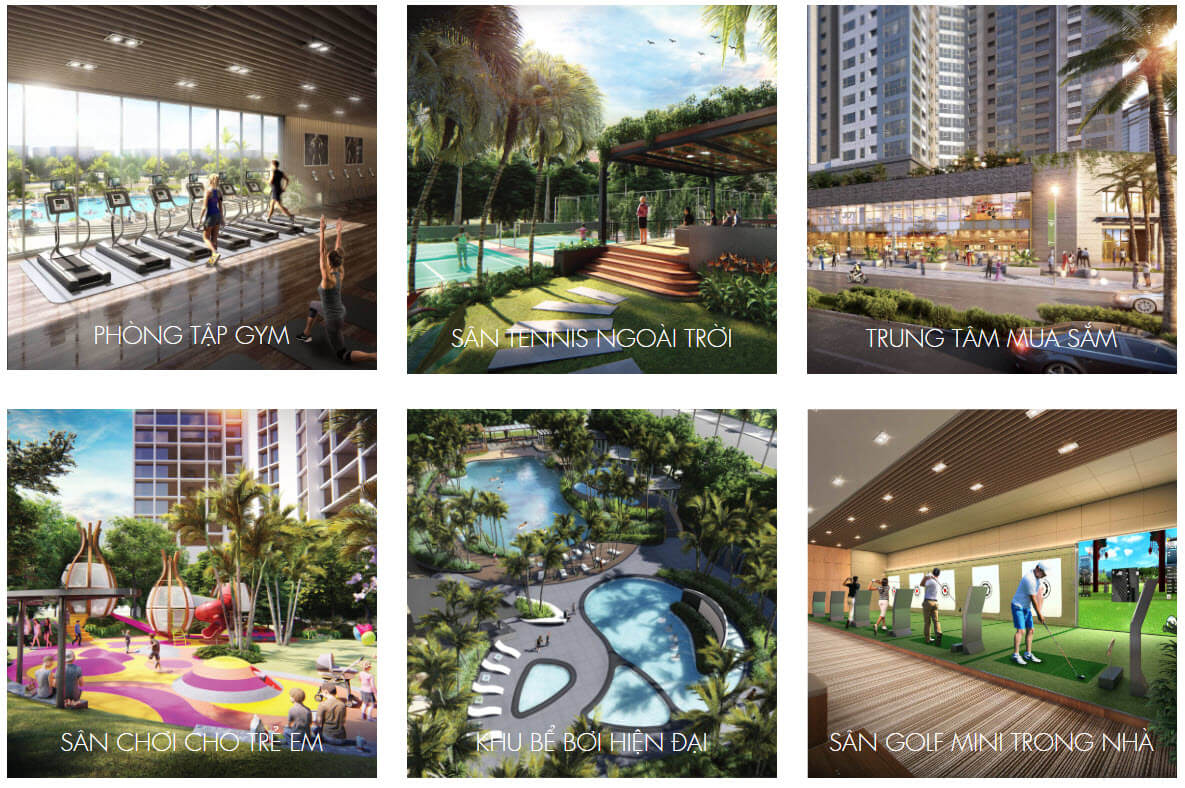 10 REASONS TO CHOOSE STARLAKE URBAN AREA HO TAY
1. Starlake Ho Tay owns the remaining golden land fund in the center of Hanoi capital
2. Convenient location, easy to move to the central areas of the capital, close to the cool West Lake, near the Diplomatic Corps area with the ministries and agencies.
3. Prestigious investor Daewoo E&C, verified by hundreds of construction projects in Korea and more than 40 countries around the world.
4. Feng Shui positioning, Starlake is the essence of the flying dragon land of Thang Long, where the spirit converged, brings prosperity to owners living here.
5. The need to rent houses around West Lake is huge, so owning a Starlake villa will definitely bring an attractive investment opportunity for rental and profit.
6. Diversified products, designed in accordance with the needs and economic potential of the homeowner.
7. The project is equipped with a complete infrastructure system, a global cultural exchange space, a luxurious shopping and entertainment center.
8. Tay Ho Tay urban area is an ideal destination for famous investors and world-class business partners.
9. Starlake is uniquely designed to bring new discoveries about famous streets in the world such as Broadway (USA), a glimpse of Venice (Italy) ...
10. Starlake community is a high class civilized community, multinational and absolutely ​​safe.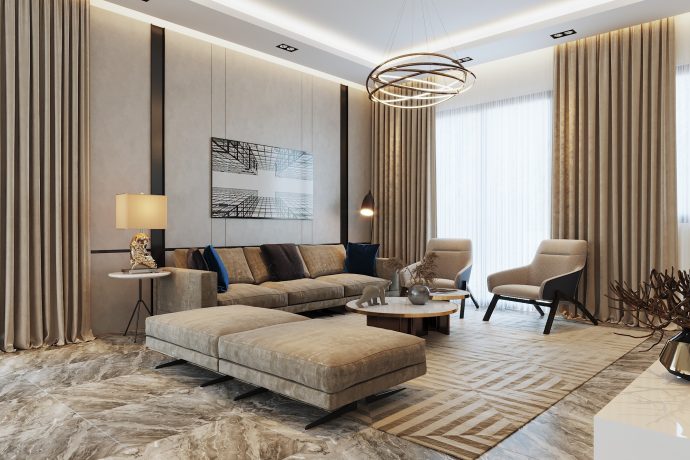 D. CONTACT INFORMATION
Tan Long - The trusted Real Estate Agent in Hanoi is committed to becoming a solid bridge between customers and investors. We are provide you a wide range of Hanoi housings list, Vietnam properties for sale and for rent, and regional housing service including : apartments, serviced apartments, houses, shophouses, villas and commercial real estate products for sale and for rent, with a team of professional and enthusiastic consultants who can speak English, Korean, Chinese, ...
For real tours and inspection of the property of Apartments for sale in Starlake Hanoi or any real estate properties across the country - don't hesitate to contact us !
Find us for fastest service, reasonable price and most accurate information.
Website: bdstanlong.com.
Hotline: 0987.745.745 or email: hotline@bdstanlong.vn
Address: 39B Xuan Dieu, Tay Ho, Hanoi.
Data coming soon!