VINHOMES WEST POINT APARTMENT FOR SALES
Dubbed the most luxury apartment complex project, West Point also combines with fully qualified Grade A office buildings at the corner of Pham Hung and Do Duc Duc streets. After many successes in building projects such as Green Bay and Sky Lake, Vingroup ensures customers the quality as well as a unique architecture worthy of upstream life. West Point offers an outstanding 5-star living facility, which promises to be an ideal place for residents to enjoy their family.
1. Overview of the Vinhomes West Point Apartment for sales
• Project name: Vinhomes West Point
• Investor: Vingroup Group
• Location: Lot Corner of Pham Hung & Do Duc Duc Street, Nam Tu Liem, Hanoi
• Project land area: 2.4ha
• Construction density: 32%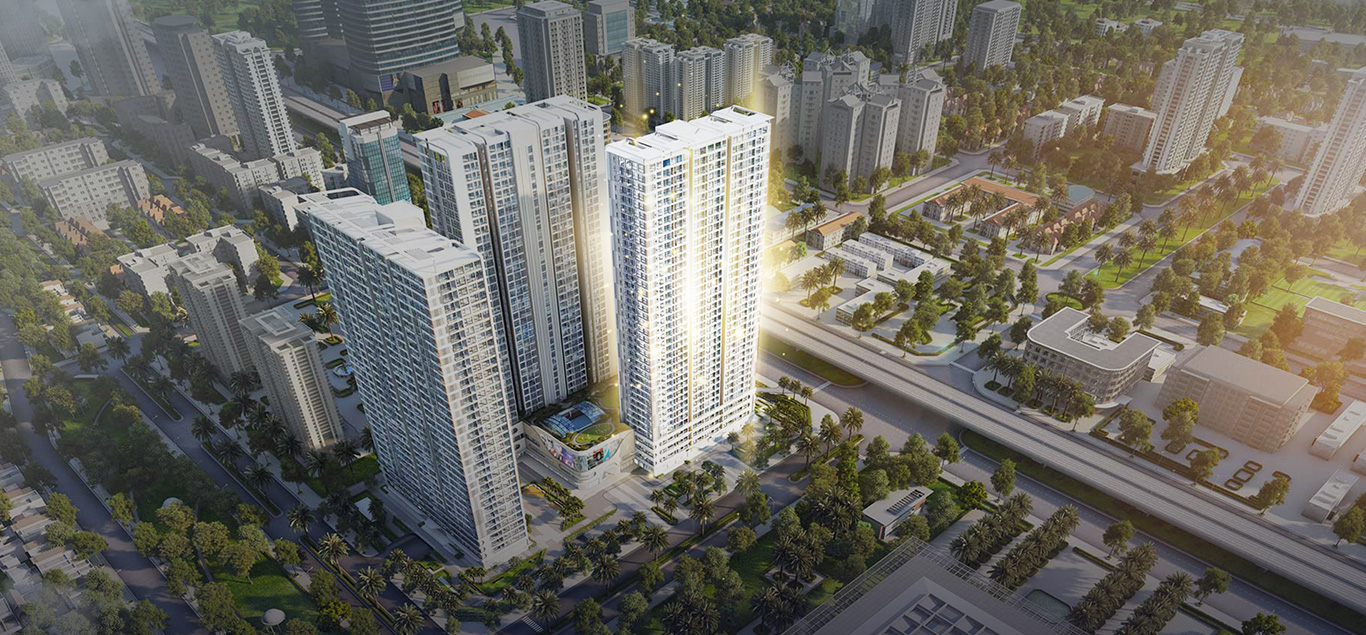 2. Location and infrastructure of the Vinhomes West Point apartments for sale
Located on the corner of Pham Hung and Do Duc Duc streets, Nam Tu Liem district, Hanoi, adjacent to the national museum, West Point shows its class and advantages through smart construction that creates many key points. weak for traffic. Along with the location near many 5-star hotels such as Mariot attached to the National Convention Center, BigC Thang Long and 72-storey Keangnam building.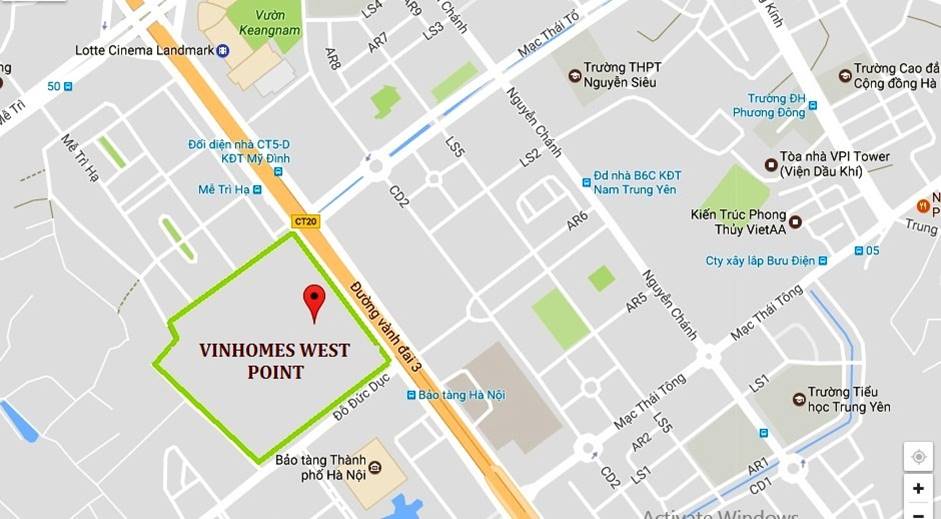 3. Design and typical premises of the Vinhomes West Point apartments for sale project
Realize all ideas of a vibrant urban area, fully located on the perfect infrastructure system. The West Point project will give residents an active and flexible life, with the orientation to become a complex of office apartments, high-end apartments and a commercial center. Along with 3 modern high-rise towers and party level with diverse apartment models will help customers choose comfortably.
With the idea of ​​dividing into 3 buildings. W3 building will be a unique design, completely independent from W1 and W2 without the same podium. The view here is stretched to the horizon, the 4-sided views of Hanoi city will make customers fall in love.
The most beautiful of the project is the W2 West Point building, using a beautiful location located between the other two buildings. Possessing a cool view towards the swimming pool, you can also see the Hanoi Museum and My Dinh National Stadium.
The W1 building is a new type of construction using officetel, which has always hidden the potential for exploitation, now the owner can turn them into a place for sale, business or representative office .. But with W1 is more than that because thanks to a coordinated plan that the owner can both invest in renting, and can freely choose their own usage thanks to this "2 key" type.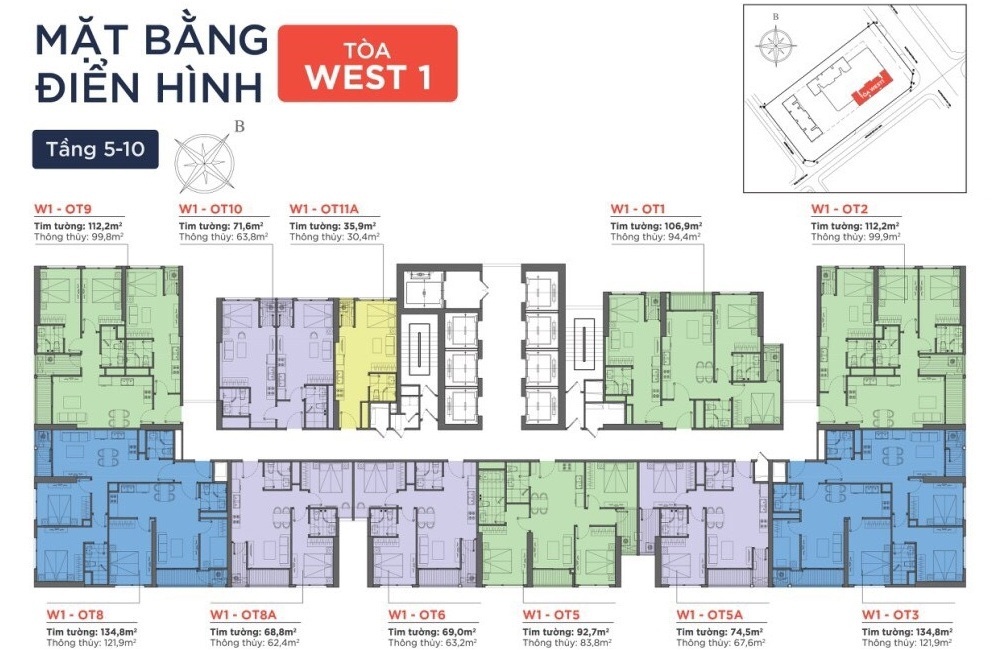 4. Facilities of the Vinhomes West Point apartments for sale project
Different from the traditional apartment model that only provides working space, or office apartment, West Point chooses both by combining, thereby bringing a completely new experience space. With just one step, homeowners can move from a private home with a comfortable resting space to an energetic and focused office.
Owning a series of high-end views covering almost the entire west coast, it is easy to catch the sun and wind while the home is enjoying a cup of coffee to discuss future projects. Not only that, the luxury restaurant chain right at the podium is also an ideal place to meet partners, saving a lot of time and money.
5. Why choose to buy apartment for sale Vinhomes West Point
• Owning one of the most prime locations in the southwest region
• Cool green space in the heart of the city, enjoy the fresh air
• Multifunctional in apartment system with smart design
• Enjoy many modern utility systems, synchronized with the commercial center
• Operated by Vinhomes which is one of the most prestigious brands in Vietnam
• Bring high profitability after investing
8. Contact information
Tan Long - The trusted Real Estate Agent in Hanoi is committed to becoming a solid bridge between customers and investors. We are provide you a wide range of Hanoi housings list, Vietnam properties for sale and for rent, and regional housing service including : apartments, serviced apartments, houses, shophouses, villas and commercial real estate products for sale and for rent, with a team of professional and enthusiastic consultants who can speak English, Korean, Chinese, ...
For real tours and inspection of the property of apartments for sale in Vinhomes Metropolis Lieu Giai, Hanoi or any real estate properties across the country - don't hesitate to contact us !
Find us for fastest service, reasonable price and most accurate information.
Website: bdstanlong.com.
Hotline: 0987.745.745 or email: hotline@bdstanlong.vn
Address: 39B Xuan Dieu, Tay Ho, Hanoi.