Apartments for Sale in Thanh Xuan - Listings in 2023
Apartments for sale in Thanh Xuan - Located in the heart of Hanoi, Thanh Xuan is one of Vietnam's most vibrant and sought-after districts for real estate investment. With its contemporary amenities, excellent connectivity, and rich cultural heritage, Thanh Xuan offers a perfect blend of urban convenience and suburban tranquility. If you're in the apartment market, Thanh Xuan should be on your list. Here's a closer look at what makes apartments for sale in Thanh Xuan attractive.
Learn about the apartments for sale in Thanh Xuan
Prime Location: Thanh Xuan is strategically situated just a stone's throw away from Hanoi's city center. This prime location allows residents easy access to the central business district, government offices, educational institutions, and significant entertainment hubs. Commuting is a breeze with well-developed road networks and public transportation options, making it an ideal choice for professionals and families.

Modern Amenities: Apartments in Thanh Xuan are known for their modern amenities. Many residential complexes feature swimming pools, fitness centers, parks, and playgrounds, offering residents a comfortable and convenient lifestyle. You'll also find shopping centers, supermarkets, restaurants, and cafes within walking distance, ensuring your daily needs are met.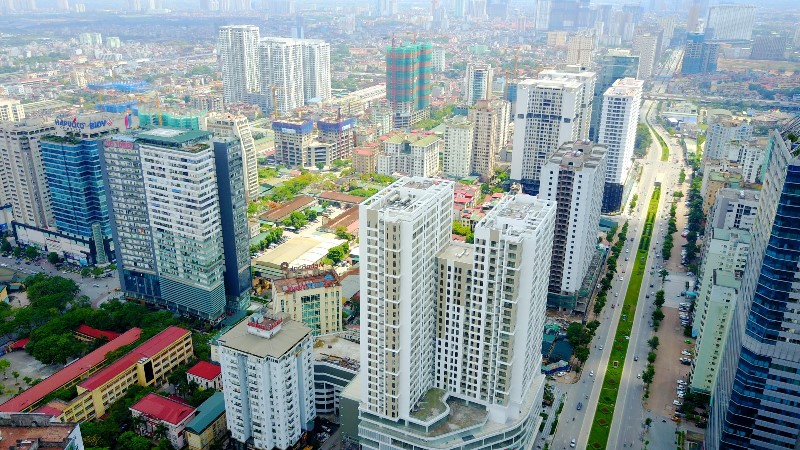 Educational Opportunities: Thanh Xuan has several prestigious educational institutions, including universities, schools, and international language centers. Families with children can benefit from the excellent educational options available in the area, ensuring that your child receives a quality education close to home.

Cultural Heritage: Thanh Xuan is about modernity and boasts a rich cultural heritage. You can explore historical temples, pagodas, and traditional markets, providing a glimpse into the area's history and traditions. This blend of old and new makes Thanh Xuan an exciting and unique place to live.

Diverse Housing Options: Whether you're looking for a compact studio apartment or a spacious penthouse, Thanh Xuan has diverse housing options to suit various preferences and budgets. You can choose high-rise condominiums with panoramic city views or cozy low-rise apartments in serene neighborhoods.

Investment Potential: Thanh Xuan's real estate market has steadily grown, making it an attractive option for property investors. The demand for apartments in this district is rising, ensuring the potential for healthy returns on investment in the long run.

Green Spaces and Parks: Thanh Xuan is committed to providing residents with green spaces and parks for recreation and relaxation. The district boasts well-maintained parks and gardens where you can unwind amidst nature without leaving the city.

Safety and Security: Safety is a top priority in Thanh Xuan. The district has a strong presence of law enforcement agencies, and many residential complexes employ security personnel and have advanced security systems, ensuring peace of mind for residents.
In conclusion, apartments for sale in Thanh Xuan offer a fantastic opportunity to experience modern urban living in one of Hanoi's most dynamic districts. With its prime location, modern amenities, educational institutions, cultural richness, and diverse housing options, Thanh Xuan is the ideal destination for individuals and families looking to embrace the best that city living offers. Whether you're buying for personal use or investment purposes, Thanh Xuan is undoubtedly an intelligent choice in Vietnam's real estate market.
Hotline: 0986 720 720
Website: bdstanlong.com
Apartments for sale in D'leroi Soleil
Using Area (m2)

Bedroom

Bathroom

Price

Using Area (m2)

Bedroom

Bathroom

Price

Using Area (m2)

Bedroom

Bathroom

Price