Apartments for sale in Sunshine Garden - Updated news
Apartments for sale in Sunshine Garden southeast of the capital have enchanted potential buyers/investors with their luxury designs and ample onsite amenities back through time.
General information on apartments for sale in Sunshine Garden
Sunshine Garden is inspired by a beautiful European garden in the inner city and offers environmentally friendly properties. Apartments for sale in Sunshine Garden are not just about setting up a space for sport or triggering a desire to be closer to nature. By creating greenery, an immersive and connected part of the housing, it can become something that makes a connection between the wider community.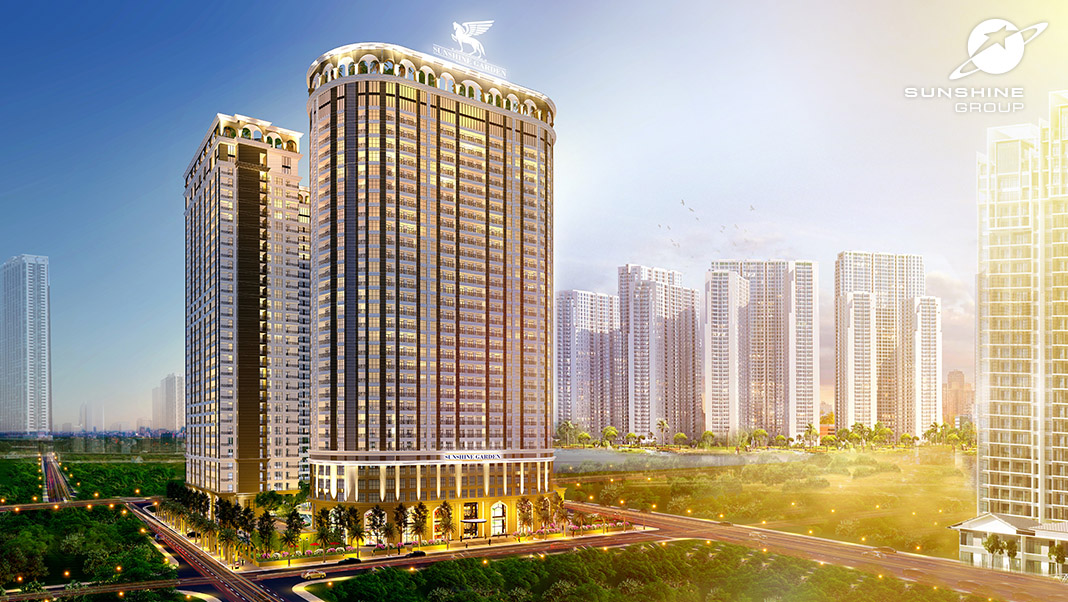 Project name:

Sunshine Garden

Location: Vinh Tuy, Hai Ba Trung District, Hanoi

Master plan: 12,810 m2

Saleable area: 5,531 m2

Total basement area: 25,592 m2

Gross floor area: 175,812 m2

Number of buildings: three 31-storey buildings with two basements

Total investment: 3160 billion VND
Apartments for sale in Sunshine Garden - "Golden" precinct at the gateway to the Southeast of the Capital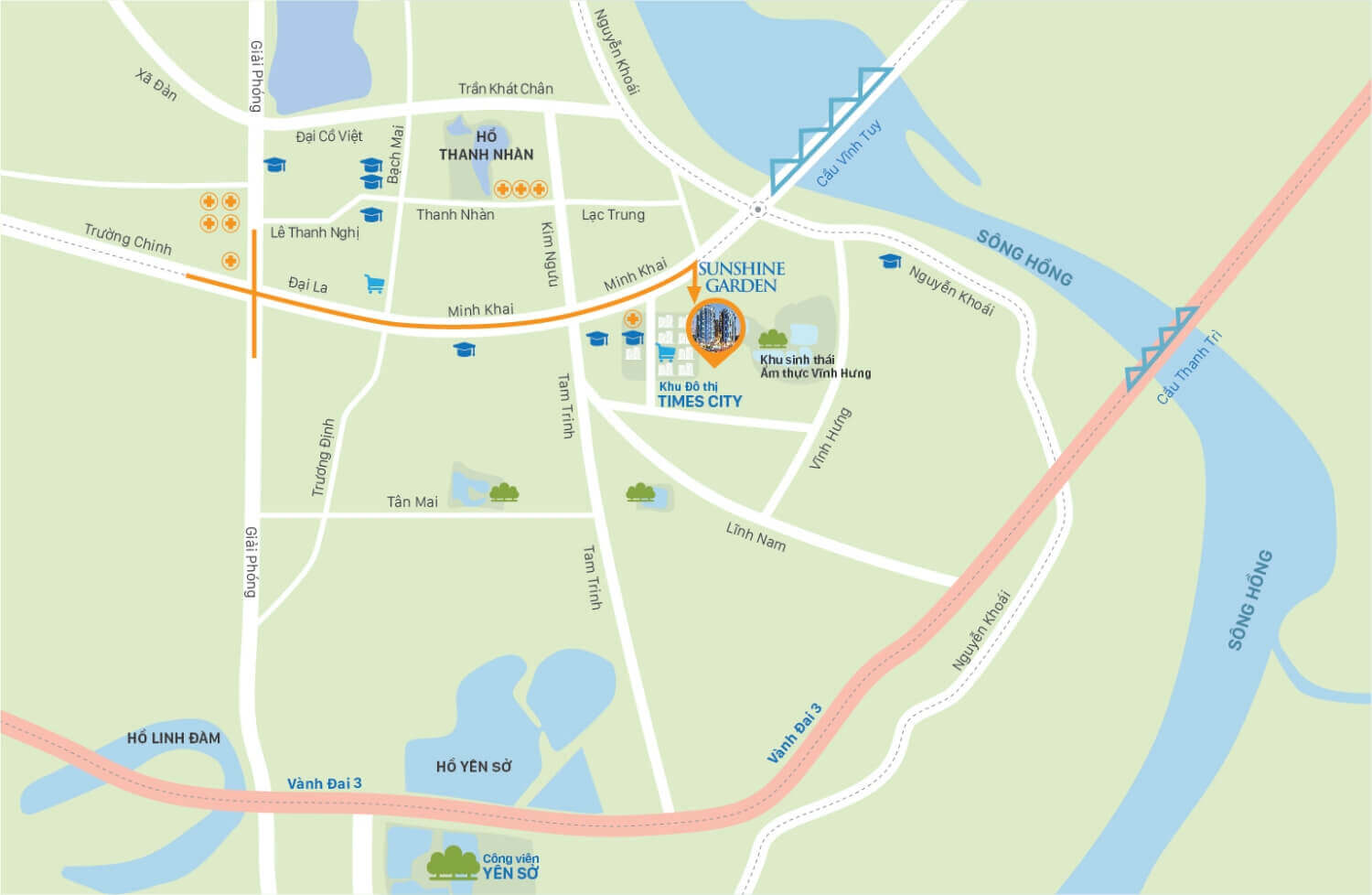 Apartments for sale in Sunshine Garden are at the Southeast gateway of Hanoi, next to Park Hill - Vinhomes Times City and Vinh Hung ecological area. Sunshine Garden's residents can easily access the utilities of that two projects.
Only 4km from Hoan Kiem lake to get to Sunshine Garden

Adjacent to Ring Road 2 and adjacent to the arterial urban roads of the area approved by the Government and the City People's Committee for construction investment, such as Minh Khai - Vinh Tuy - Yen Duyen road

The route connects directly from Tam Trinh, through Times City urban area, to the traffic intersection of the above important road.

Sunshine Garden is considered a home to community centers, cafes, restaurants, shops, and transport, including nearby arterial routes.
Layout floor of apartments for sale in Sunshine Garden
Sunshine Garden has a distinctive architectural style, and the new apartment in Sunshine Garden release will likely appeal to a wide range of buyers attracted to the Hanoian lifestyle.
Sunshine Garden offers only 1278 luxury apartments in the sought-after Southeast capital; it truly is a rare, one-of-a-kind development.
1-bedroom apartments: 25 sqm

2-bedroom apartments: 77,75 sqm

3-bedroom apartments: 93 sqm - 116 sqm - 120 sqm

4-bedroom apartments: 135 sqm - 139 sqm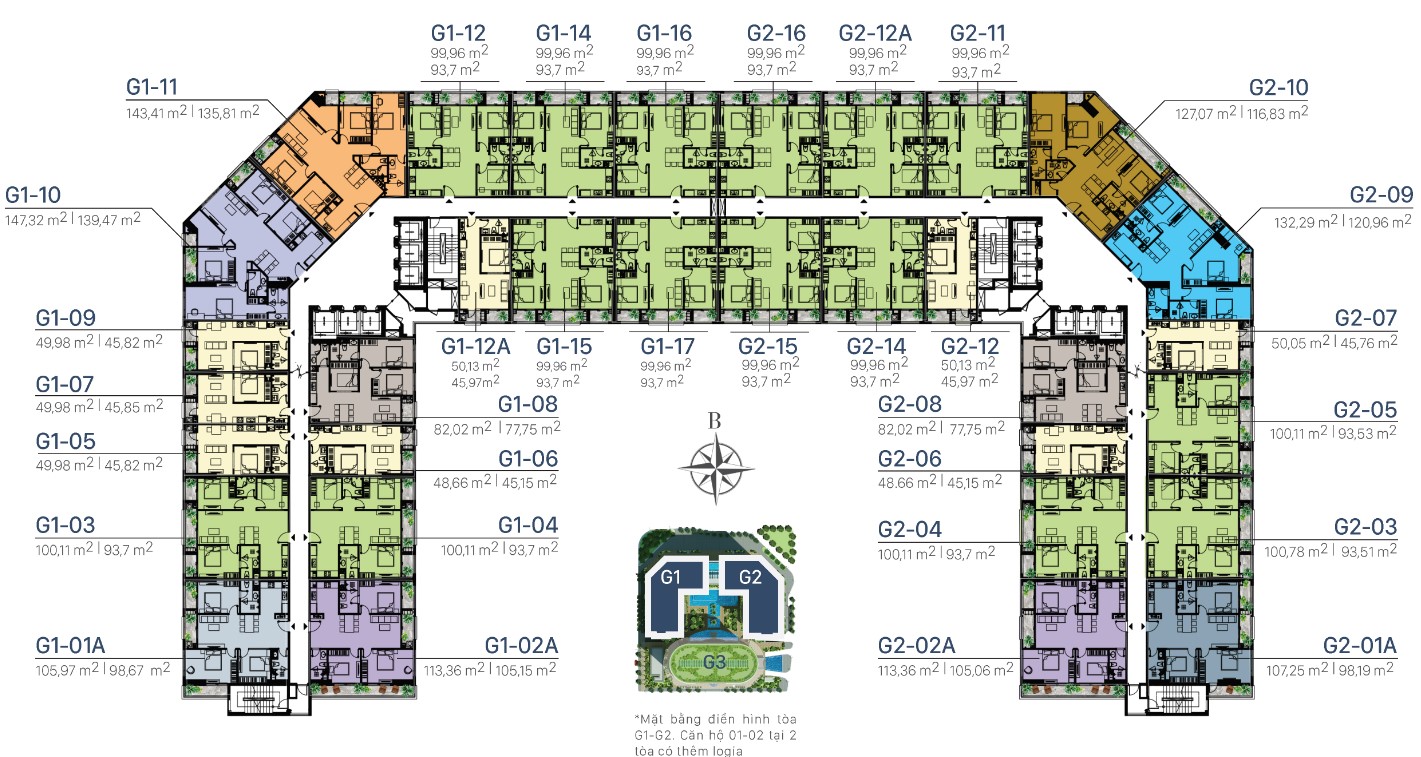 Layout floor of G1 - G2 buildings (Floor 4 - 18)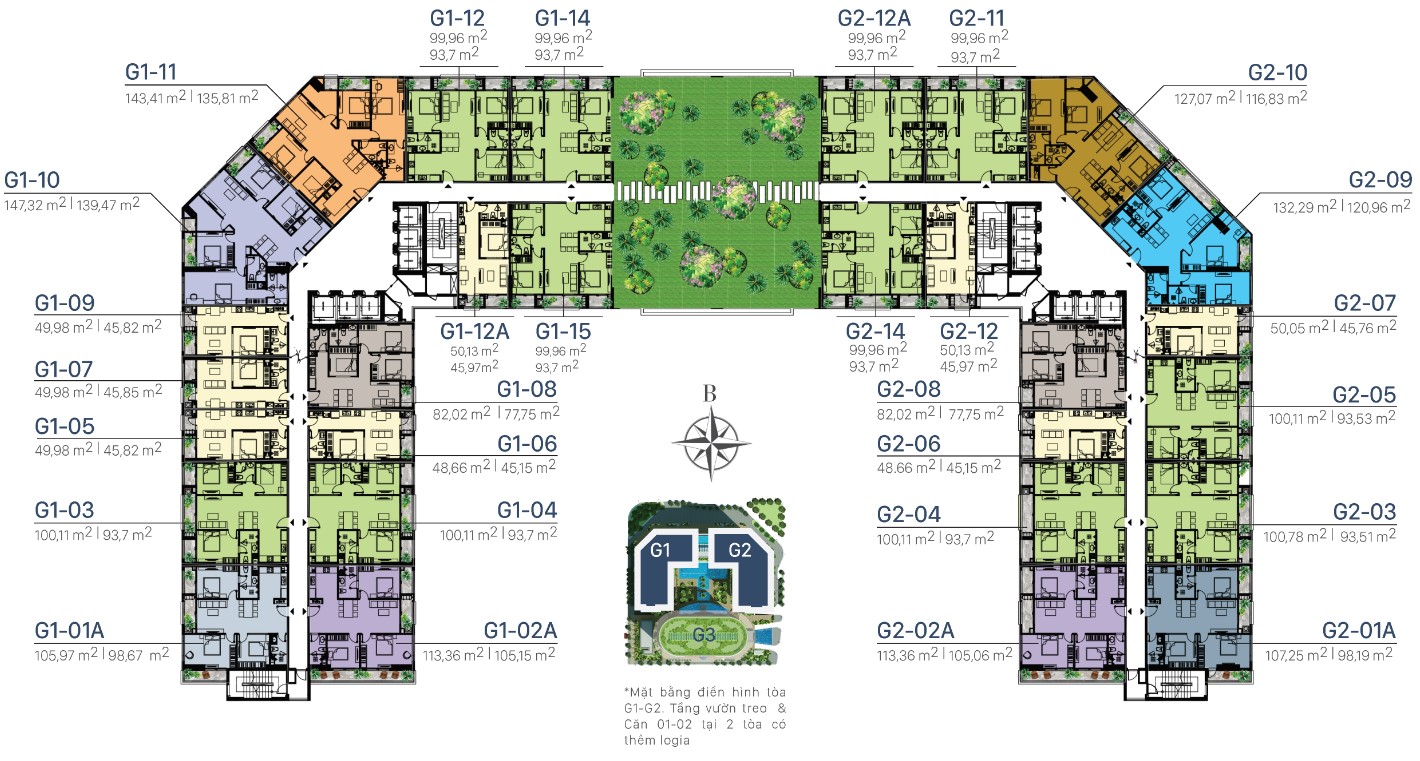 Layout floor of G1 - G2 buildings (Floor 9 - 19)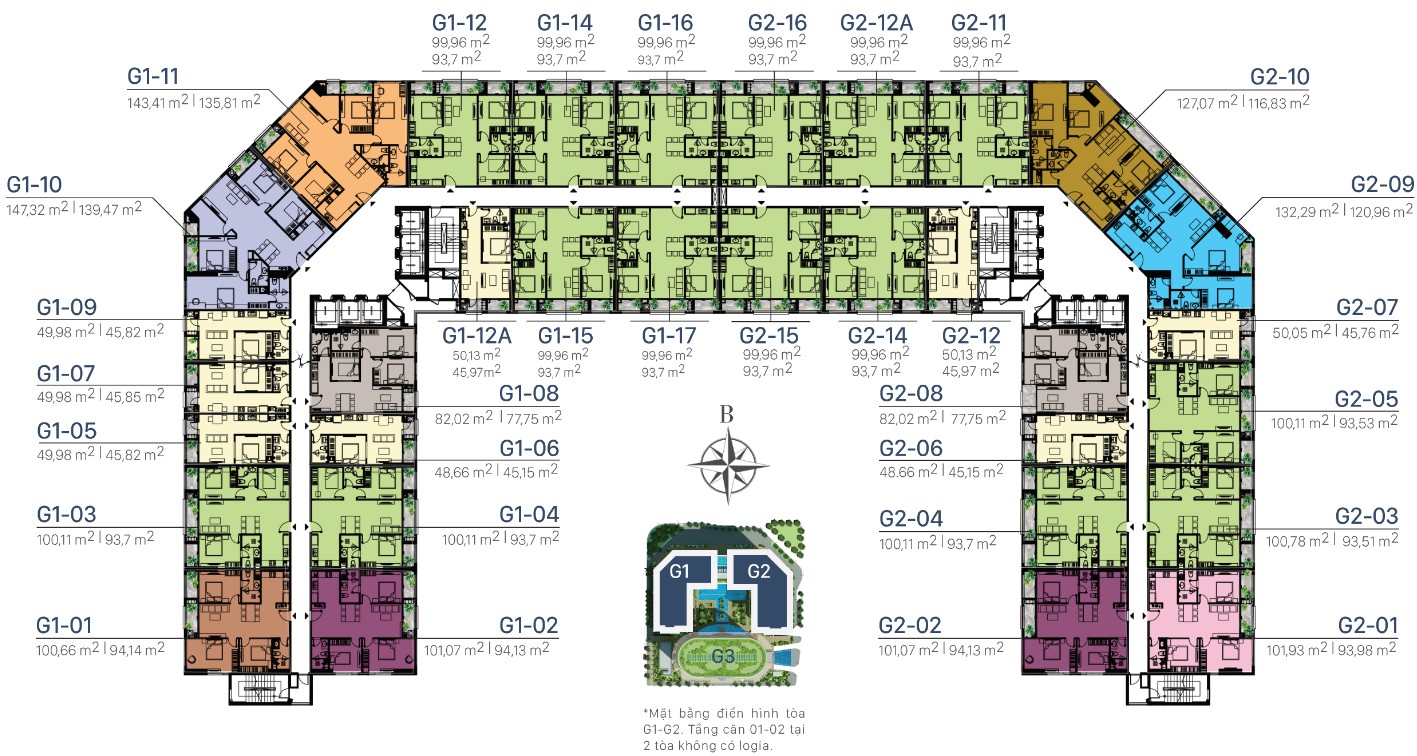 Layout floor of G1 - G2 buildings (Floor 21 - 28)
Each apartment has high ceilings, large double-glazed windows, and natural tones throughout, creating a sense of openness. The contemporary, luxurious apartments have been designed to maximize space, sunlight, and views of the city. Sunshine Garden apartments feature elegantly styled, architecturally designed new homes. Each is linked by a continuous outdoor space, helping Sunshine Garden apartment has to offer an edgy and contemporary design that emphasizes space, light, and outdoor living.
The furniture products selected from high-end brands such as Kohler, Zinka, Hafele, Porta Door, Guocera, ... and smart apartment management systems integrating 4.0 technology also contributed.
Outstanding amenities in Sunshine Garden apartments
Sunshine Group developer puts a lot of effort into Sunshine Garden development to enhance the living experience for residents. Sunshine Garden has 26 privileged high-class amenities that will transform day-to-day living into an extraordinary experience.
Shophouse shopping

Bar & Café

Restaurant

Community Library

Standard Kindergarten

Artistic fountain

5-star outdoor swimming pool

Sunbathing deck

BBQ Garden

Experimental garden

Landscape walking street

Eco garden between floors
Selling prices of apartments for sale in Sunshine Garden
These sustainable apartments in Sunshine Garden will not blow the budget. Sunshine Garden apartments for sale start from an affordable 28 - 33 million VND/sqm.
In addition, Sunshine Garden also offers many incentive policies for its future dwellers:
Complimentary management service fee for two years

Present the high-end furniture package worth up to VND 250 million

Discount for customers buying two or more apartments

Borrow 75% GTCH with a 0% mortgage rate until June 30, 2020
To find out more or organize an inspection, visit bdstanlong.com or contact to Tan Long Sales Department through the hotline: 0986 720 720.
Read more: Apartments for sale Sunshine Golden River
Apartments for sale in Sunshine Riverside
Data coming soon!