Apartments for sale in Sunshine Center - Latest news
With panoramic views across the city, a brand-new luxury home in the Nam Tu Liem district is drawing buyers to a precinct they hadn't previously considered. Listing agent Tan Long Land said apartments for sale in Sunshine Center, located at 16 Pham Hung Street, My Dinh Ward, Nam Tu Liem District, Hanoi, were specifically designed to take advantage of the spectacular outlook, which can never be built out.
Overview of apartments for sale in Sunshine Center

Project name: Sunshine Center (Complex of shopping malls, offices and high-class apartments Sunshine Center)

Location: 16 Pham Hung, Nam Tu Liem District, Hanoi

Scale: Total land area: 4,600 m2

Construction area: 3,064 m2

Total number of apartments: 208 apartments with sizes ranging from 103.4 to 158.6 m2 (Including Officetel + Penthouse)

Basement area: 16,700m2 (4 floors)

Total investment: 2,000 trillion VND
Location of apartments for sale in Sunshine Center
Apartments for sale in Sunshine Center - These remarkable residences give you a unique opportunity to secure an elegant piece of living and the Soho lifestyle the area is famous for. Perched on Pham Hung Street, its tree-lined streets & heritage laneways make it one of Hanoi's most desirable neighborhoods.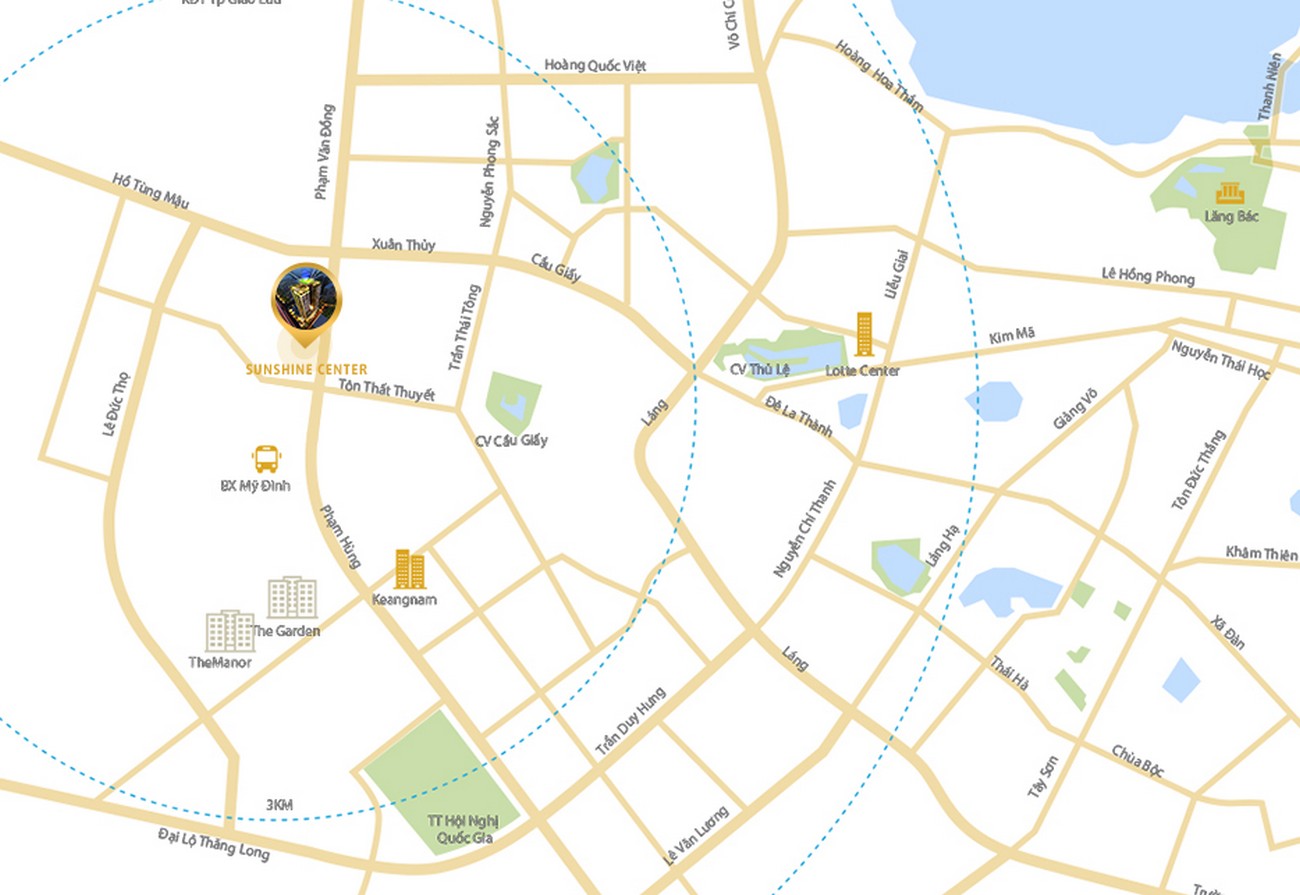 LOCATION:
Near the onsite bus stop with direct services to other places.

Noi Bai Airport: 21.3km

Next to My Dinh Bus Stop

Central capital: 10km

Big C Thang Long: 2km

Museum of Ethnography: 2.5km

National Convention Center: 2.3km

108 Hospital: 3km
The property is about 200m to Nghi Do Park and a short walk into the central business district's shops and restaurants.
Masterplan development features: Apartments for sale in Sunshine Center
Sunshine Center has two 30-storey apartment buildings connected. The project complex from the architecture covering the outside to the details in each apartment has a modern, luxurious, and sophisticated European style. The developer of the project put a lot of effort into the design, each apartment ranging from 1 to 3 bedrooms, so creating a perfect living environment for residents.
Typical floor plan from 6th to 15th floor.

The density of 17 apartments/floor surface

The apartments are divided into areas: 49.17m2 - 55.24m2 - 54.54m2 - 58.25m2 - 62.80m2 - 80.06m2. Depending on each apartment, is arranged flexibly from 01 to 03 bedrooms.

Typical floor plan from floors 17 to 33: Density: 14 apartments/floor, with 04 elevators and 02 emergency stairs.
Amenities in Sunshine Center
Residents can enjoy access to a level of amenities that many standard apartment offerings cannot provide, such as a jacuzzi, sauna, steam, room, and indoor heated pool, plus a fitness center with optional personal training. The permanence and comfort of your own home, are complemented by a suite of luxury services and amenities at your doorstep. There are many residents-exclusive amenities, such as BBQ facilities, lounging, dining, and entertaining areas, a library, a swimming pool, parks, laneways, etc.
Indicative prices for Sunshine Center apartments at this time, don't hesitate to own the add-value property.
To find out more or to book a tour seven days a week, visit bdstanlong.com
For more information, please contact us:
See more:
Thank you !
Data coming soon!