VINHOMES GRAND PARK APARTMENT
Vinhomes Grand Park apartment complex in District 9 - Ho Chi Minh City is one of the most anticipated housing projects over the past 3 years to be an internationally worthy megacity being deployed, Vinhomes Grand Park was built and its architecture creates an urban face for the region to the East of the city and provided opportunities for thousands of residents to live in welfare.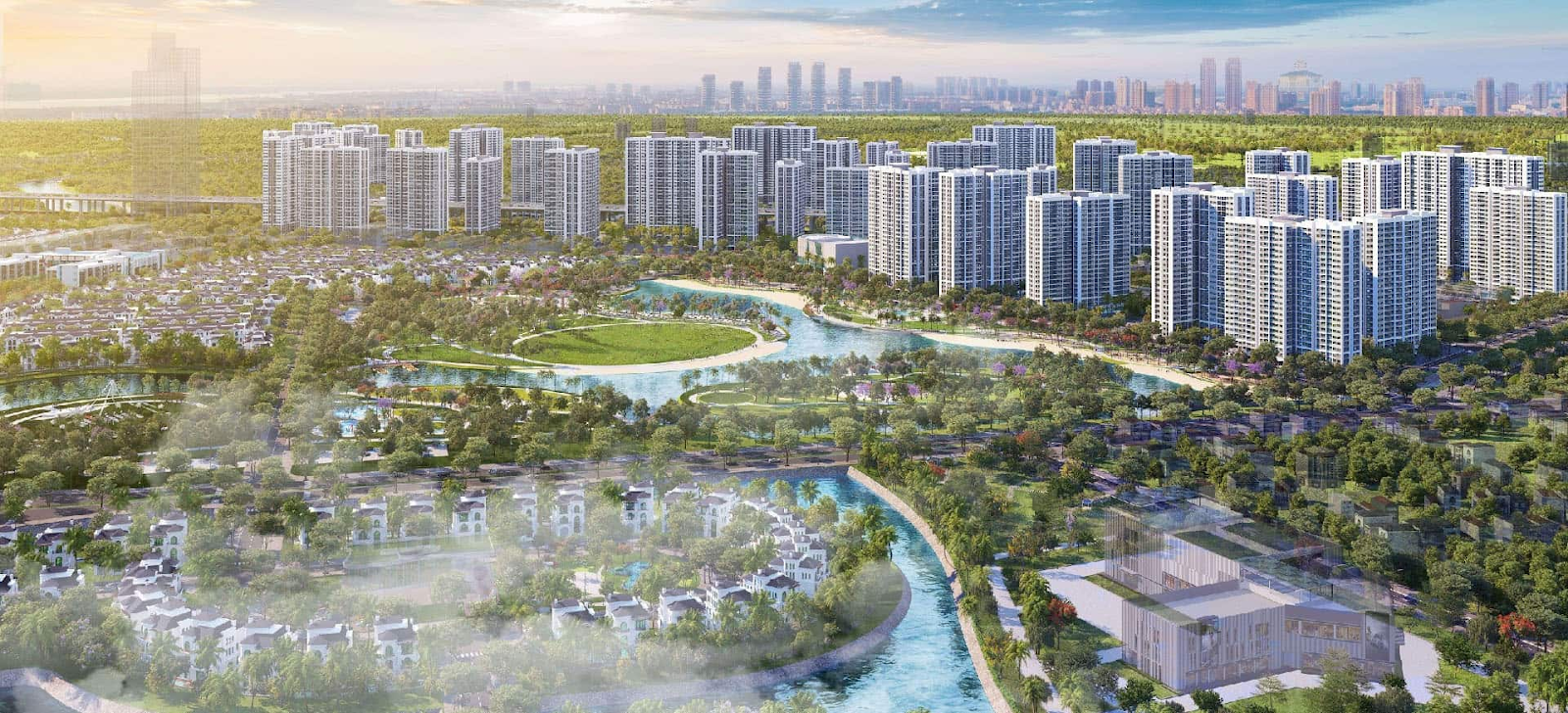 1. Overview of Project:
Project trade name: Vinhomes Grand Park (Apartments)
Vinhomes Grand Park is divided into 4 subdivisions:
The Rainbow: 17 buildings adjacent to Nguyen Xien

The Hospitality: 21 buildings adjacent to the belt road 3,

The Middle: 19 buildings adjacent to the belt road 3

The Ocean adjacent to the central park.
Project scale: 272 ha
Investor: Vingroup Group
Total apartments: About 44,000 apartments, 25-35 floors in height, area from: 33- 100m2, designed from 1-3 bedrooms.
2. Design of Grand Park Apartment
1-bedroom apartment: 1 living room, 1 bedroom, 1 bathroom, suitable for young families, single living.
2-bedroom apartment: area from 59-69m2, 2 bedrooms, 2 bedrooms, 1 bedroom, 1 bedroom, the apartments are designed harmoniously, modernly, optimizing usable area, this type of 2 bedroom apartmentoccupies the most in the project is suitable for most of the necessities and the price is reasonable for families with 2 small children, with an average income.
3-bedroom apartment: very suitable for families with more than one generations or many children with 3 bedrooms, 2WC, each apartment has at least 3 large windows.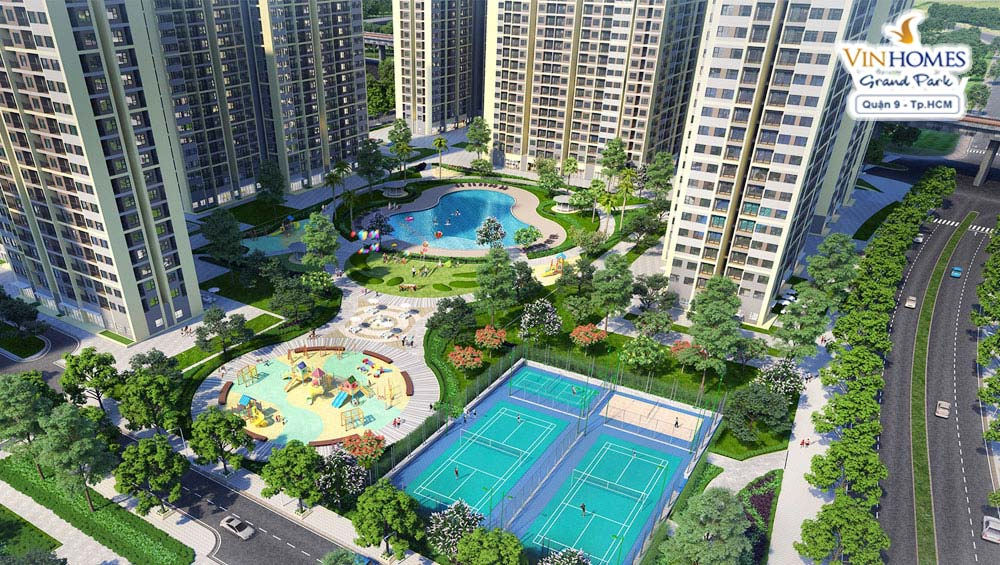 All apartments are designed modernly and meticulously in every detail, arranged in a reasonable position, making the most of the space inside the house. Every room, from the living room, kitchen, and bedroom, is well ventilated, filled with natural light and wind thanks to the river view.
Inspired by Singapore is a modern, civilized, tropical space for full shade, for a well-ventilated environment with a variety of utilities that bring relaxation to the life of residents.
Interior decoration equipment sets high quality standards, the interior of the apartment is the decision to the quality and construction capacity of the project, creating the general beauty and symbol of the fullness of the family.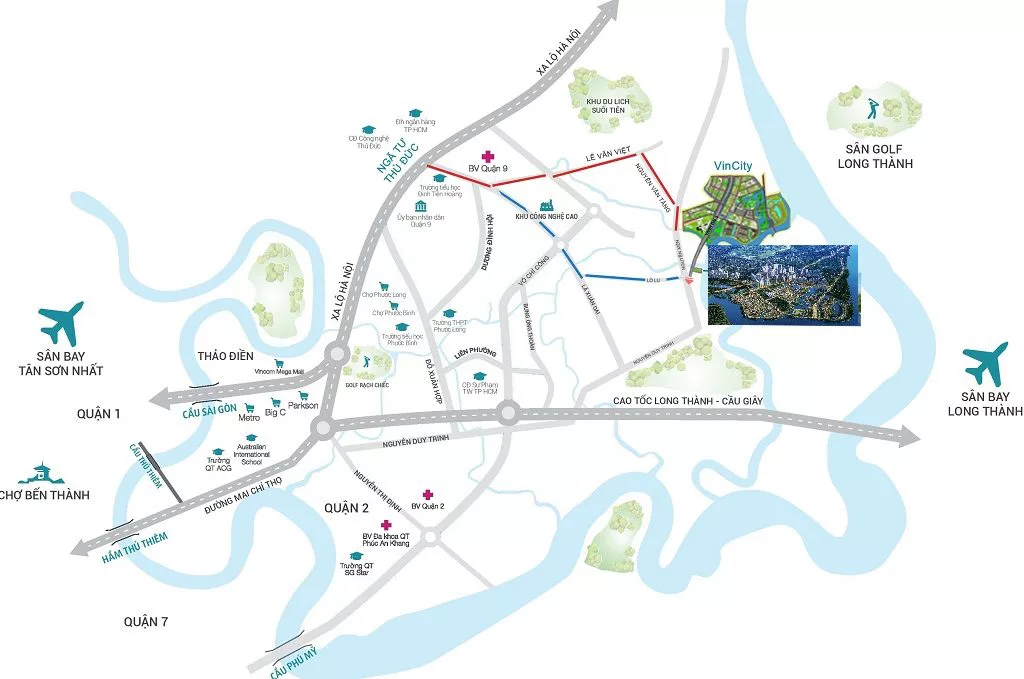 3. Location and infrustructure near project
Possessing a prime location, 2 fronts of Nguyen Xien & Phuoc Thien main streets, the other 2 sides are adjacent to Dong Nai River, Tac River.
Vinhomes Grand Park is next to hi-tech parks 1 and 2, with leading engineers from many countries in the world working in factories of multinational corporations ... and especially Samsung factory area with total scale up to 30,000 high quality workers.
Surrounding are the new headquarters of a number of major domestic companies and corporations such as Mobile World, Vingroup, ... universities, academies: Vietjet Aviation Academy, FPT University, Nguyen Tat University Thanh, Hutech University, Fulbright University, New East Bus Station Area, Cancer Hospital, ...
The Saigon - Long Thanh Expressway reaches the Southeast 10 minutes
Ring Road 2 - Phu My Bridge, Nguyen Van Linh and Ho Chi Minh Expressway, metro railway.
4. Amenities at the project
Apartment Vinhome Grand Park develops as a miniature city with all the self-contained utilities under the brand of Vingroup.
Environment: 36 ha riverside park, 16-25m 09 trees high light tree, 2ha square lawn, BBQ park, artificial river system - white sandy beach - clean treated water. You can bathe comfortably and be covered with white sand for duck or canoe games.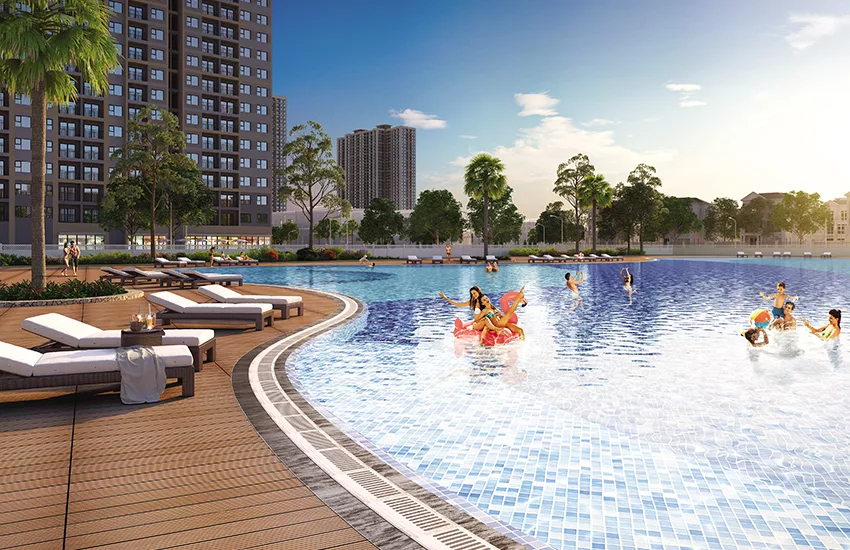 Convenient trade center, super long book-street, 1 hectare food market in 3 regions
Sports area: Yoga club, aerobic, dancing, outdoor gym 1000 machines are arranged along the park area, 2ha-yoga island, meditation, 100 chess tables, children's play area of 5000m2. 3,83km long riverside jogging track, 2,500 sqm resort swimming pool, roller skating track
There is a cultural and arts center that serves the spirit of residents: 70 football, tennis, and basketball courts of all kinds serving residents of Vinhomes Grand Park.
5. Contact Information
Tan Long land has enough and accurate information about apartments for sale / rent in Vinhomes Grand Park with a team of staff spread across Hanoi provinces and will always be dedicated to consulting enthusiastically to you. row.
HOTLINE: 0987.745.745 or email: hotline@bdstanlong.vn