Apartments for rent in Hanoi Aqua Central
Located right between Hang Bun and Yen Phu Street, Hanoi Aqua Central, known to be convenient for preservation and transportation toward citizens. Along with a beautiful view straight to the windy West Lake, Truc Bach Lake, Red River, and Long Bien Bridge, Hanoi Old Quarter, and the historic Hoan Kiem Lake. The project has a golden position at the intersection of two main streets of Hanoi capital, Yen Phu Street and Hang Bun Street. Notably, the project area also has a tailgate positioned on the tranquil Nguyen Khac Nhu street.
The building is designed with a total project area of ​​6,468m2.
Number of floors: 21 floors
The total number of apartments is 238 apartments and penthouses
Types of the area: 3-4 bedrooms (117 m2 - 146 m2)
Project scale:
+ Basement: designed three basements with a total project area of ​​9,894m2
+ Floors 1 - 3: designing commercial centers
+ Floors 4 - 21: a commercial apartment area
PROJECT INFORMATION
Project name: Hanoi Aqua Central
Project location: Yen Phu Street, Truc Bach Ward, Ba Dinh District, Ho Chi Minh City Hanoi
Investor: Hanoi Water Tower Joint Stock Company
Construction density: 50%
Project area: 6.468m2
Varieties of Real Estate Products at the project: Multi-purpose apartment for use in combination with a commercial and service center.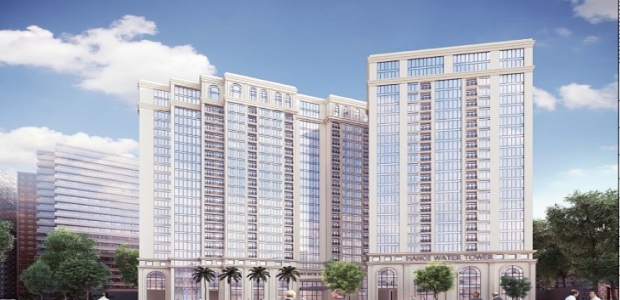 PROJECT LOCATION
The project is located in the busy street of the Old Quarter, which is the center of Hanoi capital in Ba Dinh District - Ho Chi Minh City. Hanoi. This is a prime location of the gold, rare hard to find leftover capital. From the project, customers can quickly move to Ho Guom, West Lake, or move to other districts like Gia Lam and Long Bien very quickly.
From other previous projects, it only takes 05 minutes to move to be able to reach Chuong Duong Bridge, Long Bien Bridge, or it only takes that much time to move to Truc Bach Lake. Customers can also quickly jump to areas such as Hai Phong, Quang Ninh, or neighboring provinces via Yen Phu Street, easily travel to routes such as Hoang Hoa Tham and Thuy Khue via Thanh Nien route. The project is located in a golden location, is the center of the old town, so customers can feel secure when living here without having to worry about moving or traveling.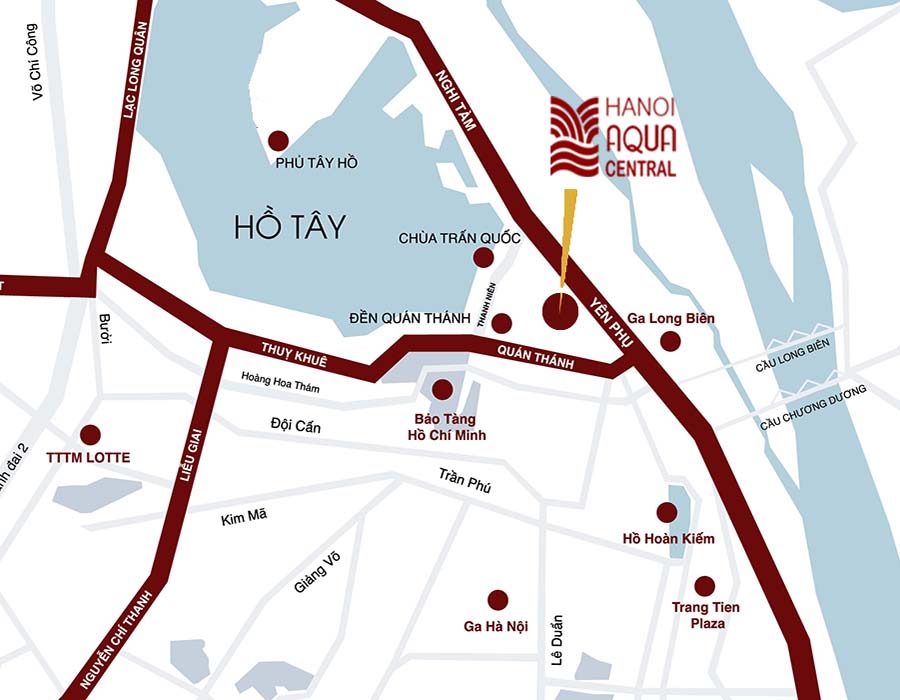 PROJECT FOUNDATION
The project is designed in Singapore style, modern and extremely airy. The project is designed with a height of 21 floors with 03 basements used as a parking space and vehicles.
From floors, 01 to 03 of the building is used as a shopping mall, building lobby, the room. And from 04 stories upwards will be luxury apartments. Notably, the 21st floor of the project is the Penthouse. The total number of apartments in the project is 238 units.
Luxury apartments from floors 04 to 20 are designed with 03 - 04 bedrooms with ​​117 - 146m2 and are planned 13 apartments/floor. There are 06 elevators and 02 stairs.
The apartments in the project are smartly designed with a living room, kitchen, and entrance hall connected into a block. This helps when getting into the studio, customers will receive an airy and open space. Besides, apartments are designed with windows and large balconies. This helps homeowners make the most of natural light and a cool breeze to ventilate the apartment, increasing fresh air for the house.
The top floor is the 21st floor of the project, which is arranged with penthouses. It is organized with 12 apartments with a massive area of ​​390 - 560m2. These are the apartments with the most significant project area. Located on a high floor, so these are also apartments with aerial views. You can also see the whole Red River flowing alluvial, just being able to look at West Lake, Truc Bach Lake. The Penthouse is designed with a modern style, airy, helping the apartment to be larger and more spacious.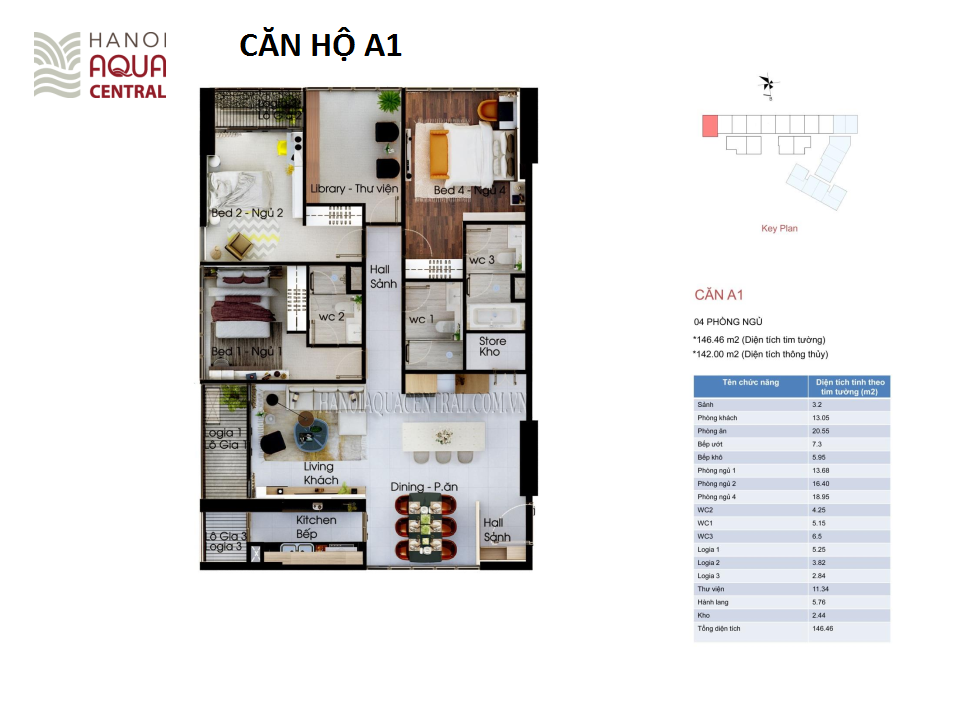 PROJECT UTILITIES
The first thing to mention is the busy shopping center system, the shops' system selling a variety of products and categories to serve the shopping needs of people from high-end to simple. There is also a sky bar, a high-rise restaurant ... to help serve the upper-class needs of the residents.
Next is the nursery facilities, children's play area, 24/7 security. Help residents feel more secure when coming to live at the project, ensuring safe and secure education for children, and reducing worries in life.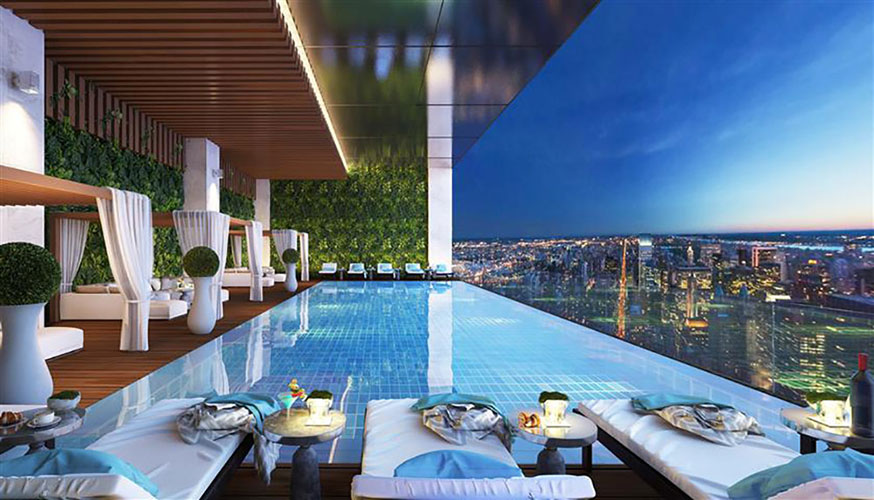 CONTACT INFORMATION
With a team of professional, dedicated consultants, Tan Long Land will always be a reliable connection between customers and investors. If you have any real estate needs across the country, please contact us directly:
Hotline: 0987.745.745 or Email: hotline@bdstanlong.vn
Using Area (m2)

Bedroom

Bathroom

Price

Using Area (m2)

Bedroom

Bathroom

Price