DLC COMPLEX
Register to sell the project
PROJECT OVERVIEW



DLC Complex Nguyen Tuan is a complex of commercial center and apartment complex located right at the crossroads of Nguyen Tuan - Wei Nhu Kon Tum, 
located in a prime location in Trung Hoa - Nhan Chinh urban area, away from Nhan Chinh park The 100m product, which was officially launched in 2019, 
immediately attracted the attention of customers and investors promising to bring a new wind in the real estate market in the capital.

Trade name: DLC Complex.
Project location: Nguyen Tuan Street, Thanh Xuan, Hanoi.
Investor: DLC Real Estate Investment Company Limited.
General contractor: Clever Building Solution Joint Stock Company.
Total investment capital: 1,314 billion dong.
The total area of ​​the project land plot: 4,629 m2.
Construction density: 45%.
Scale: Including 2 blocks of 32 floors and 27 floors, 4 basements, 4 floors of commerce, 26 floors with 336 apartments, 280 Soho apartments.
Area structure:

2-bedroom apartment: 74.5m2, 75.7m2, 77.4m2.


3-bedroom apartment: 87.6m2, 89.3m2, 91.3m2, 119.2m2.

Apartment price: From VND 39 million / m2.
Handover: Full luxury furniture.
Expected handover: Quarter III / 2021.
LOCATION
Located at the crossroads with two wide streets, Nguyen Tuan and Wei Nhu Kon Tum Streets, DLC Complex Apartment possesses a beautiful view, providing a classy, ​​airy living space with interesting panoramic views of the urban area.
Marketing development. At the same time, from the project can easily connect to the center of Hanoi or move to any area of ​​the city to study, play and entertain.
This favorable location has many foreigners living and developing business, making the living environment here even more expensive ... Southeast near Nguyen Trai street. The Northwest is near Le Van Luong Street (Tran Duy Hung). Southwest near Khuat Duy Tien street. Northeast borders with Hapulico Complex office and housing complex.
The project inherits all facilities and infrastructures that have been developed synchronously in the region, such as: Near major universities: University of Natural Sciences, Hanoi University, Thang Long University Near primary, junior high and high schools with national standards such as: Phan Dinh Giot primary school, Nhan Chinh primary school, Nhan Chinh high school, Amsterdam specialized high school ... Near big hospitals such as Traditional Medicine Hospital .. Near wholesale markets such as Nhan Chinh market and Cau Moi market Near big commercial centers like Big C Thang Long, Hapulico .. Near densely populated urban areas such as: Vinhomes Royal City, Trung Hoa Nhan Chinh.
GENERAL PLAN



DLC Complex Nguyen Tuan is known as one of the projects with the lowest construction density in Thanh Xuan District, built according to international standards. 
With its design ideas, the investor DLC Complex offers customers a comfortable, cool living space combining harmony with nature, while creating a distinctive highlight 
not only for the beauty of the landscape. It also creates a civilized and modern living environment.

DLC Complex Nguyen Tuan apartment floor plan includes a 32-storey tower with 3 basements. Floors 1-6 are the commercial center, from floors 5 - 30 is the commercial 
serviced apartment area with 8 units / 1 floor, each apartment has 2-3 bedrooms. Along with the unique sophisticated design, 
With each apartment in the project in front of the living room is designed by the investor for a private space, helping customers to freely design their own flower garden and 
small landscape. . This is what very few investors respond when life in the city is crowded and cramped, to find an ideal place like this is very difficult.



With three criteria: "Modern - Flexible - Maximize the use" of DLC Complex apartments, which are delicately designed, really become a different point compared to 
other projects in the region. Thanh Xuan district.

Each apartment has 2 logia, all rooms have natural light and wind to save energy
Designing a large, separate kitchen connected directly to logia, so when cooking, it will not smell in the apartment
The bedroom is square designed so that the owner can arrange furniture easily and scientifically
The main logia has a large area suitable for decorating small landscapes, planting trees or small tables for sipping coffee, reading ...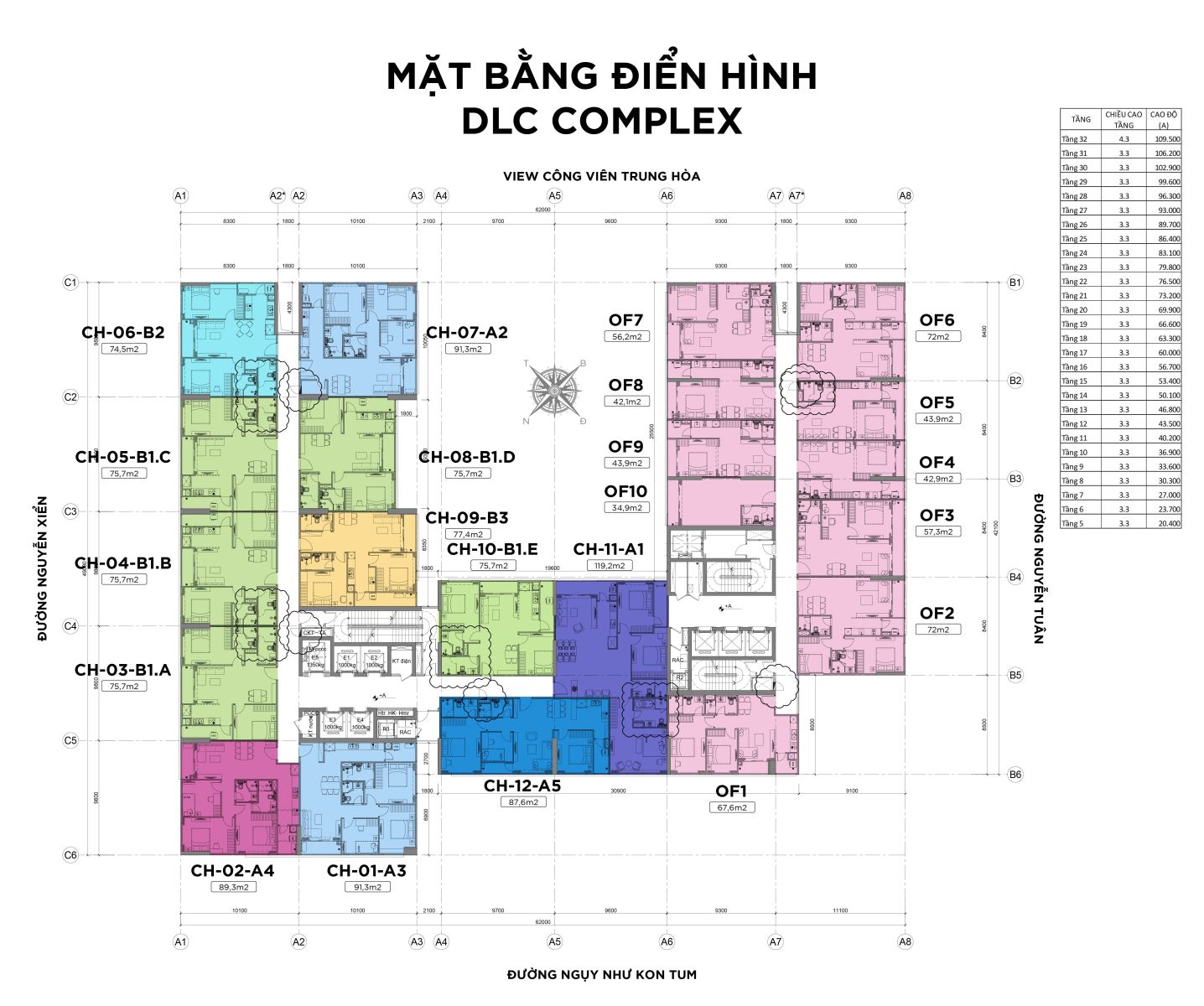 DESIGN

Layout of DLC Complex Nguyen Tuan apartment is diverse in area, apartments from 02 PN - 03 PN from 60m2 - 120m2 suitable to the living needs as well as the financial ability of young couples and families generations.
The apartments include:
Apartment 02 PN: 60m2 - 70m2 - 75m2
Apartments 03 PN: 90m2 - 102m2 - 120m2
Living room, dining room, sleeping area or kitchen are all designed with open space.
The window with the glass frame open will catch the wind and natural light optimally. Part of the balcony has a large area, residents can freely create, plant trees or place tables and chairs, drink a cup of hot tea every morning here.
Private spaces such as bathrooms and toilets are arranged rationally by the investor, ensuring privacy.
In particular, they are designed in European style, making you impressed when you see it.
In general, the design of DLC Complex is modern and class. Internal apartments are optimal in construction, layout to create a sense of spaciousness and comfort. In particular, the rooms are air-conditioned, have separate clothesline, install highly applicable fixtures, optimize the use, serve the best life for residents in urban areas.
DLC Complex hands over 5-star luxury furniture such as kitchen systems, kitchen cabinets, air-conditioners, sanitary equipment, plaster ceilings, wooden floors, .... will definitely give residents a life. Modern living, true comfort. It would be more wonderful to return home after stressful working hours, leave the worries of life outside ... immerse yourself in light music, enjoy a warm glass of wine with your family, panoramic view of the fanciful city in the night through the windows, wide logia ...
UTILITIES



DLC Complex is a complex of commercial centers, supermarkets, offices, entertainment areas, sports centers, and busiest houses in Hanoi today. 
The quality of life here is raised to a new level by an outstanding utility system, meeting the needs of the people. 
With a green design and a perfect living space like a peaceful green oasis in the heart of the bustling city. Where the young residents can unleash fun, experience as well as 
increase the understanding of the living environment ... the elderly residents leisurely walk, play chess, practice nurturing ... look, and breathe the full scent of 4-season grass 
and flowers along the promenade.



A true green life but also full of comfort is what every customer wants to own. And DLC Complex is the perfect choice in the area of ​​Thanh Xuan district. 
The project is located in a prime location on the front of Nguyen Tuan Street, so it inherits all the very developed facilities and utilities in the area such as elementary, 
junior high and high schools. , universities that meet national standards. Near major urban areas such as Hapulico, Vinhomes Royal City. Near shopping malls like 
Big C Thang Long ...

The existing utility system of DLC Complex Nguyen Tuan at 5 floors of trade centers must be mentioned as fashion stores, 
Au-A cuisine, Gyms, Yoga & Fitness, play areas for children, 4-season swimming pool, Sky Bar & Coffee .. bringing true convenience to residents.
PAYMENT TIME
7-time payment schedule includes:
Stage 1: Pay 30% of the total value of the apartment
Stage 2: Payment of 10% of the total value of the apartment
Stage 3: Pay 10% of the total value of the apartment
Stage 4: Pay 10% of the total value of the apartment
Stage 5: Pay 10% of the total value of the apartment
Stage 6: Pay 10% of the total value of the apartment
Session 7: Pay 20% + 2% Maintenance fee
Project location
Project support
Business Manager

Mr. TRAN THANH HA