SUNSHINE PALACE
Register to sell the project
PROJECT INFORMATION
Project name: Sunshine Palace
Address: 13 Linh Nam, Mai Dong, Hoang Mai, Hanoi
Owner: Sunshine Group
Construction unit: Vinaconex
Project scale: 2 high-rise apartment buildings with 28 floors
Type of development: High-end apartment
Design style, detailed ground design: Neoclassical
Area of ​​greenery, public, roads: 7,969 m2
Total construction area: 3,773 m2
Construction floor area: 30,160.1 m2
Building density: 38.9%
Number of basements and total basement area: 2 basements
High floor of the building: 28 floors
Number of commercial floors and area: 2 commercial floors
Number of properties: 402 apartments
Real estate structure: Apartments from 2 - 3 bedrooms
Real estate area: 76 - 114 m2
Handover time: Quarter II / 2017
Sale price of real estate: VND 26 - 30 million / m2
POSITION AND FUTURE PLAN
Sunshine Palace is located on Tam Trinh - Linh Nam street, which is the southern gateway of Hanoi. From the project, residents can easily access the surrounding areas with 6 main roads surrounded by outstanding advantages, advanced transportation and infrastructure networks.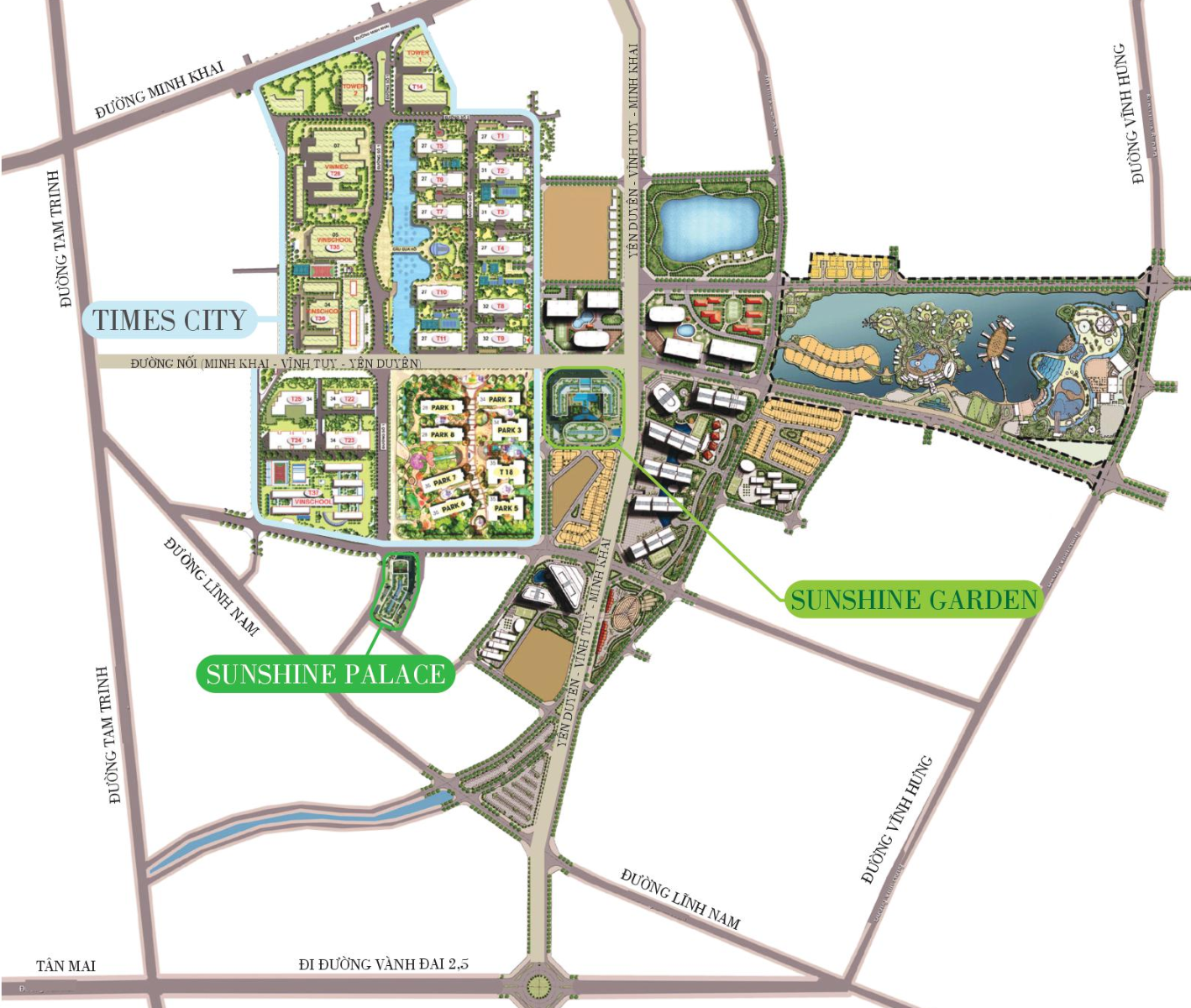 It takes only a few minutes of commuting to reach Ho Guom lake, as well as the leading public utilities area such as Bach Mai Hospital, leading universities like Polytechnic University, Dai Study Construction, National Economics University, Yen So Park, Vinh Tuy Bridge, large-scale trade centers, ...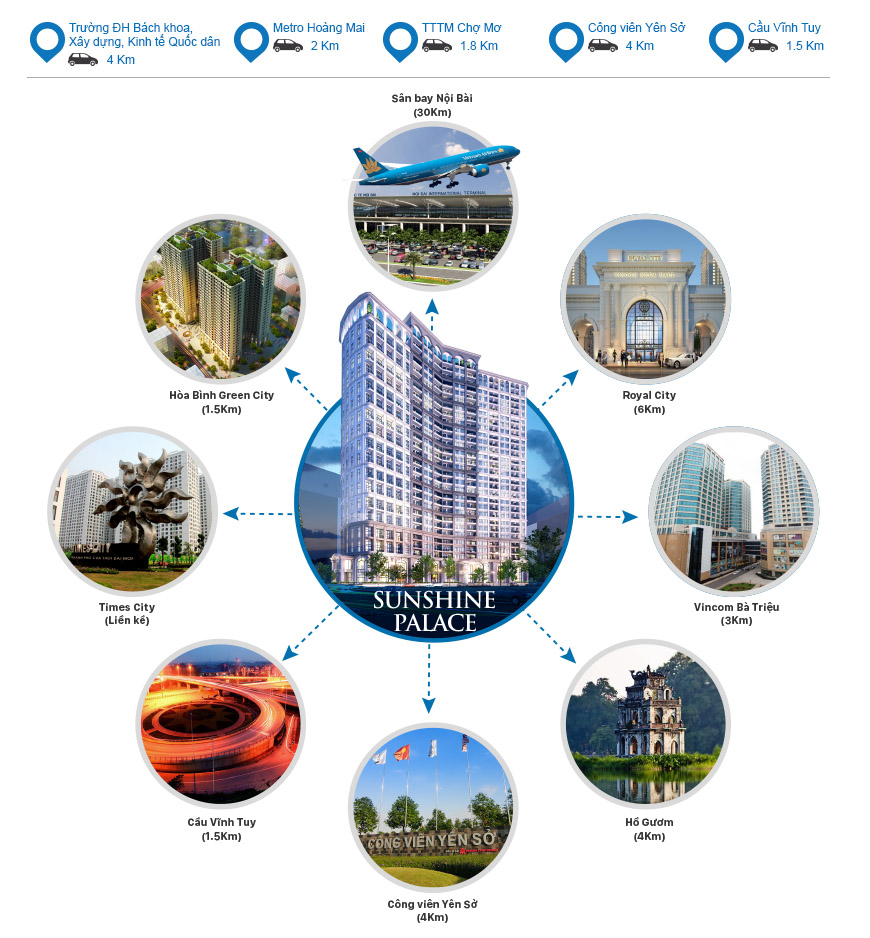 In particular, the project is adjacent to Park Hill - Times City, which is considered to be the most livable in Vietnam, where there are already many high-end facilities. With this advantage, just a few steps, you can enjoy the facilities available in the inner city resort style.
DESIGN AND DETAILED SURFACE
Sunshine Palace project is designed smartly, reasonably with 3 types of apartments: Penthouse, Duplex and typical apartments, with flexible area from more than 60m2 to more than 200m2, satisfying diverse needs of customers.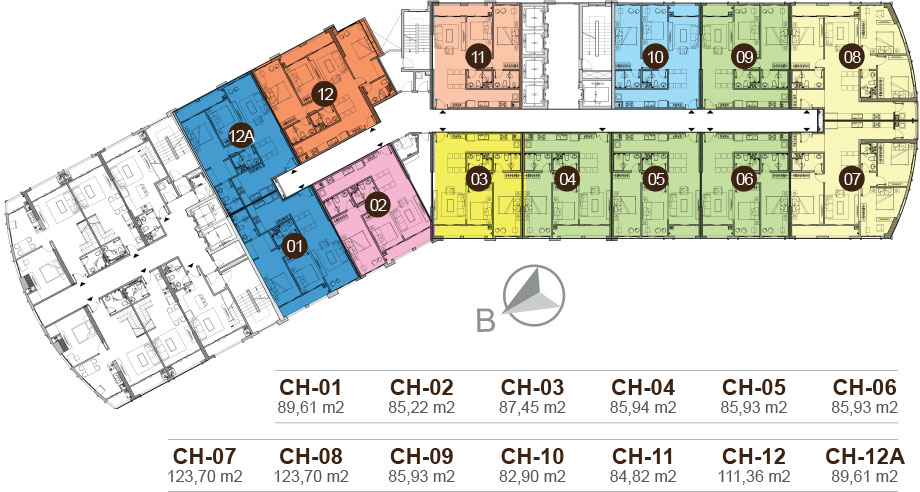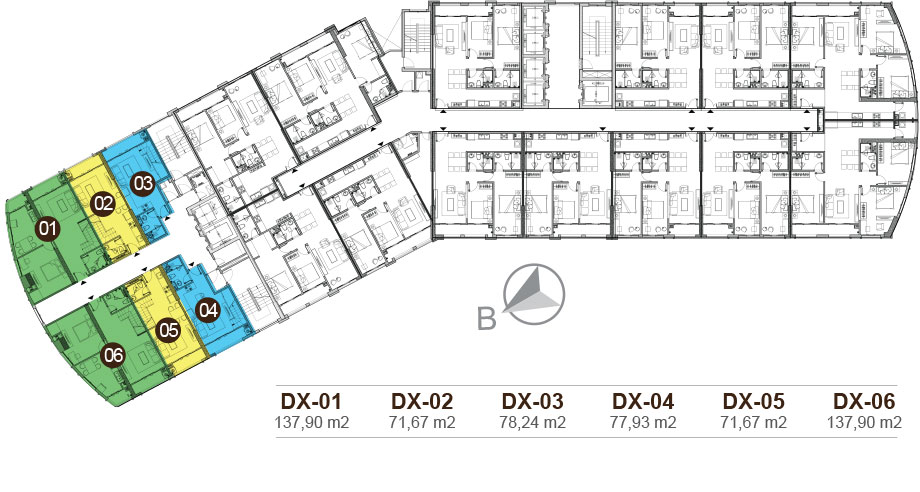 The interior architectural design of each apartment is emphasized. All rooms are directly exposed to the wind and natural light thanks to the smart window system and open logia for light. The air circulation, the most important feng shui element of a carefully considered and calculated living space, aims to give customers a fresh and vibrant life experience.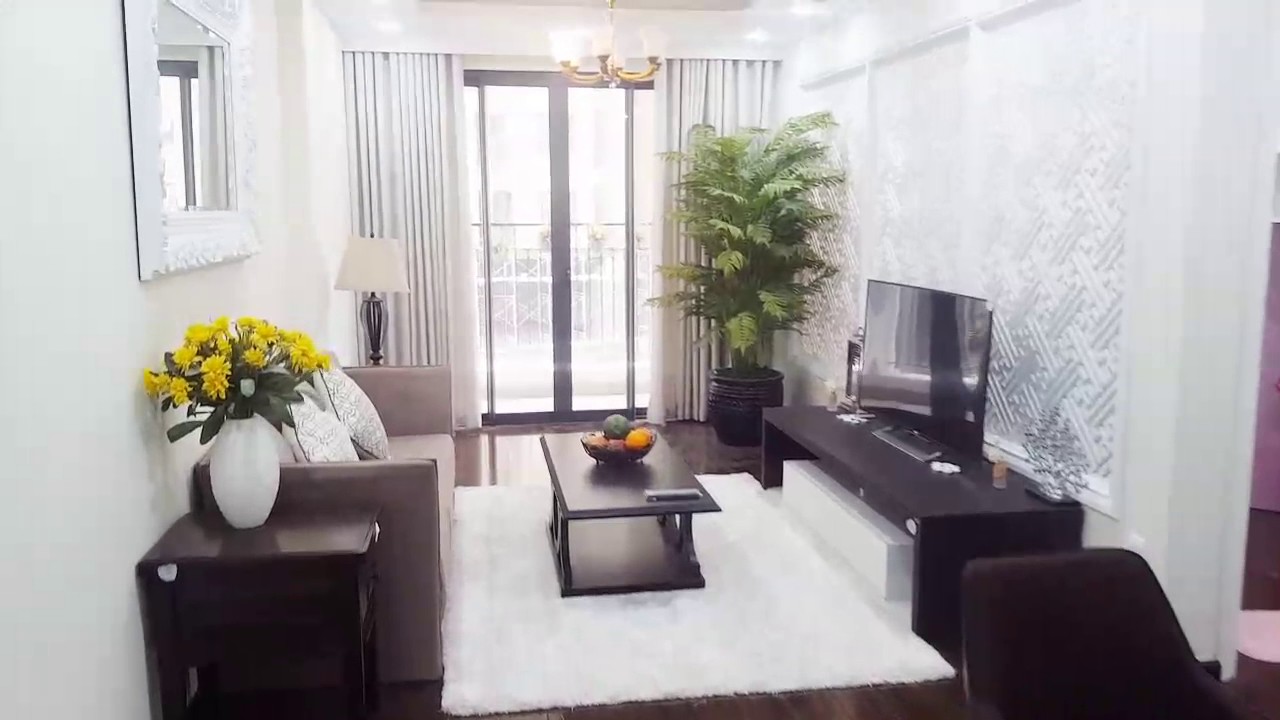 Moreover, all equipment and construction materials in the apartment are meticulously selected, bringing harmony in the overall.
UTILITIES AND LANDSCAPE
Sunshine Palace project is an office complex, commercial center, luxury apartment with many high class facilities.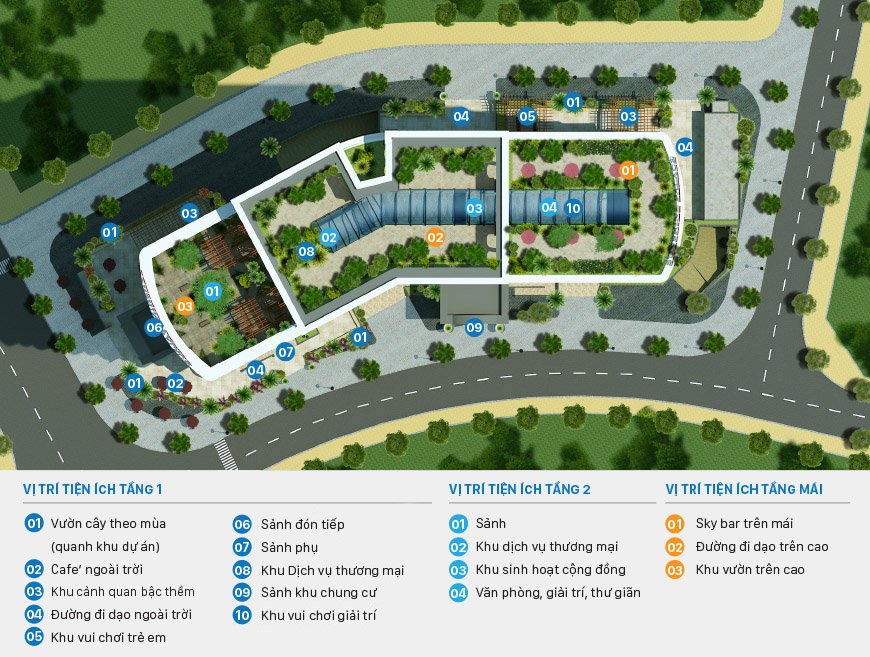 Community living area: Lounge lounge is designed elegantly, luxuriously and using high-class equipment.

Sports area: With a four-season swimming pool, a modern gym area ... improving the quality of life for residents.

Commercial center area: shopping area, luxury restaurant area, cinema ...
​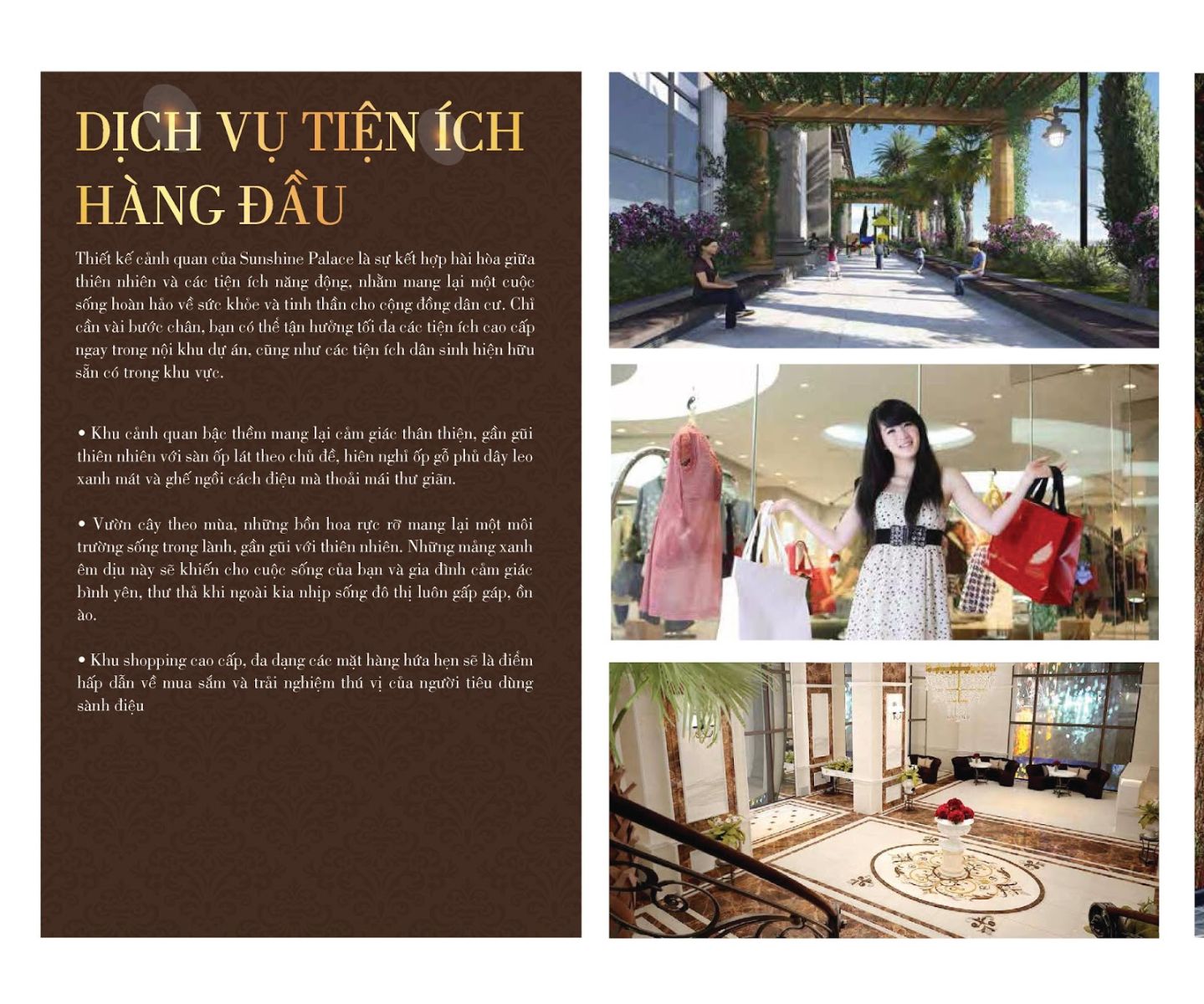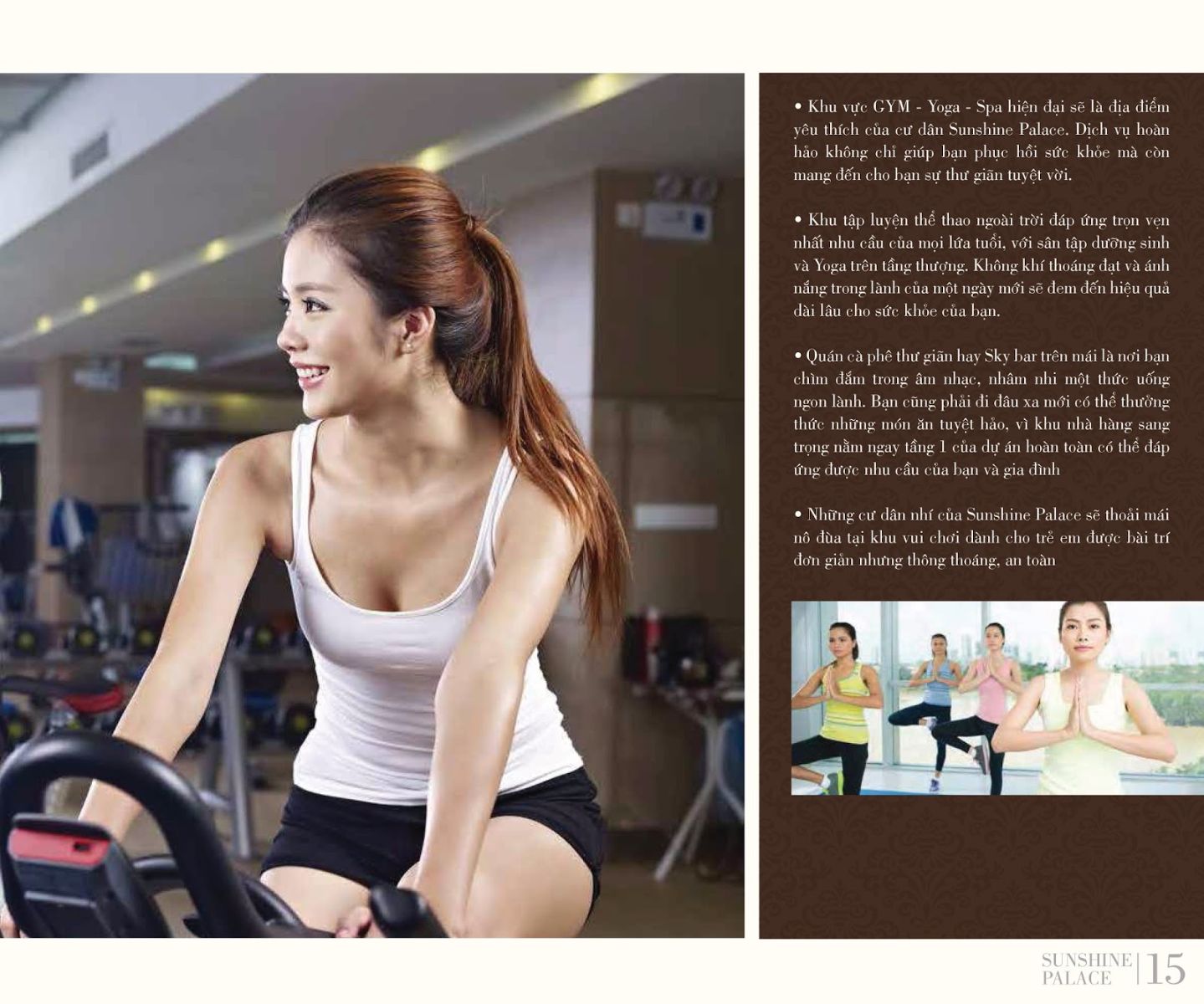 Especially, coming to Sunshine Palace, residents will be connected to the community, creating a close and intimate living environment. In order for this place to not only be a place of return for each person but also a home, a place where people exchange and engage in community.
FURNITURE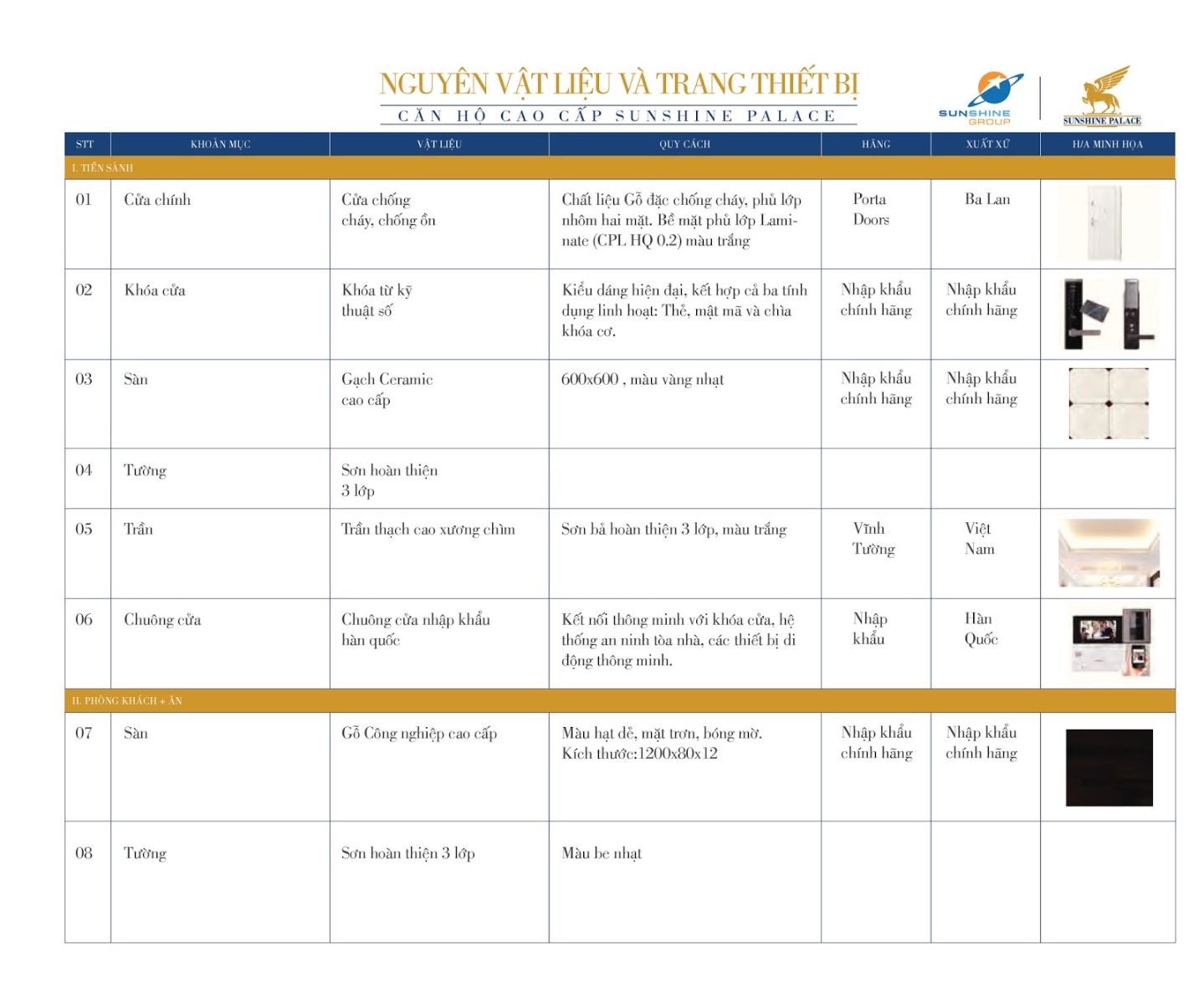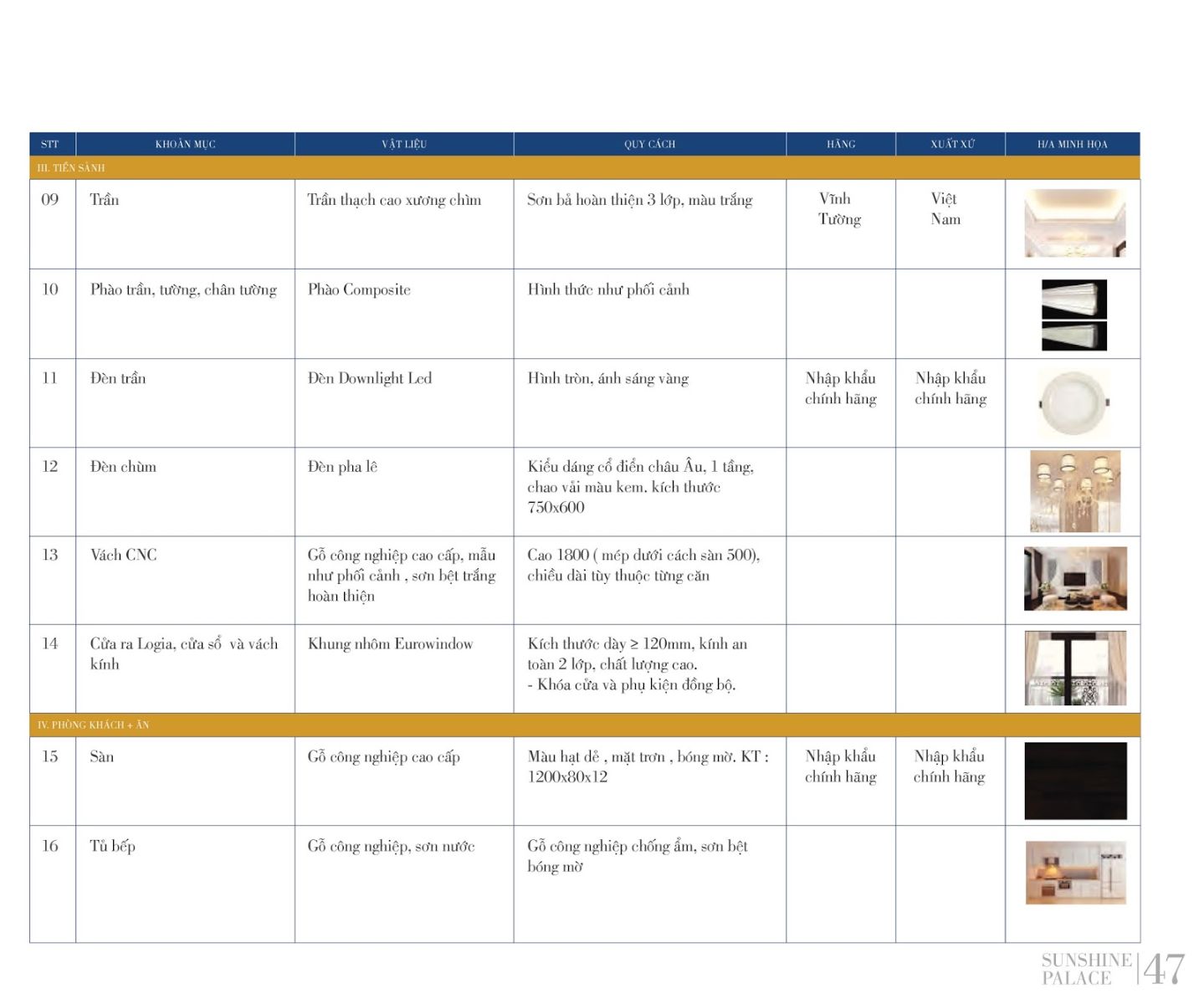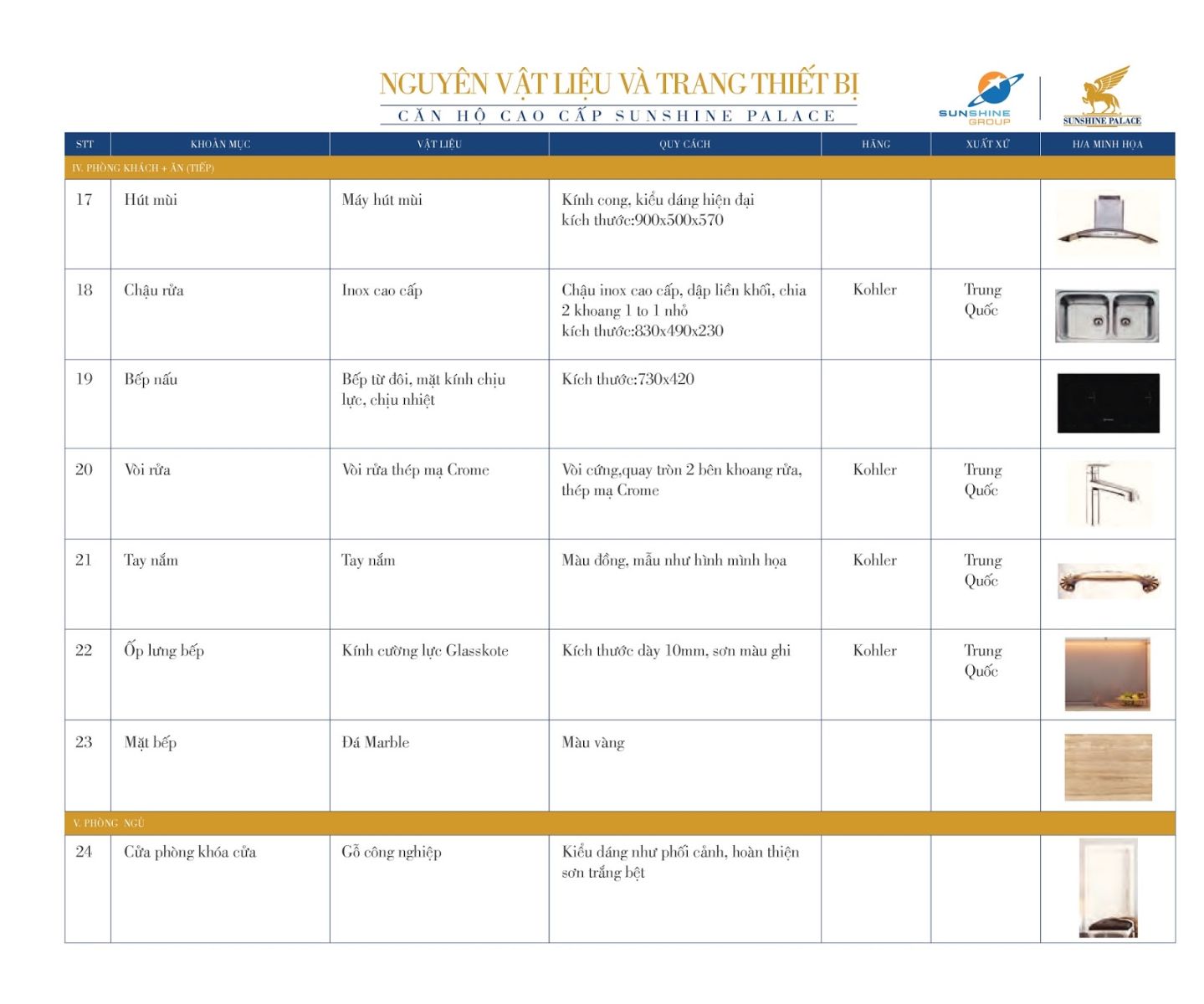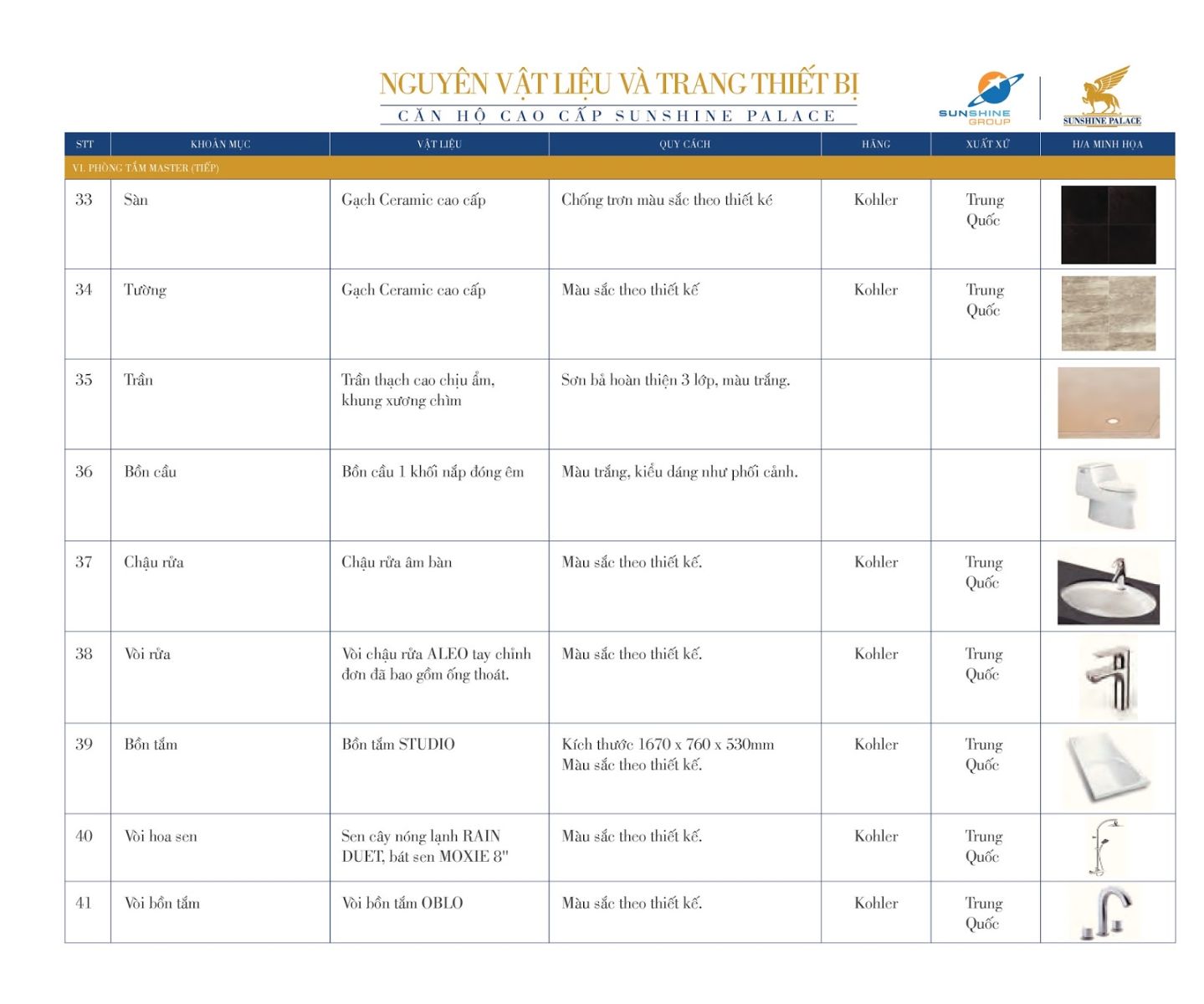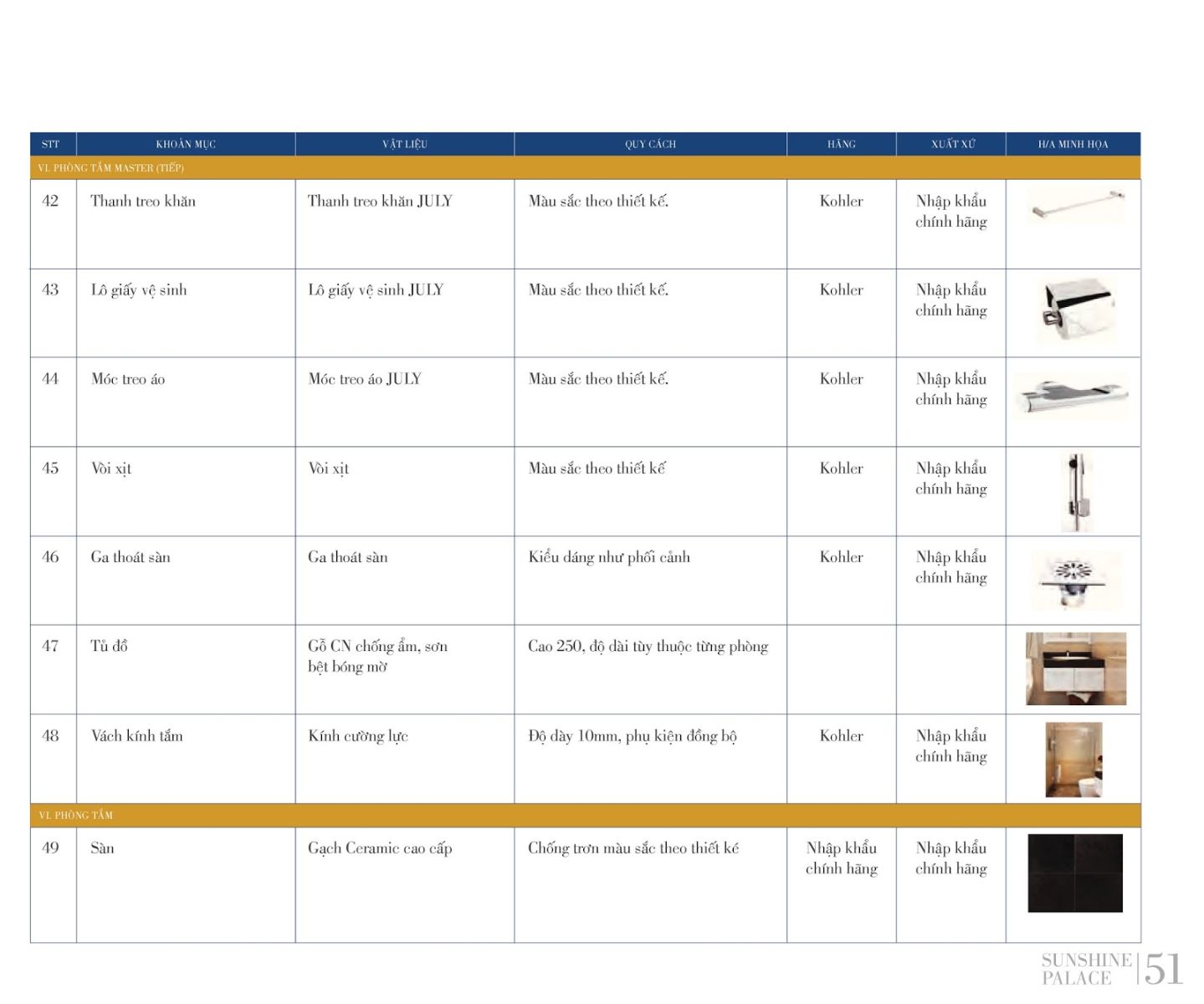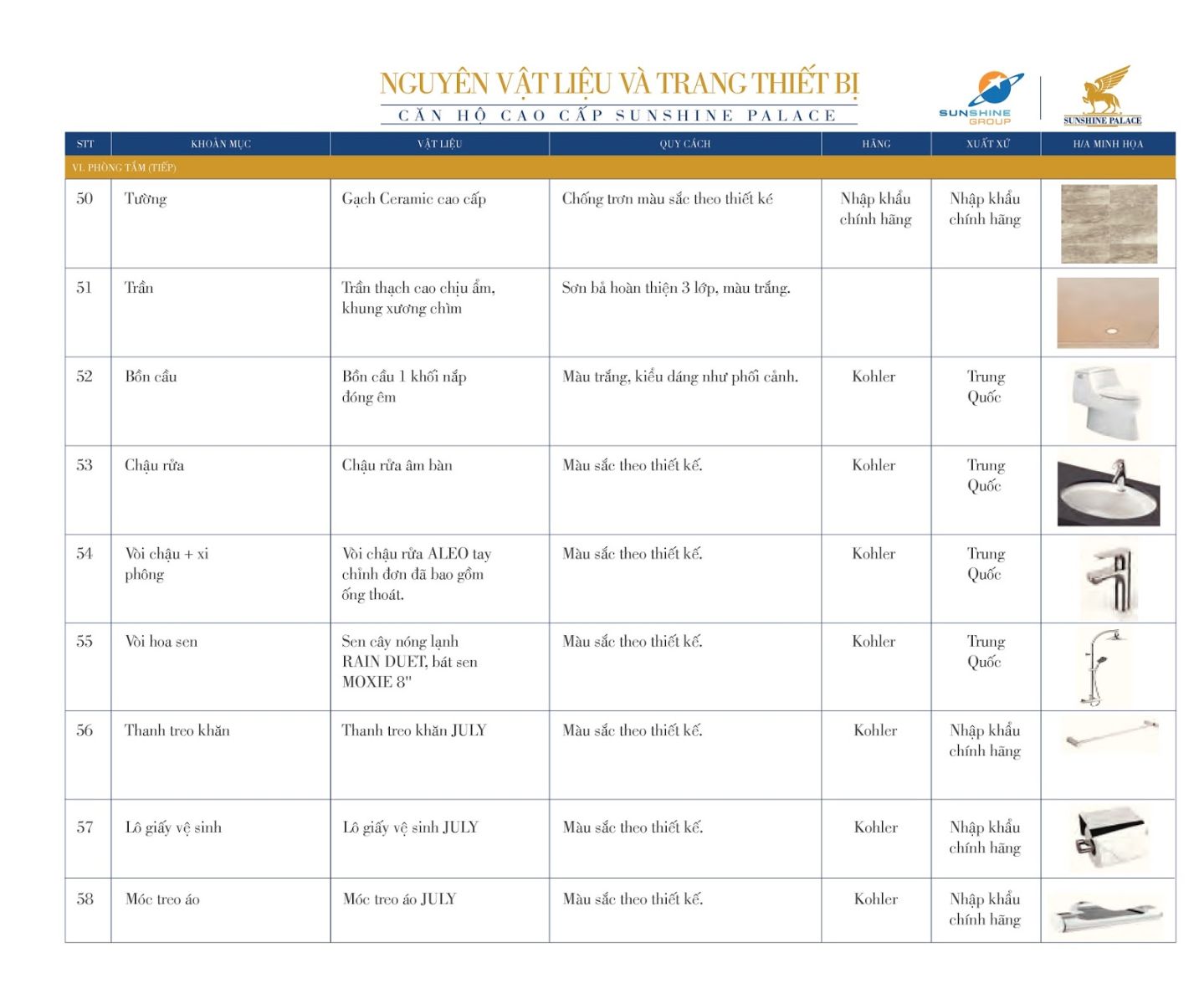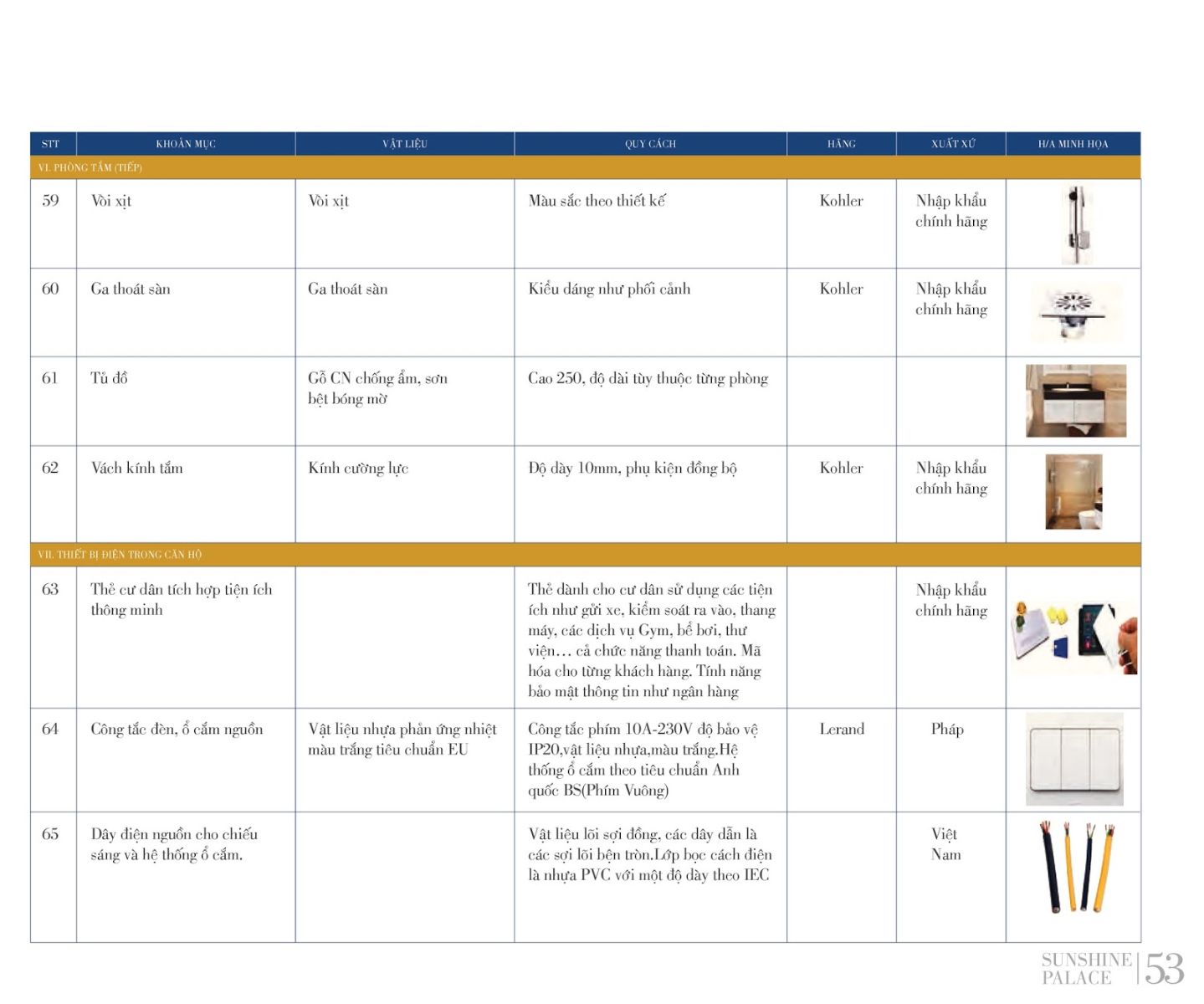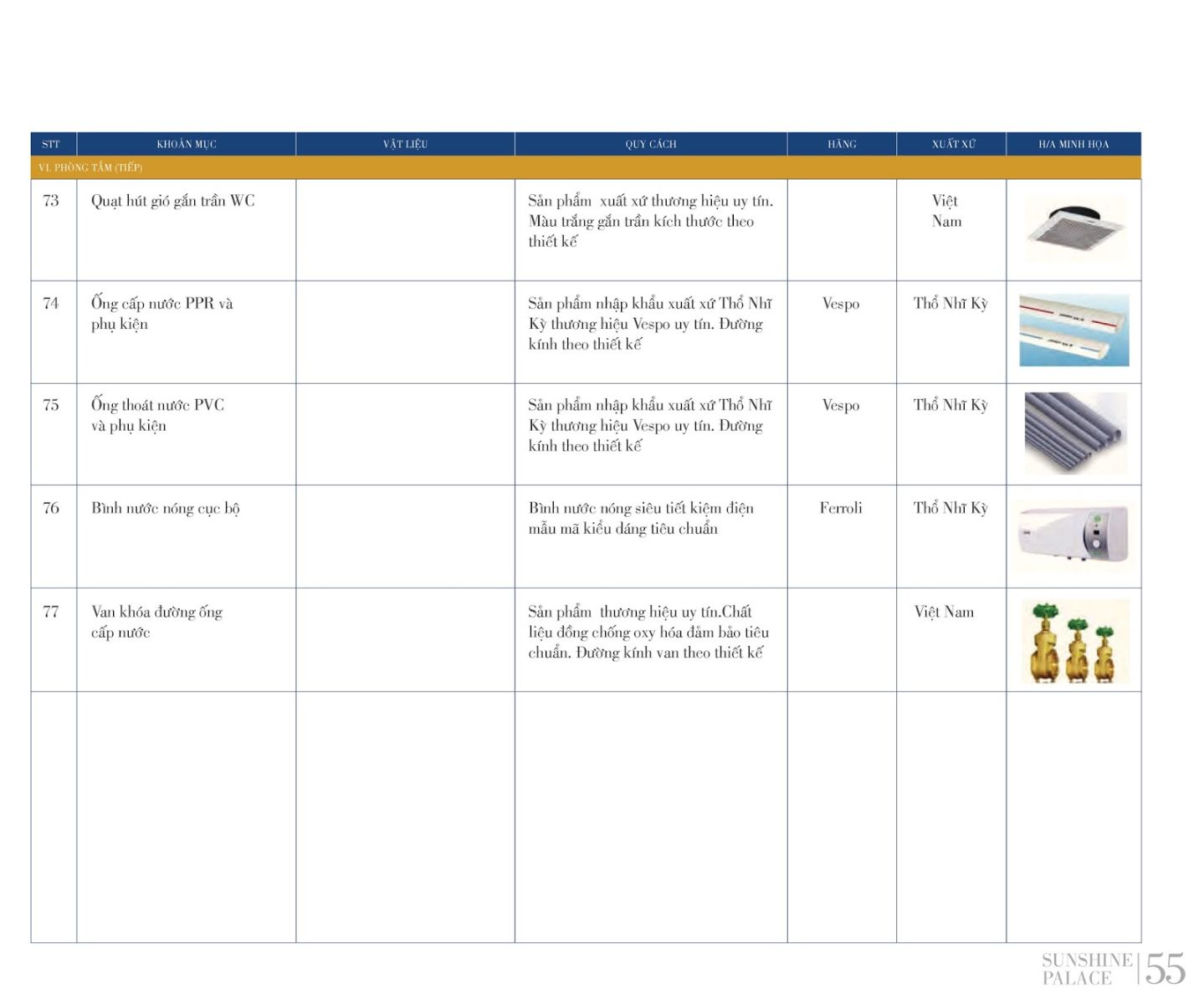 PAYMENT PROGRESS
Progress is divided into 4 phases:
Deposit: VND 100,000,000
Phase 1: 30% of the apartment value when signing the sale contract
Phase 2: 30% of the value of the apartment to be paid after 30 days from the date of signing the sale contract
Phase 3: 35% of the apartment value + 2% of payment maintenance fee when receiving the apartment
Stage 4: 5% of the apartment value when there is a notice to receive the land use right certificate.
WHY CHOOSE PROJECTS?
- The location of the southern gate of the capital, where it has a large transportation network, connecting the region, residents can easily move to the downtown area and surrounding areas. Moreover, adjacent to Park Hill - Time City, which is called the best living place in Vietnam, Sunshine Palace has received much attention from customers.
- The design and architecture of the apartments of the project are meticulously elaborated from materials, to a spacious balcony layout to catch the wind and direct light.
- Utilities, modern services, first class: four seasons swimming pool, shopping area, luxury restaurant area, ... In particular, there is a community mount area via Lounge lounge, library reading help for people are closer and closer.
DEALS
Free 5-year service management fee
1% discount for customers and relatives when buying a second apartment or more
Customers who do not participate in interest rate support are entitled to a discount of 2% of the total value of the apartment, including VAT and excluding maintanance fee
Customers participating in the investor's loan support program:
+ Rate of borrowing up to 70% of apartment value
+ Loan term: 25 years
+ 0% interest rate support during interest rate support
+ Be entitled to repayment of principal repayment during the period of interest rate support
+ Free of charge for early repayment during the period of interest rate support
TVC
Project location
Project support
Projects in the same area
Heritage Westlake is a luxury apartment project located on Lac Long Quan street in Tay Ho district with a panoramic view of West Lake. Heritage Westlake apartment project is expected to be open for sale early in the coming December.

PentStudio is located at Lot B, D1, 699 Lac Long Quan, Phu Thuong, Tay Ho, Hanoi. The project owns a prime location on the Bo Lake, located on the arterial road of the Capital. Lac Long Quan and Vo Chi Cong roads connect the entire transportation system in Quang An area, Nhat Tan bridge, the city center. Hanoi.

Located in the plot of land with the symbol O17-HH1 in the general plan of the new urban area of Tay Ho Tay - Hanoi, EcoLife Tay Ho can easily connect with a series of social infrastructure facilities surrounding the project.

For a long time, West Lake is considered a "dragon's head", a place of condensation of vitality, is the most geomancy land in the Capital. Located at a prime location west of West Lake, the Sunshine Riversise project inherits the position of that masterful spirit, all the elements of prosperity as converging here.

Kosmo Tay Ho project is located in an extremely privileged position in the downtown area. Most apartments overlook the poetic West Lake, Red River and Noi Bai Airport.

D '. Le Roi Soleil Quang An brings a perfect life to every resident. Located in Quang An peninsula, the project is adjacent to 2-sided road Xuan Dieu and Dang Thai Mai.

Located at the intersection of vo chi cong and nguyen hoang ton streets, d '. El dorado is considered the last golden land of west lake west. With modern transport infrastructure, convenient transportation to noi bai airport and many other areas in the city.

Tay Ho Riverview Apartment is located at 2 Thuong Thuy, Phu Thuong, Tay Ho, Hanoi. From the project, we can quickly move to major roads such as Duong An Duong Vuong, Au Co, Nguyen Hoang Ton, Vo Chi Cong, Lac Long Quan.