HDI TOWER
Register to sell the project
PROJECT OVERVIEW
Pursuing the motto "Honoring the value of life", Handicp 7 aims to invest in the works that reach the peak of architectural art. The investor applied the most advanced construction technology and the best quality materials to create a eternal HDI TOWER project. All ensures the criteria of residential, commercial real estate.
PROJECT SCALE
• Total area: 1993 m2
• Construction density: 56%
• 1 high-rise apartment building, 3 basements; 5 floors of commercial center; 14 Floors of residential apartment
• The apartment has lake view in all 4 directions.
+ Vast Thong Nhat lake
+ Bay Mau lake
+ Ba Mau Lake
+ Thien Quang lake
+ Hoan Kiem lake
• Handover: Quarter I / 2020
• Ownership: Pinkbook. Long-term ownership for Vietnamese and 50 year ownership for foreigners.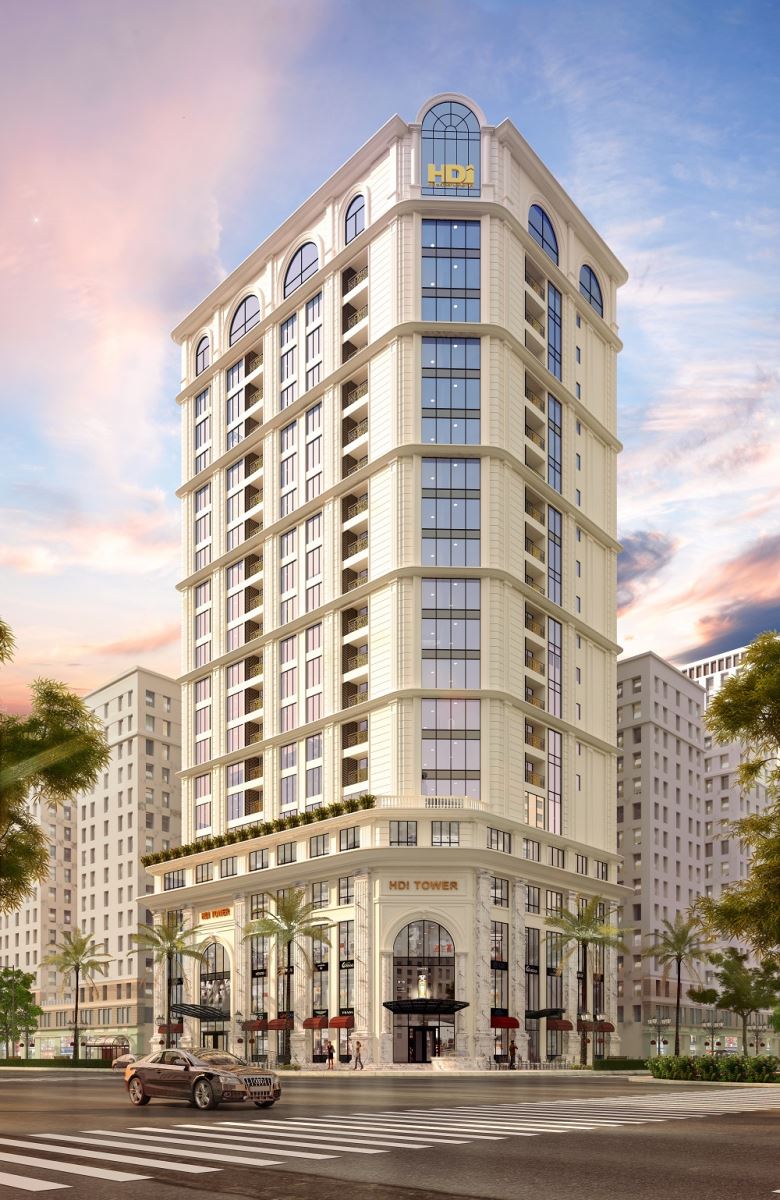 PROJECT LOCATION
Prime Position - A minute to Hoan Kiem lake, walking distance to downtown
Located at 55 Le Dai Hanh, Hai Ba Trung District, City. In Hanoi, HDI Tower is a project that owns a beautiful position compared to other projects of the same scale in the high-end segment. The project is located on Ba Trieu street & Pho Hue street. It's easy to travel around ​​Hanoi. From the building, ittake less than 5 minutes to reach Hoan Kiem Lake and other major ministries.
A few km away, there are Thanh Nhan Hospital, Bach Mai Hospital, Viet Phap Hospital, 108 Hospital, Friendship Hospital ... and university system such as National Economics University, Hanoi University of Science and Technology Noi, Hanoi University of Construction. A little further away, there are Aeon Mall Supermarket (6km away), Northern and Northeast provinces such as Bac Ninh, Bac Giang, Lang Son, Hung Yen, Hai Duong, Hai Phong and Quang Ninh.
In particular, HDI Tower 55 Le Dai Hanh project is located next Thong Nhat Park. Therefore, the building has a brilliant view of the green lungs of the city. This is also the reason for real estate experts to say, owning HDI Tower 55 Le Dai Hanh is like "buying a square meter of house, owning a water park".
Park
Thong Nhat Park: 100 m
Youth Park: 1.2 km
Hospital
Traditional Medicine Hospital: 100 m
Bach Mai Hospital: 1.8 km
Central Eye Hospital: 1.1 km
Hospital 108: 2.5 km
Schools
Thang Long High School: 1.2 km
Van Ho High School: 20 m
To Hoang Secondary School: 350 m
Ho Guom and Uncle Ho's Mausoleum
Uncle Ho's mausoleum: 5km
Sword Lake: 3km
Vincom Ba Trieu: 400m
University
Polytechnic University: 1.5 km
National Economics University: 1.3 km
University of Construction: 1.5 km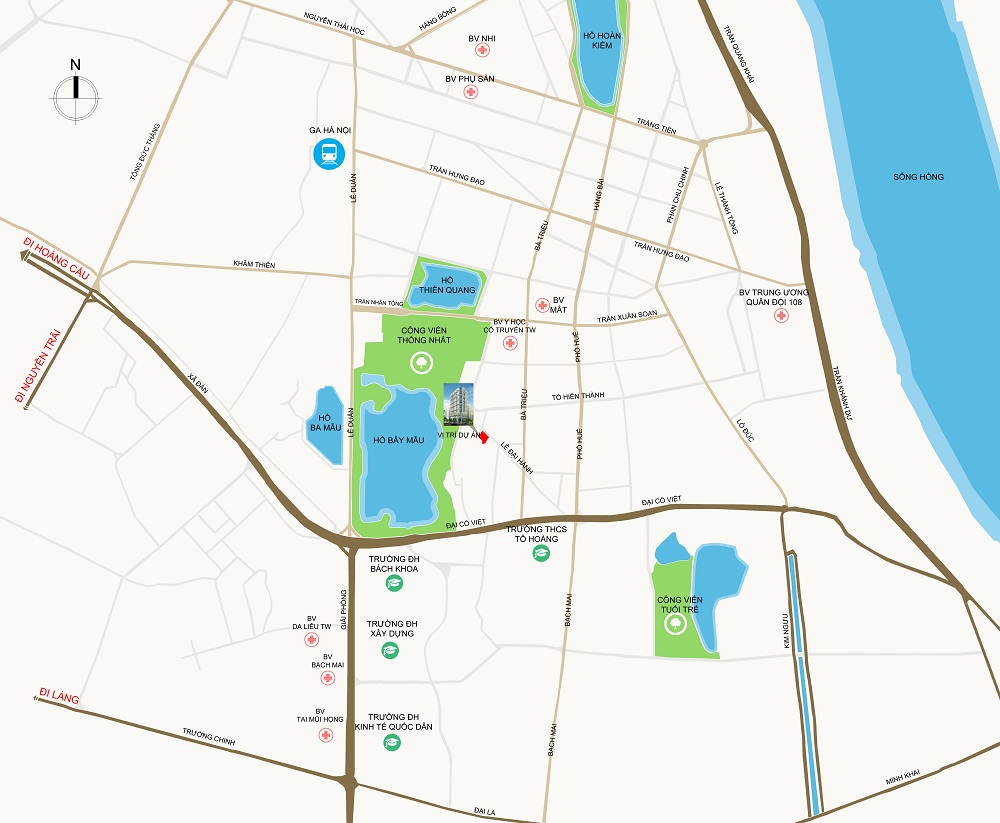 DESIGN
HDI Tower 55 Le Dai Hanh was built and designed in a neoclassical style and set new standards for modern urban living in Vietnam. Planned on a total area of 1,924.8m2 with a construction density of 56%, HDI Tower 55 Le Dai Hanh has 19 floors including 3 connected basements.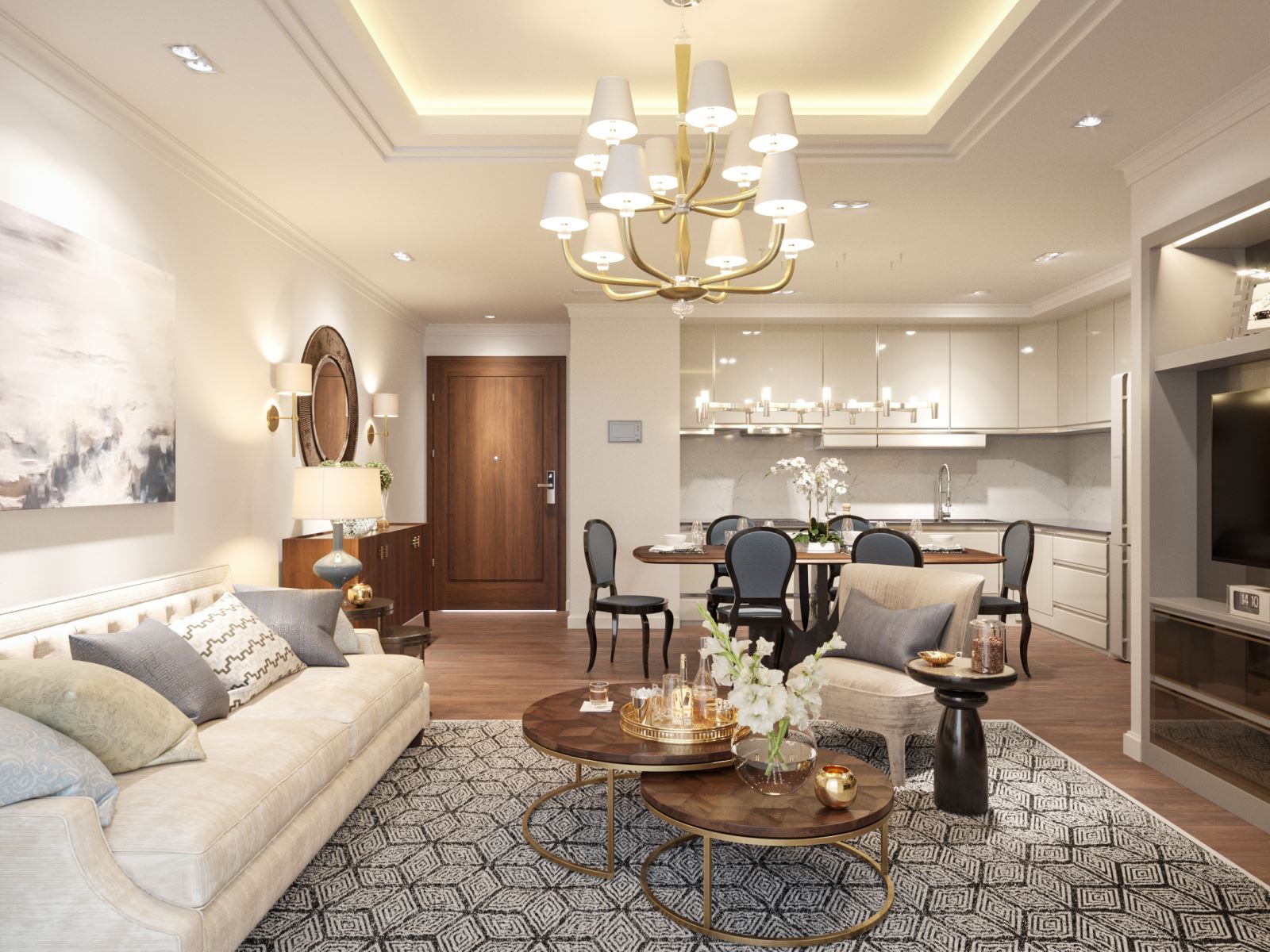 The high-class commercial center occupies 4 floors from 1st to 4th floors. The office can be easily divided into small blocks with diverse areas and suitable to the current office rental needs. On the 5th floor, there is a 4-season gym and swimming pool area. And finally,from the 6th to 19th floor, it is 14 floors of residential apartment. The developer prioritized the quality of life and privacy of the residents by leaving the building density to only 8 units/floor. Besides, on the 19th floor there is a garden system which will be very fancy in the evening by a sky bar on it. The project was built and designed in a neoclassical style including 112 apartments with an area of 76 - 116m2, with 2-3 bedrooms.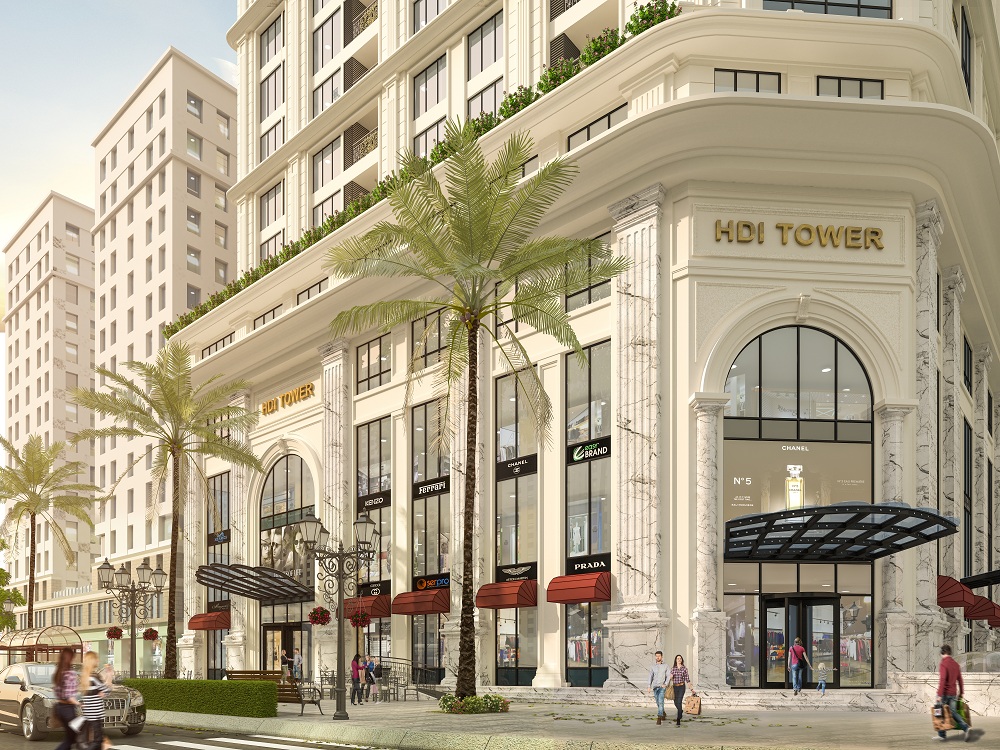 DESIGN AND PREMISES DETAIL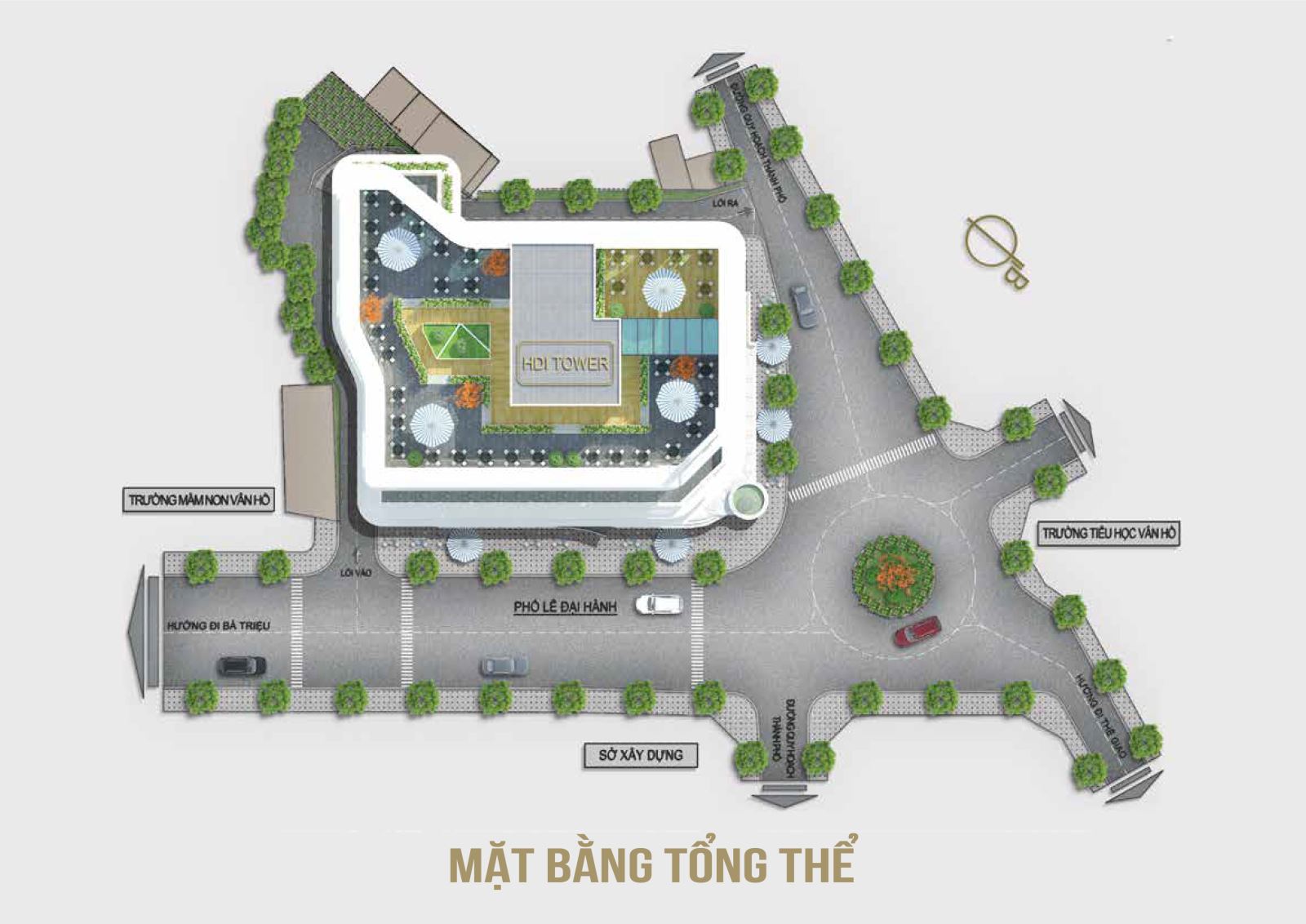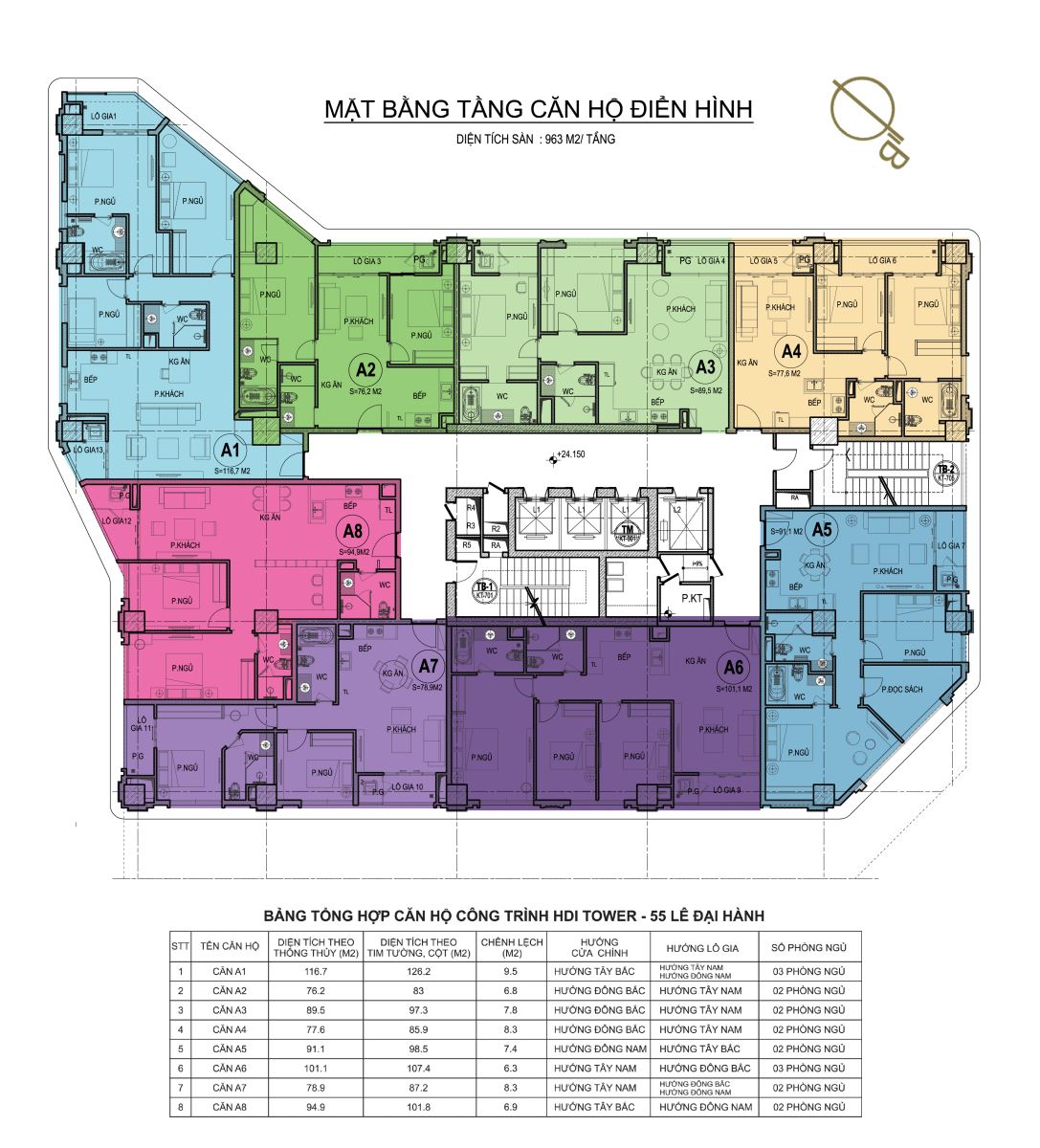 INTERIOR OF THE PROJECT
The interior of each apartment at HDI Tower is designed in perfect harmony. The investor applied advanced technology and advanced imported materials in the whole project. Completely-built-up doors are imported from Europe, Adel door locks meeting American standards; Daikin's built-in air conditioner system; all genuine Toto sanitary equipment; CBU kitchen interior imported from Japan includes accessories such as kitchen cabinets, washbasins, range hoods with high-grade enamel steel material. All are suitable for gas. hot and humid climate in Vietnam.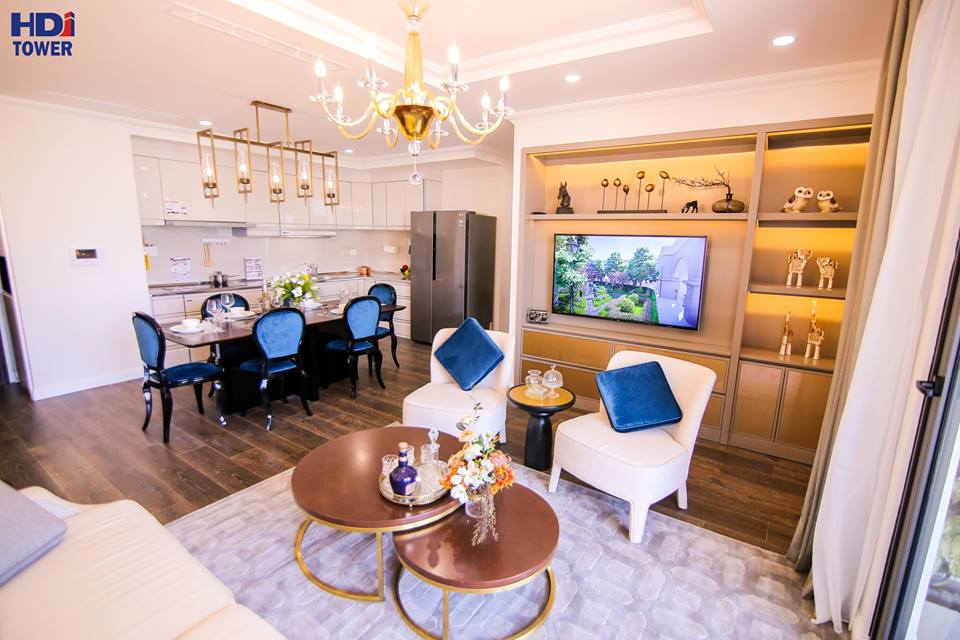 AMENITIES OF THE PROJECT
One of the very few projects in Hanoi that is located very close to the downtown but still ensures enough green space and a large common area. The developer has spent more than 40% of the total area to build landscapes, green spaces, amenities ...
Besides, HDI Tower 55 Le Dai Hanh also attracts customers with a full range of utilities for residents with a system of shopping malls, fitness center, gym, swimming pool, area. entertainment, ... top class quality.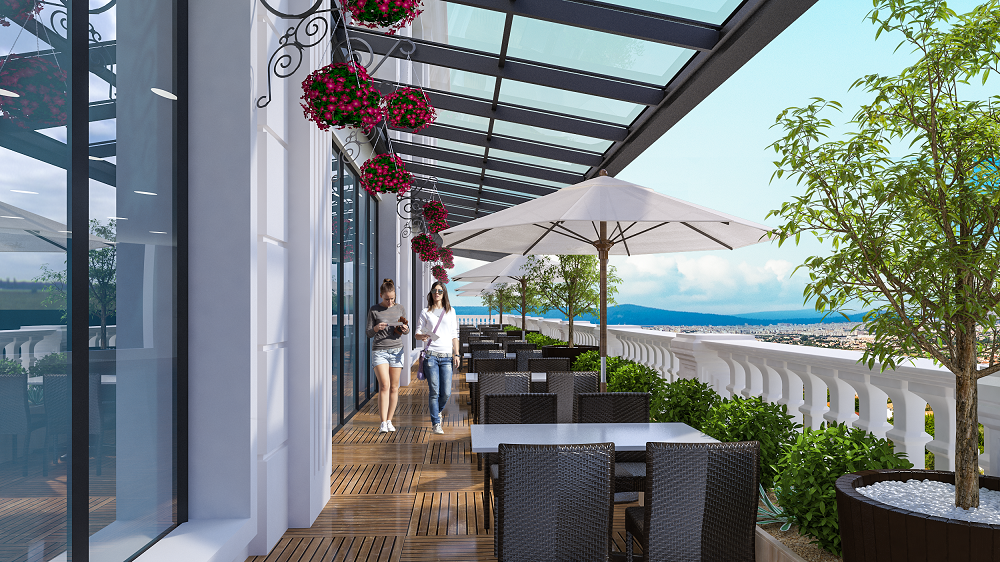 Diversified amenities: four-season swimming pool, gym, yoga, suspension garden system, children's play area; HDI Tower - 55 Le Dai Hanh will be a dream apartment, which is concerned not only by real estate investors but also individuals, families, foreigners who want to experience a comfortable and classy living space in right the heart of Hanoi.
INVESTMENT REASONS
6 reasons to own "green pearl" in the heart of the capital:
- Prestigious developer
- Location: the most developed central region of the capital.
- Million dollar view of many lakes surrounding the project:
- Close to Thong Nhat Park and Tuoi Tre Park, green lungs of Hanoi
- Ownership: long term
- High class residential community
6 Outstanding advantages
- 5-star amenities:
+ Gym and Yoga complex
+ 4 season swimming pool,
+ sky gardens,
+ sky bar,
+ children's play area;
+ international preschools
Meeting needs of shopping, playing, entertainment, food and education, the project provides a comfortable life for residents.
- Neoclassical architecture, luxurious but simple, condensed and delicate.
- Apartments from 2 to 3 bedrooms, diverse areas, take advantage of natural light and air
- High potential of high quality real estate, increasing profit sustainably.
- HDI Tower luxury apartments are priced lower than the average of projects.
- Harmonious imported interiors and advanced technology
+ Takara's CBU Kitchen interior is imported from Japan with high-class enamelled steel material, suitable for hot and humid climate in Vietnam.
6 Total solutions
- synchronous infrastructure surrounded by vibrant social facilities and living quarters
- "roads, wards, schools and stations" at the doorstep.
- International Standard Management Unit: BIG SKY - SRE
- Committed construction schedule
- Attractive sales policy with flexible payment schedule
- Central and city-level hospitals, the national standard school system
TVC
Project location
Project support
Business Manager

Le Doan Dung
Projects in the same area
Sunshine Garden project of Sunshine Group is attracting real estate investors thanks to its golden position in the southeast of Hanoi, located at 34 Vinh Tuy and Hai Ba Trung; adjacent to Park Hill-Time City, which is known as the most livable urban area in Vietnam.