MIPEC RUBIK 360
Register to sell the project
PROJECT OVERVIEW
Official Name: Mipec Rubik 360

Developer: Xuan Thuy Trading and Service Joint Stock Company

Design unit: Kume - Japan

Location: 122 Xuan Thuy - Cau Giay

Scale: Commercial center, Event Center, International School, low-rise housing, high-rise housing.

Expected launch of model apartment of MIPEC XUAN THUY - December 2019

Total area: 4.2ha

54 amenities, 10 Sky Gardens from 32th to 35th floor.
APARTMENT AREAS:
✔ Apartment 2pn, 1wc: 53.3 sqm
✔ Apartment 2PN, 2WC: 68.6 - 68.8 - 70.3 - 75.8 - 76.3 - 82 - 83.5 sqm
✔ Apartment 3PN: 93.6 - 107.8 - 107.8 - 110.2 sqm
✔ Apartment 4PN: 123.8 sqm
✔ Total number of apartments: 976 units
LOCATION OF MIPEC RUBIK 360 PROJEC
Mipec Rubik 360 is located at a prime location which is the last golden land in the inner city area.
The Mipec Rubik 360 project is located on an important road connecting many complexes as well as large political and commercial centers with many convenient and high-class living facilities.
This place is a convergence of all the complete elements from infrastructure, to public utilities. Mipec Rubik 360 as a functional community in the center of the city, giving customers an attractive choice.
The Mipec Rubik 360 project is planned and built as a complex with an area of 38 454 m2 including 2 high-class 35-storey towers, 3 basements, low-rise housing, including adjacent villas, shopping centers, schools.
Located at 122- 124 Xuan Thuy Cau Giay, a central area of ​​Hanoi Capital, is home to many skyscrapers, many office buildings, organizations, large corporations, many groups, bank credit institutions, many office buildings and corporations' headquarters.
Mipec Rubik 360 is considered as a unique project, the last rare project of the downtown area, next to the key traffic routes such as Ring Road 3 Pham Van Dong heading to Thang Long Noi Bai, the Metro Line connecting Nhon, Ho Tung Mau, Hoang Quoc Viet, Nguyen Phong Sac, etc.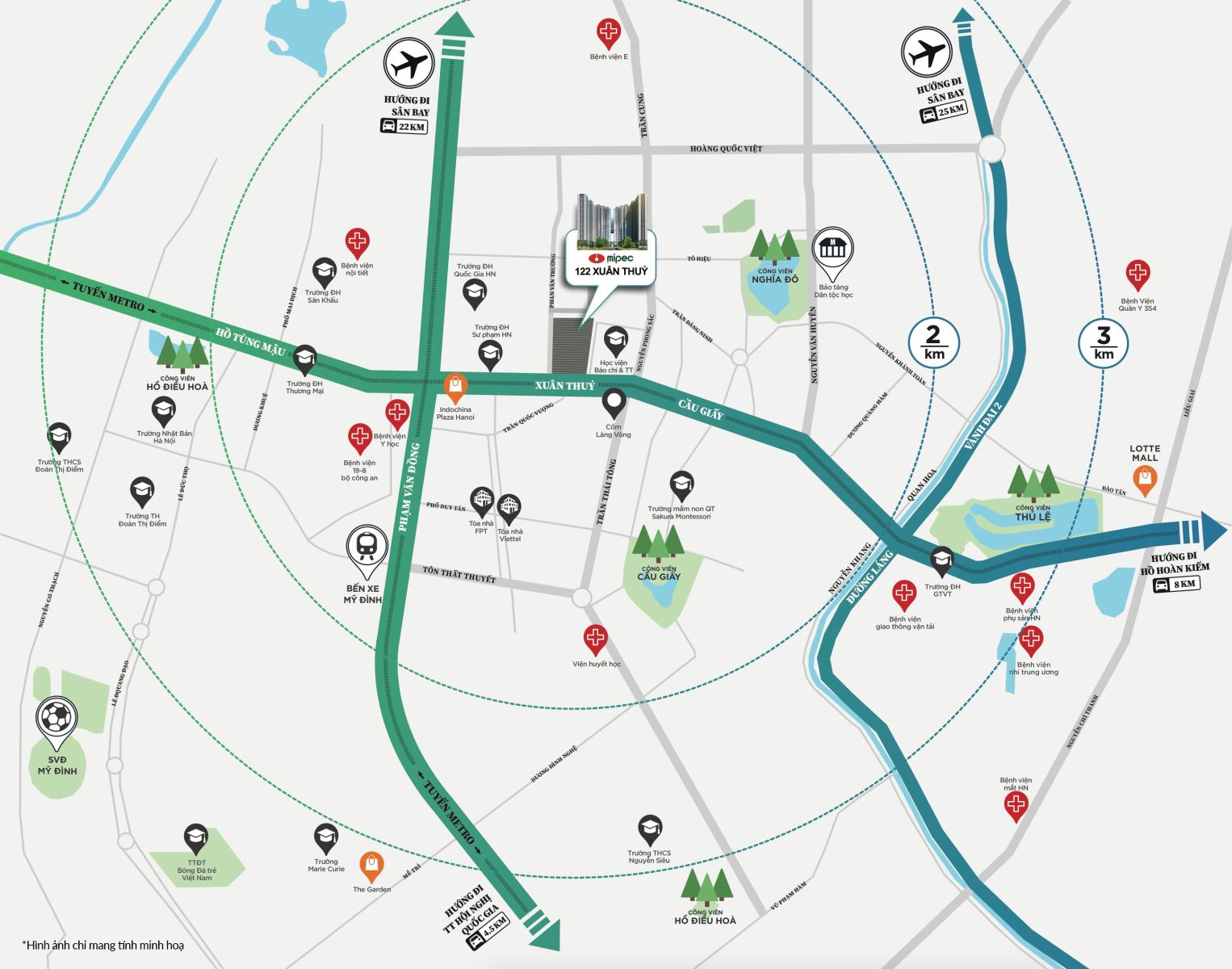 Project Mipec Rubik 360 - Location connecting many utilities
From Mipec Rubik 360, residents can easily access nearby areas, especially within a radius of 5 km with the education system including universities, entertainment centers, hospitals. In details, for examples:
100m to IPH Xuan Thuy

300m to National Geographic

500m to Hospital 198

800m to Cau Giay park

1km to Doan Thi Diem school

2.5km to the National Convention Center

25km to Noi Bai Airport
Mipec Rubik 360 is a worth living and worth experiencing project. With a modern, convenient design, synchronous infrastructure, friendly and fresh landscape, and a combination of high-end utility services. Mipec Rubik 360 will be hunted by many national and international investors.
DESIGN OF MIPEC RUBIK 360
The project is constructed under an large scale of 700 luxury apartments with diversity of areas from 56m2 - 120m2, corresponding to 2-bedroom, 3-bedroom apartments. All will give customers a variety of choices that are suitable for financial as well as multi-generational families.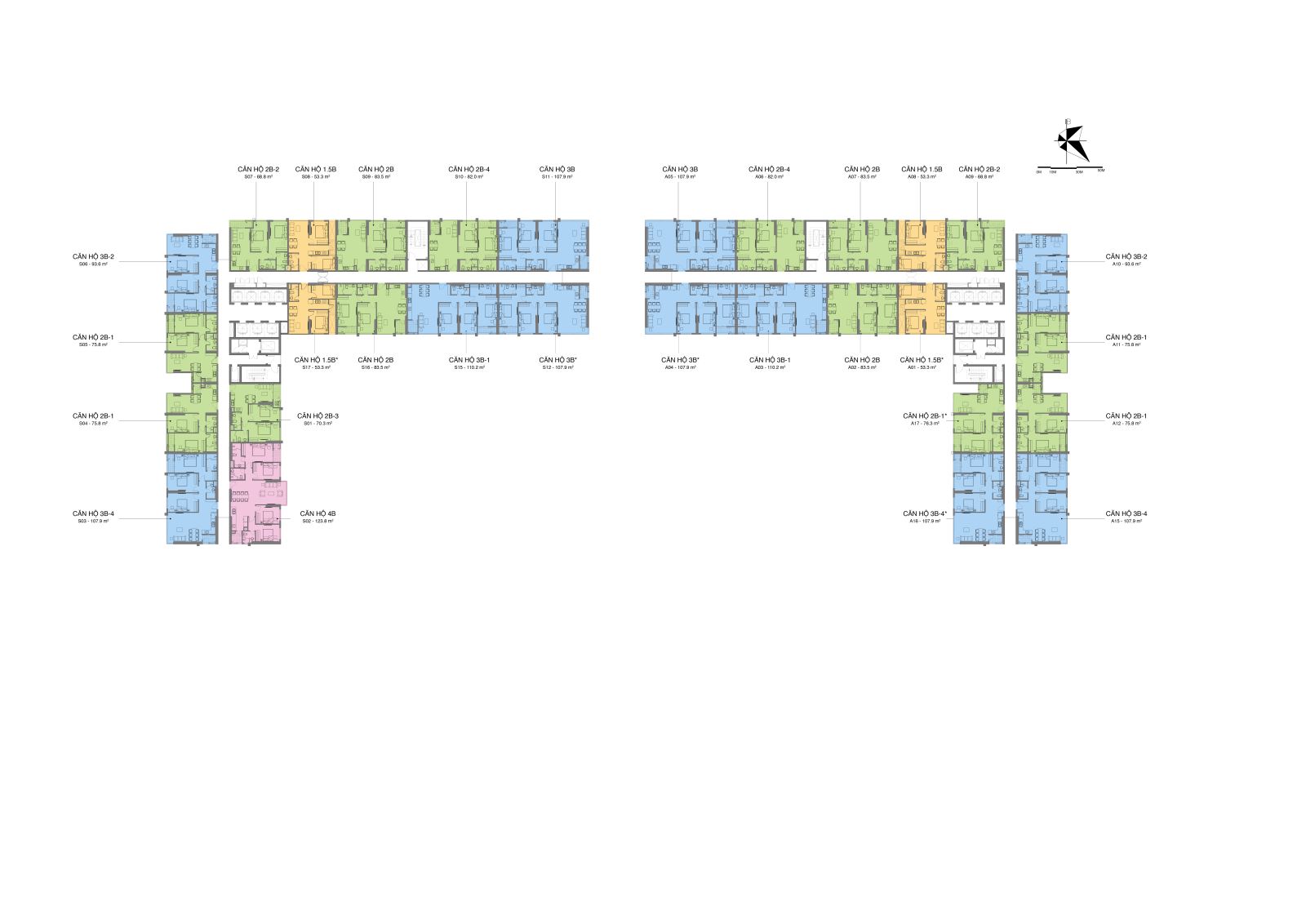 With perfect design and great views, the Mipec Rubik 360 apartments are scientifically arranged for convenient living. Apartments in Mipec Rubik 360 takes advantage of natural light and are equipped with modern technologies. All ensures a comfortable life, optimizing the feeling of enjoyment for residents.
✔ Apartment 2pn, 1wc: 53.3 sqm
✔ Apartment 2PN, 2WC: 68.6 - 68.8 - 70.3 - 75.8 - 76.3 - 82 - 83.5 sqm
✔ Apartment 3PN: 93.6 - 107.8 - 107.8 - 110.2 sqm
✔ Apartment 4PN: 123.8 sqm
✔ Total number of apartments: 976 units
The surrounding landscape, including utilities and apartment's interior, is meticulously designed to every detail, meticulous and harmonious in the overall project.
Mipec Rubik 360 apartments include apartments from the 2nd floor to the 31st floor. The ground is designed in 2 opposite L-shaped, including 2 and 3 bedroom apartments arranged alternately. From the 32nd floor upwards includes 26 apartments / floors. The apartment tower is located on the central podium with a unique open space between the towers.
Mipec Rubik 360 - Optimal space design
The application of feng shui elements in each design with the inspiration of "Touching the Sun and the Wind" in combination with nature, bringing nature into each apartment but still retaining the luxury and class.
Mipec Rubik 360 apartment is designed modernly, with a large balcony area that brings all the light into the house, you can observe the city completely when viewed from above. Together with the tree arrangement, it will bring you a living space in harmony with nature.
AMENITIES OF THE PROJECT
Belonging to the high-class project chain of Mipec Developer, Mipec Rubik 360 project is strongly invested with high-class 5-star standard utilities system. Therefore, the project promises to bring residents a modern and comfortable life. There are 3 floors of shopping centers, 4 indoor and outdoor swimming pools, gym systems, Yoga, Fitness, Supermarkets, fashion shops with international brands, Asian - European cuisine ...
Fire protection system (fire protection) is installed in towers and even in each bedroom. According to US NFPA and IBC standards, it has an outstanding advantage over other conventional fire protection systems.
Managed security by magnetic card and CCTV system ensures maximum security and safety for residents. The parking area of ​​the building is designed with specialized charging stations for electric bicycles, electric motorcycles.
6 intelligent elevators, owning a speed of 4 m / s, are arranged separately for housing blocks, ensuring safety, avoiding congestion even in emergencies.
PROJECT PROGRESS
On April 16, 2019, the Mipec Rubik 360 project officially has the ground-breaking ceremony., Representatives of the investor of Xuan Thuy Trading and Service Joint Stock Company, the supervising consultancy unit and the leadership of Đua Fat Foundation Joint Stock Company attended the ceremony.
With the strength of a experienced professional team, especially possessing many terrible machines with foundation drilling technology that have fought hundreds of different large and small complex works from North Central South in key projects. With prestige in the ability to deploy construction for 10 years, Đua Fat is a name to ensure progress - improve quality, take the project's image to a new level, apply Secant Piles construction methods to meet all requirements and increase benefits for the Investor.
Project location
Project support
Business Manager

Nguyễn Trọng Khởi
Projects in the same area
DreamLand Bonanza project is located at the golden position - No. 23 Duy Tan Street, Cau Giay District, Hanoi (intersection with Pham Hung Road) is in the area with the fastest growing speed in Hanoi.