Sunshine Golden River
Register to sell the project
Project Overview
Name: Sunshine Golden River
Project Location: Hanoi Ciputra Urban Area - Tay Ho District - Hanoi City
Construction density: 43%
Type of apartment: Apartment and Shophouse
Total: 217 luxury apartments + 27 lots of Shophouse
Apartment building planning: 35 floors high + 3 basements
Low-rise area planning: 5-storey high floors + 1 basement
Form of property ownership: permanent pink book
Project Location
Sunshine Golden River Tay Ho is one of the most favorable locations in Hanoi when it is located on the key development road of the whole city.
Planning on the campus of Ciputra-class urban area, the location is located next to Vo Chi Cong street. From this area, it is very convenient to move to other areas in Hanoi city, with extremely favorable factors such as:
- Built on the land next to the South of the Red River. In terms of feng shui, this is the location where the dragon head has the energy to converge.
- Easily moved by connecting with the main roads of the city including Thang Long Bridge, Nhat Tan Bridge, Ring Road 2, Ring 3, ...
- Next to it is the subway No. 02 Nam Thang Long - Tran Hung Dao with the other public transport infrastructure which is very convenient for residents.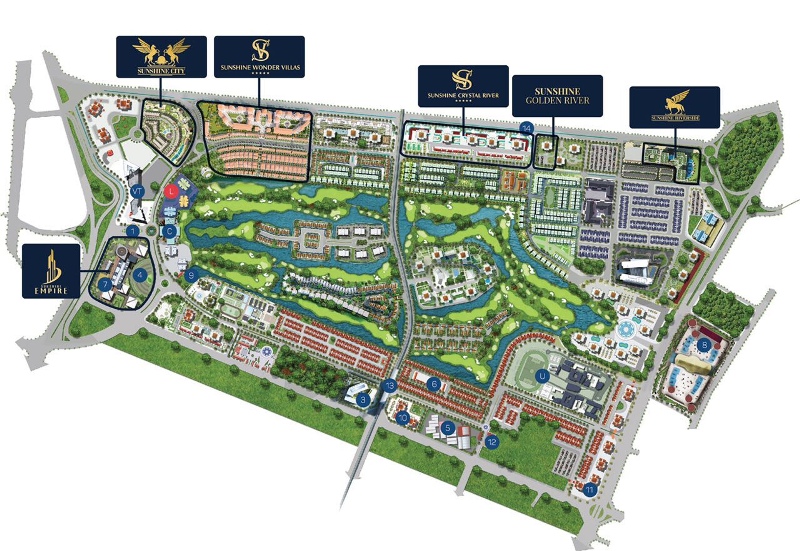 Utilities
The hustle and bustle of life in Hanoi makes anyone want to find a place to relax and enjoy to help balance their life and relieve stress. Therefore, the investor of Sunshine Group - one of the pioneers deploying a super-class - creates Sunshine Golden River project to bring a trendy lifestyle for the residents.
+ On the rooftop of the building is the ClubHouse area with a golf course on the top, Cigar Lounge and Sky Bar class ... This is considered a highlight of the whole project and a meeting place for successful business people gathering to enjoy the fun as well as to make friends
+ This is also an area where residents can enjoy a multitude of culinary cultures between tropical Asia and cold Europe, and this restaurant chain will be the area that many people visit during the events. specials of the year
In addition, there are many other high-end facilities such as Gym, Massage, Spa, Yoga meditation area ... and countless sport and therapy areas according to international standards at Sunshine Golden River Apartment for residents. Can train and take care of your health.
+ 100% of smart apartments here will be applied smart technology platform, all HomeKit standard equipment so that residents can easily control any area, furniture in the house only via electricity. Smartphone
Sale policy
Reasonable price: only from 48 million/m2 - 74 million / m2
Types Apartment area: 126m2 - 329m2
Handover furniture: Interior package of high-class facilities - European standard
Customers who pay 95% early: The total value of the apartment will be directly discounted 8%
Additional discount of 1% / Apartment for customers (or customers' relatives) owning the 2nd apartment or more
3-year of building management service fee is free
Loan support up to 65%: with 0% preferential interest rate and principal repayment until handover.
Payment Period
Deposit: after choosing the Sunshine Golden River apartment, customers pay 100 million and sign a guarantee contract.
Stage 1: Customer pays 10% of the apartment price without VAT (including 100 million deposit)
Phase 2: Payment of 10% of apartment value - Sign a Sale Contract - expected in March 2019
Stage 3: Payment of 10% of apartment value - expected on August 27, 2019
Stage 4: Pay 10% of apartment value - expected October 19, 2019
Stage 5: Payment of 10% of apartment value - scheduled for November 20, 2019
Session 6: Payment of 10% of apartment value - expected January 7, 2020
Stage 7: Payment of 10% of apartment value - expected February 19, 2020
Session 8: Payment of 25% of the apartment value - when handing over the house - is expected in the fourth quarter of 2020
Session 9: Pay 5% of the apartment value - upon receipt of the Land Use Right Certificate
Project location
Project support
Projects in the same area
Location BID Residence is located right in the center of urban areas of Van Khe, Duong Noi, An Hung, Usilk City, Park City and right on the extended Le Van Luong street. It is a favorable factor to create an easy link for BID Residence to the city center and major urban areas in the urban population west of Hanoi City.